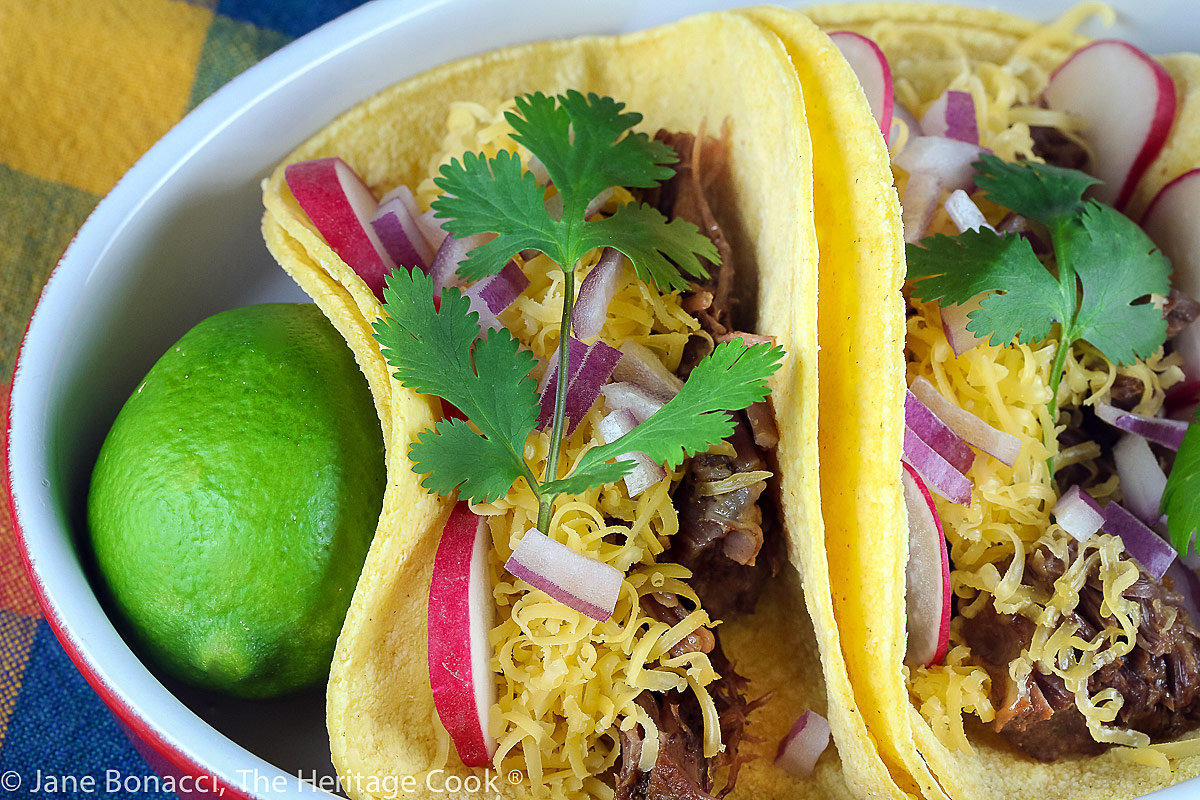 These Instant Pot Barbacoa Tacos are the perfect way to celebrate Cinco de Mayo next week! Full of bold flavor with just enough heat to wake up your taste buds and kick off your fun fiesta!
I had the pleasure of joining my co-author Sara De Leeuw at a cooking demo and book signing in Los Angeles for our cookbook, The Gluten-Free Instant Pot Cookbook. What a thrill to be able to work with the team from Melissa's Produce, meet wonderful people and teach them about how to cook gluten-free in the Instant Pot!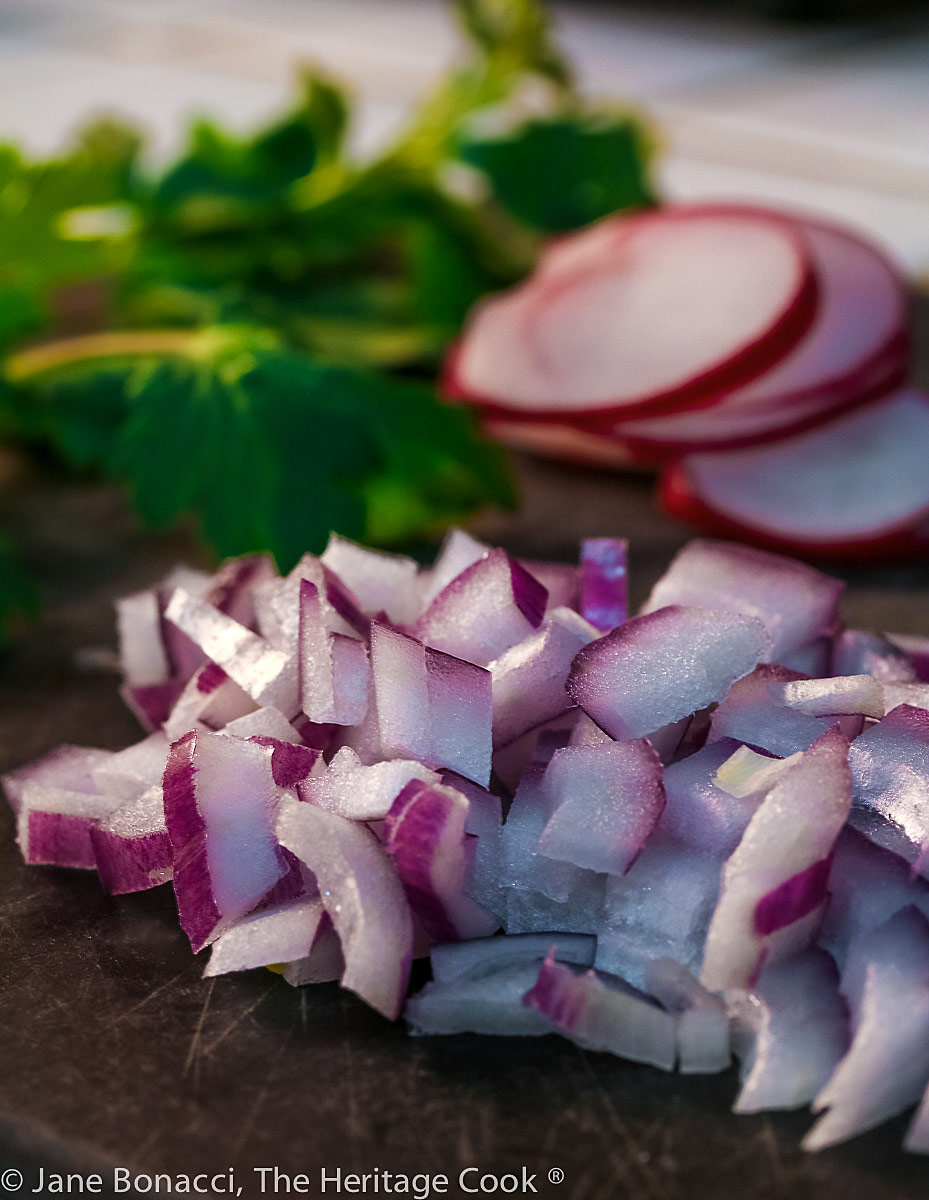 Twenty five to thirty people attend and are given a copy of the book signed by the author(s). They have an opportunity to photograph the prepared foods and then sample the recipes from the cookbook. Then everyone sits down and the author does a cooking demo of one or two recipes.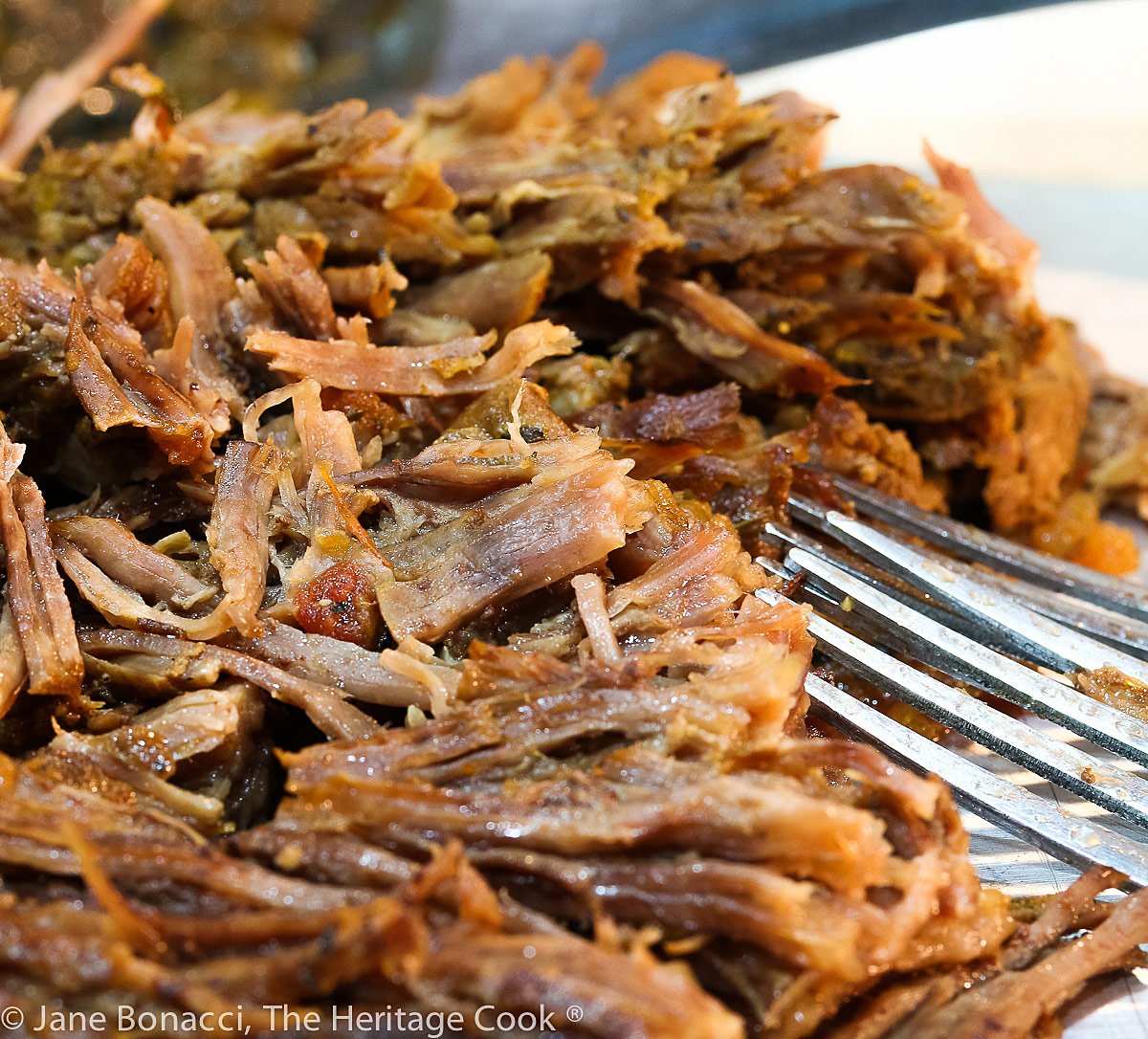 When it was all finished, we headed to a local Mexican restaurant to unwind and celebrate the success of the event. Sara knew the chef and the kitchen sent out lots of samples of their dishes for us to try. It was a thrill to have real Mexican food again – it is hard to find outstanding Mexican food outside of Southern California and I've missed it!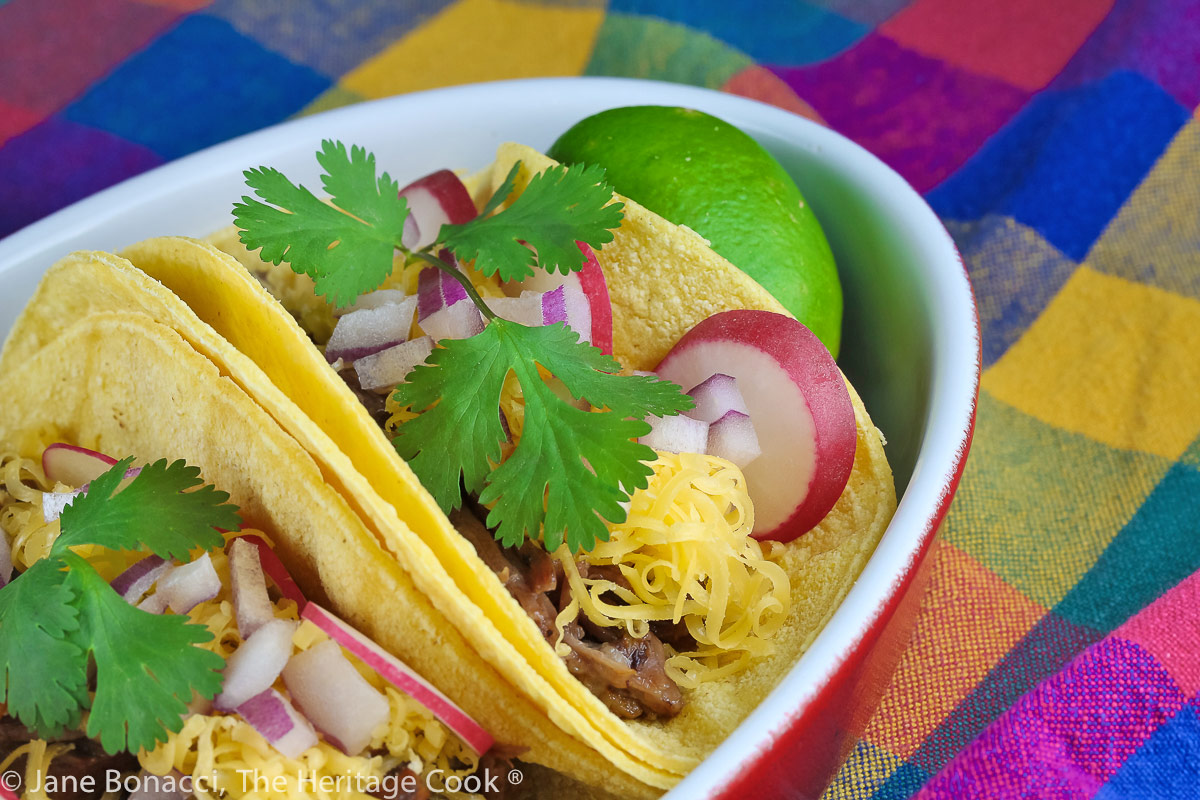 Every dish was outstanding but the one that really caught my attention was their barbacoa. Rich flavor with lusciously tender beef in a chile based broth. It was everything you would dream of in a meal. I knew I wanted to try and make my own version to share with all of you.
When I got home, I got to work figuring out how to make this amazing dish utilizing my Instant Pot to cut down dramatically on the time involved to get the meat tender. I love they way they turned out and I hope you do too!
You can customize these tacos any way you like. Feel free to dial back the heat by using fewer chipotle en adobo chiles and sauce. Garnish the tacos with your personal choices of toppings and I hope you love these Barbacoa Tacos as much as The Artist and I do. Have a fun Cinco de Mayo celebration!
Did you enjoy this recipe? Let me know in the comments, I love hearing from you!
Key Ingredients for Instant Pot Barbacoa Tacos:
Chuck roast, cumin, oil, onion garlic, bay leaves, beef broth

Oregano, chipotles en adobo, limes, corn tortillas, lettuce

Cheese, red onions, radishes, cilantro
PRO Tip:
To easily clean a blender, once you've made the sauce and poured that into the Instant Pot, rinse the blender pitcher. Add about 1 cup of hot water and a little liquid dish soap. Put it back on the blender base, secure the lid, and pulse to create a soapy foam that will clean the interior of the blender. Pour it out and rinse well.
PRO Tip:
The best way to warm tortillas is to place them between two paper plates (one plate right side up and the other inverted to create a space between the plates) and microwave for 20 to 30 seconds. The tortillas will be perfectly steamed, hot, and pliable.
How to make Instant Pot Barbacoa Tacos:
Cut the beef into large cubes, heat the oil on sauté function and brown the meat in batches; remove the meat and add the onions to the pot and cook until softened, then add the garlic and cook a minute longer

Pour in the chicken stock and scrape the bottom of the pan to release any browned bits, then return the browned beef to the pot and tuck the bay leaves between the chunks of meat

Puree 1 cup of the beef broth with the remaining sauce ingredients until smooth; set aside

Pour remaining beef broth into the pot and stir to be sure nothing is sticking to the pan; pour the pureed sauce over to the top but do NOT stir

Lock the lid in place and cook for 70 minutes then naturally release pressure for 12 minutes before releasing remaining pressure; carefully remove the lid and set aside, transfer the beef to a baking sheet pan and use two forks to shred the meat before returning it to the cooking liquid

Heat tortillas (see PRO Tip above), place a lettuce leaf on one, top with some of the meat, and add your choice of toppings; serve immediately
PRO Tip:
The recipe says to deglaze the pan – that just means you add liquid to sautéed foods to help them release from the bottom of the pan. In the Instant Pot it is very important to be sure nothing is sticking to the bottom of the pan or it might give you a burn notice.
PRO Tip:
I like to use a flat spatula (wood or stiff plastic, see below for link) to scrape the bottom of the inner pot of your Instant Pot, removing any cooked-on bits and releasing them into the liquid, boosting the flavor tremendously and helping you avoid the dreaded burn notice!
Recommended Tools (affiliate links; no extra cost to you):
Gluten-Free Tips:
Corn tortillas often have added wheat, be sure the brand you use is certified gluten-free. Chipotles en adobo can contain gluten ingredients. Always check the labels to be sure it is safe and if you have any questions contact the manufacturer. If you can't find safe chipotles en adobo, you can use a little ground chipotle peppers and a teaspoon of vinegar in its place.
If you enjoyed this recipe, be sure to follow me on social media so you never miss a post:

Welcome to Progressive Eats, our virtual version of a Progressive Dinner Party. This month's theme is a Cinco de Mayo Fiesta, and I am hosting! These recipes are incredibly creative and delicious, perfect for any party!
If you're unfamiliar with the concept, a progressive dinner involves going from house to house, enjoying a different course at each location. With Progressive Eats it's a virtual party. A theme is chosen each month, members share recipes suitable for a delicious meal or party, and you can hop from blog to blog to check them out. Come along and see all of the delicious fiesta inspired dishes!
Cinco de Mayo Fiesta
Beverages
Appetizers
Bread
Main Courses
Side Dish
Desserts
Yield: about 8 servings
Instant Pot Barbacoa Tacos (Gluten Free)
Cook Time
1 hour
22 minutes
Total Time
1 hour
42 minutes
Ingredients
Meat
2 to 4 lb chuck beef roast
1/2 tsp kosher salt
1/2 tsp ground black pepper
1 tsp ground cumin
2 tbsp olive or vegetable oil
1 medium onion, finely chopped
1 clove garlic, minced
1/3 cup water
2 bay leaves
Sauce
2 cups low sodium beef broth, divided
2 cloves garlic, peeled and coarsely chopped
1 tbsp ground cumin
1 tbsp oregano
2 chipotle peppers in adobo sauce, gluten-free if needed
2 to 4 tsp adobo sauce, to taste
3 to 4 tbsp freshly squeezed lime juice, to taste
Pinch kosher salt
Pinch ground black pepper
To Serve
Warmed corn tortillas (gluten-free if needed)
Lettuce leaves
Shredded cheddar or Monterey Jack cheese
Chopped red onions
Sliced radishes
Fresh cilantro
Instructions
Prepare the Beef: Cut the beef roast into large chunks, discarding any obvious pieces of fat. Season the meat with the salt and pepper. Press Sauté on your electric pressure cooker and heat the oil. When hot, brown half the meat at a time. Transfer the meat to a plate. Cook the onions about 3 minutes until softened. Stir in the garlic and cook, stirring, for about 1 minute. Deglaze the pan with the water, scraping to be sure nothing is stuck to the bottom of the pan. Press Cancel. Return the beef to the pot and tuck the bay leaves in.
Make the Sauce: In a blender or food processor, puree 1 cup of the beef broth with the remaining sauce ingredients together until smooth.
Cook the Beef: Pour the remaining 1 cup beef stock into the inner pot and stir the meat to be sure none of it is sticking to the bottom. Pour the pureed sauce over the top but do not stir! Place the top on the pressure cooker and lock. Be sure the handle is in the sealing position. Cook on high pressure for 70 minutes, then let it naturally release the pressure for 12 minutes. Turn the handle to venting and release the remaining steam.
Using a slotted spoon, scoop the meat out of the pan and place on a baking sheet. Use two forks to shred it, discarding any clumps of fat.
Build your tacos with your favorite toppings and enjoy!
Notes
SHORT CUT: If you can't find chipotles en adobo, you can use a chipotle salsa in place of the peppers and adobo sauce. Add the salsa to the other sauce ingredients, reducing the beef stock to 1/2 cup and stir to blend. No need to use a blender. Follow the rest of the directions as written.
Nutrition Information:
Yield:
8
Serving Size:
1
Amount Per Serving:
Calories:

985
Total Fat:

38g
Saturated Fat:

15g
Trans Fat:

2g
Unsaturated Fat:

22g
Cholesterol:

469mg
Sodium:

691mg
Carbohydrates:

8g
Fiber:

1g
Sugar:

2g
Protein:

154g
Create a New Tradition Today!
Welcome! The suggestions here are not intended as dietary advice or as a substitute for consulting a dietician, physician, or other medical professional. Please see the Disclaimers/Privacy Policy page for additional details. Unauthorized use, distribution, and/or duplication of proprietary material from The Heritage Cook without prior approval is prohibited. If you have any questions or would like permission, please contact me. We participate in the Amazon Services LLC Associates Program, an affiliate advertising program designed to provide a means for sites to earn advertising fees by advertising and linking to amazon.com. As an Amazon Associate, I earn a small amount from qualifying purchases without any additional cost to you. This page may contain affiliate links. This post was first shared in April 2019. The article was updated in 2022.