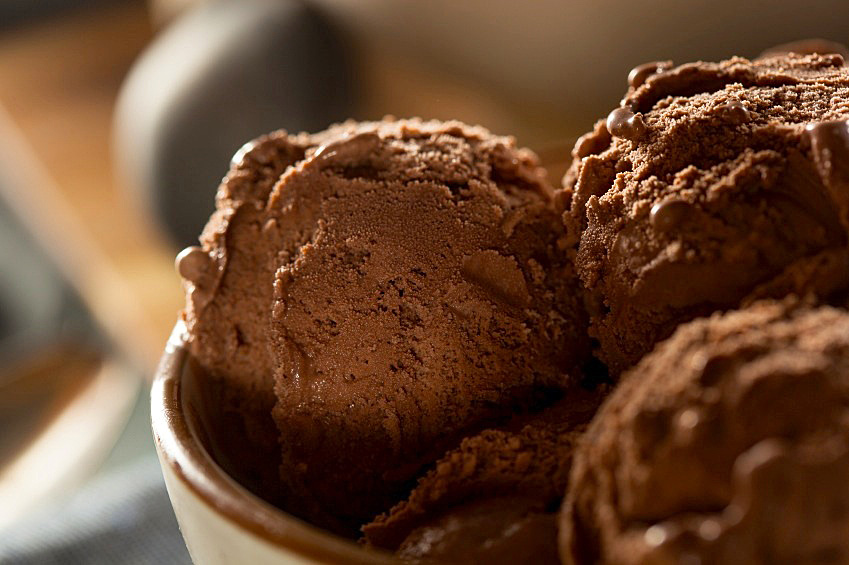 Do you drift off during busy days, dreaming of the perfect ice cream? Imagining you are sitting outside on a warm summer day, holding an ice cream cone and trying to keep the drips from landing on your hand. If you've ever had any of Jeni's Splendid Ice Cream flavors, then you know what I am talking about.
Jeni Britton Bauer is the founder of Jeni's Splendid Ice Creams out of Columbus, Ohio. I had the distinct pleasure of meeting her on one of my press trips to the area and sampling many of her unique flavor combinations. This week I will have another chance to say hi and see what she has been up to since the last time I was in Columbus.
If you've ever been on a food-centric press tour, you will understand that by the time we arrived at our last stop of the day, we were filled to the brim with fabulous cocktails, wine, and food, certain that we couldn't possibly take another bite of anything. And then we got to Jeni's …
As we drove up, the line was out the door and snaked down the street outside the small shop. Brightly lit with a profusion of incredible flavors sparkling in their chilled containers, we filed in the back door full of anticipation and excitement. Even after an evening of incredible foods and drinks, we couldn't wait to try Jeni's highly touted ice creams. And she certainly didn't disappoint!
Jeni is a delightful woman whose passion for her craft can't help but overflow. She bubbles with enthusiasm, her eyes sparkling as she talks about ice cream. Her commitment to quality ingredients is inexhaustible and she only buys from other like-minded purveyors. Her philosophy of controlling the ingredients "from the cow to the cream" is evident in every single bite.
Jeni started working in a bakery in high school and stayed there through her college years. She had found her passion – sweets – but needed to focus it. She tried out the concept of an American-style bakery with French techniques she had learned over the years, but something was missing. And then one day she decided to try making ice creams. Her first venture was to add a little cayenne oil to store bought chocolate ice cream and her guests went wild. They couldn't get enough and Jeni had found her passion!
She created flavors such as Coriander Raspberry, Cherry Lamibc, Bacon Praline, and one of her most popular offerings, Salted Caramel. She has a slew of signature flavors that are always on the menu and a variety of seasonal combinations that change throughout the year. She loves incorporating ingredients she finds at the local farmer's market to make Strawberry Buttermilk, Cucumber Creme Fraiche, and Backyard Mint among her many options.
Jeni's Splendid Ice Creams opened in 2002. She now has has Scoop Shops in Columbus, Cleveland, Nashville, Chicago, Atlanta, and Charleston, online sales, and national distribution in grocery stores. It has been wonderful to watch her dream grow.
Today's recipe is from her 2011 cookbook "Jeni's Splendid Ice Creams at Home." With more than 100 artisanal recipes for ice creams, sorbets, frozen yogurts, and dessert sauces, you are bound to find dozens that you must try. The biggest challenge will be to decide which one to make first.
This is a beautiful book with plenty to please everyone in your family and ideas to get your creative juices flowing. Don't be afraid to try Goat Cheese Ice Cream with Roasted Red Cherries, Kona Stout Ice Cream, or Sweet Corn and Black Raspberry Ice Cream. They may be unusual combinations, but you will walk away a true believer after just one bite.
This week Jeni is coming through the San Francisco Bay Area on her national book tour, promoting her latest book, "Jeni's Splendid Ice Cream Desserts". There are still a few seats left – you should join us! In this second book, she explores the many different ways that you can use ice creams as the main ingredient in other desserts. From fresh berry cobblers and Salty Graham Gravel topping, to sweet empanadas and corn fritters, Jeni thrills us once again with her creative creations. Her chapter headings have me longing to flip the pages: Flavors That Bloom, Ice Cream Parlor, Bakeshop, Sundae Bar – what's not to love? With over 100 new recipes, I can't wait to buy a copy of this book and put it to good use. It will sit alongside her first book, in a place of honor in my cookbook library just waiting to inspire me!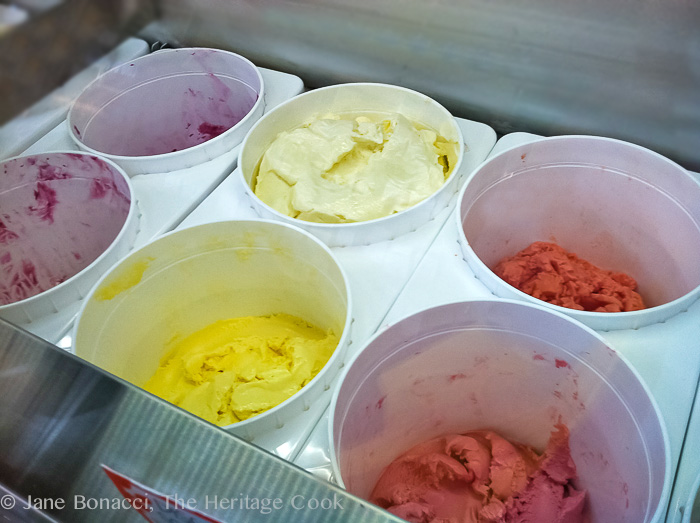 Gluten-Free Tips:
Make certain that the cocoa powder, chocolate, and cornstarch you use are gluten-free.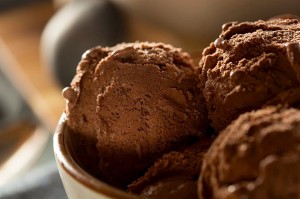 The Darkest Chocolate Ice Cream in the World
2015-06-19 18:06:15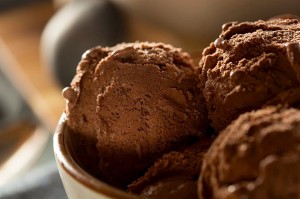 Jeni's Notes: Mouth-filling, palate-gripping, intense chocolate with a fudge-like texture and a pleasingly dry finish. This recipe is a result of a career-long quest: packing as much chocolate into without taking away the ice-creaminess. It is rich, bittersweet, and dense, and the texture is slightly chewy, with extreme chocolate flavor. Folks often say it tastes like the inside of a chocolate truffle. Always use the best ingredients available, especially when making an ice cream with one singular flavor. Use the best-quality chocolate you can get your hands on. A high-cacao, full-bodied, fruity chocolate will cut through the cream, and the flavor will be more dramatic.
Chocolate Syrup
1/2 cup unsweetened cocoa powder (preferably natural cocoa)
1/2 cup brewed coffee
1/2 cup sugar
1-1/2 oz bittersweet chocolate (55% to 70% cacao), finely chopped (Jeni's favorite is http://www.askinosie.com)
Ice Cream Base
2 cups whole milk
1 tbsp plus 1 tsp cornstarch
1-1/2 oz (3 tbsp) cream cheese, softened
1/8 tsp fine sea salt
1 cup heavy cream
1/2 cup sugar
2 tbsp light corn syrup
Prepare the Chocolate Syrup
Combine the cocoa, coffee and sugar in a small saucepan, bring to a boil over medium heat, stirring to dissolve the sugar, and boil for 30 seconds. Remove from the heat, add the chocolate, and let stand for 5 minutes. Stir the syrup until smooth. Set aside.
Make the Ice Cream Base
Mix about 2 tbsp of the milk with the cornstarch in a small bowl to make a smooth slurry. Whisk the cream cheese, warm chocolate syrup, and salt in a medium bowl until smooth.
Fill a large bowl with ice and water.
Combine the remaining milk, cream, sugar, and corn syrup in a 4-quart saucepan. Bring to a rolling boil over medium-high heat, and boil for 4 minutes. Remove from the heat and gradually whisk in the cornstarch slurry. Bring the mixture back to a boil over medium-high heat and cook, stirring with a heatproof spatula, until slightly thickened, about 1 minute. Remove from the heat.
Gradually whisk the hot milk mixture into the cream cheese mixture until smooth. Pour the mixture into a 1-gallon resealable freezer bag and submerge the sealed bag in the ice bath. Let stand, adding more ice as necessary, until cold, about 30 minutes.
Pour the ice cream base into the frozen canister of your ice cream maker and spin until thick and creamy, following the manufacturer's directions.
Pack the ice cream into a storage container, press a sheet of parchment directly against the surface, and seal with an airtight lid. Freeze in the coldest part of your freezer until firm, at least 4 hours.
Notes
Yield: a generous quart
Cocoa Zin Ice Cream
Replace the coffee with 1/2 cup Zinfandel or other dry red wine.
Dark Chocolate Peppermint Ice Cream
Make the ice cream base as directed. When it is chilled, pour into the frozen canister and turn on the machine. Drip 4 drops of pure peppermint essential oil (www.crosbymintfarm.com) through the opening in the top of the machine and spin the ice cream.
Adapted from Jeni's Splendid Ice Creams at Home" by Jeni Britton Bauer
The Heritage Cook ® https://theheritagecook.com/
If you are from the Midwest or will be traveling there, you may be interested in my other articles on Ohio, its people and the fabulous food we got there:
Three Great Inns, Part One – The Inn at Honey Run
Three Great Inns, Part Two – The Inn and Spa at Cedar Falls
Three Great Inns, Part Three – Murphin Ridge Inn
The Artisans of Columbus, Part One
The Artisans of Columbus, Part Two
The Artisans of Columbus, Part Three
Disclosure: My trips to Ohio were paid for by Experience Columbus. I was not compensated in any way for this or any other article. All thoughts, as always, are my own.
Create a New Tradition Today!
Let's connect! If you love The Heritage Cook, you can follow me on Pinterest or Twitter, and become a fan on Facebook. If you ever need any entertaining or cooking advice, need to know how to alter a recipe for gluten-free, or want recipe suggestions, don't hesitate to email me ([email protected]). Thanks for reading!
Unauthorized use, distribution, and/or duplication of proprietary material from The Heritage Cook without prior approval is prohibited. This includes copying and reprinting content and photographs. If you have any questions or would like permission, I can be contacted via email ([email protected]). Feel free to quote me, just give credit where credit is due, link to the recipe, and please send people to my website, www.theheritagecook.com. Please see the Disclaimers page for additional details.
This site is not intended to provide medical advice. The suggestions here are not intended as dietary advice or as a substitute for consulting a dietician, physician, or other medical professional. It is the reader's sole responsibility to determine which foods are appropriate and safe for their family to consume. Always consult your doctor. The author makes no claims regarding the presence of food allergens and disclaims all liability in connection with the use of this site.
Thank You!