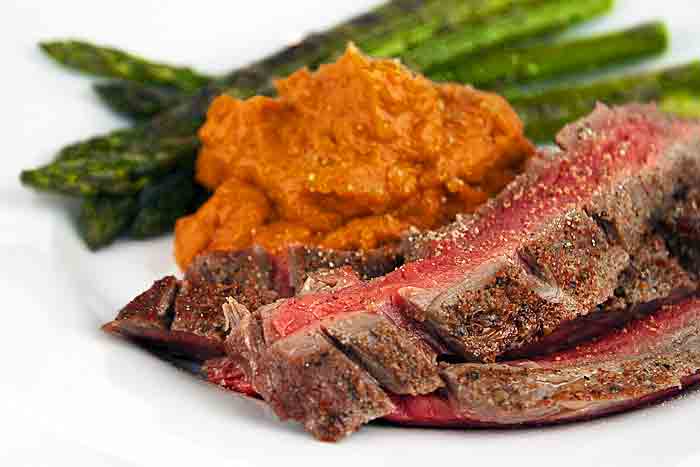 Last week I spent a few idyllic days with my fellow Char-Broil All-Stars (more on that later), grilling up a storm on the beach in Florida and getting back in the outdoor cooking swing after winter. When I got back home I couldn't wait to get back to the grill and whip something up for all of you!
I had a flank steak in the freezer and that I had been wanting to work with and it would be the perfect main course to go along with the leftover sweet potatoes from Wednesday's #SensationalSides. The Artist had picked up some fresh asparagus and that would complement the meal with beautiful color, crunch, and flavor!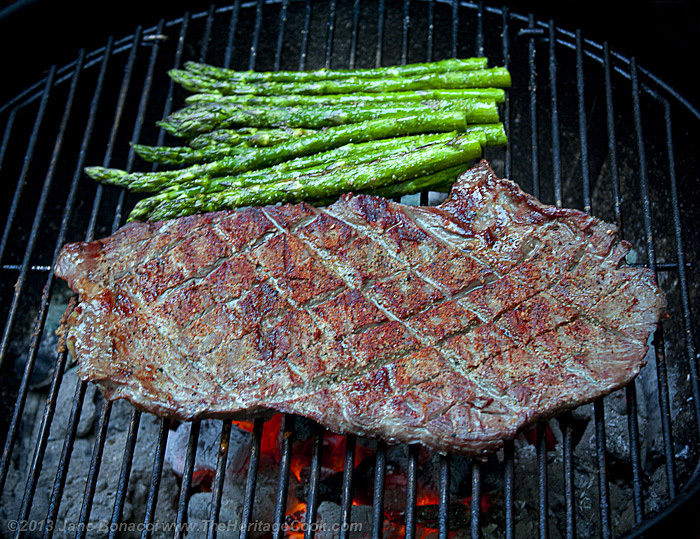 When you are working with cheaper, tougher cuts of meat you need to break the fibers that run through them. You can cook them really slowly and break them down that way, or if you are going to sear them on a hot surface, you need to cut them. You've probably heard of "cutting against the grain" in recipes and may not know what that means.
Take a look at this photograph below. See the striations running the length of the steak? Those are the fibers called the "grain." Left alone they will make every single bite really tough and fibrous. Your jaw will be tired trying to chew them.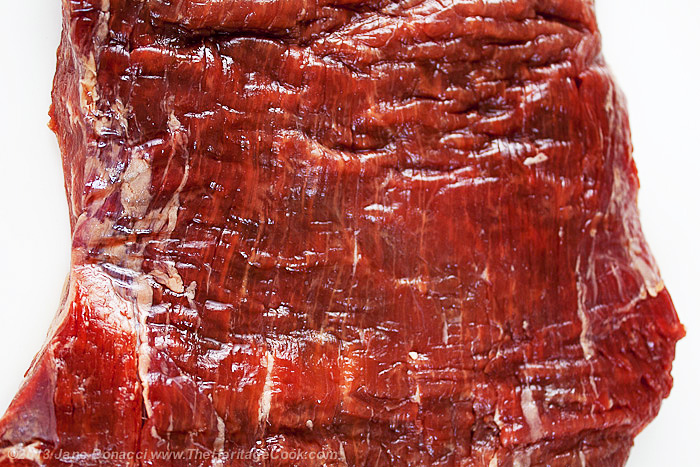 By making the cuts in the meat, cutting on the diagonals from the length of the grain, you break these fibers and get a much more tender cut of meat with all of the flavor that the flank naturally has. I cut these a little deeper than I normally do to show you the technique. Cut them a little shallower when you are making this for yourself and your family.
I am a huge proponent of enhancing the natural flavors in foods without overwhelming them with a lot of sauces. Enter the dry rub. Dry rubs add a lot of flavor without diluting the way wet brines do. Grab some chile powder as the base – my favorite is ancho chile because it has a lot of flavor without heat. You get the essence of the chile and can add more heat if you want. Then add salt and pepper, some herbs, a touch of sugar if you want, onion and garlic powders, and sometimes a curve ball like turmeric, curry, or cardamom. Get creative and have fun!!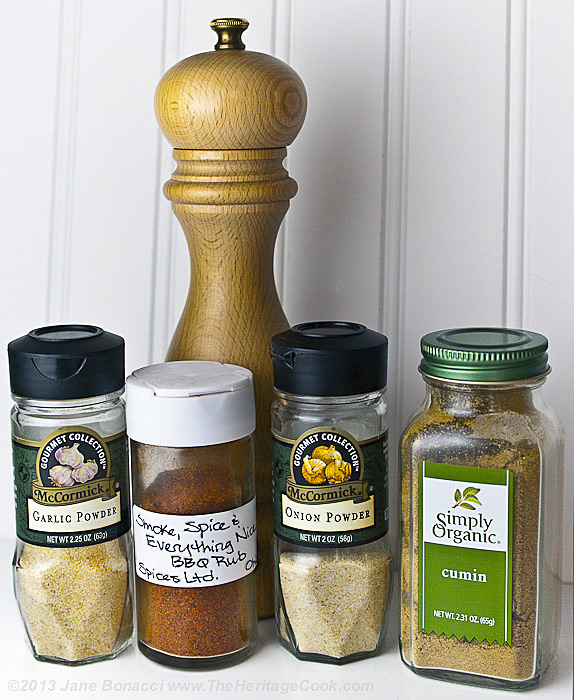 For this meal I kept it really simple to let the flank steak shine. I also had strong flavors in the sweet potatoes and didn't want anything to fight with those seasonings. There is nothing better than really simply seasoned asparagus cooked on the grill, so that made it easy to figure out what to do there – nothing but salt and pepper!
And now for the discount from Char-Broil …
Char-Broil has kindly given me a discount code to share with all of you!! After testing lots of different Char-Broil grills, I highly recommend you take a look at their line of TRU-Infrared grills. They are beautifully made with amazing infrared technology that will radically improve your grilling results. It is hard to make a bad meal on these grills!
The designers at Char-Broil have harnessed infrared technology for a whole new way to grill your foods. TRU-Infrared uses radiant heat to cook instead of hot air (convective heat), locking in the natural juices and not drying out your foods. It helps prevent flare-ups, uses less gas, comes to temperature quickly and cooks faster, and has even heat so no more hot spots to deal with. For more information on the science and technology behind TRU-Infrared, click Here.
Enter the Discount Coupon code C13JB25 in the Coupon Field on your Shopping Cart page at charbroil.com and you can get 25% off the purchase of any grill! For example, if you buy a Char-Broil Performance TRU-Infrared T-47D Model Gas Grill, an Electric Rotisserie attachment and a Vertical Gas BBQ & Smoker Oven you will save over $200!
The Artist and I loved this meal and it was a great way to ease back into reality after my trip to Florida. On Monday you will hear more about my trip and the results of our All-Star version of Chopped Grilling competition.
Have a wonderful weekend!!
Disclaimer: I am a Char-Broil All-Star and have received grilling equipment for test purposes. I have not been paid for this post and all opinions are my own.
Jane's Tips and Hints:
I love my long slicing knife, sometimes called a carving knife, for slicing boneless pieces of meat. It is extremely sharp and creates the best bias slices. If you want thin, consistent slices, look at this knife. It is an investment that will pay for itself many times over because you will never have to replace it!
Gluten-Free Tips:
Most herbs and spices are naturally gluten-free, but always check the label and contact the manufacturer if you have any questions.
Grilled Flank Steak and Asparagus
2015-07-01 13:07:06
Ingredients
2 tsp ground cumin
1/2 tsp garlic powder
1 tsp onion powder
1/2 tsp Smoke, Spice & Everything Nice BBQ Rub (from North Market Spices in Columbus, OH) or your own blend of ancho chile powder, chipotle chile powder, etc.
Kosher salt and freshly ground pepper, to taste
1 to 2 lb flank steak
Fresh asparagus spears, tough ends trimmed and discarded
Organic extra virgin olive oil, such as California Olive Ranch
Instructions
Prepare the Dry Rub: In a small bowl, combine the cumin, garlic powder, onion powder, and BBQ blend. Add a pinch of kosher salt and a few grinds of pepper. Stir to blend.
Prepare the Steak: Set the steak on a cutting board and look for the fibers running the length of the steak. Use a very sharp knife and make thin slices diagonally down the steak, on about a 45-degree angle from the grain, cutting the fibers. Make a second set of cuts in the opposite direction to the first, creating a diamond pattern. Turn the meat over and repeat on the second side.
Sprinkle half of the dry rub on each side, rubbing it into the cuts, transfer to a platter and cover with plastic wrap. Place in the refrigerator for about an hour or up to overnight. Remove from the refrigerator and let sit at room temperature for at least 30 minutes before grilling.
Drizzle the asparagus with a little olive oil and sprinkle liberally with salt and pepper.
Prepare the Grill: If using a charcoal grill, use a charcoal chimney and light the coals. Once they have begun to develop ash, dump them out and spread toward one side of the grill. If using a gas grill, heat one side to high and the other to medium.
Place the asparagus on the cooler side of the grill, being careful to make sure the spears run the opposite direction of the grates or they'll fall into the fire! Cook the asparagus for a minute or two before adding the meat to the opposite side of the grill, directly over the hotter coals. As the meat cooks, roll the asparagus occasionally with tongs to cook all sides. Remove the asparagus from the heat as it is done. Thinner spears will obviously take less time than thicker ones. You can reheat it in the oven or microwave if needed.
As soon as the meat has good grill marks and easily releases from the grates (about 5 minutes depending on the heat of your fire), use tongs to flip it over to the second side. Cook until the meat is about medium-rare to medium (140°F - 145°F). The rarer you cook it, the moister it will be. Use a good instant read thermometer, such as the Thermapen, and insert it sideways through the side of the steak to judge the temperature in the center.
The length of time will depend on the thickness and temperature of your steak and the heat of the fire. My steak took about 15 minutes total time because it was still fairly cold when I put it on the fire. Yours may take less time.
Transfer the steak to a clean platter, add the cooked asparagus and set aside covered loosely with aluminum foil to rest. This gives the steak time to finish cooking and reabsorb the juices. If you cut it right away, you will lose all the wonderful moisture and flavor.
When the steak has rested at least 10 minutes, slice into thin slices following your earlier diagonal slits. Cutting across the "grain" breaks the tough fibers that run through the meat, giving you a much more tender bite.
Serve with the grilled asparagus and your choice of starch or grain. I had leftover whipped sweet potatoes for our dinner. What would you serve with this?
Notes
Yield: 2 to 4 servings
The Heritage Cook ® https://theheritagecook.com/
Create a New Tradition Today!
Unauthorized use, distribution, and/or duplication of proprietary material on The Heritage Cook without prior approval is prohibited. This includes copying and reprinting content and photographs. If you have any questions or would like permission, I can be contacted via email: theheritagecook (at) comcast (dot) net. Feel free to quote me, just give credit where credit is due, link to the recipe, and please send people to my website, www.theheritagecook.com. Please see the Disclaimers page (under the "About" tab above) for additional details.
Thank You!