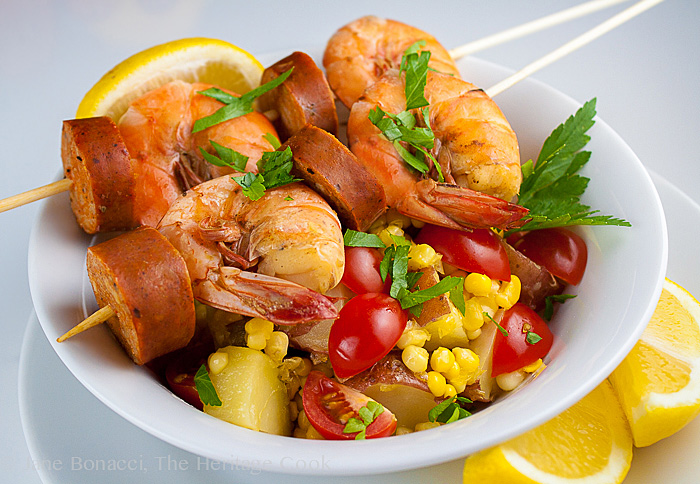 Welcome to the inaugural edition of the Progressive Eats Virtual Supper Club! Do you remember the days when friends would gather to share a meal and have each course at a different person's house? We thought it would be fun to create an online version. Each month we will be offering all of our readers a virtual progressive dinner. Collect all the recipes and throw your own parties with your family and friends!
This month's theme is Summer in the South with Lana of Never Enough Thyme leading the team. What a wonderful way to kick off this fun new adventure!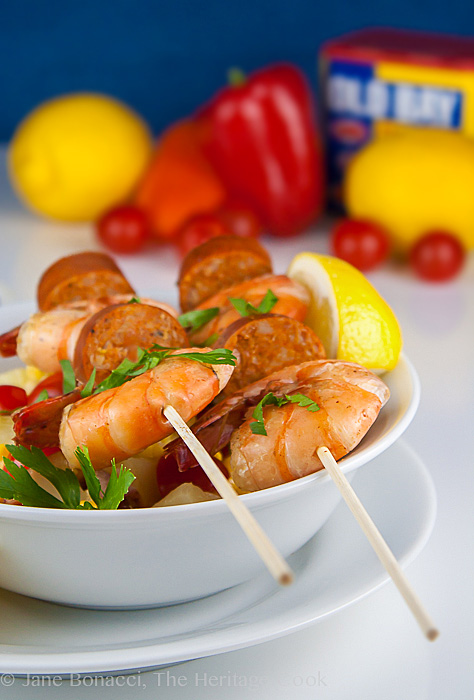 I love the South, especially the culinary heritage that is passed from generation to generation. You cannot sit down to a meal without having at least one recipe that is served at every family gathering – and they are always incredibly delicious!
Some of my favorite parties are shrimp or crab boils at the beach. Hot sunny days, cool water, and the glorious balmy evenings sitting around the fire. Cooking all the foods in a steaming pot of water, draining them and throwing everything on a paper-covered table, each person grabbing for their favorites. Stories being told, the air filled with laughter. These were some of my fondest memories.
I thought it would be fun to take what is normally the main course and side dishes all in one and made in a pot big enough to feed a crowd, and turn it into an appetizer or first course. You can be as generous as you want, but if you are making the whole progressive meal we've put together, you'll definitely want to keep this first course small.
A typical shrimp boil combines shrimp, potatoes, corn on the cob, onions, and seafood seasoning blend. The most common and popular seasoning is Old Bay. If you haven't tried it, it is a blend of great flavors that make nearly everything taste better. I don't think I would add it to cereal or sweet desserts, but just about anything else, LOL. Oh, and Old Bay is conveniently gluten-free!
At the beach you throw everything in the same pot, in stages, starting with the things that take longest to cook and adding the shrimp right at the end. To make it easier to serve this at a party, I cooked everything in the same pot, but added each ingredient, one at a time, scooping them out and setting them aside as they were done before adding the next ingredient. This lets you cook each one perfectly.
Assemble the skewers and set them on a plate with a small serving of the corn, potatoes and tomatoes. Or you can do as I did and serve the skewers over a bowl of the vegetables. Each person will have a delicious and easy to eat appetizer.
For the cocktail sauce, I threw together a quick blend of ketchup, Old Bay, horseradish, onion powder, lemon juice, and black pepper, juggling ingredients until I got the flavor I was looking for. I love cooking spontaneously and coming up with a new treat!
Have fun creating a mini shrimp boil for your next party And be sure to click on the links below to see the whole progressive supper we put together!
Old Bay Shrimp Boil Skewers (Gluten-Free)
2015-06-19 15:15:07
Traditional shrimp boils have everything cooking at the same time in the same pot. I cooked the ingredients one after the other so that everything could be made ahead of time. You have all of the traditional flavors and can have it all ready before your guests show up.
Ingredients
2 quarts water
3 ears corn, shucked and cleaned
1/4 cup Old Bay* seasoning, plus more for sprinkling if you want
1 tbsp kosher or sea salt
1 tbsp Ancho chile powder or other mild chile powder (gluten-free)
Juice of 1 lemon
8 small red-skinned potatoes
1 large onion, trimmed and peeled, cut into quarters
2 cloves garlic, peeled and cut in half lengthwise
2 tbsp butter
4 to 6 smoked Andouille sausages (gluten-free) or other smoked sausage (gluten-free)
1 to 2 lb unpeeled raw shrimp, deveined
2 cups cherry tomatoes, rinsed and cut into wedges
Chopped Italian flat leaf parsley, finely chopped, optional
Seafood cocktail sauce, optional (gluten-free)
Lemon wedges, for garnishing
Instructions
In a large saucepan (4-quart or larger), bring the water to a boil. Cook the corn for about 4 minutes, turning as needed to cook all the kernels. Use tongs to remove them from the water and set aside to cool slightly.
Add the Old Bay, salt, chile powder, and lemon juice and bring the water back to a boil. Add the potatoes, onions, and garlic. Reduce the heat to medium to hold a low boil. Cook until the potatoes are tender, about 8 minutes depending on their size. When you can easily pierce them all the way to the center with a slender knife, use tongs to remove them and set aside.
While the potatoes are cooking, cut the corn off the cobs and transfer to a medium saucepan. When the potatoes are cool enough to handle, cut into small bite-sized pieces. Add to the corn. Add butter and warm lightly until butter is melted; Toss until the potatoes and corn are evenly coated. Set aside.
Return the seasoned water to a low boil and add the sausage to the water to heat through. When fully warmed, add the shrimp and cook just until they turn pink, about 2 to 3 minutes depending on the size. Immediately remove from the water using a strainer to scoop out the shrimp, sausages and any remaining onions. Drain thoroughly. Cut the sausages into 1-1/2 inch pieces.
You can leave the shrimp as is and let your guests peel and eat (the traditional way) or peel and devein them before serving for easier eating. If I was serving this at a sit down dinner I would leave the shells on and make it more fun for my guests to get their hands in the food - everyone loves that! If I was serving this at a stand up cocktail party, I would clean the shrimp so they are much easier to eat with one hand.
Everything can be cooked ahead to this point and refrigerated up to a couple of hours. When ready to serve, lightly reheat the vegetables, sausages and shrimp. They can all be served at room temperature, but warm enough so the butter is still melted.
To serve as shown in the photos, thread the shrimp and sausage pieces onto skewers. Spoon the corn and potatoes into serving bowls. Add some of the tomatoes over the top of the vegetables and set the skewers across the edges of each bowl. Tuck a couple of lemon wedges into each bowl. Sprinkle the top with the chopped parsley and serve with cocktail sauce if desired.
Notes
Yield: about 6 to 8 appetizer servings; about 4 main course servings
* Old Bay is gluten-free
The Heritage Cook ® https://theheritagecook.com/
Create a New Tradition Today!
This recipe is part of our virtual monthly supper club, Progressive Eats. See the links below for more inspiration and great recipes!
Fried Green Tomatoes with Smoked Tomato Basil Aioli from Megan Myers, Stetted
Shrimp, Grilled Peach, Quinoa Salad from Jamie Schler, Life's a Feast
Creamy Cole Slaw from Milisa Armstrong, Miss in the Kitchen
Maque Choux Soup from Ansh Dhar, Spice Roots
Creole Style Smothered Chicken from Lana Taylor Stuart, Never Enough Thyme
Jalapeno Cornbread & How to Freeze It from Julie Grice, Savvy Eats
Bacon and Caramelized Onion Creamed Corn from Barb Kiebel, Creative Culinary
Spicy Succotash from Jenni Field, Pastry Chef Online
Watermelon Lemonade from Lauren Keating, Healthy Delicious
Key Lime Pound Cake from Barbara Schieving, Barbara Bakes
Banana Cream Cheesecake Pie from Liz Weber Berg, That Skinny Chick Can Bake
And look at what's coming up!
Aug 26th – Summer Barbecue hosted by Liz at That Skinny Chick Can Bake
Sept 30th – Tex Mex hosted by Milisa at Miss in the Kitchen
Oct 28th – Cocktail Party hosted by Barb at Creative Culinary
Nov 25th – Holiday Desserts hosted by Jenni at Pastry Chef Online
Let's connect! If you love The Heritage Cook, you can follow me on Pinterest, Facebook, or Twitter. If you ever need any entertaining or cooking advice, need to alter a recipe for gluten-free, or want recipe suggestions, don't hesitate to email me ([email protected]). Thanks for reading!
Unauthorized use, distribution, and/or duplication of proprietary material from The Heritage Cook without prior approval is prohibited. This includes copying and reprinting content and photographs. If you have any questions or would like permission, I can be contacted via email ([email protected]). Feel free to quote me, just give credit where credit is due, link to the recipe, and please send people to my website, www.theheritagecook.com. Please see the Disclaimers page for additional details.
This site is not intended to provide medical advice. The suggestions here are not intended as dietary advice or as a substitute for consulting a dietician, physician, or other medical professional. It is the reader's sole responsibility to determine which foods are appropriate and safe for their family to consume. Always consult your doctor. The author makes no claims regarding the presence of food allergens and disclaims all liability in connection with the use of this site.
Thank You!