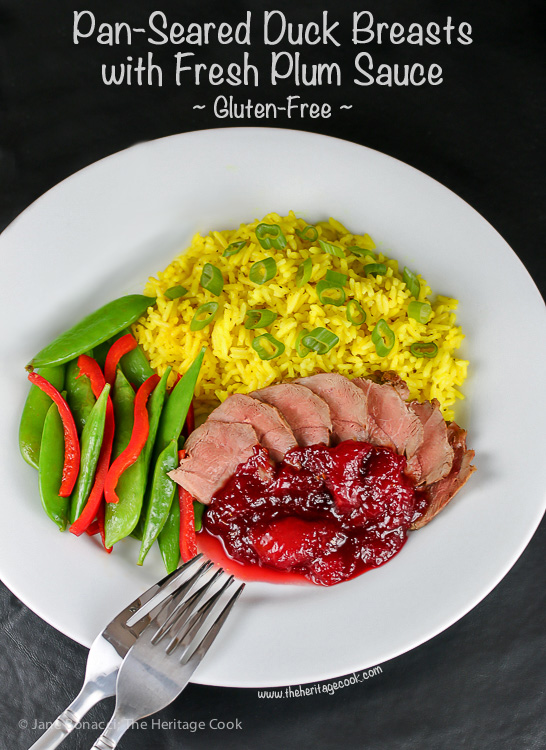 Welcome to the latest edition of Progressive Eats, our virtual version of a progressive dinner party where each course is held at a different home. This month's theme is a celebration of stone fruits hosted by Ansh of Spice Roots.
With summer coming to an end, it's a great time to use the summer's abundant bounty in everyday food. The ladies of this group have once again outdone themselves – these recipes are remarkable! Each one features their favorite stone fruit – from BBQ sauce, to curries, to duck and of course desserts. I promise you will want to make them all immediately! Make sure you check out the links at the bottom of the page.
When The Artist heard that today's #ProgressiveEats theme was stone fruits, his eyes lit up and he immediately asked me to make one of his favorite meals, this luscious pan-seared duck served with fresh plums cooked down into a rich sauce. Every year when I see the stone fruits arriving at the Farmer's market, I keep a close eye on the plums and when they are perfect, this is the first dish that I make.
I have been making versions of this recipe for many years. You know how you make a dish over and over, never needing a recipe because it is so ingrained in your memory. Well I finally wrote it down a few years ago and can share it with you! Sometimes I make it with chicken or pork, but when possible, duck is my favorite. It is full-bodied enough to really stand up to the sauce, creating beautiful balance, bite after bite.
Duck doesn't have to be saved for special meals anymore. Because of its richness, a little goes a long way, making it much more affordable than it first appears. The Artist and I generally share a single breast between us, leaving us with much appreciated leftovers the next day. Plus the rendered fat is liquid gold. You haven't had French fries until you've had duck fat fries! Just sayin' …
Have you discovered the beauty of pan sauces? Using the flavors that are developed when you brown meats and poultry, you sauté some aromatics, deglaze the pan with a little wine or stock, add some herbs, and voila, you have an instant sauce! If you are looking for an easy and quick way to elevate ordinary poultry or pork dishes to something special, use a fruit-based pan sauce. When seasonings are added along with a little wine, your ordinary meal becomes truly elegant. Today's sauce is outstanding and really makes this dish. In fact, the next time I make this, I think I am going to double the sauce ingredients and have it on hand for basting when I am cooking on the grill. That would be amazing!
Look out, I'm getting creative again … For your next dinner party, you could wrap plum halves with prosciutto or make Millisa's beautiful Grilled Peaches, Basil and Honey Appetizer, make this duck with the fresh plum sauce for your entree, perhaps an order of Duck Fat Fries alongside (thanks for the inspiration Jenni Field!) then finish your meal with my Grilled Plum and Port Parfaits and have a plum-palooza dinner! 😉
For those of you who are new to using wine in your cooking, make sure that the wine you use is one that you enjoy drinking. Never buy anything labeled "cooking wine" because it is distasteful and nothing I would like to taste in a beautiful sauce. I often use the same wine I will be serving with the meal to carry the flavors through the entire evening. My motto is undrinkable wine makes an unpleasant meal!
If you are a beginning cook, a bachelor who is looking for the perfect meal to make for your gal, want to make a meal for someone special, or want to impress your new in-laws, give this recipe a try. Always do a practice run before the big event. You want to be comfortable with the techniques and ingredients and have a chance to make it for the first time when there is no pressure. You will be more comfortable when you are making it for others.
I hope you have a wonderful week and make sure you hit the farmer's market or grocery store soon and buy a bunch of stone fruits. You're going to want to make every single one of this month's recipes!
Jane's Tips and Hints:
It may seem counterintuitive that I would give directions for cutting plums, but often the pits are difficult to remove. Cut a plum in half, running your knife around the pit and twist the halves apart. If the pit pops out easily, then you've got a beautifully ripe batch. But if you run into any that are stubborn, simply cut the meat away from the pit. It won't be as pretty, but the plums pretty much disintegrate in the sauce so neatness doesn't count as much in this dish.
Gluten-Free Tips:
Naturally gluten-free!
Kitchen Skill: What Does "Adjust Seasonings" Mean?
When recipes tell you to "adjust the seasonings" toward the end, what does that mean? We often give you variable measurements for herbs and seasonings, especially salt and pepper. The reason is that these can be limited by doctor's orders, some people like less than others, or an individual may be sensitive to a specific flavor. If you are making a dish for your kids, you will always go light on the seasonings because their palates are so much more sensitive than those of adults. If I am cooking for my father-in-law, I use barely any pepper. But if it is just The Artist and me, I can put as much as I like.
For today's sauce, the plums I used were more sour than I anticipated – probably because I Ieft some of the skins on. I took a taste and immediately added another tablespoon of sugar. If I hadn't done that, everyone would have been puckering at the table! So, when you see that phrase, pull out a spoon and sample a little to be sure you like seasonings, that everything is in balance, and that you won't be serving someone a less than perfect plate of food.
Pan-Seared Duck Breasts with Fresh Plum Sauce
2015-08-25 04:21:44
Ingredients
Duck
2 large boneless duck breasts (or you can use 4 boneless chicken breasts)
Kosher salt and freshly ground black pepper
1 tsp dried rosemary leaves, crumbled
1 Vidalia or other sweet onion, peeled, halved and thinly sliced
Plum Sauce
6 to 10 fresh, ripe plums, washed, pitted and quartered *
1/4 cup granulated cane sugar
1 cup dry white wine or dry vermouth
1 cup plum wine
1 tsp very finely minced fresh rosemary or dried rosemary, crumbled
1 tbsp butter
To Serve
Cooked saffron rice (or plain rice if you prefer)
Chopped green onions
Sprig of fresh rosemary, optional
Instructions
Prepare the Duck: Using a sharp knife, score the skin and fat on the top of each breast, without cutting into the meat, creating a diamond pattern with 1/4-inch squares. Pat dry with a paper towel and sprinkle both sides with salt, pepper, and rosemary. Rub the seasoning into slits on the skin.
Start the duck skin-side down in a cold skillet. Turn the burner on to medium-high heat. Cook until the skin is crispy and golden brown, about 10 minutes. Use tongs to flip the breasts over. Scatter the onions around the edges of the pan when you flip the duck. Stir the onions regularly. Cook the second side of the duck for 3 to 5 minutes, then transfer to a baking sheet, tent loosely, and let rest for 5 minutes. The internal temperature of the duck will rise to around 130°F, a perfect medium-rare.
Continue cooking onions over medium heat while the duck is resting, until softened and lightly caramelized, stirring often.
Use a slotted spoon to transfer the onions to the same baking sheet as the duck. Remove all but 1 tablespoon fat from the pan and reserve for another use.
Make the Pan Sauce: Using the same skillet, sprinkle the sugar into the pan and stir for 1 minute. Add both wines and rosemary, stirring until smooth. Bring to a boil over medium-high heat. Boil until reduced about half and slightly thickened, about 10 minutes, stirring regularly. Add the plum pieces and cook, stirring regularly, about 5 more minutes or until the sauce has thickened enough to coat the back of a spoon. Taste and adjust seasonings with salt, pepper, and sugar.
Take the pan off the heat and whisk in the butter just before serving to smooth out the sauce, making it even more delectable. If you are making the sauce ahead, cool it before adding the butter and refrigerate. Rewarm it over medium-low heat before whisking in the butter .
For Serving: Slice the duck with a very sharp knife, cutting against the grain on an angle. Scoop a serving of cooked rice on each plate and add some of the cooked onions alongside and any vegetables you are serving. Working with about half of a breast per serving, fan out the pieces on the plates, leaning them slightly against the rice. Drizzle sauce over the edge of the slices. Sprinkle the rice with the green onions and tuck a sprig of rosemary between the rice and duck slices. Serve immediately, passing additional sauce at the table.
Notes
* Use more if the plums are small and fewer if they are large. Or if plums are not in season, use 1/2 cup plum jam in place of the plums and sugar.
Yield: 4 servings
The Heritage Cook ® https://theheritagecook.com/
Create a New Tradition Today!
This recipe is part of our monthly progressive dinner party, Progressive Eats. See the links below for more inspiration and great recipes!
Stone Fruits
Appetizer
Salad
Main Courses
Desserts
With Progressive Eats, a theme is chosen each month, members share recipes suitable for a delicious meal or party, and you can hop from blog to blog to check them out. To see our upcoming themes and how you can participate, please check out the schedule at Creative Culinary or contact Barb for more information. We have a core group of 12 bloggers, but we will always need substitutes and who knows, if there is enough interest, we may consider adding additional groups.
Let's connect! If you ever need any entertaining or cooking advice, need to alter a recipe for gluten-free, or want recipe suggestions, don't hesitate to email me. I can also be found at the social media site links on the right. Thanks for joining the Heritage Cook Family!
Unauthorized use, distribution, and/or duplication of proprietary material from The Heritage Cook without prior approval is prohibited. This includes copying and reprinting content and photographs. If you have any questions or would like permission, I can be contacted here. Feel free to quote me, just give credit where credit is due, link to the recipe, and please send people to my website. The suggestions here are not intended as dietary advice or as a substitute for consulting a dietician, physician, or other medical professional. It is the reader's sole responsibility to determine which foods are appropriate and safe for their family to consume. The author makes no claims regarding the presence of food allergens and disclaims all liability in connection with the use of this site. Please see the Disclaimers page for additional details.
Thank You!