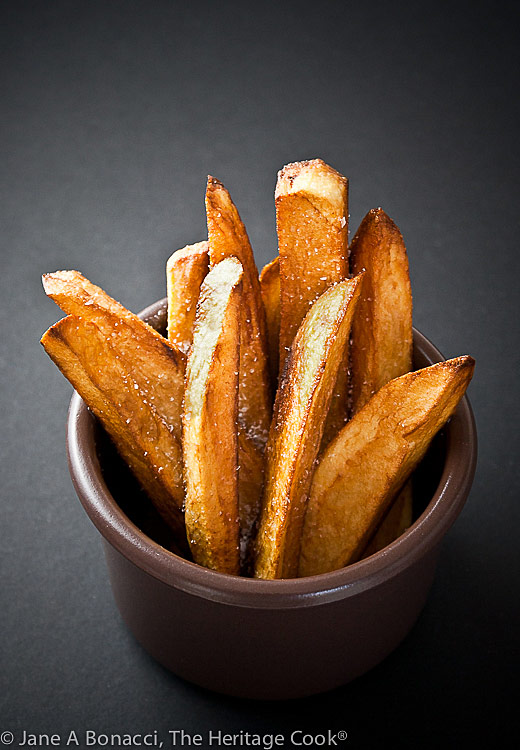 Have I got a fun recipe for you today – Duck Fat Fries otherwise known at pommes frites in French. This is part of the Progressive Eats virtual progressive dinner, with our theme this month of French food we are celebrating everything French! You know how much The Artist and I love France and its people – this was an extra fun theme for me! Be sure to check all the recipes below for some amazing foods your family will love.
Being the good Irish gal that I am, I love potatoes – in any form. They always put a smile on my face and soothe my heart. But if you really want to make me happy, cook those potatoes in duck fat. Yep, duck fat takes them to a whole different level – out of this world! But don't worry if you don't have any, you can use any vegetable oil instead, but trust me, using the duck fat is truly amazing!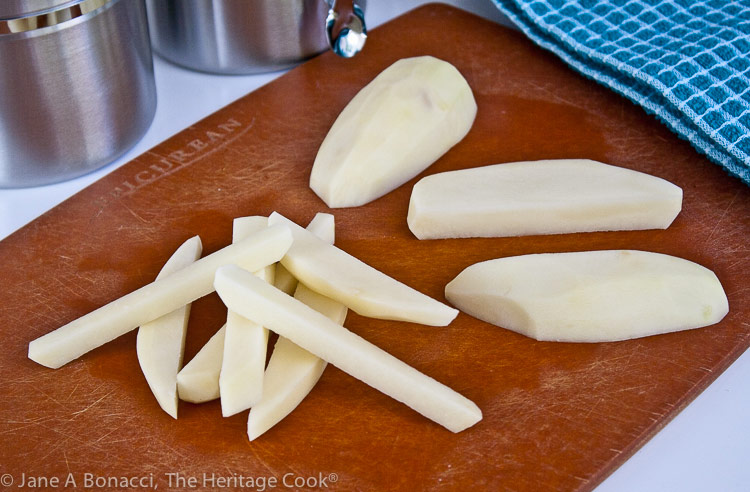 Duck fat imparts a wonderful flavor to anything you cook in it and is naturally gluten-free. Also, unlike butter or olive oil, duck fat can easily be recycled by straining out any solids and kept frozen until the next time you want to cook with it. Duck fat is incredibly easy to render yourself, but if you do not have access to fresh or frozen duck, or just prefer to let someone else do the work, you can buy it already rendered.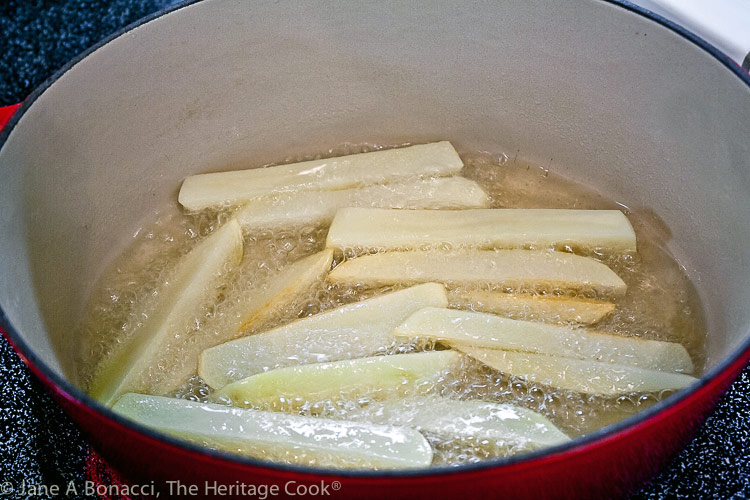 While everyone loves French fries and most people consider them a side for burgers, they are also part of the classic French bistro dish Steak Frites and can be found at the swankiest restaurants in the world. I served mine with sauteed duck breasts and red wine-orange pan sauce. Pure Heaven!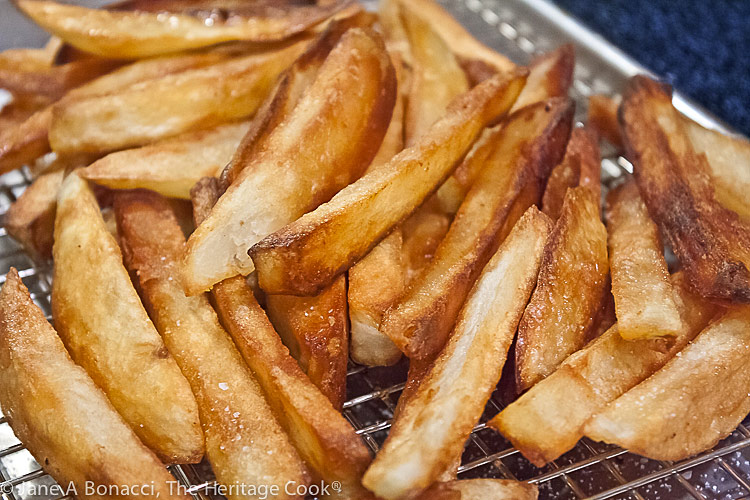 Most French fry recipes call for cooking the potatoes in two stages, starting by frying them at a lower heat to partially cook them, pulling them out before they get any color. Then you raise the temperature of the oil and fry for a second time to brown them and crisp up the outside. I took one of these steps out and simplified the process for you.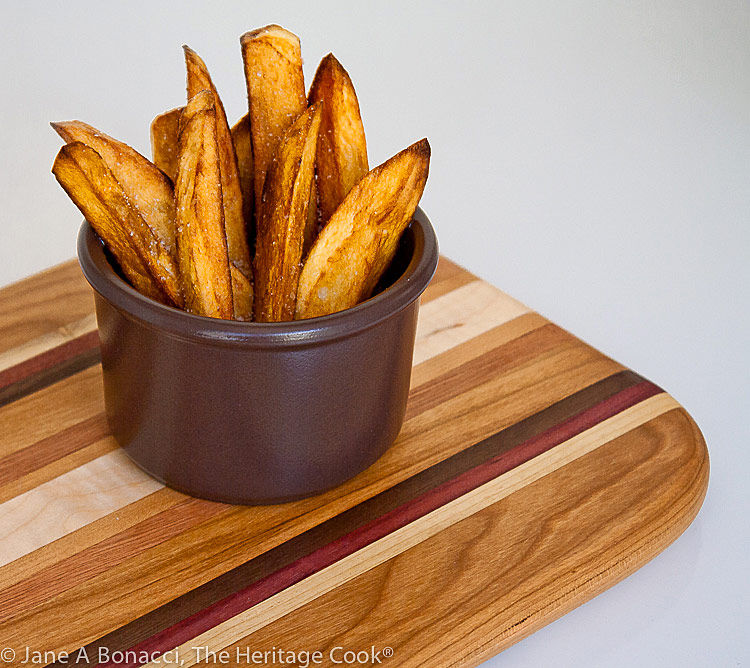 I pre-cook the potatoes in the microwave. This gets the middle of each fry about half done, allowing you to finish them in the hot oil. Just be sure to pat them dry with paper towels to remove any accumulated moisture before adding them to the hot oil. If you add them while still wet, it will cause the oil to pop and you risk getting burned.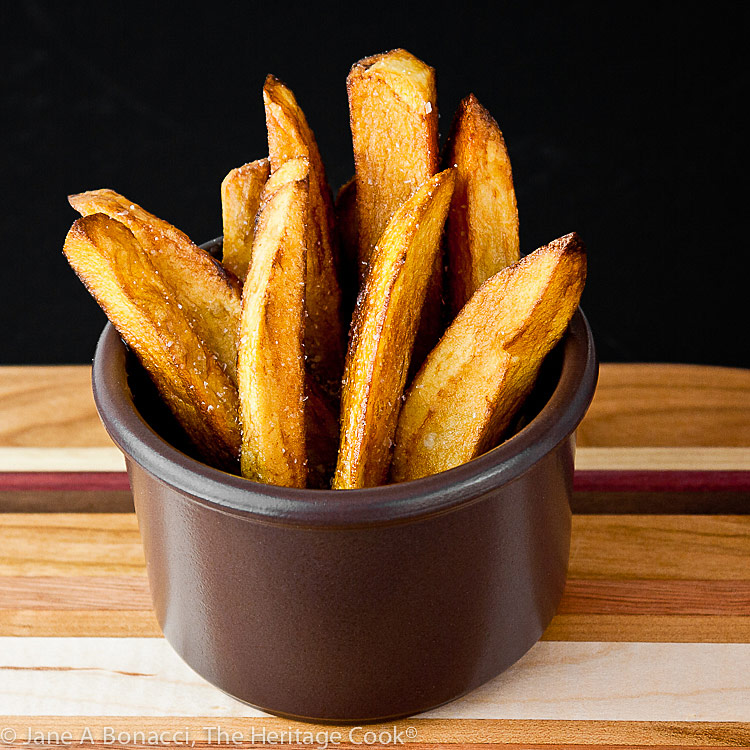 The next time you buy duck breasts for a dinner, remove the fat cap from one or more of them and freeze it to use later to make these truly amazing French fries! And if you don't have access to fresh duck breasts, you can buy rendered duck fat online – everyone can enjoy these wonderful Duck Fat Fries!
Enjoy!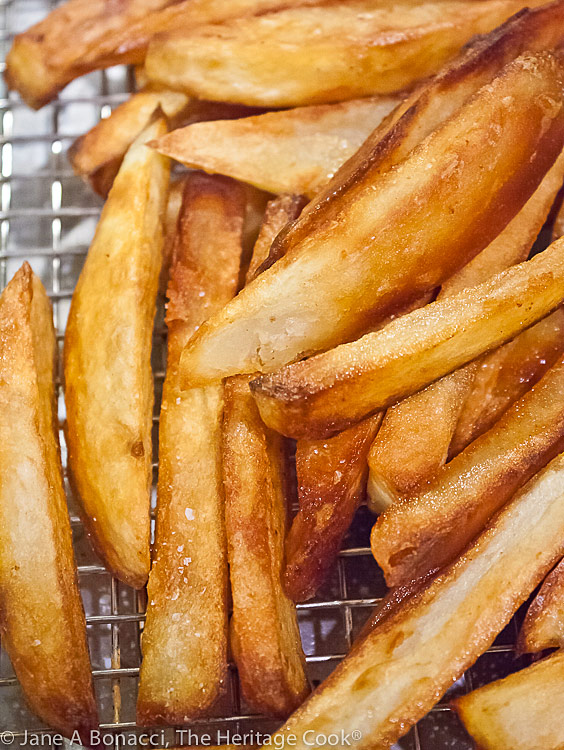 Key Ingredients for Duck Fat Fries:
Russet potatoes

Duck fat

Kosher salt
PRO Tip:
You have a choice to peel the potatoes or leave the skins on them for a more rustic look and additional fiber. If you choose to leave the skins on, make sure you scrub the potatoes really well with a stiff brush to remove all the dirt and grit.
How to make Duck Fat Fries:
Render the fat from duck breasts

Cut potatoes into thick sticks and microwave to partially cook the fries

Heat the duck fat to 350°F and fry potatoes until golden brown

Transfer to a rack set over a baking sheet

Immediately sprinkle with salt and keep warm in a low oven

Cook rest of potatoes in batches until all are done – serve hot
Kitchen Tools I Use to Make This Recipe (affiliate links):
Gluten-Free Tips:
This recipe is naturally gluten-free!

Welcome to Progressive Eats, our virtual version of a progressive dinner party where each course is held at a different home. With Progressive Eats, a theme is chosen each month, members share recipes suitable for a delicious meal or party, and you can hop from blog to blog to check them out. This month's theme is French Cuisine hosted by Coleen of The Redhead Baker. We have a great mix of recipes including appetizers, sides, entrees, and desserts. See the links below for more inspiration and great recipes!
French Cuisine
La boisson (Drink)
L'entrée (Appetizer)
Le pain (Bread)
Le plat principal (Main Dish)
Les plat d'accompagnements (Side Dishes)
Le dessert (Dessert)
Yield: about 4 servings
Duck Fat Fries (Pommes Frites)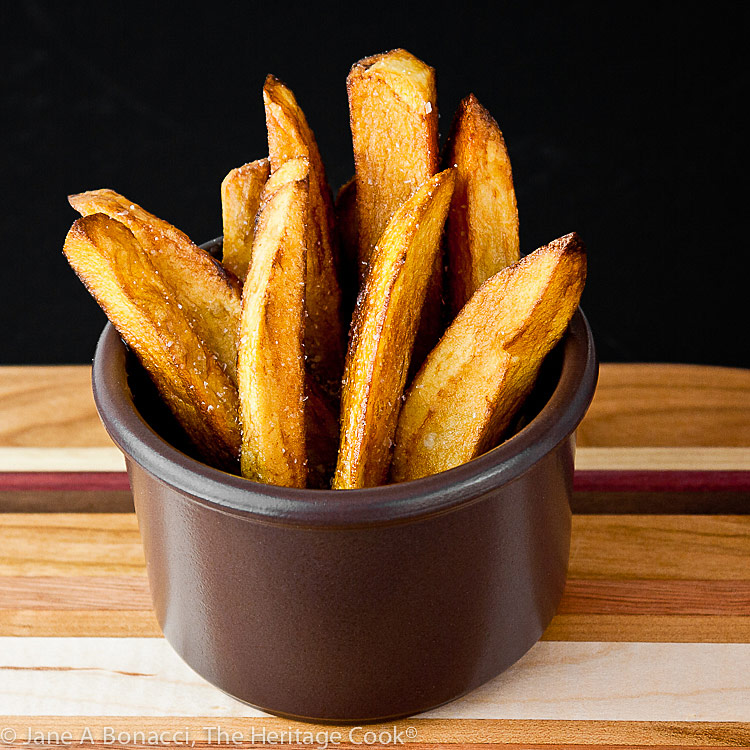 Duck fat imparts a wonderful flavor to anything you cook in it, and these fries are the best – crispy, tender, and loaded with flavor. This is a winner of a recipe!
Ingredients
4 large Russet potatoes, scrubbed and peeled if desired
Duck fat (from 3 to 4 duck breasts)
Kosher salt
Instructions
Place a Dutch oven or a deep saucepan on the stove. Place a baking sheet next to the Dutch oven and set a cooling rack over the top. You will use this to drain the potatoes after they have cooked.
Add duck fat, cut off the top of 2 to 3 duck breasts, to the Dutch oven. Turn the heat to medium and slowly render the fat until the skin is crispy and the fat is completely melted. Use a slotted spoon to remove the skin pieces. You will need the fat to be about 2 to 3 inches deep. If you do not have enough, you can add vegetable oil to obtain the right depth.
Meanwhile, cut the potatoes lengthwise in half. Slice each half lengthwise into thirds. Cut each piece in half lengthwise again. You want pieces that are all about the same thickness. Depending on the size of the potatoes you are using, this could take more or fewer cuts.
The photo above shows the steps as I cut the potatoes into steak fries. On the right is half of a potato. Next to it is a couple of slices off the half. And finally, on the left are the cut fries before cooking.
Place the potatoes in a single layer onto a paper towel-lined microwave-safe plate and pat dry to remove all the moisture. Cook in the microwave for about 1 minute to pre-cook the potatoes about halfway. Pat dry again. Set aside to air dry fully while the fat is coming to temperature.
Increase the heat on the stove to medium-high and heat the duck fat to about 350°F on an instant read thermometer. Cooking in small batches, add enough potatoes to the hot fat so that there is a single layer. There should be enough room between each piece that the fat can easily bubble up and nearly cover the pieces. Use tongs to turn the potatoes as they brown so that they are evenly colored on all sides.
Transfer the browned potatoes to the rack-covered baking sheet and immediately sprinkle liberally with kosher salt. Keep each batch warm in a low oven until ready to serve. Continue cooking potatoes in small batches until all of them are done. Serve hot.
When you are done cooking, turn off the heat under the Dutch oven and let the duck fat cool for about 20 minutes. Strain it through a fine-wire mesh strainer to remove any solids. Transfer to a container and refrigerate until thoroughly cooled and solid. Use again within a day or two or freeze for longer storage.
Nutrition Information:
Yield:
4
Serving Size:
1
Amount Per Serving:
Calories:

318
Total Fat:

4g
Saturated Fat:

1g
Trans Fat:

0g
Unsaturated Fat:

2g
Cholesterol:

3mg
Sodium:

187mg
Carbohydrates:

64g
Fiber:

7g
Sugar:

3g
Protein:

8g
If you love this recipe, be sure to follow me on social media so you never miss a post:
| Facebook | Pinterest | Instagram | Twitter |
Create a New Tradition Today!
This post was first shared in May 2013. The article was updated in 2020.
Welcome! The suggestions here are not intended as dietary advice or as a substitute for consulting a dietician, physician, or other medical professional. Please see the Disclaimers/Privacy Policy page for additional details. Unauthorized use, distribution, and/or duplication of proprietary material from The Heritage Cook without prior approval is prohibited. If you have any questions or would like permission, please contact me. We participate in the Amazon Services LLC Associates Program, an affiliate advertising program designed to provide a means for sites to earn advertising fees by advertising and linking to amazon.com. This page may contain affiliate links.