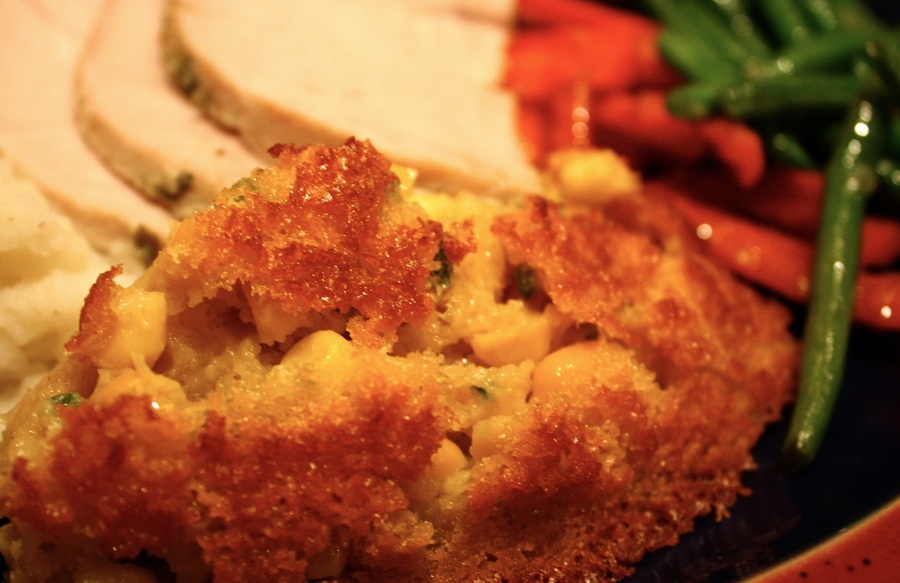 It just doesn't get much easier than this recipe! Full of amazing corn flavor and crunch from the whole kernels, it is sweet and savory at the same time with just a little hint of heat from the chiles. My parents were from Indiana, where they grow some of the finest corn in the country, so we spent many summer nights eating dozens of ears of fresh corn for dinner. Finding ways to vary flavors and methods of preparing corn is a lifelong treasure hunt for me, and one of my favorite pastimes.
Corn has been cultivated for thousands of years, and appears to have been developed in central Mexico at least 7000 years ago from a wild grass called teosinte. Eventually maize, the original name for corn, migrated north into the southwestern region of what would become the United States, and south to the area now known as Peru.
Corn is a remarkable plant and food source. Virtually every part of it is used so I suppose you could say it was the first renewable source of food. The kernels can be dried and ground into a flour-like substance used to make tortillas and cornmeal products. The dried husks can be used as a wrapping for tamales and are often made into primitive dolls. The primary use for corn continues to be feed for livestock, while about 30% is used for industrial and commercial uses and 10% is exported. Corn has over 100 by-products being produced which include dyes, paints, oil for soaps, syrups, starches, corn gum (used as a rubber substitute), vegetable substitutes for lard and butter, insulating materials, and various chemicals.
There are many ways to utilize corn and corn products. Some include cornbread, corn cakes (also called Johnny cakes or hoecakes in the South), pudding, creamed corn, succotash, soup, and of course straight corn on the cob. It has, in one form or another, graced Thanksgiving dinners since 1621. One of the earliest American desserts was an easy to make concoction of cornmeal, milk and molasses called cornmeal mush or hasty pudding. The literary society of Harvard has been called the "Hasty Pudding Club" since 1795.
The recipe calls for using an 11×15-inch baking dish, but I chose to use a 10×3-inch round cake pan. The 3-inch depth gives this pudding plenty of room to expand while baking and the round shape makes it easy to fit on a table. Even when fully cooked, it has a soft texture and you will need to use a spoon to scoop servings out. It has a consistency similar to spoonbread or a corn souffle.
Because this travels so well, when you are looking for a side dish for a potluck, barbecue, or holiday dinner, this is a great option. I would recommend you serve it either warmed or at warm room temperature, not chilled. Everyone will love it and you'll be a hero!
Jane's Tips and Hints:
While using fresh chiles is preferable and gives a much fresher flavor, if you cannot find them easily, canned mild green chiles are a good substitute. Always taste them in the can to judge their heat level and use as much as you and your family like.
If you want a creamier casserole with fewer corn kernels, add 1 more can of the creamed corn and reduce corn to 3/4 cup. This may be helpful for those who struggle with the increased fiber of whole corn.
Kitchen Skill: Cracking Eggs
This may seem to be the simplest task in the kitchen, but there are a surprising number of ways to crack an egg. For me, the safest and most consistent way is to tap the egg firmly against a rounded counter's edge. When I try to open them on a flat surface, as recommended in most professional cooking schools, it doesn't work for me. Use whatever method works for you, but if you are having trouble getting eggs to break cleanly, try using a rounded counter's edge.
Poblano Corn Pudding
2015-07-21 17:17:41
Ingredients
1-3/4 cups all-purpose flour
1-1/4 cups sugar
3 tbsp plus 1 tsp baking powder
2 tsp salt
1/2 tsp dried red pepper flakes
3/4 tsp cumin
1 tsp coriander
6 large eggs
1 stick melted butter (1/2 cup)
2 cups heavy cream
1 (14 oz) can of creamed corn
2 fresh poblano peppers, seeded and diced finely
1 shallot or 2 green onions, minced
1-1/2 cups fresh or frozen corn
Instructions
Preheat the oven to 350°F. Grease an 11x15-inch or two smaller baking pans.
Mix all the dry ingredients together in a bowl (flour, sugar, baking powder, salt, red pepper, cumin, and coriander).
Pour the eggs, butter, cream, and creamed corn in an electric mixer. Mix well and add the poblanos, shallots or onions, and corn. Slowly add the flour mixture and mix until just combined. It should resemble cake batter.
Pour the pudding mixture into the prepared pan and place it in the oven. Lightly tent the pan with foil.
Bake for 1 hour, until the center is just set. (30 to 40 minutes for smaller pans) You may want to take the foil off the last 10 to 15 minutes so the top will be golden.
Notes
Yield: 10 to 12 servings
Adapted from 12 Bones Smokehouse, Asheville, NC
Adapted from 12 Bones Smokehouse, Asheville, NC
The Heritage Cook ® https://theheritagecook.com/
Unauthorized use, distribution, and/or duplication of proprietary material without prior approval is prohibited. I can be contacted via email at: heritagecook (at) comcast (dot) net. Feel free to quote me, just give credit where credit is due, link to the recipe, and please send people to my website,
www.theheritagecook.com.
Thank You!