All of you who hate long recipes, take note – this one is for you!! Only four ingredients and two of them could be optional. Wahoo! From one of my all time favorites, James Beard, here is the ultimate in pure apple flavor – homemade applesauce – it doesn't get any easier!! And if you have never had homemade, you won't believe the difference. It is astonishing how good it can be. You'll never want canned or jarred once you've tried this.
You don't need any special equipment to make it, just a large pot and an old-fashioned potato masher or blender. But, if you want to take all the work out of it, buy or borrow a food mill. A very simple tool, it uses a crank with an angled blade to push solids through a grate, keeping most of the solids back. This allows you to throw quartered apples, cores, seeds, peels, and all right into a pot and cook them down. No peeling or coring – can you believe it? Trust me. Use this technique and the food mill once and you'll be hooked.
There are a lot of different apples out there, each better for certain applications than others. The best apples for applesauce are Gala, Fuji, Jonathan, Golden Delicious, Jonalicious, and Jonagold. These apples will give you the most flavor, cook down completely, and yield the most applesauce of any for sale. I like to use a combination of different types for a nice blend of flavors. If you are using a food mill to puree the fruit, I recommend that you include some red apples with the greener ones. This gives you the most beautiful soft pinkish-gold color.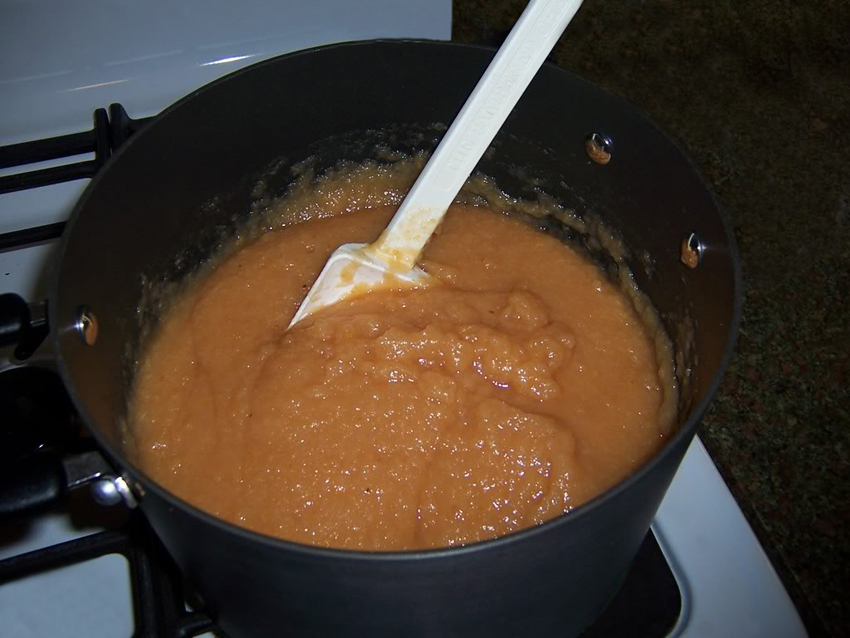 Always taste your apples when cutting them up to determine how much, if any, sugar you need to add. Some years the apples are so incredibly sweet that I add no sweetener at all. Other years, it takes a lot. You won't know until you taste the fruit. And this is applicable in anything you cook. You should always taste your raw ingredients (unless it would make you sick) before cooking to know how to season them.
If you really love the flavor of apple and want to boost it even more, instead of using water, cook the apples down in some apple juice or cider. Obviously, the purest flavor will come with no spices added, but many people like to have cinnamon in the applesauce. I add one or two cinnamon sticks to the apples as they are cooking to impart a subtle flavor without coloring the sauce. Other flavors that also work well are nutmeg, made, cloves, and allspice. Of course, the more spice you add the darker the applesauce and the closer to apple butter you get.
The difference between applesauce and apple butter hinges on two things: the amount of spices added, and the length of cooking time. Applesauce is cooked until the apples are tender and then pureed with the cooking juices. This makes for a loose sauce consistency. Apple butter, on the other hand, is cooked for a very long time with copious amounts of spices and sometimes vinegar. It is cooked until virtually all the liquid has evaporated, leaving a jam-like product suitable for spreading on toast.
So, get out your biggest pot, buy or borrow a food mill or be prepared to peel, core and seed the apples, a sharp knife, and get going. You won't be disappointed!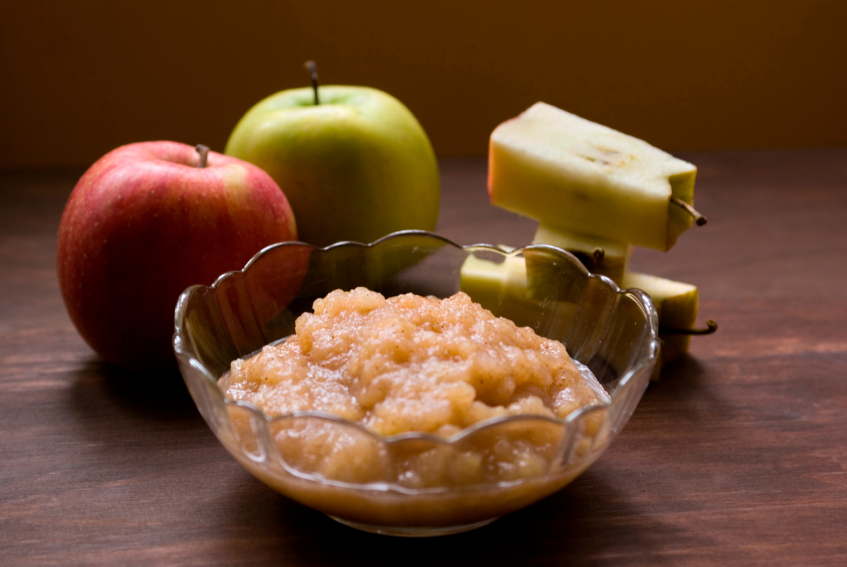 Jane's Tips and Hints:
An old-fashioned trick to a really "apple-y" apple pie is to add some applesauce to the apples before baking them in the pie. It helps absorb some of the excess juices and is a natural thickener. Try it the next time you bake a pie – especially if you have homemade applesauce to use!!
Kitchen Skill: Coring an Apple
The fastest way to core and chop apples is to slice off the top and bottom, creating two flat surfaces. Stand apples on a cut end and using a very sharp knife, make four cuts down, just wider than the core, spinning the apple 1/4 turn between each cut. You will wind up with four pieces of apple and a rectangular cubed core. (see photo #3 above) From there you can peel, slice, or cube the apple pieces easily.
Homemade Applesauce
2015-07-21 16:46:48
Unauthorized use, distribution, and/or duplication of proprietary material without prior approval is prohibited. I can be contacted via email at: heritagecook (at) comcast (dot) net. Feel free to quote me, just give credit where credit is due, link to the recipe, and please send people to my website,
www.theheritagecook.com.
Thank You!