One thing I love about writing this blog is how much I learn while doing my research. For example, I never realized that if you order Pasta Alfredo in Italy, they probably won't know what you are talking about. The thick, creamy sauce that most of us know as Alfredo is very "American" and not at all like the original creation. The Artist's older family members can go on at length about how little Americans understand what true Italian food is, and anyone who has traveled to Italy would agree. That doesn't mean that what we are served here isn't good, it is Italian-American, a cuisine all its own.
The story of how Alfredo sauce was created is fun and founded in truth, but I'm sure it has been exaggerated over time, giving birth to a legend. In 1914 Chef Alfredo di Lelio's pregnant wife had lost her appetite and wasn't eating. After offering her a variety of dishes, none of which appealed to her, he decided to try a very simple butter and cheese sauce. To increase the volume of the sauce he doubled the amount of butter he normally would have used. She loved it so much that he started serving it in his restaurant, Alfredo all'Augusteo, in the Piazza Augusto Imperatore in the heart of Rome.
To the thrill of his customers, Alfredo would prepare the dish tableside, tossing the noodles in the butter and cheese mixture until it created a thick sauce. Then with flair, he would present it and his patrons would dive into the piping hot pasta. This technique is actually more important than it appears. Because it didn't sit under heat lamps until a waiter could deliver it to the table, the sauce stayed creamy and smooth without cooling, separating, and becoming greasy tasting.
There were quite a few movies being filmed in Rome at this time and many actors became enamored with the restaurant. Whenever film crews would be in Rome, you could usually find them eating there. American tourists soon learned of it and began flocking to the restaurant as well. In 1927 two important events occurred. American restaurant owner and writer George Rector ate at the restaurant and published a glowing report about Alfredo's pasta dish for his column in the Saturday Evening Post. That same year Mary Pickford and Douglas Fairbanks, Sr. were married and went to Rome on their honeymoon. They were frequently seen eating at Alfredo's restaurant and when they returned home to Beverly Hills, they thrilled their celebrated guests by preparing the authentic, simple, and luscious meal.
In the 1950's, as Italy recovered from World War II, Alfredo's restaurant thrived with a steady clientele of American tourists and celebrities, including Jimmy Stewart and Sophia Loren. It was only a matter of time before an American company would figure out a simpler way for housewives to recreate a version of this dish. In 1966 the Pennsylvania Dutch Noodle Company was selling packages of fettuccine egg noodles which came with a recipe for the sauce on the box. Their rendition called for heavy cream, Swiss cheese, butter, and Parmesan. After the deprivations and rationing during the war, Americans were anxious to indulge in rich foods and meals like this became standards on tables all across the nation.
As time passed, this cream-based sauce became a recurring item on menus in virtually all Italian restaurants in the United States. The problem is that without a careful hand in the kitchen and the time it takes to get it to the table, this sauce becomes heavy and overpowers the delicate flavors of the pasta itself. You often wind up with a dense, gloppy sauce, without the delicate subtlety of the original.
Today I am offering you three different versions. My interpretation of the original Italian-style sauce from Alfredo's restaurant in Rome, an updated classic American version from Giada De Laurentiis, and a lower calorie sauce I created for those who are watching their weight but crave the creamy, cheesy goodness. I love the acidity that Giada gets from adding lemon juice to her sauce, helping to cut the heaviness of the cream. In order to reduce calories, I have used low-fat ricotta cheese and evaporated milk to replace the heavy cream normally used. It wouldn't be Alfredo sauce without Parmesan, but I have put less in the sauce itself, with the intention that you can sprinkle a little more on the top, getting a burst of the flavor without using as much.
One of my favorite quick snacks is pasta tossed with a little butter and Parmesan cheese. Little did I know that I was just a couple of steps away from the original Alfredo! You can add grilled chicken or shrimp if you want more protein in the meal, or try some steamed broccoli, carrots, or freshly chopped tomatoes to help your little ones eat more vegetables. I hope you try the Italian-style and compare it to your regular Alfredo sauce. It doesn't have to replace what you have come to love, but can be a new sauce to use when you want something different for a change.
Mangia!
Jane's Tips and Hints:
One of the tricks to getting a creamy tasting sauce without actually using cream is to utilize some of the pasta cooking water. Pasta has a lot of starch in it, some of which is released into the water as it cooks. This starchy water, when added to a sauce, gives it a silkiness that elevates a normal sauce to a delicacy.
Kitchen Skill: How to Cook Perfect Pasta
The most important thing is to use a stockpot that is big enough so that the water has plenty of room to boil and the pasta can easily move in the currents. Most of us don't use a large enough pan – I certainly don't. It is a hassle to pull it out from the back of the cupboard.
The second key is to add enough salt that the water tastes salty. To most people this will be an alarming amount, but most of it goes down the drain with the water. If you skip this step, the pasta will always taste flat. Remember, this is the only time you have to season the pasta itself from the inside out. Near the end of cooking, use a ladle to scoop out about a cup of the pasta water and put it in a bowl. I always add a little at the end of cooking any pasta sauce for the smoothness it produces.
Once the water is at a full roiling boil, I stir in the pasta, add a splash of olive oil to the water, and turn down the heat to medium-high. The starch and salt in the cooking water makes it foam up and boil over the edge of the pot. Adding oil isn't done to keep the pasta from sticking together as is commonly thought, but actually stops the water from foaming, reducing spillovers.
And finally, don't overcook the pasta. You want it to still have a little firmness when you bite into it. Because the size and consistency of pastas change from batch to batch, the only way to test this is to try a piece. Use tongs to grab a strand and very carefully taste it. When it is ready, drain the pasta in a colander, with the cold-water faucet running (this helps protect the drain and plumbing), and then set the colander back on top of the pot. The residual heat will finish the pasta perfectly. When the sauce is ready, transfer the pasta to a large bowl, add a little of the sauce, and toss to coat evenly. Then plate the pasta and pour a little more sauce over the top if you like.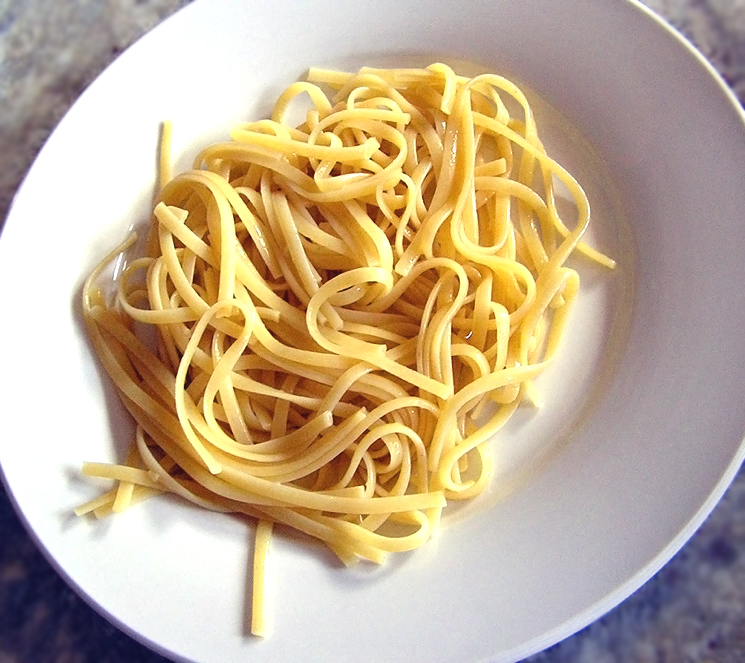 Italian-Style Fettuccine Alfredo
2015-07-17 13:58:54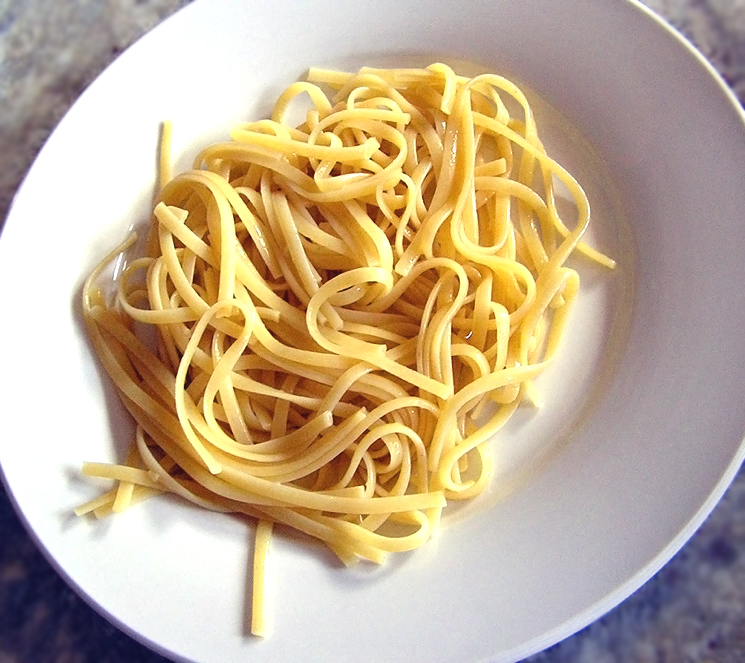 Ingredients
1 lb fettuccine noodles, fresh or dried
6 oz butter (1-1/2 sticks), at room temperature
6 to 8 oz finely grated Parmesan or Parmigiano-Reggiano cheese, plus extra for the table
Finely chopped fresh Italian parsley
Instructions
In a very large stockpot, bring well-salted water to a full boil over high heat. Add the pasta, stirring so the noodles don't stick together, reduce the heat to medium-high, and cook until al dente. If you are using dried pasta, this will be about 1 minute less than the lowest time on most packages. With fresh pasta cook about 2 to 3 minutes. Dried pasta will take about 8 minutes.
While the pasta is cooking, using an electric mixer, beat the butter and cheese together. The friction of beating will soften the butter until it is almost the consistency of very thick cream. Add 1/4 to 1/2 cup of the pasta cooking water and stir to create a sauce.
When the pasta is done, drain and transfer to a large bowl. Add the butter-cheese sauce and toss until the sauce is melted and all the pasta is evenly coated. Scoop portions into warmed serving bowls, sprinkle with chopped parsley, and serve, passing additional cheese at the table if desired.
Notes
Yield: about 4 servings
The Heritage Cook ® https://theheritagecook.com/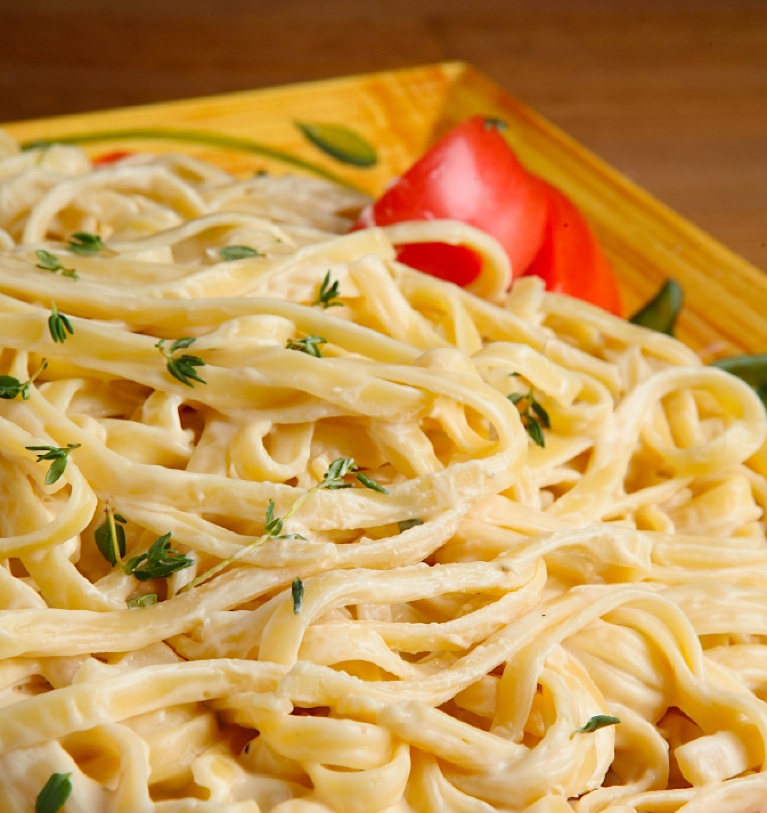 Giada's Fettuccine Alfredo
2015-07-17 14:00:39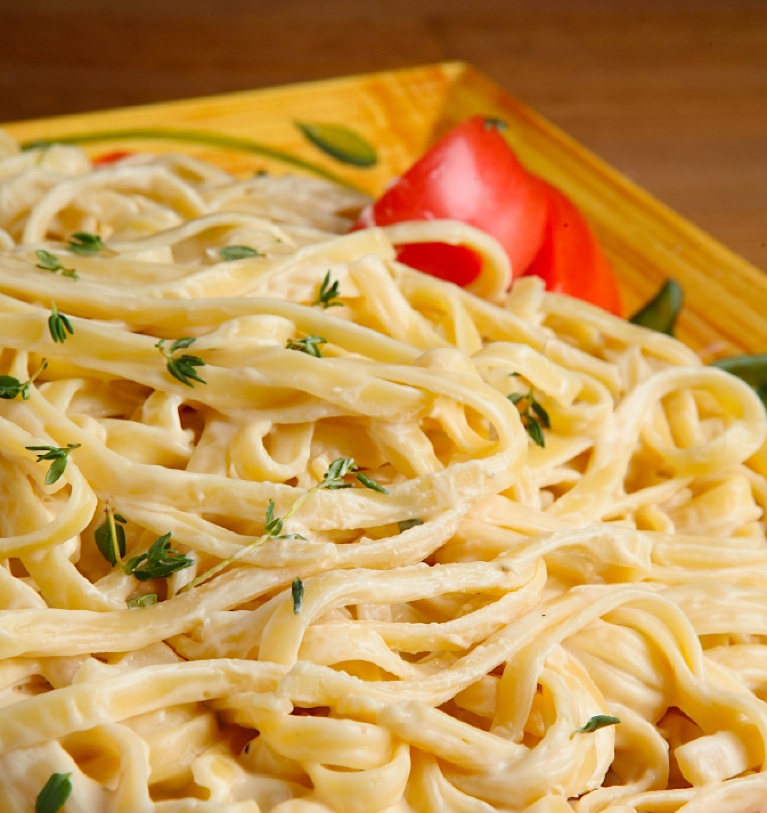 Ingredients
18 oz fresh fettuccine (dried is OK, adjust cooking time)
2-1/2 cups heavy cream, divided
1 tbsp fresh lemon juice
12 tbsp (1-1/2 sticks) butter
1 clove garlic, minced
2 cups grated Parmesan
1 tsp grated lemon zest
Pinch freshly grated nutmeg
Salt and freshly ground white pepper*
Instructions
Cook the pasta in a large pot of boiling well-salted water until tender but still firm to the bite, stirring occasionally, about 4 minutes or according to package directions. Drain.
Stir 2 cups of the cream and the lemon juice in a heavy large skillet to blend. Add the butter and garlic and cook over medium heat just until the butter melts, stirring occasionally, about 3 minutes. Remove from the heat.
Add the pasta to the skillet and toss. Add the remaining 1/2-cup of cream, and Parmesan to the cream sauce. Add the lemon zest, nutmeg, salt, and white pepper. Toss the pasta mixture over low heat until the sauce thickens slightly, about 1 minute.
Notes
Yield: 6 to 8 servings
* White pepper has a slightly different flavor than black pepper, but the main reason for using it in this recipe is aesthetics. It just looks better than specks of black pepper. Don't go out and buy it unless you want to, any other pepper you have on hand will work just as well.
The Heritage Cook ® https://theheritagecook.com/
Creamy "Lite" Pasta Alfredo
2015-07-17 14:02:31
Ingredients
1 lb fresh or dried pasta
2 oz (1/2 stick) butter
1/2 clove very finely minced garlic, center green sprout discarded if present, optional
1/2 cup low fat ricotta cheese
1 cup low fat evaporated milk, divided
1 cup finely grated Parmesan cheese, plus more to pass at the table
1 tsp finely grated fresh lemon zest
Salt and freshly ground pepper
Chopped fresh basil leaves, oregano, or Italian parsley
Instructions
Cook the pasta: In a very large stockpot, bring well-salted water to a full boil over high heat. Add the pasta, stirring so the noodles don't stick together, reduce the heat to medium-high, and cook until al dente. If you are using dried pasta this will be about 1 minute less than the lowest time on most packages. Reserve 1/2 cup of the pasta cooking water. When done, drain pasta.
While pasta is cooking prepare the sauce: In a large skillet melt the butter over medium heat. When it has bubbled up and become frothy, add the garlic and stirring constantly, cook about 30 seconds to 1 minute or until garlic becomes fragrant. Be careful, garlic burns easily and becomes very bitter. If this happens, throw everything out and start over.
Stir in the ricotta cheese, 1/2-cup of the evaporated milk, 1/4 cup of the reserved pasta water, and the Parmesan. Reduce the heat to low and cook, stirring, until the sauce is smooth and creamy. Add the pasta to the pan and toss to coat thoroughly. Add the remaining 1/2-cup of evaporated milk, lemon zest, salt, and pepper. Cook, stirring, just until the pasta is heated through and the sauce thickens slightly. If needed, add some of the remaining pasta water to get the sauce to the right consistency.
Transfer to warmed serving bowls and sprinkle with chopped herbs and a little more Parmesan. Serve immediately, passing additional cheese at the table.
Notes
Yield: about 4 servings
The Heritage Cook ® https://theheritagecook.com/
Unauthorized use, distribution, and/or duplication of proprietary material without prior approval is prohibited. If you have any questions or would like permission, I can be contacted via email at: heritagecook (at) comcast (dot) net. Feel free to quote me, just give credit where credit is due, link to the recipe, and please send people to my website,
www.theheritagecook.com.
Thank You!