Could there be anything more appropriate for Chocolate Monday than a dessert that calls for three, count them three different types of chocolate? I don't think so. Plus it was The Artist's birthday this weekend and he is a major chocoholic. What perfect timing!
Today is this month's reveal date for our Secret Recipe Club. I love my assigned blog, Everyday Mom. It is written by Kim, a dedicated wife and mother who loves cooking, baking and sharing her kitchen adventures with the rest of us. Kim also features Menu Planning Mondays. If you are ever scratching your head about what to make for dinner, pop on over and see what she will be making. It may spark some ideas for you too.
When you visit her site, in addition to a wide variety of recipes, (she has been blogging since 2007), you will discover a wonderful selection of baked goods because she belongs to both the "Daring Bakers" and "Slice of Cake" baking groups. Jackpot! I had lots of chocolate options to choose from and I found a real winner to share with you. Kim has a fledgling cake business in Northern Virginia called Pleasant Squares where she showcases the beautiful cakes she sells for celebrations and events. If you are in the NoVa area, give her a call when you want a special cake for an upcoming party.
Today's recipe, "Triple Chocolate Fudge Cake," is from Alisa Huntsman's "Sky High: Irresistible Triple-Layer Cakes." And it certainly lived up to the hype. It is a deeply dark, rich chocolate cake set off by a truly amazing white chocolate mousse filling and topped with a fudgy chocolate frosting. Similar to a high class Ding Dong, this is one dessert worth writing home about.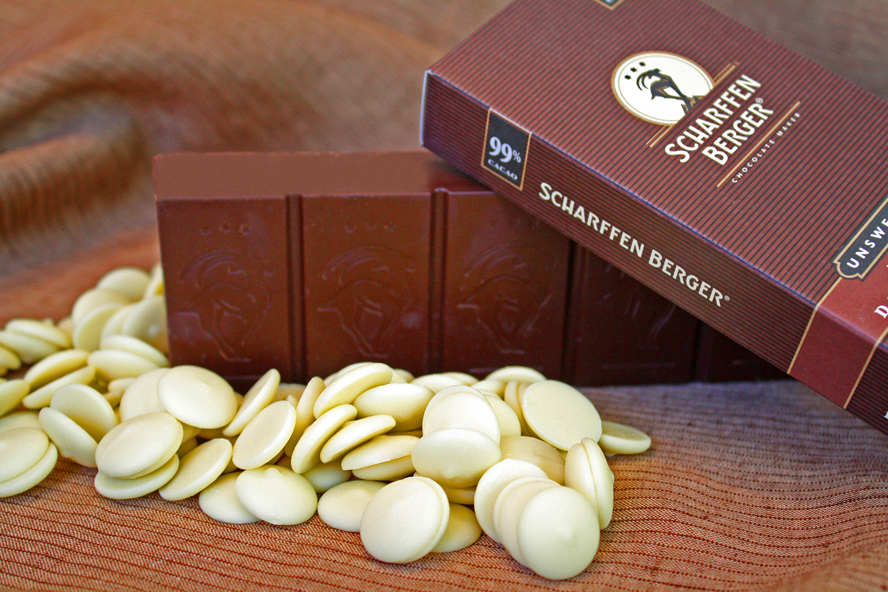 Alisa wants every home baker to have just as much success and has extensive chapters in the beginning of her book dedicated to baking techniques, ingredients, and equipment. If a double layer cake is good, a triple layer cake is that much more impressive and in Huntsman's words, "you cannot have too much of a good thing." Presenting a towering, indulgent, lushly frosted layer cake turns heads and often elicits a round of applause.
The cake itself was absolutely wonderful, but it included a touch of cinnamon that I don't think was necessary and probably won't include next time I make it. It was very easy to prepare and baked up beautifully. The cake is so good that it can totally stand on its own and doesn't need a lot of frosting to give it a boost. The recipe calls for three layers, but I don't have three 9-inch pans. So I converted it to two 10-inch pans which worked just fine. A three-tier cake would be much more spectacular and definitely a showstopper for any event.
The Artist and I are not big fans of overly sweet frostings so I made it with half bittersweet and half semisweet chocolate. Because it is also contains sour cream, which would perfectly offset sweeter chocolates such as a blend of semisweet and milk, it became a bit too strong with the bittersweet. Not that it wasn't good, because it was, but most people would probably prefer a blend of the lighter chocolates and maybe the addition of a little powdered sugar.
My father's favorite birthday cake was a Devil's Food with caramel frosting. It is still one of my favorite combinations. I made it every year for his birthday and he "staked a claim" on at least half of the cake! It is not the first frosting that comes to mind when you think of chocolate cake, but it is absolutely addictive. I think it would be outstanding with this cake and would be a wonderful alternate frosting. I have included the recipe just in case you might like to try it.
But the winner of the evening by far was the white chocolate mousse filling. I have to start by saying that neither The Artist nor I like white chocolate. We find it cloying sweet and lacking in distinct flavor … or we did until today. Recently I was sent a sample of white chocolate from Guittard, a chocolatier located in South San Francisco. I use their semisweet chocolate chips almost exclusively for my chocolate chip cookies and always get rave reviews from everyone who tries them. It only took one bite of their French-style 31% white chocolate to completely turn me around. I quickly realized that the reason I didn't like white chocolate was that I had only had cheap brands. Guittard's has a fresh cream flavor quite unlike anything I have ever had before. It melts on your tongue and coats it with luscious hints of citrus and vanilla. I can tell you that I will never go back to cheap brands again.
Because Sunday was The Artist's birthday, I baked the cake at home and made both the mousse and frosting. Then I transported all of them to his father's house where we were having dinner. With the transportation, change in temperatures, not having my own equipment to work with, etc. things didn't turn out as well as they would have normally. His father's refrigerator literally froze the frosting while the mousse never set up. So we wound up with a delicious cake and a soupy, crème anglaise-like sauce better suited for use as an accompaniment to the cake than a filling.
The consensus of the family was that we would all prefer the cake served with the mousse/sauce poured around it. It would also be very good with grilled fresh peaches, a slice of apple pie or a hunk of moist gingerbread. I think you could easily take it one step further and turn it into an unbelievable gelato! I am definitely going to work on this recipe and who knows, you may see it featured here later on this summer or fall.
This cake is also made with mayonnaise. Now before you go all wonky on me and hit the "next" button, mayonnaise is made from eggs and oil, ingredients that are regularly part of cake recipes. It produces a very tender and moist cake and is the secret weapon of many bakers. The original recipe calls for full fat mayonnaise which I do not use. I substituted Real Foods Light and to make up for the reduced amount of fat, I used half and half instead of milk. This turned out just fine and is an example of how you can make substitutions in baking as long as the ratios remain the same.
All in all, it was a wonderful dessert, enjoyed by everyone at dinner and one that is most certainly going in my "To Make Again" file. If you have never baked a cake from scratch and have only made them from box mixes, you are in for a rewarding experience. There is little in this world more satisfying or indulgent than creating a beautiful cake with just flour, sugar, and leaveners. Something almost magical happens as you whip the ingredients together and then watch them miraculously rising in the oven. And of course the smell of a cake baking is enough to bring every neighbor from miles around. Your friends will make excuses to be in the area when they find out you are baking.
Enjoy the following members of the Secret Recipe Club. I urge you to visit as many as you can. You will be rewarded with an amazing collection of writers passionate about food, its preparation, and presentation. Happy Chocolate Monday everyone!
Jane's Tips and Hints:
This recipe makes about 24 cups of batter. Don't panic if you don't have the size pans a recipe calls for. Once you know the volume of the batter, you can use the chart on the Joy of Baking website to substitute other pan sizes, styles, and shapes.
Kitchen Skill: How to Make a Parchment Liner for Round Pans
There are many ways to do this and most professional chefs will show you how to fold a piece of paper to do so. I find it much easier to simply set the pan you intend to use on a sheet of parchment and draw a line around the outside of the pan on the paper. Cut out the circle with a pair of scissors and set it into the pan. Trim as needed for a good fit.
Butter the pan's bottom and sides (unless directed otherwise in the recipe) and set the parchment in the bottom. Also lightly butter the paper guaranteeing it will not stick as it bakes. Using parchment allows cakes and other baked goods to very easily release from the pan without any fuss.
Triple Chocolate Fudge Cake
2015-07-14 14:28:37
Ingredients
Cake

2-1/4 cups all-purpose flour
1 cup unsweetened cocoa powder
2-1/4 tsp baking soda
1-1/4 tsp baking powder
1 tsp salt
1/2 tsp ground cinnamon (optional)
2-1/2 oz unsweetened chocolate, chopped
1 cup half and half *
1-1/4 cups hot, strongly brewed coffee (I used espresso powder dissolved in boiling water)
2 eggs
1 cup low-fat mayonnaise (*if you use full-fat mayo, substitute regular milk for the half and half)
1-1/2 tsp vanilla extract
2-1/4 cups granulated sugar

White Chocolate Mousse

4 oz white chocolate, chopped
1 cup heavy cream
1 egg white
1 tbsp sugar

Sour Cream Chocolate Icing

12 oz semisweet chocolate, chopped (or 50% semisweet & 50% milk chocolate)
1 stick (4 oz) unsalted butter
3 tbsp light corn syrup
1/4 cup half-and-half, at room temperature
1/2 cup sour cream, at room temperature
Instructions
Make the Cake: Preheat the oven to 350°F. Butter the bottoms and sides of three 9 inch round cake pans. Line the base of each pan with parchment.
Sift together the flour, cocoa powder, baking soda, baking powder, cinnamon and salt. Set aside.
Put the chocolate in a large heatproof bowl. Bring the milk to a simmer. Pour the hot coffee and milk over the chocolate. Let stand for a minute, then whisk until smooth. Let the mocha liquid cool slightly.
In a mixer bowl, beat together the eggs, mayonnaise and vanilla until well blended. Gradually beat in the sugar. Add the dry ingredients and mocha liquid alternately in 2 or 3 additions, beating until smooth and well blended. Divide the batter among the 3 prepared pans.
Bake for 25 to 28 minutes, or until a cake tester inserted in the centre comes out almost clean. Let the cakes cool in their pans for 10 to 15 minutes before un-molding onto a wire rack and carefully peeling off the paper. Leave to cool completely.
Make the White Chocolate Mousse: Melt the white chocolate with 1/4 cup cream in a double boiler. Whisk until smooth. Remove from the heat and let the white chocolate cream cool to room temperature.
In a clean bowl whip the egg white with the sugar until fairly stiff peaks form. (Use a hand held mixer for this. A stand mixer has a hard time whipping such a small amount.)
In a separate bowl beat the remaining 3/4 cup cream until medium o firm peaks form.
Fold the beaten egg white into the white chocolate mixture, stirring until smooth. Then fold in the whipped cream until no streaks remain. Be sure not to over mix. Refrigerate while you make the icing to let it firm up a bit before spreading on the cake layers.

NOTE: If it doesn't firm up (the problem I had) you can serve it as a sauce instead of the filling and it will be just as delicious.

Make the Icing: Melt the chocolate with the butter and corn syrup in a double boiler over barely simmering water. Remove from the heat and whisk until smooth.
Whisk in the half-and-half and sour cream. Use while still soft. If it is too runny to spread easily, you can let it firm up in the refrigerator for a few minutes or add a little more powdered sugar to thicken it slightly. Some bakers recommend adding a touch of vanilla to round out the flavors.

NOTE: Most people prefer very sweet desserts. If you are among that crowd, use mostly milk chocolate and add a little powdered sugar to the whipping cream. This will also help thicken it slightly.

To Assemble: Place one layer, flat side up, on a cake stand or serving plate. Cover the top evenly with half the white chocolate mousse, leaving a 1/4-inch margin around the edge. Repeat with the second layer and the remaining mousse. Set the third layer on top and pour half the chocolate icing over the filled cake. Spread all over the sides and top. Don't worry if some of the cake shows through. This first frosting is to seal in the crumbs, and is known as a crumb coat. Refrigerate the cake for 30 minutes.

NOTE: A crumb coat is a professional baker's secret to perfectly frosted cakes. Taking this step and allowing the cake to chill sets the first layer of frosting creating a clean "canvas" to work with. You can make the recipe to this point up to a day or two in advance without sacrificing quality. Keep it wrapped tightly in plastic in the refrigerator until ready to finish frosting.

Remove cake from the refrigerator and frost with the remaining icing. It should be the consistency of thick mayonnaise. Use a palate knife or off set spatula to swirl the frosting around the cake. You can pipe a decorative edge or use chocolate jimmies around the base to hide any inconsistencies.
Notes
Yield: about 10 servings.
Adapted from "Sky High: Irresistible Triple-Layer Cakes" by Alisa Huntsman and Peter Wynne
Adapted from "Sky High: Irresistible Triple-Layer Cakes" by Alisa Huntsman and Peter Wynne
The Heritage Cook ® https://theheritagecook.com/
Cooked Caramel Icing
2015-07-14 14:31:03
Ingredients
4 tbsp butter (1/2 stick)
1/2 cup brown sugar
Dash salt
1/3 cup evaporated milk or whole milk
2 cups confectioner's sugar
1/2 tsp vanilla or rum, optional
Instructions
In a heavy pan, combine butter, brown sugar, salt, and evaporated milk. Stir over medium heat until smooth, and sugar is dissolved. Cool slightly and pour into a small mixing bowl.
Beat in powdered sugar, use as much as needed, to a good spreading consistency. Add vanilla or rum if desired. Quickly spread on warm cake because frosting hardens rapidly. Serve immediately or store, covered, in the refrigerator.
Notes
Yield: enough icing for a 9-inch layer cake or 9x13-inch sheet cake
The Heritage Cook ® https://theheritagecook.com/
Unauthorized use, distribution, and/or duplication of proprietary material without prior approval is prohibited. If you have any questions or would like permission, I can be contacted via email at: heritagecook (at) comcast (dot) net. Feel free to quote me, just give credit where credit is due, link to the recipe, and please send people to my website,
www.theheritagecook.com.
Thank You!