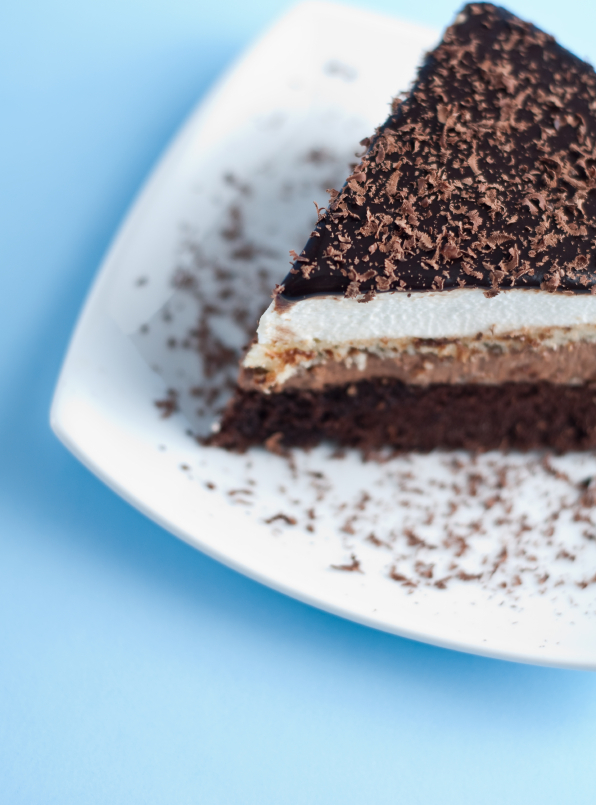 For the final Chocolate Monday of 2010 I decided to go with an incredibly easy, but also extremely decadent and fancy looking dessert perfect for New Year's Eve. You make it with three different types of chocolate and layer them to create a terrine of absolute heaven!
A terrine is similar to a pate – usually a combination of finely ground meats pressed together. In this case, instead of meat I am using chocolate, a vast improvement in my humble opinion! By layering the chocolates, you get a little of each flavor in every bite. I like progressing from white to dark, but if you prefer, you can put the white chocolate in between the milk and dark chocolate layers. By adding butter and whipped cream to the chocolates, you get an ultra smooth mixture that is similar to a mousse in consistency. Creamy and velvety smooth, it melts on your tongue as it hits the heat of your mouth.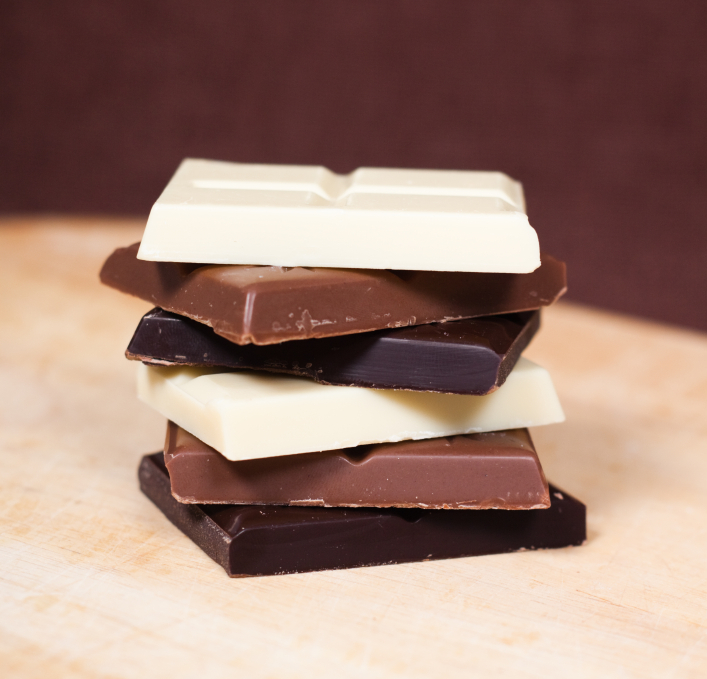 In order to make it a little more fun for ringing in the New Year, I have added three different kinds of liqueurs, each one specifically chosen to enhance the three type of chocolate – White Creme de Cacao with the white chocolate, Godiva's Chocolate liqueur with the milk chocolate, and Kahlua with the dark chocolate. Feel free to change the flavors if you want. Any white or clear liqueur is best with the white chocolate. Grand Marnier would be terrific with the dark chocolate, and Red Raspberry Framboise or Black Raspberry Chambord would be delightful with the milk chocolate.
You certainly don't have to include the alcohol at all. If you don't, the final product will have a firmer consistency but be just as delicious. You may want to make two versions, one for adults and the other for the kids! To do that, make two single batches and add the alcohol to one batch.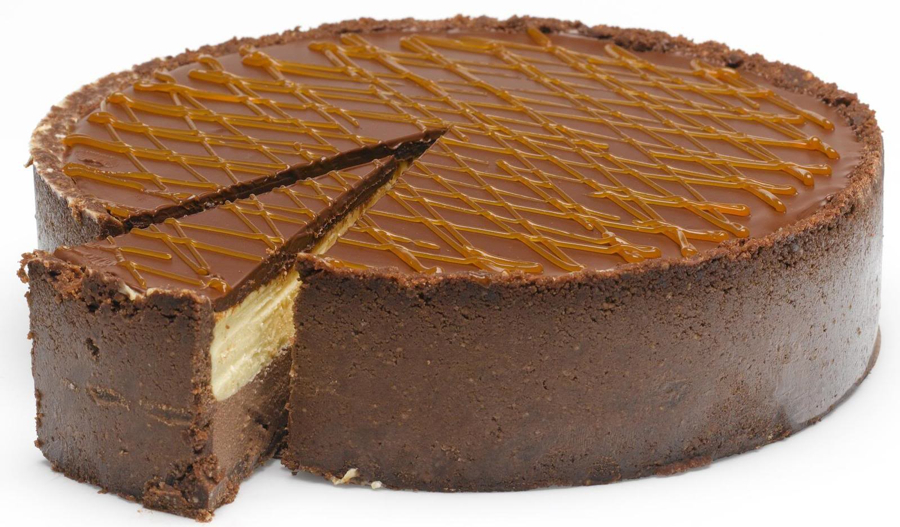 You could even put this into a pre-baked graham cracker or ground chocolate cookie crust to make something that looks like a cheesecake. There are tiny 7-inch springform pans that would be perfect for this … but you'll have to increase the amount of each chocolate to fill it to the top. And if you want to really take it over the top, make hot fudge and caramel sauces and use them to drizzle over the top before serving. Your guests may be in a sugar-induced coma by the end of dessert, but they will be blissfully happy!
I hope you have enjoyed our year of chocolate and are looking forward to the 52 new recipes you will get for Chocolate Mondays in 2011. Happy New Year everyone from The Heritage Cook !!!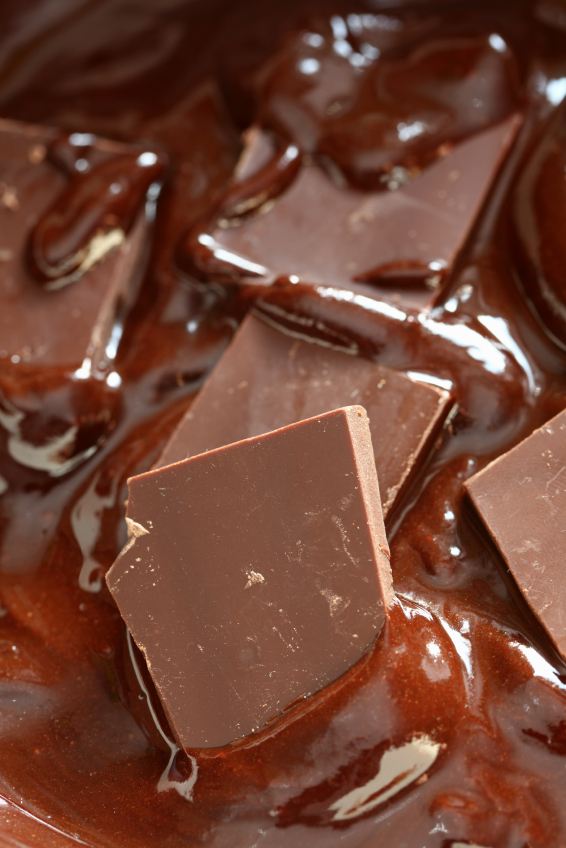 Jane's Tips and Hints:
Adding alcohol to any chilled concoction causes it to take longer to firm up or freeze. That is why you can't add too much alcohol to ice cream or it will never get harder than soft-serve. If you are make the double-sized version of this dessert and don't mind it being soft, go ahead and add up to 1 oz of alcohol to each batch of chocolate. Your guests can eat it with a spoon!
Kitchen Skill: Cutting Clean Slices
When you are slicing a cake, cheesecake, or other sticky substance, your knife quickly gets a thick coating on it, making your slices messy and unattractive. To avoid this, have a container of boiling water handy and dip the knife into the water after cutting each slice. Wipe it dry with a paper towel and cut the next slice. Each piece will have clean cuts and look professionally plated.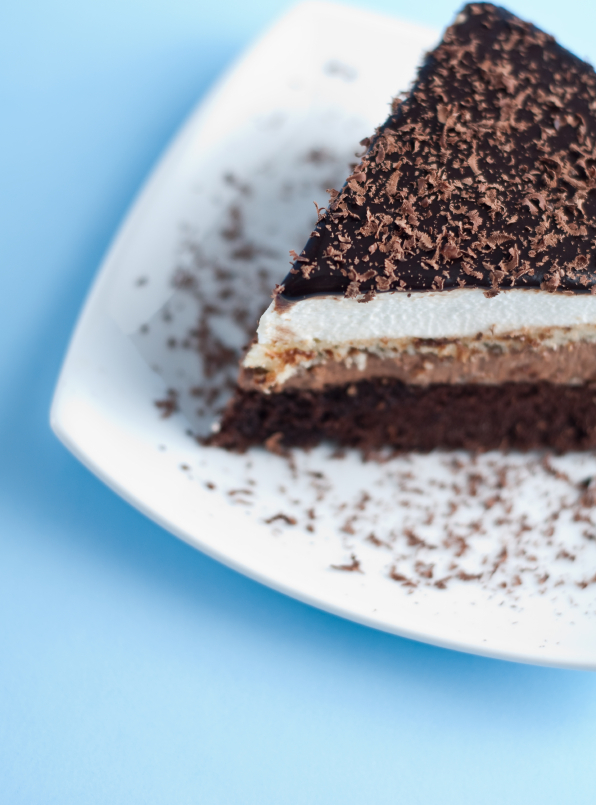 Triple Chocolate Terrine
2015-07-21 17:39:30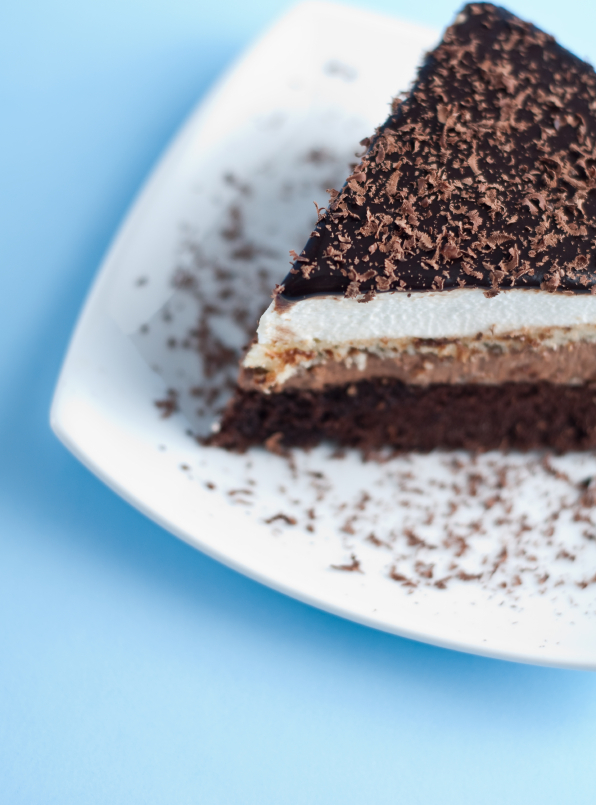 Ingredients
4 oz (8 oz) white chocolate, chopped
1 tbsp White Creme de Cacao, optional
4 oz (8 oz) milk chocolate, chopped
1 tbsp Godiva Chocolate liqueur, optional
4 oz (8 oz) bittersweet chocolate, 66% to 70%, chopped
1 tbsp Kahlua, optional
3/4 cup (1-1/2 cups) softened unsalted butter, divided
2 cups (4 cups) heavy cream
Lightly sweetened whipped cream, for garnish, optional
Fresh mint leaves, for garnish, optional
Instructions
Chop each chocolate separately and place in separate heatproof bowls. Melt each bowl of chocolate over a pan of simmering water, being careful not to let any of the moisture get into the chocolate. Stir in the respective liqueurs if using. While still on the heat, add 1/4 cup unsalted butter to each bowl. Stir each chocolate until smooth and then take the bowls off the heat and let cool to room temperature.
In a chilled bowl and using a chilled whisk, beat the heavy cream to soft peaks. Using a rubber spatula, fold 1/3 of the whipped cream into each bowl of melted chocolate.
Completely line the inside of an 8-1/2" x 4-1/2" loaf pan, leaving excess wrap hanging over the edges. You will use the extra to cover the top of the terrine while chilling, and to help ease it out of the pan. Smooth out as many of the wrinkles as possible. If you are doubling the mixture, use an 8-inch pie plate. Do not line the pie plate with plastic because you will not be turning it out.
Spoon the white chocolate mixture into the bottom of the loaf pan (or pie plate). Use an offset spatula to smooth it into an even layer. Then make a layer with the milk chocolate and smooth. Then add the bittersweet chocolate and spread evenly. Cover with plastic wrap and refrigerate for about 4 hours. If using the pie plate, press plastic wrap on the top of the chocolate.
About one hour before serving remove the terrine from the refrigerator. Leave it wrapped until the mixture is at room temperature. Unwrap and cut into 1/2-inch thick slices. Put each slice on a desert plate and pour 2 to 3 tbsp of raspberry sauce around the outside of each slice. If desired, top with a dollop of whipped cream and a mint sprig. Serve immediately.
To make the pie more attractive, spread the top with lightly sweetened whipped cream and sprinkle with chocolate shavings. Slice into wedges and serve garnished with raspberry sauce and mint sprigs.
Notes
Yield: about 8 servings - or 16 if you double it and use an 8-inch pie plate. (Doubled ingredients are in parentheses.)
Adapted from Bernard Chocolates
Adapted from Bernard Chocolates
The Heritage Cook ® https://theheritagecook.com/
Raspberry Sauce
2015-07-21 17:39:59
Ingredients
3 pints (6 cups) raspberries, preferably fresh, but frozen are fine
Granulated sugar, as needed (optional)
Instructions
If using frozen fruit, thaw first. Puree raspberries with a blender. Pour into a heavy saucepan and reduce to half its volume. Add sugar to your taste, stirring until it has completely dissolved. Cool down in the refrigerator. If you want a smooth sauce, strain through a fine sieve.
Leftover raspberry sauce can be frozen.
The Heritage Cook ® https://theheritagecook.com/
Unauthorized use, distribution, and/or duplication of proprietary material without prior approval is prohibited. I can be contacted via email at: heritagecook (at) comcast (dot) net. Feel free to quote me, just give credit where credit is due, link to the recipe, and please send people to my website,
www.theheritagecook.com.
Thank You!