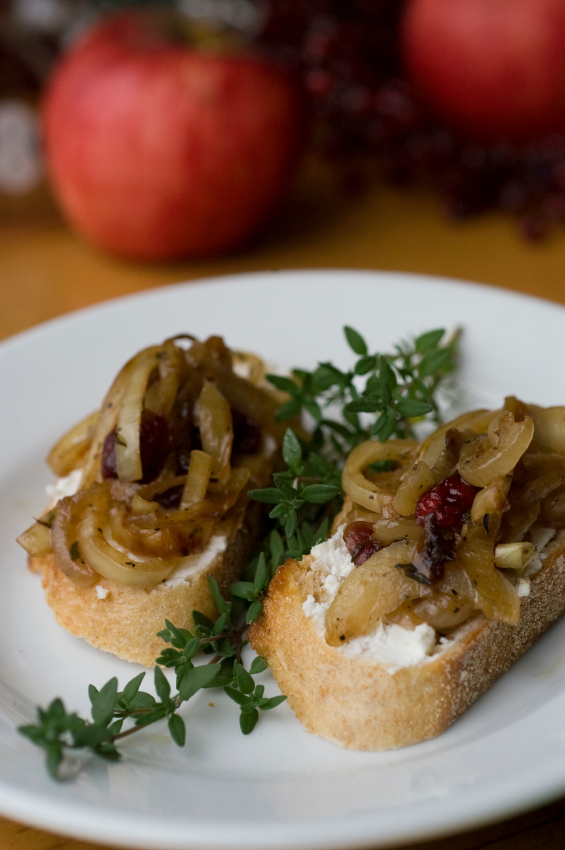 Have you ever thought of serving appetizers for dinner? I have and I love it. Small portions of great food don't have to be reserved just for parties. You can make any night feel like a celebration, and of course children love anything they can eat with their fingers. Sometimes I will do a series of bruschetta for dinner – little bites of crunchy heaven with a variety of toppings!
Cheese, in all its glory, is one of my standard go-to ingredients for appetizers. Everyone enjoys it, there are many different versions, and a nearly unlimited number of ways to use it. It is one of The Artist's favorites so it is often featured in our menu planning. While I prefer the less pungent ones, The Artist favors sheep's cheeses, especially those made in Spain.
Some friends and I are going to get together soon for a cheese tasting. Similar to a wine tasting, we'll do blind samples and have everyone vote for their favorites. It will be interesting to see who likes which types. I am thinking of serving these two appetizers – one served on polenta, the other on a flat bread, pizza crust or baguette slices. Do you think they will be too tired of cheese to enjoy these? I don't – I think they will love the combination of flavors and textures.
While cheese is standard issue for nearly every cocktail party, I am always looking for options other than just another plate of cheese wedges or cubes. So, how can we change it up to create new and creative party options? Combine it with different ingredients such as the following:
Polenta is a very adaptable food. You can serve it soft, like mashed potatoes, with a variety of toppings or just sprinkled with some cheese and herbs. You can make it firmer and cut into shapes for finger foods. And you can grill it to add a light smoky flavor and crispy crust, an absolutely amazing transformation. When you are looking for appetizers that can be served on toast or crackers, consider substituting polenta. It is a great change of pace.
Sun-dried tomatoes, unlike their title, are usually prepared in ovens or dehydrators as opposed to the original way, laid out in the sun. While not as quaint, it is much faster and more sanitary. They come in two forms, packed in oil and dried. The ones packed in oil don't need any preparation before use except for draining and the oil can be used in salad dressings, stir-fries, or over pasta. The dried ones need to be rehydrated. This is usually done in hot water, but you can use wine or broth as well. The flavor of sun-dried tomatoes is quite intense, very concentrated, and slightly salty. A little goes a long way, so use a light hand when you are cooking with them.
Another of today's ingredients is caramelized onions. These are incredibly easy to make, but people seldom take the time. When onions are cooked very slowly over low heat, the natural sugars in them caramelize, leaving you with onions that are so sweet they are almost like candy. And contrary to some recipes, you do not add any sugar. The trick is low and slow. Keep the heat very low, stir regularly, and let the onions cook at their own pace. It can take up to 45 minutes, but they are worth the wait. The natural sugars that come out with caramelization creates a wonderful contrast to savory foods. They can be used on sandwiches, in salads, scrambled with eggs … the possibilities are nearly endless.
Both of these appetizers are very easy to make and can be put together very quickly. Prep them ahead and finish them just before your guests arrive. I promise everyone will swarm the buffet table when you have these beauties on the menu!
Whether you are serving these at your next party or for a casual dinner, I hope you enjoy these delightful cheesy tidbits.
Jane's Tips and Hints:
You can make your own pizza dough or focaccia for the caramelized onion and cheese squares if you want. That would be fantastic, but the store-bought pizza breads or baguettes make this really fast.
Gluten-Free Tips:
The polenta squares are naturally gluten-free. The onion squares call for a flat bread, pizza crust or baguette. My favorite gluten-free pizza crust and baguettes are from Schar's and either would be great for this appetizer.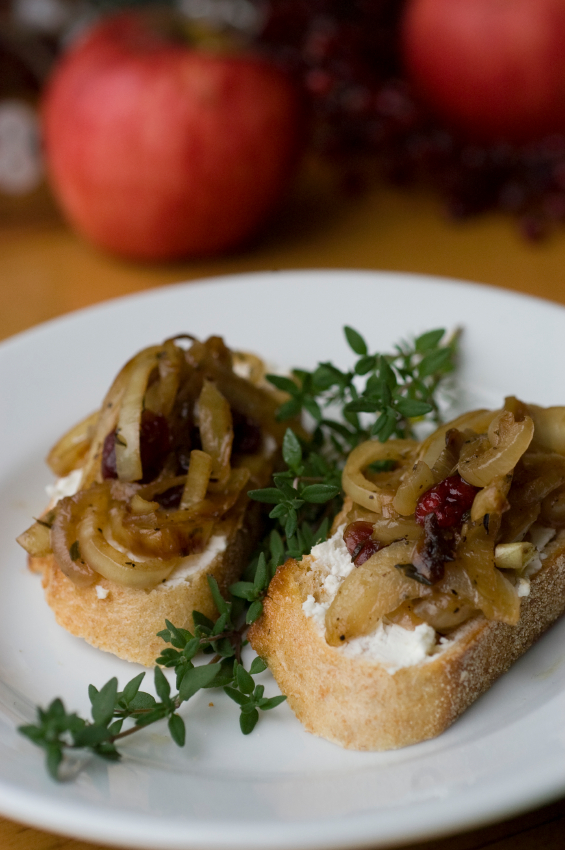 Bite-Sized Polenta Squares with Goat Cheese and Sun-Dried Tomatoes
2015-06-30 15:26:21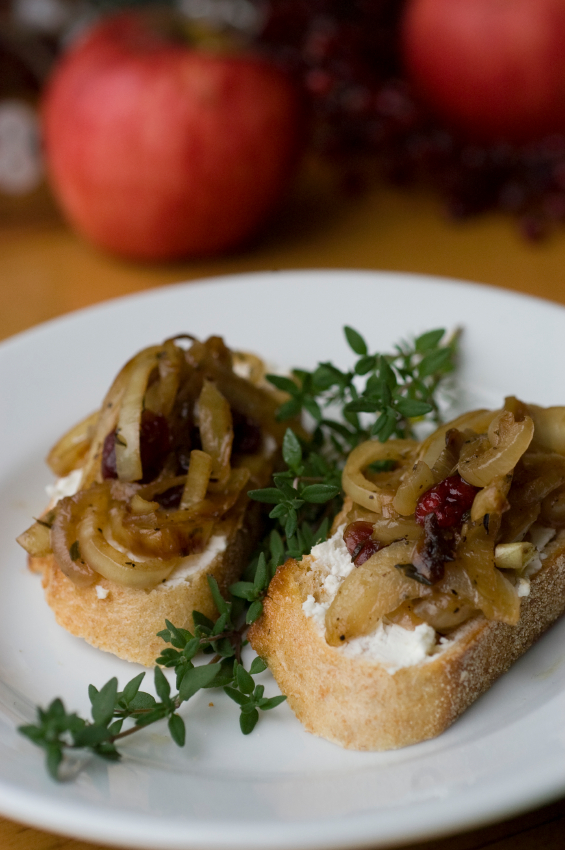 Ingredients
2 tbsp olive oil
1/4 cup finely chopped onion
2-1/4 cups chicken stock (or vegetable stock for vegetarian)
3/4 cup polenta
1/4 cup chopped oil-packed sun-dried tomatoes
1 tbsp minced fresh flat-leaf parsley
1/2 tsp minced fresh thyme
Salt and freshly ground pepper
2 oz fresh goat cheese or ricotta, cut into 1/2-inch dice
Additional thyme leaves for garnish
Instructions
Lightly oil an 8-inch square baking dish. Heat the 2 tbsp oil in a large, heavy saucepan over medium heat. Add the onion and sauté until golden, about 5 minutes. Stir in the chicken stock and bring to a boil. Whisking constantly, gradually pour the polenta into the stock in a steady stream. Lower the heat to medium-low and cook, stirring constantly, for 10 to 15 minutes, or until the polenta thickens and easily comes away from the sides of the pot.
Stir in the chopped sun-dried tomatoes, parsley, and thyme. Season with salt and pepper to taste. Pour into the prepared dish, smoothing the top with an off-set spatula. Set aside to cool completely.
To serve, turn the polenta out onto a cutting board and cut into 1-inch squares. Top each square with a small piece of cheese, sprinkle with some thyme leaves, and serve.
Notes
Yield: 8 to 10 servings
The Heritage Cook ® https://theheritagecook.com/
Caramelized Onion Squares with Gorgonzola
2015-06-30 15:27:24
Ingredients
1 tbsp olive oil
3 med yellow onions, peeled and sliced 1/4" thick
2 tsp balsamic vinegar
1/4 tsp salt
1/8 tsp white pepper
1 thin-crust 12-inch Italian bread shell, sliced baguette, or gluten-free pizza crust
2 oz Gorgonzola or bleu cheese, crumbled
1/4 cup finely chopped walnuts or pecans
Instructions
Heat oil in a deep frying pan over medium heat. Add onions, cover, and cook 5 minutes. Uncover and cook, stirring occasionally at first and more frequently as slices begin to wilt, until onions are very soft and caramelized, 30 to 40 minutes. They will be deep golden brown. Add balsamic vinegar, salt and pepper. Cook until pan juices are reduced to a glaze, about 3 to 5 minutes. Remove from the heat and let onions cool.
Leaving a 1/2-inch border all around the edges, spread onions on bread shell. Sprinkle with cheese, then top with walnuts. You can bake immediately or cover and refrigerate up to 8 hours. For longer storage, wrap airtight and freeze.
To Bake: Preheat oven to 450°F, place bread shell on a 12-inch pizza pan or baking sheet (thaw first if frozen). Bake until edges of shell are light brown and crisp, 8 to 10 minutes. Cut into bite-sized squares, about 1-1/2 inches. Serve immediately.
Notes
Yield: 8 to 10 servings; about 40 pieces
If you are using a sliced baguette, toast the slices first and then top with the onions and cheese. If you want to melt the cheese, you can place them under the broiler for a few minutes. If you want, you can also mix the Gorgonzola with some ricotta to make a soft cheese spread. Spread this on the bread and top with the onions
The Heritage Cook ® https://theheritagecook.com/
Create a New Tradition Today!
Unauthorized use, distribution, and/or duplication of proprietary material from The Heritage Cook without prior approval is prohibited. This includes copying and reprinting content and photographs. If you have any questions or would like permission, I can be contacted via email at theheritagecook (at) comcast (dot) net. Feel free to quote me, just give credit where credit is due, link to the recipe, and please send people to my website, www.theheritagecook.com. Please see the Disclaimers page for additional details.
Thank You!