I love cheesecake but I hate making it. Yep, that's right. Cheesecake is not my idea of a fun baking adventure and the main reason is the water bath usually required. It is a pain to wrap the pan with foil and it seldom works because my pan inevitably leaks. It is always hard to maneuver a really heavy pan full of boiling water out of the oven. So, while I love cheesecake for dessert, I rarely make it at home.
Recently I found a recipe from Food and Wine for a vanilla cheesecake with a walnut crust. Intrigued, I looked through the ingredient list. The crust uses pulverized walnuts in place of traditional graham crackers. This creates a flavor very similar to the original with the added benefit of being gluten-free. But the best part of the recipes was that it did not require the water bath!
So armed with a fun new recipe to try I headed to the store for the ingredients and set about to create this wonderful dessert for all of you!
Initially I was going to make it in the recommended 10-inch springform pan, but then I remembered that I have a set of four smaller springforms that would allow me to share the dessert easily with family and friends. Unfortunately, the littler ones were too small for all the filling, so I wound up using a couple of ramekins for the extra. Make sure you don't fill yours more than 3/4 full. I should have added another one or two ramekins because I filled the containers so full that they rose well above the rims, not allowing me to top them with the original sweetened sour cream layer. So I punted!
I decided that I would melt chocolate chips and whisk them into the sour cream topping. Oh My. It is really good! So instead of the chocolate ganache sauce I was going to serve over the cheesecakes, I used the chocolate sour cream sauce. You could also use milk or white chocolate for different flavors and colors, but lower the amount of sugar to compensate. I have a new favorite – it is not as sweet as traditional dessert sauces, but is still packed with chocolate flavor. When combined with the creamy cheesecake, it is heavenly.
The walnut crust lends a delightful change of pace from graham crackers, and I prefer it. Not only is it delicious, it is also healthy. So I can more easily justify eating a whole piece of this cheesecake without feeling the need to have someone share it with me 😉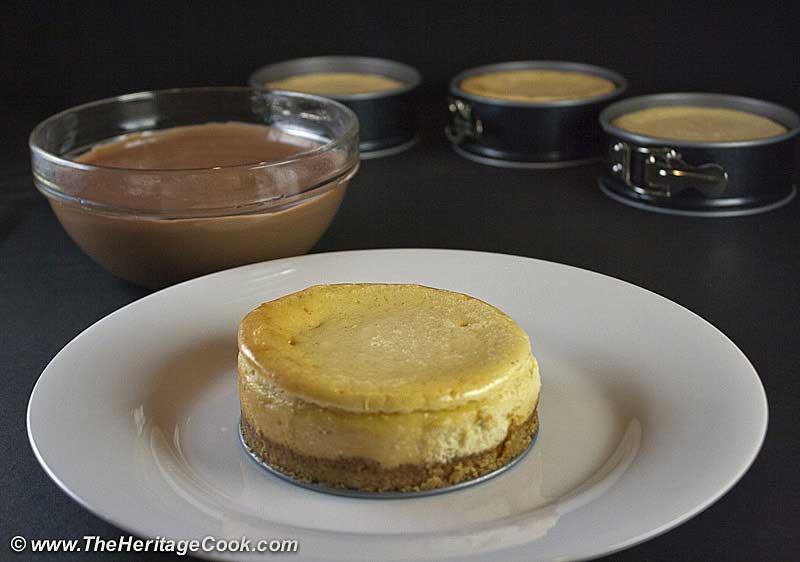 My family and I used to sit around the fireplace in the winter cracking nuts for my mother to use in her baking. It was fun "work" and a way to get mom to make our favorites.
If you are buying nuts in the bulk section of your grocery store, always taste one before you buy. Unfortunately, sometimes the bulk items do not move as quickly as they should and you can wind up with rancid or stale nuts. To be safe, buy nuts as fresh as you can get them and crack them yourself!
Since Halloween is right around the corner, you could serve this as part of your buffet. The creamy white with the dark chocolate sauce will fit right in. Sprinkle the top with some candy corn or orange sprinkles! For Thanksgiving, scatter some extra walnuts around the plate. For Hannukkah or Christmas, use white chocolate in the sauce and sprinkle the top with blue sprinkles or red and green. One dessert for all occasions!!
Happy Chocolate Monday my friends, go out and make it a Great day!
Jane's Tips and Hints:
When you are baking a cheesecake, make sure you pull it out of the oven when the edges are firm and the center jiggles like pudding. It will finish baking all the way through as it cools to room temperature. Then allowing it to rest in the refrigerator overnight helps the cheesecake become even creamier.
Vanilla Bean Cheesecake with a Walnut Crust (GF)
2015-07-02 16:52:44
Ingredients
Crust
1-1/2 cups walnut pieces
1/4 cup granulated sugar
4 tbsp unsalted butter, melted
Filling
2 lb cream cheese, softened to room temperature
1-1/4 cups granulated sugar
1 vanilla bean, split lengthwise, seeds scraped and reserved or 1 tbsp vanilla paste
4 large eggs, at room temperature
2 tsp vanilla extract
1/4 tsp pure almond extract
1/2 cup heavy cream
Sauce
2 cups sour cream
1/2 to 3/4 cup granulated sugar
2 tsp pure vanilla extract
1/2 cup semisweet chocolate chips, melted
Instructions
Preheat the oven to 350°F. Butter a 10-inch springform pan.
Make the Crust: In a food processor, pulse the walnuts with the sugar until finely ground. Add the butter; pulse until the mixture resembles moist sand. Press the crumbs into the bottom of the prepared springform pan. Bake for 12 minutes, or until browned around the edges.
Make the Filling: Reduce the oven temperature to 300°F.
In a standing electric mixer fitted with a paddle or using a handheld electric mixer, beat the cream cheese at low speed with the sugar and vanilla seeds just until combined. Beat in the eggs, one at a time, scraping down the bowl and beater between additions. Add the vanilla extract and the almond extract. Slowly beat in the cream until smooth.
Bake the Cheesecake: Slowly pour the cheesecake batter into the pan (trying to avoid creating air bubbles), place in the oven and bake for 65 to 70 minutes, until lightly golden and still slightly jiggly in the center. Remove from the oven.
Immediately pour the sour cream topping over the cheesecake and smooth the surface. This will hide any cracks that may have opened!
Return the cheesecake to the oven and bake for 5 minutes longer. Turn oven off but leave cheesecake in the oven with the door ajar for 15 minutes. Transfer to a rack and let cool to room temperature.
Run a sharp, thin-bladed knife around the cake(s) and loosen the outer ring. Refrigerate the cake for 3 hours, then cover loosely with plastic wrap and refrigerate overnight.
Make the Sauce: While the cake(s) is cooling, make the topping. In a medium bowl, mix the sour cream with the sugar and vanilla until smooth. Melt the chocolate over low heat, stirring regularly until smooth. Add to the sour cream mixture and whisk in until thoroughly combined.
Cover with plastic wrap and store in the refrigerator. Whisk to recombine when ready to serve.
To Serve: Remove outer ring(s). Using a very sharp knife that you've heated with hot water cut the cheesecake into wedges. Make sure to rinse the knife clean and wipe dry between each slice for the cleanest presentation.
Transfer wedges to serving plates. Drizzle the chocolate-sour cream mixture over the top and serve immediately.
Notes
Yield: about 10 servings
Adapted from Peggy Cullen for Food & Wine
Adapted from Peggy Cullen for Food & Wine
The Heritage Cook ® https://theheritagecook.com/
Unauthorized use, distribution, and/or duplication of proprietary material on The Heritage Cook without prior approval is prohibited. If you have any questions or would like permission, I can be contacted via email: theheritagecook (at) comcast (dot) net. Feel free to quote me, just give credit where credit is due, link to the recipe, and please send people to my website, www.theheritagecook.com.
The intention of the content on this site is for your inspiration and enjoyment. It is not a substitute for advice given by a licensed health-care professional. You are responsible for medically confirming any dietary restrictions and ingredient safety with product manufacturers before consuming or using any product. If you have dietary restrictions, always read the labels before including any ingredient in your cooking.
As an affiliate member, if you click on links in my posts and purchase a product, I may receive a small percentage of the sale. Any commissions received will be used to offset a portion of the costs of running The Heritage Cook. If I have received products for review or had travel expenses covered, I will disclose that in the content of each article where applicable.
Thank You!
Do you have any questions or comments? I love to hear from you!