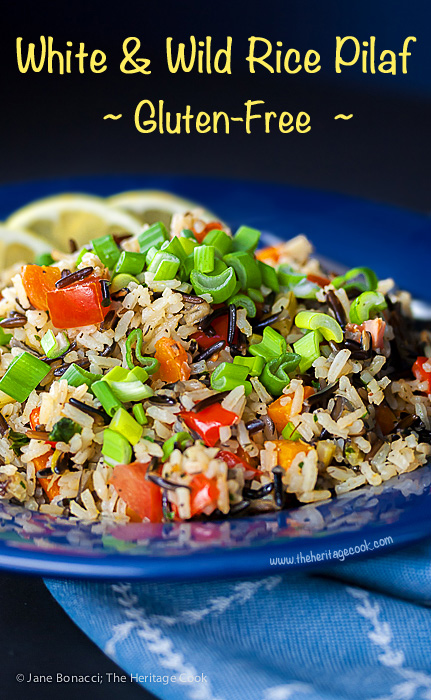 When I was a child I hated rice because it was boring white, cooked in plain water with no flavorings. It was pretty awful. As a super taster I wanted flavor and interest, anything that would wake up my taste buds. Then I started learning how to cook and discovered that I could use broth instead of water, add a little wine, herbs and vegetables. Suddenly it became a favorite side dish.
Today's Food Network #SensationalSides is all about grains. I am sharing my favorite wild rice pilaf with a ton of veggies. When I was diagnosed and had to go gluten-free, rice became my go-to side dish. This meal saved me because I virtually lived on it when I was trying to figure out what else I could eat.
You can use any combination of grains you like to make pilaf, add chopped nuts for crunchiness, cubed ham, chicken or other meats and cheeses for protein, and toss everything together for more of a main course serving.If you use vegetable stock and leave out the butter, this is a vegan dish – simple to make and so delicious everyone will enjoy it, including your vegan friends.There is literally no end to the ways you can change up pilaf.
If you have the girls coming over for a chat fest, serve this pilaf with some homemade soft breadsticks and a bottle or two of wine – the chatting will be legendary, LOL.
Pilaf is actually a style of cooking rather than a specific dish. The rice is coated with oil and lightly sauteed before adding the liquids and simmering until tender. This adds a lot of flavor and gives the rice a slightly more chewy texture that I love.
Did you know that wild rice is actually the seed of a native North American marsh grass? Yep, first harvested and cultivated by native Americans, it has become a special occasion treat. But I propose that we incorporate it more often because it gives so much flavor and texture to an otherwise fairly one-note dish. It is also good for us, providing twice the protein and fiber of brown rice, and is high in B vitamins, manganese, zinc, and potassium. All this and low calorie count makes it a wonderful choice.
But eating an entire bowl of just wild rice can be pricey and a little challenging for our digestive tract. That is why you will often seen it paired with white or brown rices. If you are avoiding gluten, make your own blend from scratch and you'll get better flavor, nutrition, and are sure it is safe for everyone at your table. Wild rice keeps almost indefinitely when stored in a cool, dry place.
I kept the vegetables pretty simple for this version, just the standard carrots, onions, celery, and bell peppers sauteed in butter and oil and some fresh tomatoes tossed in just before serving. With the black wild contrasting with the white rice and the vibrant vegetables, the colors are beautiful. I devoured a whole bowl of this in nothing flat.
The next time you are looking for a healthy side dish, give this a try. I know you will find it is the perfect way to enhance any protein or serve it as a fabulous vegetarian or vegan main course. And it is easy to make – 2 saucepans and a mixing bowl and dinner is on the table!
Jane's Tips and Hints:
If you want, you can add more vegetables. If they don't need much time to cook (crookneck squash, zucchini, tomatoes, etc.) you can give them a quick saute just before the rices are done cooking and add when you combine everything. If they take longer to cook (butternut squash, cauliflower, broccoli, etc.), just cook them longer while the rices are cooking and again add at the end when everything is being tossed together. Make sure that everything you add is cut more or less the same size small pieces.
Gluten-Free Tips:
This dish is naturally gluten-free!
Kitchen Skill: How to Cook Wild Rice
The general ratio of rice to liquid is 1 part rice to 2 parts liquid. The liquid can be anything, but generally people use water to let the flavor of the wild rice shine. I like to add some aromatics like onion or garlic and sometimes herbs. But you can also add those when the rice is done and their flavor will be bolder. Rinse the rice thoroughly and cook at a low boil for about 50 minutes or until the grains are starting to split and when you take a bite they are somewhat tender but still a bit al dente.
Unlike other rices, wild rice will not always absorb all the liquid. As soon as the rice is tender, remove from the heat, let sit for 5 minutes, then strain any excess water and serve.
White and Wild Rice Vegetable Pilaf (Gluten-Free)
2015-06-17 19:17:32
Ingredients
Wild Rice
1 cup wild rice
2 cups water (or according to package directions)
1 shallot, trimmed, peeled and minced
1/2 tsp kosher or fine sea salt
White Rice Pilaf
1 tbsp organic olive oil
1 tbsp butter
2 shallots, trimmed, peeled and finely chopped
2 carrots, trimmed and finely chopped
2 stalks of celery, trimmed and finely chopped
1 red bell pepper, stem and seeds discarded, finely chopped
1 cup long-grain white rice
1-1/2 cups organic chicken stock* or vegetable stock
1/4 cup dry white wine or dry vermouth, or more stock or water*
1/2 tsp kosher of fine sea salt
1 tsp dried thyme leaves
1 green onion, tough ends discarded, finely chopped
2 tbsp chopped fresh parsley
2 tsp fresh lemon zest
Instructions
Prepare Wild Rice: Place wild rice in a wire sieve or colander and rinse under cold running water until it runs clear; drain. In a small heavy saucepan, bring the water to a boil, stir in the salt and rice, return to a boil then reduce to medium-low and simmer, covered, 40 minutes, or until rice is tender. Leave the lid on the pan and move it off the heat. Leave the rice undisturbed for 10 more minutes, steaming to finish the cooking, a total of about 50 minutes. Remove the lid and fluff with a fork. If needed, add more time and/or liquid and continue cooking until tender.
Prepare White Rice and Vegetables: While the wild rice is cooking, melt butter and oil together in a medium saucepan over medium heat. Add the shallots, carrots, celery, and bell peppers. Cook, stirring regularly, until the vegetables are slightly softened about 4 minutes. Add the rice and stir to coat all the grains with the oil and butter. Cook for about 3 minutes to lightly brown the rice. Pour in the chicken stock and wine, sprinkle with the salt and add the thyme. Stir to combine, reduce the heat to low and simmer for about 20 minutes or according to package directions. When nearly all the liquid has been absorbed, remove from the heat, leave covered, and let rest for 5 minutes.
When nearly all the liquid has been absorbed, remove the pan from the heat, and with the lid still on, set aside to finish cooking for 5 minutes.
Assemble Dish: Drain the wild rice in a wire sieve or colander and transfer to a large mixing bowl. Add the cooked white rice, green onions, parsley, and lemon zest. Fluff with a fork to loosen rice and toss to combine all the ingredients. Taste and season with salt and pepper as desired. Serve hot.
Notes
* Or the equivalent of water listed on the package
The Heritage Cook ® https://theheritagecook.com/
Create a New Tradition Today!
This recipe is part of Food Network's weekly Sensational Sides celebration. See the links below for inspiration and great recipes and check out our Pinterest page for even more!
Let's connect! If you ever need any entertaining or cooking advice, need to alter a recipe for gluten-free, or want recipe suggestions, don't hesitate to contact me. Thanks for reading!
Unauthorized use, distribution, and/or duplication of proprietary material from The Heritage Cook without prior approval is prohibited. This includes copying and reprinting content and photographs. If you have any questions or would like permission, I can be contacted via email. Feel free to quote me, just give credit where credit is due, link to the recipe, and please send people to my website, www.theheritagecook.com. Please see the Disclaimers page for additional details.
This site is not intended to provide medical advice. The suggestions here are not intended as dietary advice or as a substitute for consulting a dietician, physician, or other medical professional. It is the reader's sole responsibility to determine which foods are appropriate and safe for their family to consume. Always consult your doctor. The author makes no claims regarding the presence of food allergens and disclaims all liability in connection with the use of this site.
Thank You!