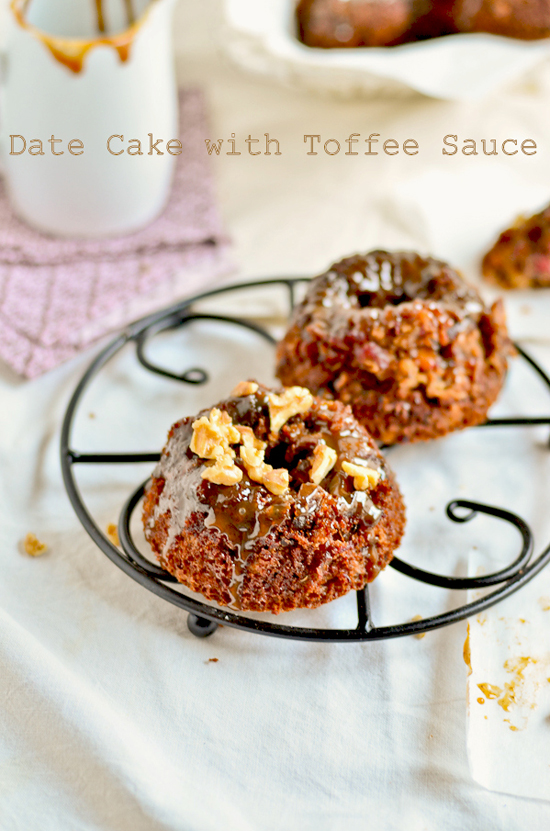 I love how all of my guest posters chose family favorite recipes to share with you all. And today is no exception. These beautiful date cakes are desserts that Shumaila's mother used to make when she was growing up. Shumaila is a lovely Indian woman who enjoys teaching us all about her native cuisine with blog, The Novice Housewife, especially her Garam Masala Tuesdays.
The Novice Housewife is much more than just a blog about Indian food. Following her diplomatic upbringing, Shumaila has an eclectic selection of incredible recipes that I have spent many happy hours perusing. Not only that, but her photography always captivates me. Her recipe listings will have you running to the refrigerator and pantry to see if you have the ingredients on hand.
Shumaila is a vibrant, highly educated woman (she got her undergrad degree in economics and her MBA in finance) who after finishing her schooling decided she wanted to open a bakery. She was on that path when her future husband entered the picture. Long story short, they fell in love, had a traditional arranged marriage (despite being from different religions), and have just celebrated their second anniversary. Happy Anniversary Shumaila and V and thank you for sharing your passion for food with the readers of The Heritage Cook!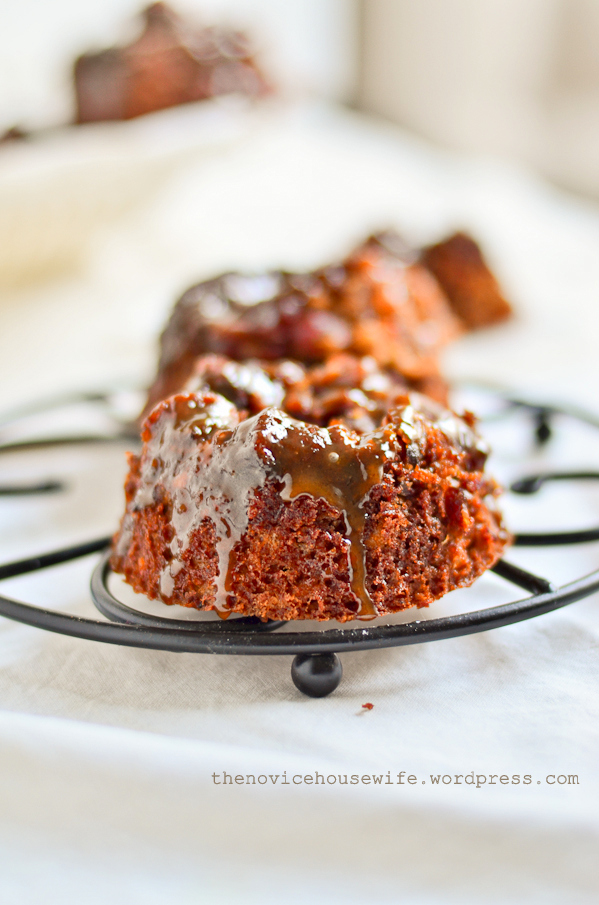 Hi, everyone! I am Shumaila of The Novice Housewife. I am so glad to be posting for Jane today. I was introduced to her site through the Secret Recipe Club when I was assigned was her blog, and since then there has been no looking back. Thank you, Jane, for giving me this wonderful opportunity!
Now, when you have to guest post for any site (especially one as special as Jane's), after the initial excitement, panic sets in. I really wanted to share something good, something that would be worthy of The Heritage Cook. As her blog's title implies, I knew it had to be a recipe that I have grown up on; a recipe handed to be by my mom. And that's why I decided I would share my mom's Date Cake with toffee nut sauce.
This date cake is something my mom is famous for among her friends. With the toffee sauce, it is quite similar to the sticky date toffee pudding. Surprisingly, growing up I never liked it. Probably because she made it so often and I hadn't grown fond of dates back then. Or probably it was because chocolate was the only love I had. But, almost every party she would make it, and it always got rave reviews, and a lot of recipe requests as well. And I would always wonder why!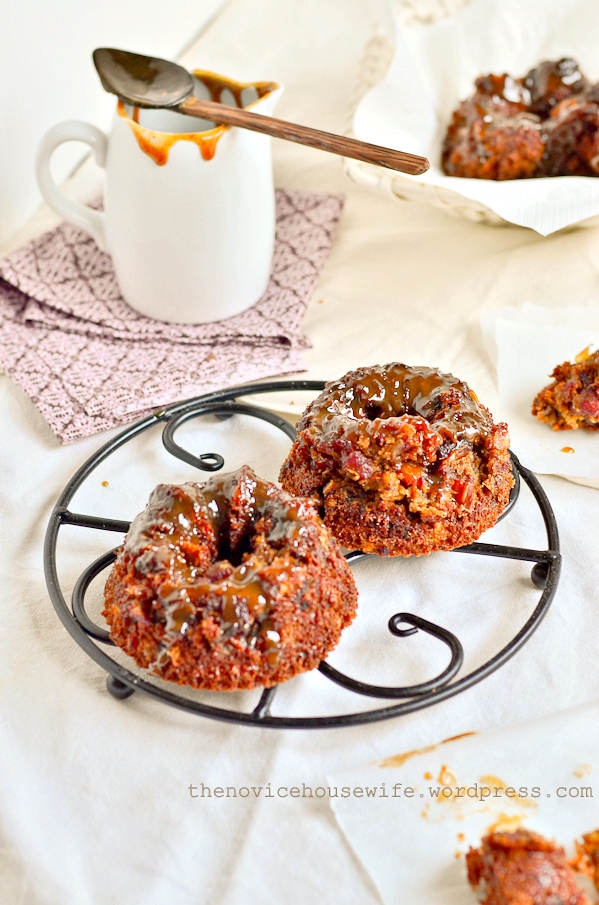 That question was answered when my parents moved to Moscow, Russia. My father was deployed on a diplomatic assignment there and after completing my college, I decided to join them, taking up learning Russian language there.
As part of his job, my parents had to maintain diplomatic relations with other countries' diplomats and this involved a lot of entertaining. I would occasionally help my mom in the kitchen (although, not as much as she would have liked). Of course, this date cake was a regular feature in these parties as well.
I remember craving for something sweet one day and since there were some leftovers of this cake in the refrigerator from a party, I heated a small piece for myself. One bite and I was in love. I do not know what it was – the cold weather outside and a warm slice of date cake pudding to warm me up, or just the memories this cake had of my country, my people, but I was sold on this cake forever.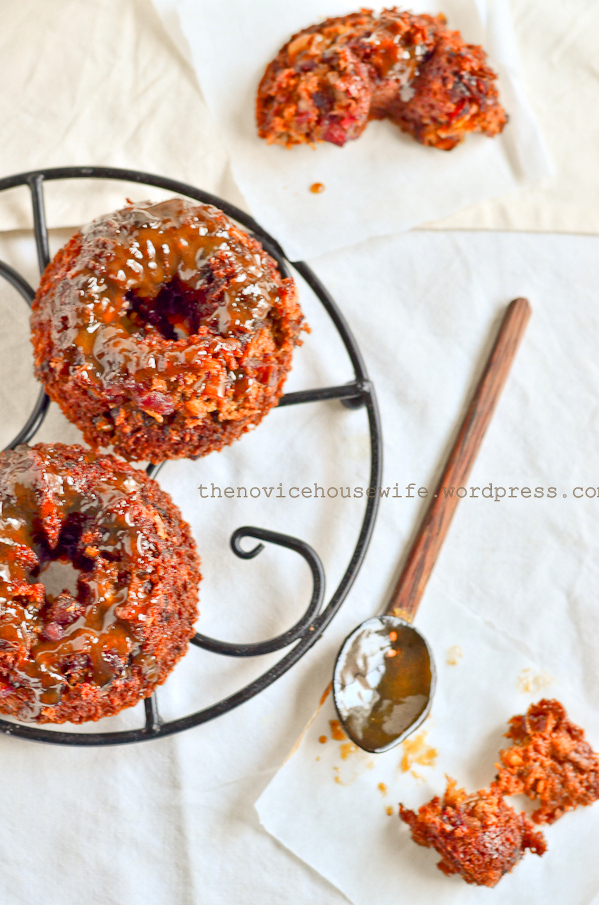 It is a very moist and scrumptious dessert. The toffee sauce on the cake is what makes this cake to die for. Once I warmed up to this cake, I have to say, that this is probably one of the most soothing cakes I've ever eaten and it stays moist for days, although it won't last that long.
A note about the sweetness of the cake: Since the dates add to the sweetness in the cake, my mother generally puts in less sugar than the original recipe. The recipe below has the adjusted lesser amount. If you feel you would like a sweeter cake you can up the amount. The original recipe called for 100g, but my mom and I both found that too sweet. Also keep in mind the toffee sauce will add to the overall sweetness of the cake as well. You can always adjust the sweetness in the sauce, in case you find the cake on the lesser side of sweet. It also helps to check how sweet your dates are to begin with.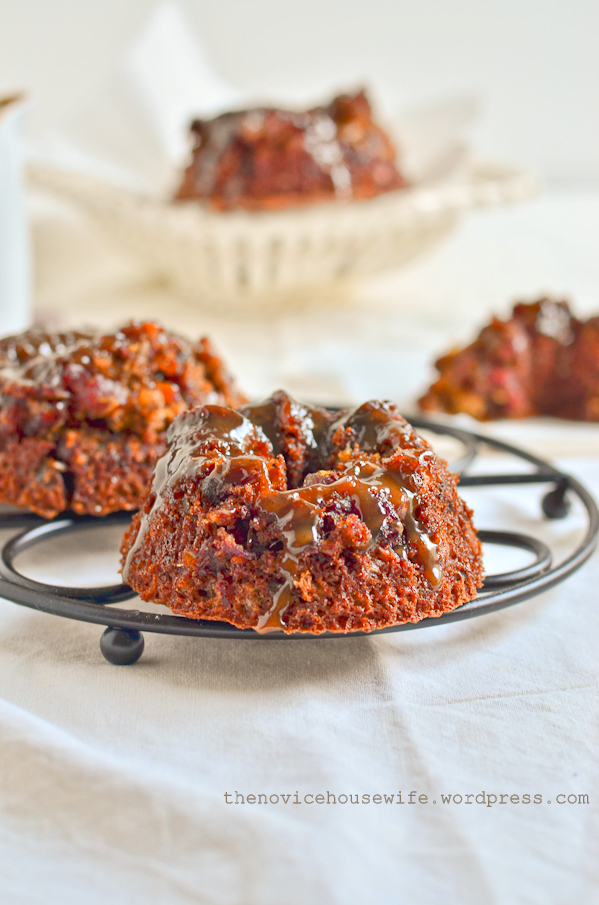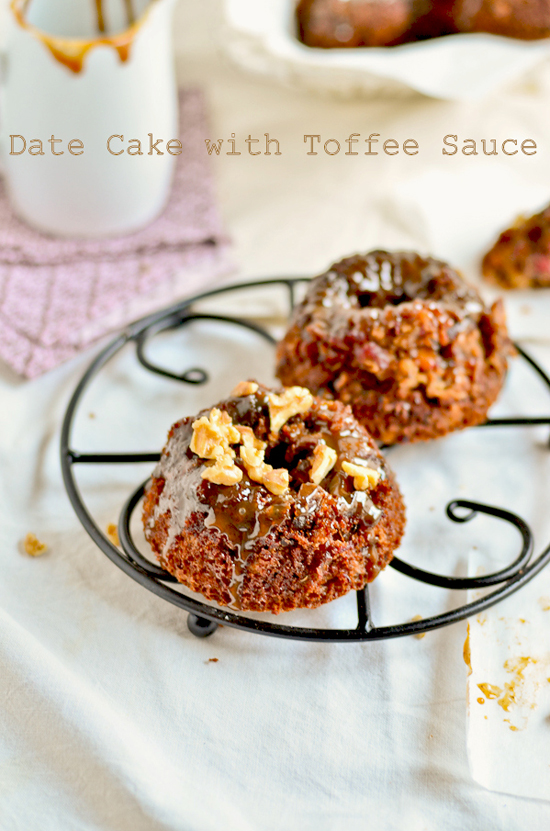 Date Cake with Toffee Nut Sauce
2015-07-06 18:32:24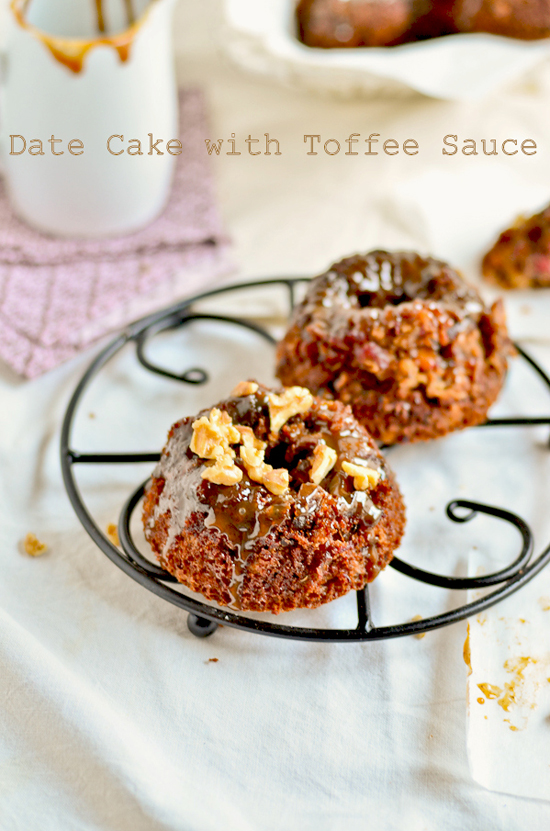 Ingredients
Date Cake
225 grams (7-1/4 oz) seedless dates
1/2 cup chopped toasted walnuts
1/2 tsp baking powder
85 grams all purpose flour
60 grams sugar (see note)
100 grams (2-3/4 oz) butter, cut into pieces
2 eggs
1/2 tsp vanilla essence
Pinch salt
1/2 tsp baking soda
Toffee Sauce
1 tbsp butter
3 tbsp sugar
6 tbsp fresh cream, at room temperature
1/2 cup roughly chopped toasted walnuts, optional
Instructions
Make the Cake: Chop the dates, and soak them in 5 tbsp water and baking soda for 30 minutes. Keep aside.
Preheat oven to 150°C / 300°F. Grease and dust with flour an 8-inch square cake pan. Sift the flour and baking powder in a bowl.
In a stand mixer, or with an electric mixer beat the butter and sugar until light and creamy. Add in the eggs and beat well. Add the vanilla essence. Mix in the dates and walnuts to the flour mixture.
Fold in the flour date mixture into the liquid mixture, mixing only until well combined.
Bake in the oven for 50 to 60 minutes, or until a tester comes out clean. I would suggest checking after 50 minutes, my cake is generally almost done after 50 min. Remove from the oven and leave in pan for 5 minutes, before unmolding it.
Prick the cake slightly with a fork for the sauce to seep in.
Make the Toffee Sauce: Caramelize the sugar on medium heat, until just about brown (not too dark, but light golden. It will continue to caramelize when you add in the butter and cream, so don't let it turn too dark).
Quickly add the butter. Stir for a few seconds only, and then quickly add the cream (be careful as it will sputter a little). Stir as you pour to avoid lumps. Return to low heat.
Stir for a few seconds until well blended, removing the lumps, if any. (My mom sometimes adds a little milk if she has too many lumps of sugar, stirring it until all the lumps are removed). Do not bring to a boil.
Spread on the cake immediately to get an even coating of the sauce. Quickly top with the chopped walnuts.
Notes
Yield: 1 (8-inch) square cake or an 8-inch loaf tin (preferable)
The Heritage Cook ® https://theheritagecook.com/
Unauthorized use, distribution, and/or duplication of proprietary material without prior approval is prohibited. If you have any questions or would like permission, I can be contacted via email: theheritagecook (at) comcast (dot) net. Feel free to quote me, just give credit where credit is due, link to the recipe, and please send people to my website,
www.theheritagecook.com.
Thank You!
I love to hear from you … please leave a comment below (and don't forget to do your math before hitting enter, LOL)!