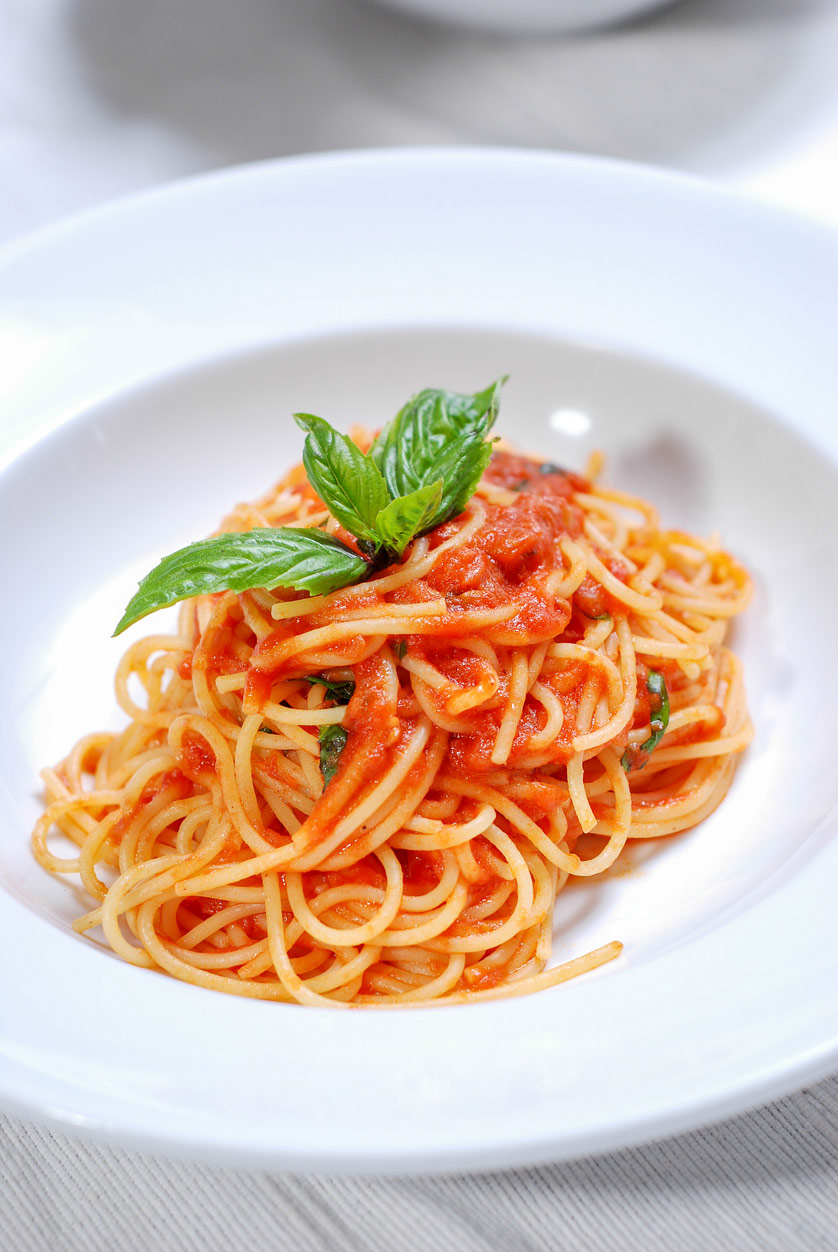 When you marry an Italian, suddenly you are thrust into very large family events for every holiday and they always involve pasta in some form. In our family that is pasta with marinara, a sauce made with some combination of tomatoes, garlic or onions, olive oil, and basil paired with sausages, meatballs, salad, and bread. Today I am sharing my version of an authentic Italian pasta sauce.
Most American cooks either pop open a jar or make a meat-sauce – the same one I made for many years before marrying The Artist, with tomatoes, hamburger, onions, and a ton of garlic. Homemade marinara is so quick and easy to make and tastes monumentally better than store-bought sauce, I will never buy another jar.
After years of being renown for my own "spaghetti" sauce, I found myself standing at my father-in-law's side, learning how he makes his infamous Italian pasta sauce. He makes his sauce with a ton of olive oil, a few cloves of smashed garlic, and tomatoes. While his is delicious, I prefer to use less oil, add onions along with the garlic, and I like the flavor of oregano and basil. Mine isn't the same as my father-in-law's but it is just as good.
Once the sauce is made, it is endlessly flexible. You can lightly sauté some vegetables like zucchini or yellow squash and toss them in the sauce. You can bake meatballs and serve with pasta and sauce. Use this sauce with Chicken or Eggplant Parmesan or lasagna. Bruschetta, Italian meatball sliders, … the list is nearly endless.
I typically make a huge batch at a time, ladle into sealable plastic bags, lay flat on a baking sheet, and freeze. When solid, remove the baking sheet and stack the bags in the freezer. It is so easy to pull a bag out to make a fresh pasta dinner. If my husband has had a stressful day, nothing soothes his soul like a big plate of pasta – it is most definitely his comfort food.
Have a wonderful weekend, enjoy your fun days and I hope you make a batch of this Italian pasta sauce!
Jane's Tips and Hints:
To reduce our exposure to metal toxicity and BPH, I prefer using the boxed tomato products from Pomi. I discovered them when I was in Europe many years ago and am glad to see them becoming more readily available in this country.
Gluten-Free Tips:
There are a number of good gluten-free pastas available these days at most grocery stores in the country. There are a lot of opinions on which is the best, try as many as you can and hopefully you will find one that you and your family love. We prefer a blend of rice and corn for flavor and holding up to cooking without becoming mushy.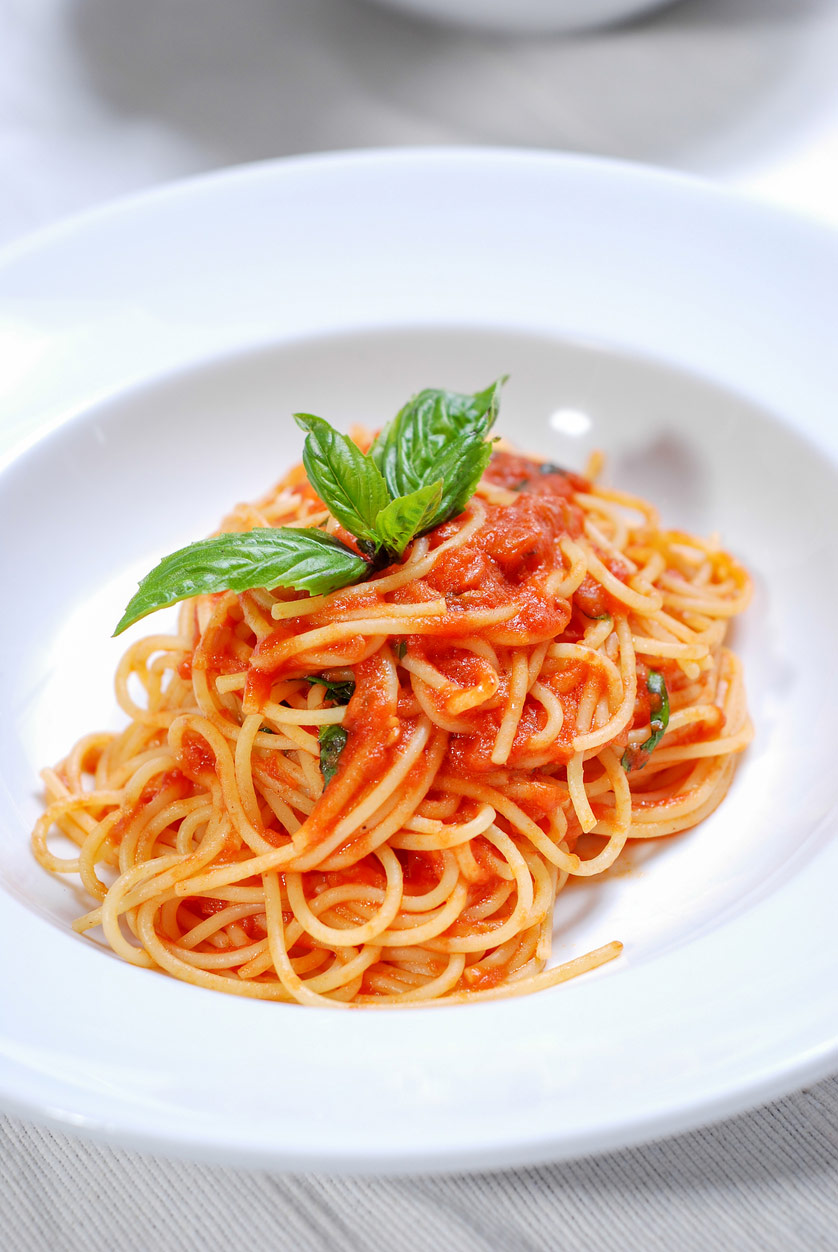 Authentic Italian Pasta Sauce (Gluten Free)
2018-04-18 19:29:15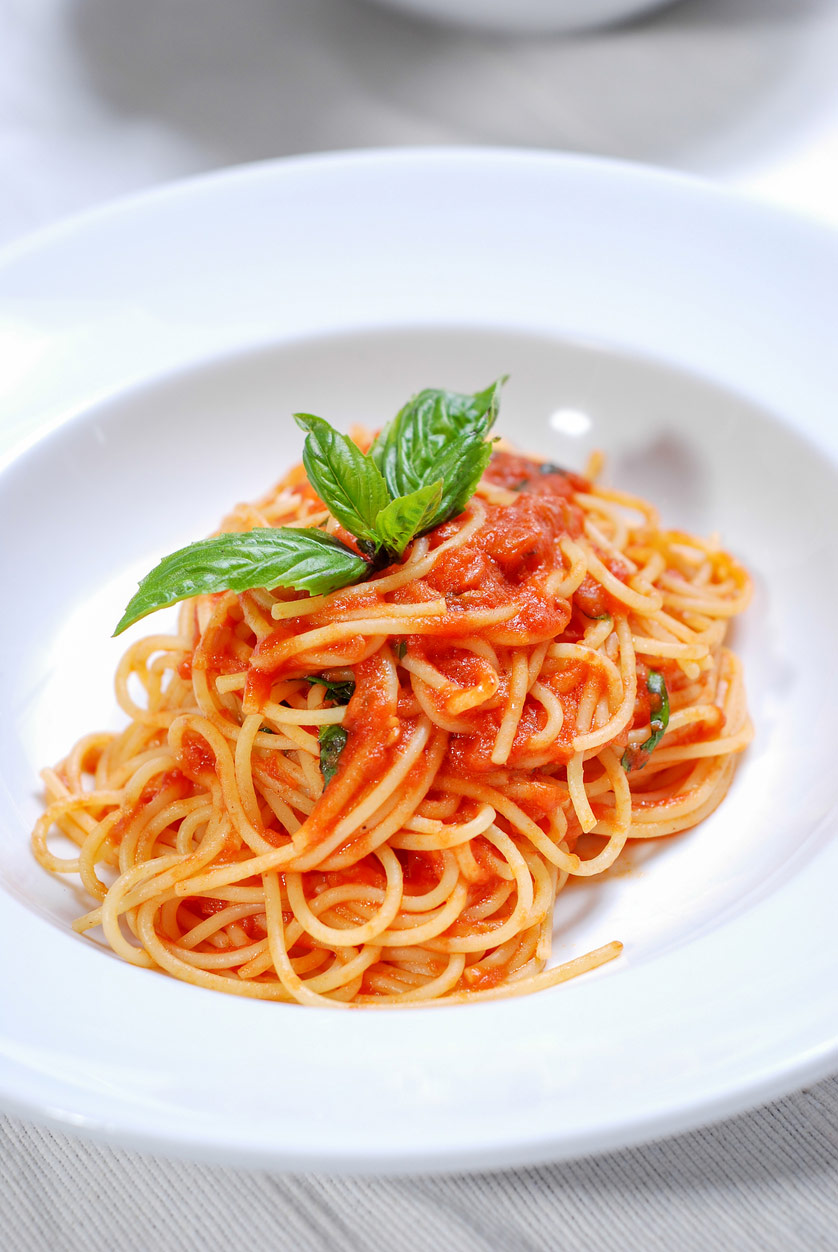 Ingredients
2 to 3 tbsp olive oil
1 medium onion, peeled and diced
1 to 2 cloves garlic, peeled and halved lengthwise (remove the bitter sprouted center if present)
2 tsp dried basil
2 tsp dried oregano
2 large cans/boxes (28 oz each) crushed tomatoes (I like Pomi brand)
1 cup red wine or water
1 tsp each salt and freshly ground black pepper
1 tsp sugar
About 10 to 12 fresh basil leaves
Your choice of pasta, gluten-free if needed
Grated Parmesan cheese
Instructions
In a large Dutch oven or deep heavy-bottomed pot, heat oil over medium heat. When oil is shimmering add the onions. Stir to coat evenly with the oil. Cook, stirring occasionally, until onion is softened and translucent but not browned, about 3 minutes. Stir in garlic, dried basil, and oregano. When you can smell the garlic, but before it browns, add tomatoes and wine. Add salt, pepper and sugar; stir to combine. Bring to a boil. Reduce heat to medium-low or low and let sauce simmer slowly for 20 to 30 minutes or until slightly thickened. Taste and adjust seasonings.
Near the end of cooking, stack basil leaves and slice into very thin strips. Stir half into the sauce and use rest for garnish.
Put pasta into well-salted boiling water. Cook until just barely done. Remember, there is carry-over cooking and adding hot sauce to the pasta will continue to cook it. Toss pasta with a little sauce, put in a warmed serving bowl and sprinkle with some Parmesan cheese and remaining basil. Serve immediately.
Notes
Yield: about 8 servings
The Heritage Cook ® https://theheritagecook.com/
Create a New Tradition Today!
Welcome! If you ever need any entertaining or cooking advice, need to alter a recipe for gluten-free, or want recipe suggestions, don't hesitate to ask. Unauthorized use, distribution, and/or duplication of proprietary material from The Heritage Cook without prior approval is prohibited. If you have any questions or would like permission, please contact me. The suggestions here are not intended as dietary advice or as a substitute for consulting a dietician, physician, or other medical professional. Please see the Disclaimers page for additional details. Thanks for visiting The Heritage Cook!