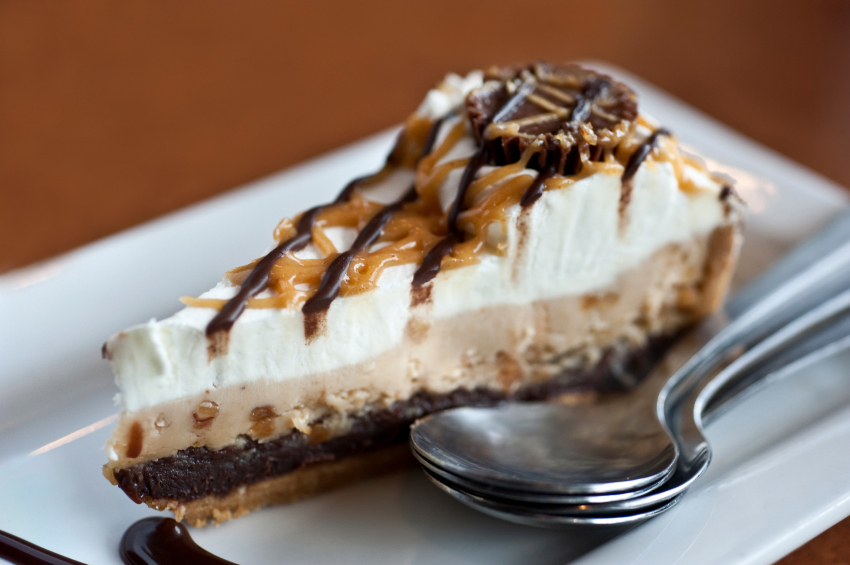 When I was in the sixth grade my father got transferred up to Portland, Oregon for work. It was a scary and exciting time. It was the first time I had moved out of the town I had grown up in, but my parents made it into an adventure. We bought appropriate clothes so we could be out in any weather, took trips around the area exploring, followed part of the Lewis and Clark Trail, and enjoyed the beautiful trees, sky and air.
We lived in an apartment that overlooked Mt. Hood and every day we would wake up to see "if the mountain was out." At sunset it looked like a gorgeous pink upside down ice cream cone. It was beautiful when we went up in June, perfect weather, but that winter was the worst one they had had in decades. It snowed for weeks and I would get up every day and listen to see if my school was closed. Coming from California all of this was new and wonderful.
That Christmas the local radio station had an ongoing program for children where we would crawl into our beds, turn the lights off and listen to the stories. It was exactly what my parents had done when they were my age and I loved every moment of it. I got totally involved in the story and I didn't want it to end. There was something so wholesome about it, old-fashioned and simple.
I fell in love with Oregon, its people, and the beauty of the country. You'll never meet nicer people – they are warm, kind, and friendly. Two years ago IACP (International Association of Culinary Professionals) held their annual conference there and we all had a wonderful time. I talked so much about it that The Artist wanted to see it too. We had some airline credits to use so this weekend we went up and explored the city.
We had perfect weather the first two days and drove up the Colombia River to experience the staggering beauty of the gorge and area waterfalls. There is an incredible mass transit system and most people walk everywhere. Our legs are sore from climbing the hills as we hiked around town. Portland is a wonderful city, full of some of the country's best restaurants with chefs passionate about the farm-to-table movement. Everywhere you go there are signs of this passion. Menus list who the purveyors are, stores note which are local products and healthy options are rampant. There is tremendous pride in Oregonians and you can still sense the pioneer spirit, leftover from the days of its founding when settlers had to fight their way across country to tame and colonize the Northwestern wilderness.
A lot has changed since I was a child. The trees that were just planted when I was a child living here are enormous now and completely shade the streets. Portland's farmer's market is one of the best in the country and it hadn't started when I lived there. When we lived her there were very few stores but now there are huge stores and malls. But there are some constants like the beauty of the people, the pristine air and Mt. Hood standing in all its glory. It is exactly as I remember it and at the same time totally different, but I still love it.
One of the restaurants I really wanted to visit is Mother's Bistro and Bar. It has been voted one of Portland's top restaurants and won many awards, and it is easy to see why. They feature foods that mothers around the world cook for their families. Dishes like pot roast, chicken and dumplings, meat loaf and crab cakes all show up on the menu. They make everything from scratch using the best possible local ingredients and serve breakfast, lunch and dinner. They have been featured on Fine Living Channel. Check out the videos of Chef Lisa Schroeder courtesy of Chef Cam TV.
Today's recipe is a real winner from the Mother's Bistro cookbook. It is sort of a cross between a Reese's Peanut Butter Cup in a crust, a chocolate pie and a cheesecake. Yep, it doesn't get much better than the combination of peanut butter and chocolate, but then you add in a peanut butter shortbread crust and some whipped cream and I have died and gone to heaven. Not only is it an outstanding pie, but you can also use the crust dough to make shortbread cookies. You could even use a little of the peanut butter filling inbetween two cookies for the ultimate peanut butter sandwich cookie. Take it one step farther and dip them in the fudge – my oh my what a wonderful day!
As good as it is on its own, I like to add one more layer of whipped cream on top of the peanut butter layer. It cuts down a bit on the sweetness and lightens the dessert. You can certainly leave this off if you want, but think about it before you dismiss it. I like the look of drizzling the top with both chocolate and caramel sauces. You can make your own (Here is a good caramel) or use a store-bought variety. If you want to get extra fancy, buy peanut butter cups, unwrap them and use as decoration around edge of pie – set 6 to 8 of them on the top edge to designate where to cut each slice.
If you ever get the chance, take a trip to Portland and I know you will fall in love with it just the same as I did as a child and again as an adult. Happy Chocolate Monday Everyone!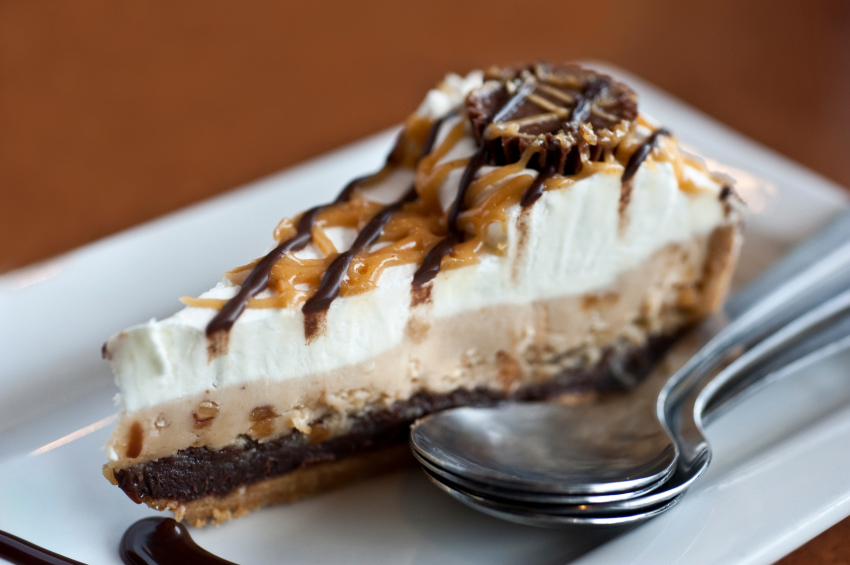 Mother's Black Bottom Peanut Butter Pie
2015-07-10 19:35:31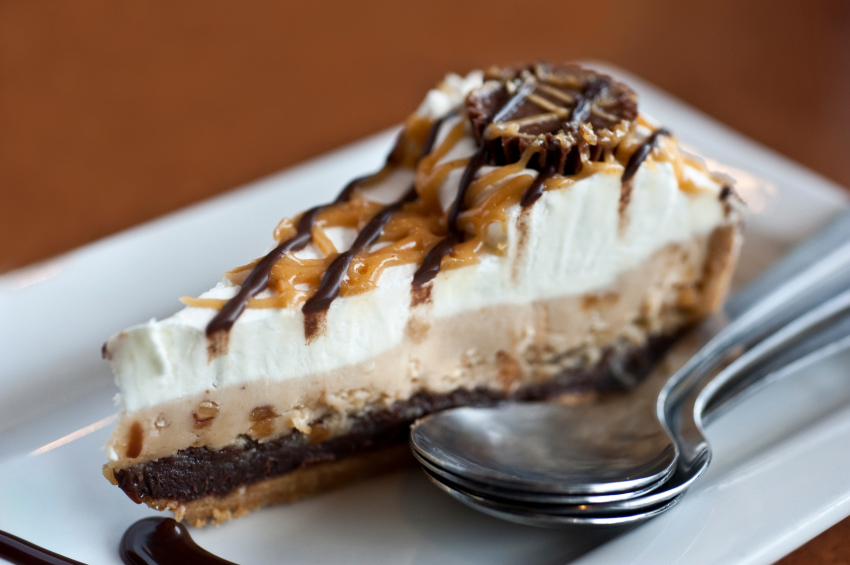 Ingredients
Peanut Butter Shortbread Crust
2 sticks (1 cup) unsalted butter, at room temperature
2/3 cup granulated sugar
2 cups all-purpose flour
1 cup smooth peanut butter, preferably Jif brand
1 tsp pure vanilla extract
Fudge Layer
1/2 cup heavy cream
1 tbsp corn syrup
4 oz semisweet chocolate, finely chopped
Peanut Butter Filling
1/2 cup cold heavy cream
1-1/4 cups (10 oz) cream cheese, at room temperature
1-1/2 cups smooth peanut butter, preferably Jif brand
1 tbsp unsalted butter, at room temperature
1 cup confectioner's sugar
1 tbsp pure vanilla extract
Toppings
1/2 cup whole or coarsely chopped roasted slated peanuts
Lightly sweetened whipped heavy cream, optional
Caramel sauce, optional
Instructions
Make the Crust: Place the butter and sugar in the bowl of an electric mixer fitted with the paddle attachment. Beat at medium-high speed until fluffy and pale in color, about 2 minutes.
Reduce the speed to low and add the flour, mixing just until incorporated, about 1 minute. Add the peanut butter and vanilla and continue mixing until incorporated.
Place the dough (or most of it if you want to make shortbread cookies too**) into the pie plate and press it along the bottom and up the sides until evenly distributed and at least 1/4-inch thick. Place the pie plate in the refrigerator to chill for at least 1 hour or overnight.
Heat the oven to 325°F. Remove the pie plate from the refrigerator and prick the dough all over with a fork (helps prevent it from puffing up during baking). Bake the crust for 30 to 35 minutes, or until it looks opaque and set. (It may puff up a little, but that's OK.)
Make the Fudge Layer: In a small saucepan, bring the cream and corn syrup just to a boil while stirring now and then. Remove from the heat. Using a wooden spoon, stir in the chocolate pieces until melted and everything is well combined.
Reserve 2 to 3 tbsp of the chocolate mixture and set aside in a microwavable bowl. Pour the remaining chocolate mixture into the baked pie crust and refrigerate while preparing the peanut butter filling.
Make the Peanut Butter Filling: Place the cream in the bowl of an electric mixer fitted with the whisk attachment. Beat at medium-high speed until stiff peaks form. Scrape the whipped cream into a clean bowl and set aside.
Return the mixing bowl to the mixer and fit it with the paddle attachment. Place the cream cheese, peanut butter and butter in the bowl and beat at medium-high speed until fluffy, about 3 minutes. With the mixer running, beat in the confectioner's sugar and vanilla extract. Continue beating for 1 minute more, until all the ingredients are fully incorporated.
Remove the bowl from the mixer. Fold the whipped cram into the peanut butter mixture until fully incorporated. Spoon the peanut butter mixture on top of the fudge layer in the pie. Use an offset metal spatula to smooth the top. Cover the pie and chill for at least 4 hours, or preferably overnight.
If you like, you can add a third layer of lightly whipped heavy cream. I like to add a splash of vanilla while whipping. Spread over peanut butter filling layer, mounding in center if desired. Chill, covered, until ready to serve.
To Serve: Microwave the reserved fudge for 10 to 20 seconds to soften it, or heat it in a small saucepan over low heat (don't overheat it or it will break). Dip a fork into it and drizzle the mixture across the surface of the cold pie. (I like to heat a little caramel sauce and drizzle it over the chocolate for a nice color and flavor contrast.) Sprinkle the top with the peanuts, cut into wedges (this is a rich pie, so smaller servings are best), and serve.
Notes
Yield: 1 (9-inch) pie; 6 to 8 servings
This recipe assumes you have a high-power electric mixer. If you are using a hand held or smaller mixer your beating times will be increased.
** To make cookies out of leftover crust dough, shape it into a log, wrap in plastic wrap, and refrigerate for at least 1 hour or freeze for later. Slice the log into 1/4-inch-thick rounds and bake on a parchment-lined baking sheet at 350°F for 10 to 12 minutes. You'll probably get about 24 (2-inch) cookies.
The Heritage Cook ® https://theheritagecook.com/
Unauthorized use, distribution, and/or duplication of proprietary material without prior approval is prohibited. If you have any questions or would like permission, I can be contacted via email at: heritagecook (at) comcast (dot) net. Feel free to quote me, just give credit where credit is due, link to the recipe, and please send people to my website,
www.theheritagecook.com.
Thank You!