You get a double dose of chocolate in today's Chocolate-Chocolate Chip cookies. Loaded with a ton of chocolate and cocoa, these beauties will satisfy even the most ardent chocoholics in your gang!
If you have been diagnosed with either Celiac or gluten-intolerance or will be regularly baking for someone with gluten sensitivities, the easiest thing is to mix up a gluten-free version of all-purpose flour and use that in place of regular flour in your favorite recipes. You can find my favorite recipe here.
Having a safe flour on hand will help when you want to spontaneously bake something. And if you buy in bulk, it will save you money!
I recommend you make up a large batch of the gluten-free flour blend, store it in an airtight container with a tight lid, and make sure you shake it well before each use. Some of the gluten-free flours have a tendency to clump a bit and with the xanthan gum included in the mix, you want to be sure everything is well blended and evenly distributed before measuring it out.
Today's cookie recipe is adapted from one of Silvana Nardone's favorites from her cookbook "Cooking for Isaiah" and I love it. Rich and packed with chocolate flavor, I would proudly put these cookies up against any I have made with regular flour in the past!
I first met Silvana at the annual IACP conference in a presentation on regular and gluten-free bread baking. At the time I didn't pay much attention to the gluten-free recipes, but when they passed around the mini corn muffins that Silvana had baked for us, I couldn't stop eating them. I couldn't believe that anything that delicious could be gluten-free.
Silvana's son Isaiah is allergic to both gluten and dairy products, so she had to completely restart from scratch. Her story of what she did to make Isaiah feel "normal" is heartwarming.
She didn't want Isaiah to have to give up any of his favorite foods and she wanted to heal him with foods that wouldn't hurt him. She wanted to create foods that were just as delicious as their gluten-full counterparts.
After reworking all of her family's favorites, she expanded her repertoire and eventually wrote her cookbook in honor of her son. You can make any recipe from this book, serve it to your family and friends without telling them it is gluten-free and they won't know the difference. It is a remarkable feat of ingenuity, skill and patience.
If you are gluten-intolerant, have celiac, or are cooking and baking for people with sensitivities, I would highly recommend you buy "Cooking for Isaiah". It will help you get comfortable with your new diet or for cooking for those who cannot have gluten.
Today's Chocolate-Chocolate Chip Cookies are always popular and would be a nice addition to any gathering or a sweet treat for your children. If you prefer a more classic chocolate chip cookie, try my Vanilla Kissed Chocolate Chip Cookies recipe – you'll love it!
Have a wonderful week and Happy Chocolate Monday!
Did you enjoy this recipe? Let me know in the comments, I love hearing from you!
Key Ingredients for Chocolate-Chocolate Chip Cookies:
All-purpose flour or gluten-free flour blend, cocoa

Baking powder, baking soda, salt, unsalted butter

Brown sugar, granulated sugar, egg, vanilla, chocolate chips
PRO Tip:
The original recipe didn't make very many cookies so I doubled it for you. If you don't want to make the whole batch at one time, chill the dough about 20 minutes to firm it up, roll it into a log and wrap tightly with parchment paper. Write the type of cookie, required oven temperature and baking time on the parchment and then wrap the log tightly with plastic wrap.
Freeze logs of dough up to 3 months. When ready to bake, slice dough into disks (let sit at room temperature about 10 minutes first) and bake about 12 to 15 minutes or until done.
How to make Chocolate-Chocolate Chip Cookies:
Whisk together the flour, cocoa, baking powder, baking soda, and salt

Cream the butter with both sugars until fluffy; beat in the egg and vanilla, then mix in the dry ingredients and chocolate chips

Scoop the dough into balls and place on parchment-lined baking sheets; bake at 375°F for 10 to 12 minutes or until they are slightly firm when gently pressed on top

Cool on wire racks and finish baking remaining dough
Recommended Tools (affiliate links; no extra cost to you):
Gluten-Free Tips:
My gluten-free flour blend can be substituted in any recipe that calls for all-purpose flour. When measuring it, you can either weigh it or use measuring cups. If weighing, use 120 grams of the gf blend for each cup of flour in the recipe. Weighing gluten-free flours is always more accurate and will give you more consistent results. If using measuring cups, using a spoon, scoop the flour into the cup and level it with a knife.
Yield: About 30 cookies
Chocolate-Chocolate Chip Cookies (Gluten-Free)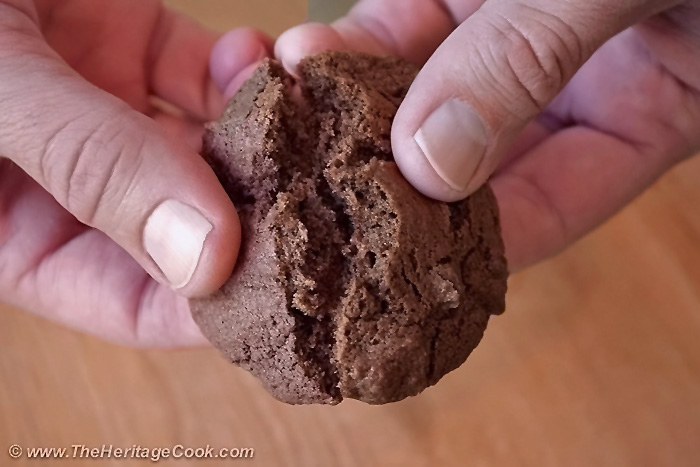 You get a double dose of chocolate in today's Chocolate-Chocolate Chip cookies. Loaded with a ton of chocolate, these beauties will satisfy even the most ardent chocoholics in your gang!
Additional Time
3 minutes
Ingredients
1 cup (120 g) all-purpose flour or gluten-free flour blend
1/4 cup (21 g) unsweetened cocoa powder (gluten-free if needed)
1 tsp baking powder (gluten-free if needed)
1/2 tsp baking soda
1/2 tsp kosher salt
1/2 cup (1 stick; 113 g) unsalted butter, at room temperature
1/2 cup (100 g) firmly packed brown sugar
1/4 cup granulated sugar
1 large egg, at room temperature
1 tsp pure vanilla extract
1 cup semisweet chocolate chips (about 66%)
Instructions
Preheat the oven to 375°F. Line two baking sheets with parchment paper.
In a small bowl, whisk together the flour, cocoa, baking powder, baking soda, and salt. Set aside.
In the bowl of your stand mixer or using a hand mixer, beat together the butter, brown sugar, and granulated sugar until fluffy, about 2 minutes. Beat in the egg and vanilla. Gradually add the flour mixture and blend until totally incorporated. Scrape the sides and bottom of the bowl, making sure there are no unincorporated ingredients in the bottom. Stir in the chopped chocolate.
Using a 1 1/2-inch scoop or a rounded tablespoon, drop the dough about 2-inches apart onto the prepared baking sheets.
Bake in preheated oven, spinning the trays front to back and switching them top to bottom after 6 minutes, until just slightly firm when you gently press the top, 10 to 12 minutes (my oven took about 14 minutes). Let cool for about 2 minutes on the baking sheet. Using a spatula, transfer to a wire rack to cool. Finish baking the remaining dough.
Recipe Source: The Heritage Cook
Notes
Slightly modified From Silvana Nardone's cookbook, "Cooking for Isaiah"
Nutrition Information:
Yield:
30
Serving Size:
1
Amount Per Serving:
Calories:

77
Total Fat:

2g
Saturated Fat:

1g
Trans Fat:

0g
Unsaturated Fat:

1g
Cholesterol:

7mg
Sodium:

63mg
Carbohydrates:

14g
Fiber:

1g
Sugar:

7g
Protein:

1g
If you enjoyed this recipe, be sure to follow me on social media so you never miss a post:
Create a New Tradition Today!
Welcome! The suggestions here are not intended as dietary advice or as a substitute for consulting a dietician, physician, or other medical professional. Please see the Disclaimers/Privacy Policy page for additional details. Unauthorized use, distribution, and/or duplication of proprietary material from The Heritage Cook without prior approval is prohibited. If you have any questions or would like permission, please contact me. We participate in the Amazon Services LLC Associates Program, an affiliate advertising program designed to provide a means for sites to earn advertising fees by advertising and linking to amazon.com. This page may contain affiliate links. This post was first shared in April 2014. The article was updated in 2021.