Northern California is truly an amazing place to live. We have something for everyone. Within a few hours drive, you can enjoy the sights in San Francisco, walk on the beach, go fishing in a river, hike in a redwood forest, go water or snow skiing, or wander through some of the most incredible vineyards in the nation. It costs a fortune to live here but every time we think about moving somewhere else, we stop and look around. Where else could we go and have the same diversity? Those of us lucky enough to have been born here already have a glimpse of what Heaven must be like. My husband loves to get out on his bicycle – he averages about 30 miles per ride – and looks for charity events to participate in. One of his favorites is a tour of the Sonoma wine country. Winding through vineyards on country roads, enjoying the crisp morning air scented with the promise of a warm afternoon. It begins and ends in the bucolic town of Healdsburg. Full of boutiques, upscale restaurants with talented chefs, and Bed and Breakfasts, it is one of the gems of Sonoma County.
Our favorite place to stay is the Haydon Street Inn. Run by the delightful couple, John Harasty and Keren Colsten, it is the perfect get-away. The home was built in 1912 and they have filled it with antique items that remind us of a gentler time. You can feel the stress slipping away from the moment you walk in the door. Every afternoon John and Keren host a wine tasting and food pairing, often with one of the local winemakers doing the pouring. It is a chance to relax in the beautiful garden, chat with the other guests, and soak in the beauty of the day.
John was the executive chef at Churchill Downs in Louisville, KY, before heading west and settling in Healdsburg. There, he and Keren serve breakfasts that are some of the best meals in Northern California! Even with the fabulous restaurants in town, the breakfast at Haydon Street Inn is the highlight of our trips. Every morning I wake up, filled with excitement about what they will serve. It might be fresh fruit from their garden, homemade granola, a creative savory egg dish, or Belgian waffles, and if you're lucky, some of their extraordinary cream scones. If you think scones are hard, dry, and impossible to choke down, think again. When made well they are tender and moist with a light sweetness that isn't cloying. John pats the dough out to small rounds, slices them into wedges and bakes up tiny morsels of joy. I could eat an entire basket of them and still beg for more!
Scones are traditionally served at teatime in England and are usually accompanied by strawberry jam, clotted cream, and lemon curd. Along with the recipe for the Haydon Street Inn cream scones, I'm including one for lemon curd from Emily Luchetti. Author of several cookbooks (I highly recommend all of them!), she is one of the most revered Pastry Chefs in San Francisco. Her recipes are clear and concise, with all the information you need for success every time. Lemon curd is one of those food items that seems really hard and mysterious until you make it. You'll never buy lemon pudding or lemon-pie filling in a box or can again once you've tasted the fresh, clean lemon flavor of homemade curd.
Jane's Tips and Hints:
The trick is to pull them out of the oven before you think they are done. As with anything baked or roasted, the residual heat will finish the cooking. Make lemon curd a day or two in advance and have a room temperature to serve with scones, hot out of the oven.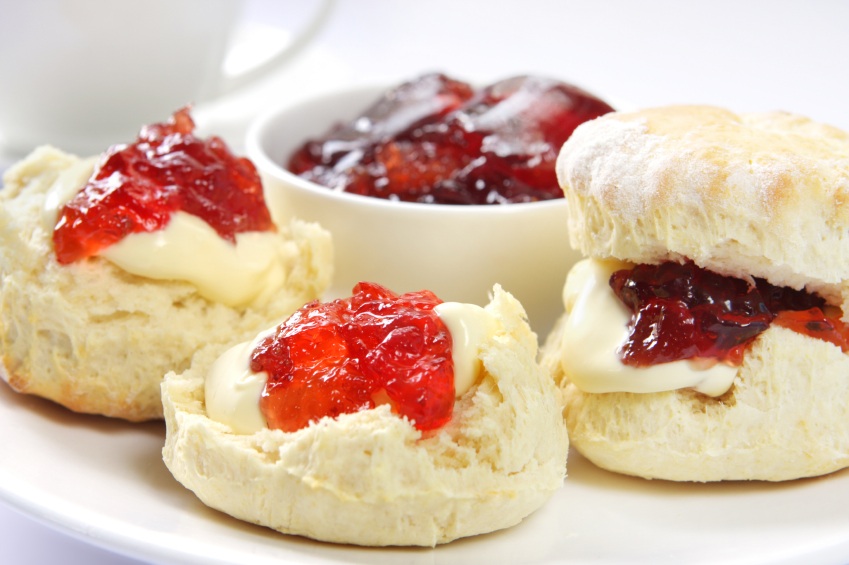 Haydon Street Inn Cream Scones
2015-07-25 15:00:39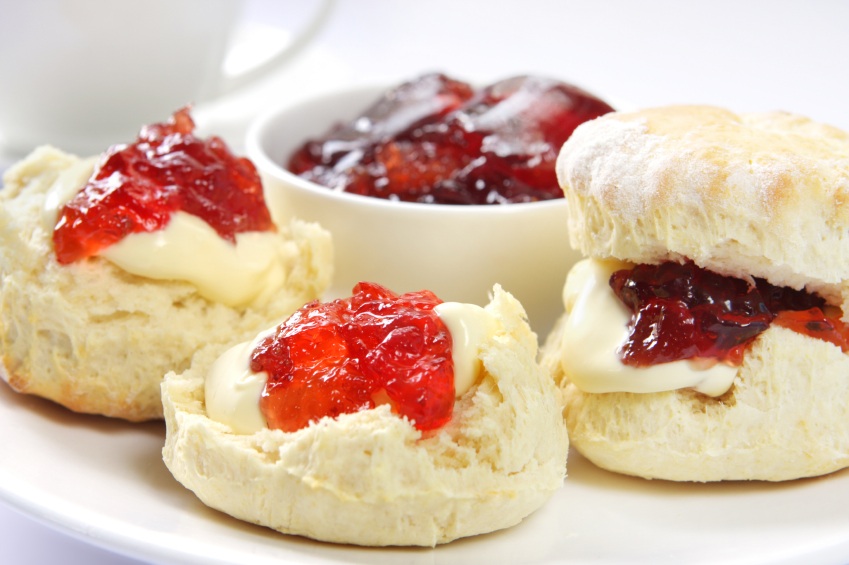 Ingredients
Scones
2-1/2 cups all-purpose flour
3 tbsp granulated sugar
2-1/2 tsp baking powder
1/2 tsp salt
1/2 cupcold, unsalted butter, cut into cubes
1/3 cup dried fruit, plumped under hot water and patted dry
Grated rind from 2 lemons
1 egg
1 cup half and half
1/2 tsp vanilla extract
Egg Wash
1 tbsp water
1 egg
Topping
2 tbsp coarse white sugar, turbinado or other raw sugar
Instructions
Preheat oven to 375°F. Line a baking sheet with parchment paper.
In a large bowl, stir together the flour, sugar, baking powder and salt. Slice the cold butter into 8 pieces and cut into flour mixture until pea-sized. Stir in the currants and lemon zest. In a small bowl, beat egg slightly with a fork. Stir in half & half and vanilla. Pour cream mixture all at once into the flour mixture, stirring with a fork to form a soft dough. DO NOT over mix.
Turn dough out onto a lightly floured pastry cloth or board and knead a few times until smooth. Pieces of butter should still be visible. Roll or pat dough until about 3/4" thick. Cut with biscuit cutter or into wedges with a sharp knife or pizza cutter. Separate and place onto the prepared baking sheet. Prepare egg wash by beating 1 egg and 1 tbsp water in a small bowl. Brush mixture over top of scones and sprinkle with coarse white sugar or turbinado sugar.
Bake at 375°F for 15 to 17 minutes until the scones are puffed and golden brown and a cake tester or toothpick, inserted in the center, comes out mostly clean with a few crumbs on it. This helps keep them moist. The scones will continue to cook with the residual heat.
The Heritage Cook ® https://theheritagecook.com/
Lemon Curd
2015-07-25 15:05:20
Sweet and tart at the same time, lemon curd is a gift that your friends will beg you for. You can make it up to a week ahead of time and store in the refrigerator. Have this on hand when you make the scones for a to-die-for treat!
Ingredients
3 large egg yolks
3 large eggs
3⁄4 cup sugar
1⁄2 cup lemon juice
Finely chopped or grated zest from one orange
1-1⁄2 oz unsalted butter
Instructions
In a bowl, whisk together the egg yolks, eggs and the sugar. Add the lemon juice. Transfer to a heavy bottomed saucepot. Cook over medium low heat, stirring constantly until thickened.
Remove the pot from the heat and stir in the butter. Strain the curd to remove any lumps. Stir in the orange zest. Place the curd in a bowl and cover the surface with plastic wrap. Press down on the surface so a skin doesn't form. Refrigerate until cold.
The Heritage Cook ® https://theheritagecook.com/
Another recipe you may like from Amanda's Cookin: Lemon Cornmeal Cake with Blueberry Sauce