Who is looking for a super easy and fun dessert for Thanksgiving? I love pecan pie, but making crusts can be daunting. I created these crustless bourbon pecan pies that can be cooked on an outdoor grill – a delicious and fun adventure – or baked in your oven.
My pecan pie is different from most you've had. It is a little less sweet and has a lot more nuts. In ordinary pecan pies, the pecan halves tend to float to the top during baking leaving you with lots of goopy filling on the bottom and nuts on the top. I like to chop half of the nuts so they are more likely to stay suspended in the filling. You can use pecan halves to create a decoration on the top of the pie if you like. And feel free to chop all of them if you like.
I often use Steen's Golden Syrup in any recipe calling for corn syrup. It is made from pure cane sugar and has a cleaner flavor. There is a very slight molasses quality to the flavor that blends beautifully with the pecans. If you can't find it, just use dark corn syrup, it will still be delicious.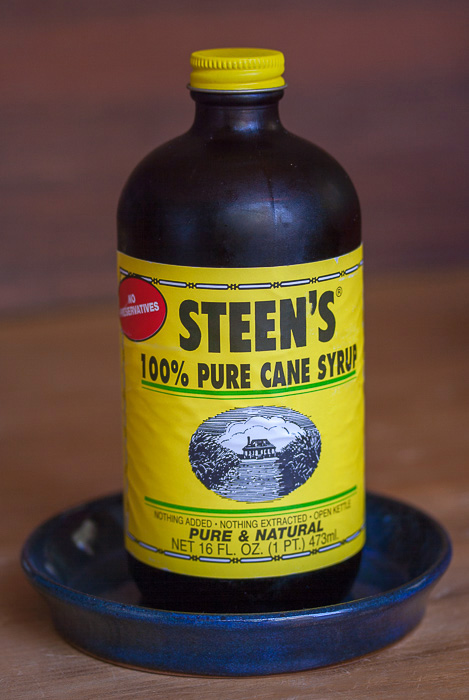 If you don't already own ramekins, you should consider buying them or the adorable mini cocottes from Le Creuset. They are incredibly versatile and are often used by The Artist and me for snacks, bowls of nuts on the table, cups of soup for dinner parties, holding small office supplies, and of course for baking. I have an array of them in different sizes and colors and use my 6-ounce ramekins most often. If you don't know what size ramekins you should buy, look at this article for guidance.
Using your grill for part or all of your cooking relieves the pressure of juggling dishes in your oven and helps you get everything on the table while it is still warm. If you don't want to use your grill, you can bake these crustless bourbon pecan pies indoors in your oven just as easily.
In addition to cooking over indirect heat (heat on one side of the grill only), another technique I use when baking on the grill is called double panning. That simply means that you are stacking one sheet pan inside another, creating a layer of insulation and slightly elevating the baking dishes. When you are baking on a grill, this is very helpful.
These pecan pies are the perfect ending to a holiday meal. The lightly smoky pecans combined with bourbon makes a lovely pairing! If you are using your outdoor grill to prepare your holiday meal make sure you don't forget the dessert! Enjoy these Grilled Crustless Bourbon Pecan Pies!
The Artist and I wish you a delightful harvest season and the happiest of holiday celebrations!
Key Ingredients for Crustless Bourbon Pecan Pies:
Pecan halves, butter, eggs

Brown sugar, Steen's Golden Syrup or dark corn syrup

Maple syrup, bourbon (or alternative), and vanilla

Whipped cream for serving, optional
PRO Tip:
Because you are preparing a complex meal that may require you to pre-bake and reheat some items, warming your plates will help keep the food warm while you dish up the servings.
How to make Crustless Bourbon Pecan Pies:
Chop about half of the pecans, set some of the halves aside for decorating

Prepare the grill for indirect cooking and prep the ramekins

Melt the butter; whisk together the eggs with the sugar, salt, corn syrup, maple syrup, bourbon, and vanilla – add the butter and whisk until combined

Stir in the pecans and scoop the pecan mixture into the prepared ramekins

Bake the "pies" on the grill or in the oven for 20 minutes, then spin the trays so the opposite side is facing the heat source; bake another 20 minutes or until done (spin the trays front to back if baking in the oven)

Top with whipped cream if desired and serve warm or at room temperature
PRO Tip:
While you can use a charcoal grill to bake these pecan pies it is much easier to maintain an even heat with a gas grill. And of course, you can bake these in the oven – the only difference is you'll miss the delicate smoky flavor of the grill.
PRO Tip:
Always taste your nuts when you buy them to make sure they are fresh. There is nothing worse than getting halfway through making the pie and finding out that the nuts are rancid.
Recommended Tools (affiliate links; no extra cost to you):
Gluten-Free Tips:
If you are serving people with Celiac or those who are highly reactive to gluten, use a combination of potato vodka and a little brown sugar to get a flavor similar to bourbon. And if you want to leave it out entirely, that is fine too, just add a little more maple syrup.
Yield: about 6 servings
Crustless Bourbon Pecan Pies (Gluten Free)
Baking on the grill requires creating an oven-like environment. A gas grill gives you the most control, especially one with a temperature gauge on the outside so you can monitor the heat. If you prefer, you can bake these in your oven just as easily.
Additional Time
10 minutes
Total Time
1 hour
10 minutes
Ingredients
2 cups pecan halves (plus more for decorating if desired)
1/3 cup (5 tablespoons) butter, melted
3 large eggs, lightly beaten
2/3 cup firmly packed brown sugar
1/4 tsp kosher or fine sea salt
1/2 cup Steen's Golden Syrup or dark corn syrup
1/3 cup pure maple syrup
2 tablespoons bourbon (for gluten-free use 2 tablespoons potato vodka + 1 teaspoon brown sugar), or more maple syrup
2 teaspoons vanilla paste or pure extract
Lightly sweetened whipped cream or ice cream, for serving, optional
Instructions
Prepare the Pecans: Roughly chop about half the pecans, leave the remaining pecans whole. Set some of the halves aside to decorate the tops if desired.
Set up the Grill: You need the grill at 375°F. Adjust the heat as needed to maintain that temperature. For my 3-burner I had the left burner on high, the middle burner on low, and the right burner off to reach 375°F and hold it there. If using charcoal, pile the coals on one side of the grill.
Butter 6 to 8 ramekins. This recipe makes about 4 cups (32 oz) of the pecan mixture. Stack one quarter sheet into a second one for insulation and set the ramekins onto the top sheet.
Prepare the Pecan Filling: Melt the butter and set aside to cool slightly while you make the rest of the filling.
In a large mixing bowl, whisk the eggs to break them up. Then add the sugar, salt, corn syrup, maple syrup, bourbon (or vodka/brown sugar), and vanilla. Whisk until thoroughly blended and the eggs are fully incorporated. Pour in the melted butter and whisk vigorously until smooth and emulsified. Add pecans to the egg/sugar mixture, stirring until they are evenly distributed and coated.
Use a ladle and scoop the pecan mixture into the prepared ramekins, filling about 2/3 full (they will expand as they bake). If you have any leftover, butter an extra baking dish and use that. If you have room on the baking sheet, add the extra dish; if not, bake it in a second round on the grill or in the oven. If you want to get fancy you can set some extra pecans on top of the filling in a decorative pattern (see photo). This is not necessary, but it is very attractive for serving.
Cook the "pies" on the Grill: Open the grill lid and slide the ramekins onto the cooler side of the grill, opposite the heat. Close the lid and bake for 20 minutes. Spin the tray so the opposite line of ramekins is now toward the heat. Continue baking for about 20 minutes longer, a total of 40 to 45 minutes or until a knife inserted in the center comes out clean and the centers barely jiggle when lightly tapped. If the nuts on top are browning before the filling is set, place a sheet of foil loosely over the tops.
When done, carefully transfer the hot baking sheets with ramekins to a heatproof surface. Transfer the ramekins to a wire rack to cool.
To Serve: Place a ramekin on a small dessert plate. Add a dollop of sweetened whipped cream on top if desired before serving.
To store, cover each cooled ramekin with plastic wrap and store in the refrigerator. They will hold for 1 to 2 days. I usually bake them the day before, saving me time on the day of my event.
Nutrition Information:
Yield:
6
Serving Size:
1
Amount Per Serving:
Calories:

549
Total Fat:

30g
Saturated Fat:

5g
Trans Fat:

0g
Unsaturated Fat:

24g
Cholesterol:

103mg
Sodium:

471mg
Carbohydrates:

66g
Fiber:

3g
Sugar:

53g
Protein:

7g
If you enjoyed this recipe, be sure to follow me on social media so you never miss a post:
Create a New Tradition Today!
This post was first shared in Nov 2018. The article was updated in 2020.
Welcome! The suggestions here are not intended as dietary advice or as a substitute for consulting a dietician, physician, or other medical professional. Please see the Disclaimers/Privacy Policy page for additional details. Unauthorized use, distribution, and/or duplication of proprietary material from The Heritage Cook without prior approval is prohibited. If you have any questions or would like permission, please contact me. We participate in the Amazon Services LLC Associates Program, an affiliate advertising program designed to provide a means for sites to earn advertising fees by advertising and linking to amazon.com. This page may contain affiliate links.