I have collected cookbooks for most of my life. Some are first editions, some antiques, many are brand new, but they are all loved. Many pages are splattered, others well worn. I read each one cover-to-cover, learning from them, getting ideas, and expanding my knowledge. Each book has its own personality, from the photographs to the choice of recipes.
The headnotes above each recipe give us snippets of information about the lives of the authors. They are glimpses into their childhood experiences, family histories, trials and errors in the kitchen. I dream of one day writing my own cookbook and who knows, maybe writing this blog is the beginning of that dream. Hopefully one day you will be reading my headnotes and learning more about my life!
One of my favorite activities is to decide on a type of meal to make and then open a bunch of cookbooks. I go from recipe to recipe, reading the different techniques, gathering ideas for ingredients, and then I close all the books and start cooking. I never know exactly how it will turn out; I follow my instincts for ingredient combinations and seasonings, and create something new. Occasionally I have failures, but more often something wonderful comes out of my imagination.
One time a friend of mine was teasing me about always reading the recipes without making any of them. He told me he couldn't remember ever seeing me make something from a cookbook. He challenged me to make an entire meal with nothing but brand new recipes. And boy was I glad he did because I discovered four recipes that turned out to be some of my favorites of all time!
Two of those four is the inspiration for today's recipe. In music, a mash-up is a blending of two or more songs, overlaying the vocal and instrumental tracks. This recipe is a mash-up of two of my favorites, blended to create a new and fun way to make each!
I love risotto and baked rice casseroles – there is something so warming and comforting about them. And when combined with a luscious, creamy, and rich herb-infused sauce, you get a toothsome meal that can be made any time of the year. The herbs and seasonings from Gourmet Garden make it easy to have fresh herbs all year long. You can make it with shrimp as I have, or try scallops, pork, or chicken. They would all be delicious and you can change the herbs you use to suit each one. Dill is perfect with all seafood. Cilantro and oregano are both delicious with pork. Chicken is extremely versatile and is complemented by lemongrass, chili, garlic, ginger, basil, and Italian herbs and more. And of course parsley is the universal seasoning that goes with everything!
For their size, shrimp are packed with protein and nutrients. They are a great source of selenium, tryptophan, Vitamin D, Vitamin B12, iron, phosphorus, omega 3 fatty acids, Vitamin B3 (niacin), zinc, copper, and magnesium. Naturally low in fat and calories, they are a perfect protein for a healthy dinner.
Shrimp are one of the few seafood options that do not suffer from being frozen – as long as they are handled properly. Always look for transparent packaging and avoid any that have ice crystals inside the bag or shrimp with discolored spots, which may be a sign of freezer burn. Defrost them in the refrigerator overnight, or if time is tight, leave them in their sealed plastic bag and submerge the whole thing in a bowl of cold water on the counter. They should be ready in less than an hour. Don't soak them in water or they'll lose a lot of their flavor.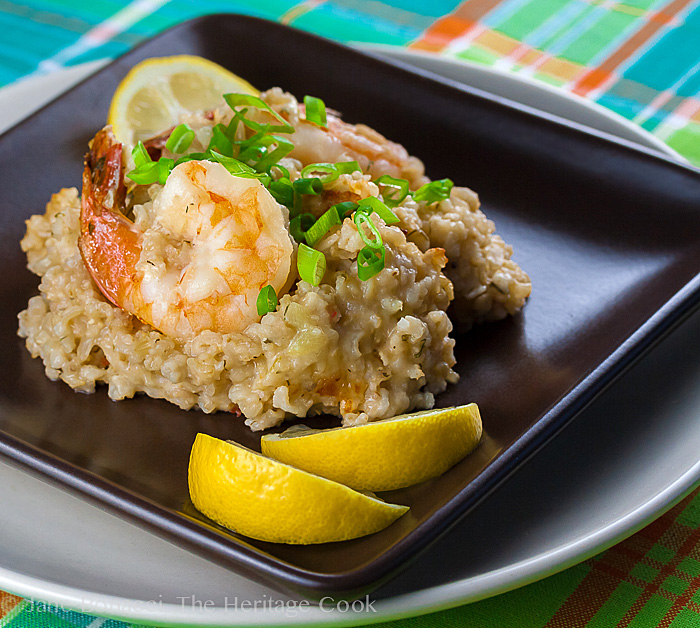 You can make the rice and sauce in advance and refrigerate until you are ready to pop this in the oven. Twenty minutes on the counter will take the chill off and help it heat all the way through with only about 10 minutes added to the baking time. Just before baking, snuggle the shrimp down into the rice, sprinkle with the cheese and pop it in the oven. Soon you'll have a meal that your entire family will love!
Nestling the shrimp down into the rice does two things. It protects them, letting them cook gently and giving you shrimp that are moist and tender instead of dry and rubbery. It also seasons the shrimp, giving them a beautiful, delicate flavor. The shrimp are done when they turn lightly pink and opaque.
This casserole is perfect for family dinners or parties. Rich and creamy, it is very filling. You won't need huge servings, helping stretch it to feed a lot of people and making this an economical yet indulgent meal.
When this casserole is baking, your home will fill with amazing aromas that will have your children willingly coming inside from playing with their friends – no ! I hope you enjoy it as much as I do!
Jane's Tips and Hints:
If you want to turn this into a side dish or vegetarian entree, leave out the shrimp and just combine the sauce with the par-cooked rice. I love it like that too and it would be wonderful to have on hand for quick lunches or brunch!
Gluten-Free Tips:
Substituting a gluten-free flour blend in place of regular all-purpose flour in a recipe makes a nice roux. But because of the attributes of the ingredients, I usually add another 2 to 3 tbsp of liquid to get the sauce to a thinner consistency. Use your best judgment, adding a little at a time and whisking to incorporate completely before adding more.
Dilled Shrimp & Brown Rice Risotto Casserole (Gluten-Free)
2015-06-19 15:36:24
Rice
2 tbsp butter
3 cups brown rice
1 tsp Gourmet Garden Dill
1 tsp Gourmet Garden Parsley
1 tsp onion powder
1/2 tsp kosher or sea salt
1/2 tsp freshly ground black pepper
5 cups water
1 cup dry vermouth, white wine, sherry, madeira, or more water
Dill Cream Sauce
1-1/2 cup milk (+ 3 tbsp if using gluten-free flour blend)
5 tbsp butter, divided, plus butter for the pan
3 tbsp all-purpose flour or gluten-free all-purpose flour blend
2 tbsp very finely minced shallots
2 tbsp very finely minced red onion
3/4 cup dry white wine, dry vermouth, or dry sherry
2 tsp Gourmet Garden Dill
1 tsp Gourmet Garden Parsley
1/2 tsp Gourmet Garden Garlic
1 tsp freshly squeezed lemon juice
1 to 2 tsp Gourmet Garden Chili Pepper, optional
2 lb medium or large raw shrimp, shelled and deveined
1/4 cup grated Parmesan cheese
Sliced green onions, for garnishing
Pre-cook the Rice
Melt butter in a medium saucepan over medium-high heat. Add the rice and stir to coat with the butter. Cook for about 3 minutes, stirring often, to lightly toast the rice. Add the dill, parsley, onion powder, salt and pepper. Stir in the water and wine. Cover and cook about 30 minutes or according to package directions for 3/4 the recommended time. The rice will finish cooking in the oven. Remove from the heat, remove the pan's lid and let the rice rest while you prepare the rest of the dish.
Prepare the Sauce
Preheat oven to 375°F. Lightly butter a shallow 3 to 4 quart baking dish, individual ramekins or au gratin dishes. I used a 9x3-inch round baking pan. Place on a baking sheet to catch any drips while baking.
While the rice is cooking, heat the milk in a small saucepan over medium heat until it is just below a simmer, stirring often to keep the milk from sticking to the bottom of the pan and scorching. There will be small bubbles around the edges of the pan and steam rising off the surface when it is ready.
Meanwhile, in a large skillet, melt 3 tbsp of the butter over medium heat. Stir in the flour and whisk until it creates a smooth paste also called a roux. Cook until it begins to smell slightly nutty and starts to turn pale gold. Slowly pour the hot milk into the roux, whisking vigorously until thickened and smooth. Season with salt and pepper, reduce heat to low, and keep warm, whisking occasionally. You have just made a white sauce, otherwise known as Bechamel!
In a saucepan, melt the remaining 2 tbsp butter and sauté the shallots and onions until wilted, about 2 minutes. Stir in the wine, return to a boil and cook for another 3 to 5 minutes or until slightly reduced and flavors are concentrated. Stir in the dill, parsley, garlic, and lemon juice. Combine this mixture with the Bechamel, whisking until smooth. If you want a spicy note, add the chili pepper. Taste and adjust seasonings as desired; set aside.
Assemble and Bake the Casserole
Transfer the par-cooked rice to a large mixing bowl. Pour the sauce over the rice and stir together. Transfer to the prepared baking dish. Nestle the shrimp into the rice leaving the tail ends poking up above the surface. Sprinkle the top evenly with the Parmesan cheese.
Place in preheated oven. Bake until the top is golden brown and shrimp are cooked through, about 20 to 25 minutes. If you want, you can put the pan under the broiler for a few minutes (watching carefully) to brown the top.
Scoop servings onto plates or into bowls, garnish with sliced green onions and serve immediately.
Make Ahead
If you want, you can make the sauce and assemble this (without the shrimp) up to several hours ahead or even overnight and keep covered in the refrigerator. Let casserole sit out at room temperature 20 minutes before baking, add the shrimp and bake as directed, adding about 10 minutes to the total baking time, or as needed.
Notes
Yield: 4 to 6 servings
The Heritage Cook ® https://theheritagecook.com/
Create a New Tradition Today!
Disclosure: This is a sponsored post. I received compensation and products for recipe development.
Let's connect! If you love The Heritage Cook, you can follow me on Pinterest or Twitter, and become a fan on Facebook. If you ever need any entertaining or cooking advice, need to alter a recipe for gluten-free, or want recipe suggestions, don't hesitate to email me ([email protected]). Thanks for reading!
Unauthorized use, distribution, and/or duplication of proprietary material from The Heritage Cook without prior approval is prohibited. This includes copying and reprinting content and photographs. If you have any questions or would like permission, I can be contacted via email ([email protected]). Feel free to quote me, just give credit where credit is due, link to the recipe, and please send people to my website, www.theheritagecook.com. Please see the Disclaimers page for additional details.
This site is not intended to provide medical advice. The suggestions here are not intended as dietary advice or as a substitute for consulting a dietician, physician, or other medical professional. It is the reader's sole responsibility to determine which foods are appropriate and safe for their family to consume. Always consult your doctor. The author makes no claims regarding the presence of food allergens and disclaims all liability in connection with the use of this site.
Thank You!