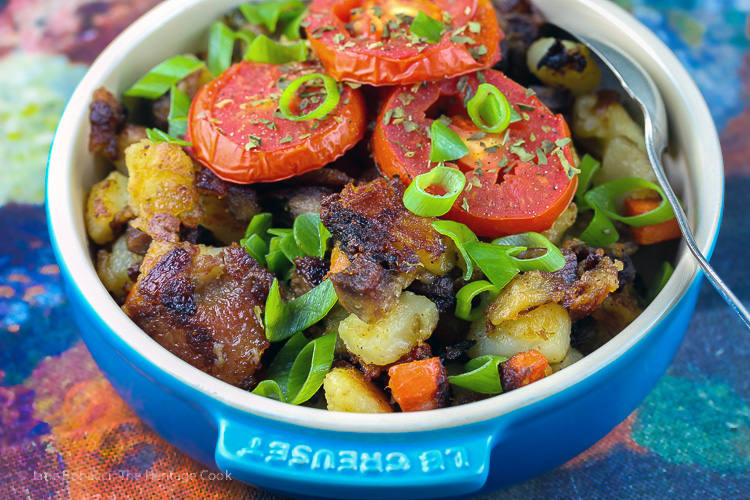 A few years ago, The Artist and I took a trip to Portland, Oregon. He had never been there and it had been many years for me, so off we went. One of the many highlights of our trip was a breakfast that included Duck Confit Potato Hash. This is my attempt to recreate that amazing memory with a few adaptations.
On that trip we splurged and stayed at the Heathman Hotel in downtown Portland, just off Pioneer Square. We walked everywhere – Portland is the perfect walking city. Short blocks, beautiful trees creating bowers to protect us from the "Oregon sunshine" (aka rain), beautiful vistas of Mt. Hood (and more of the Cascades depending on where you are), and of course there is Powell's Books.
The Artist is one of those who can get lost in a book store, spending hours perusing the titles, searching for and finding treasures to take home. He also enjoyed the abundant coffee scene in the city and we both fell in love with the hot chocolate from a small shop in the lobby of the hotel.
The food scene in Portland is remarkable, one of the best food cities in the country and one of the reasons we moved here. Its reputation is not really surprising given that it is the home town of James Beard! The restaurateurs take their jobs seriously, judiciously seeking out the best ingredients, as local and fresh as possible, and building their menus to highlight their finds. If you love food, you need to visit Portland soon.
One of the best benefits of staying at the Heathman is the hotel restaurant's breakfast. Oh my, this duck confit potato hash is the perfect way to begin your day! Rich and satisfying, this dish is about as decadent as you can get and a lovely way to celebrate a fun weekend like we did or to create memories for special occasions.
To confit food is to cook it slowly in its own fat until it is succulent and so tender it nearly falls off the bone. You can make your own but it can be cumbersome and time consuming so I buy mine from a butcher or you can order it online from D'Artagnan Foods (look under "Charcuterie & Sausage"). If vacuum packed, it will last a long time in your freezer, ready for your inspiration.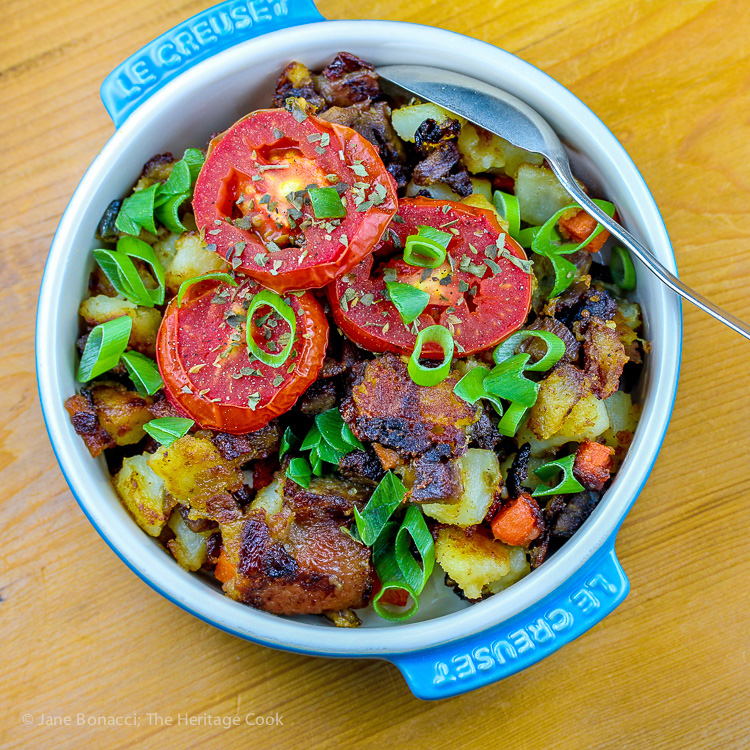 I found a recipe on Epicurious that is fairly close to what I had at the hotel. Because the duck is so rich, I decided to forego the cream sauce their recipe calls for. And we needed to use up our tomatoes so I substituted them for the eggs. But feel free to add both the sauce and eggs if you want; directions for the cream sauce are on the website.
Duck confit may seem expensive, but it is so rich that you only need a little to satisfy your family and guests. This is definitely a special occasion treat, but one you will definitely want to make as often as you can! The Artist was thrilled when he heard what was on the menu – he kept poking his head in the kitchen to ask if dinner was ready yet, LOL.
Yes, you heard right. I made this duck confit potato hash for dinner one evening for us making it an even more flexible recipe. It works for breakfast, brunch, luncheons, or dinner. A real winner!
Enjoy this recipe and have a wonderful weekend!
Key Ingredients for Duck Confit Potato Hash:
Yukon gold potatoes or Russet potatoes

Confit duck leg

Onion, carrot, thyme, salt, and pepper

Plum tomatoes or poached eggs

Green onions, chives, or parsley

Hot sauce, optional
What is Duck Confit?
To confit (cone-fee) food is to cook it slowly in its own fat until it is succulent and so tender it nearly falls off the bone. You can make your own but it takes a lot of duck fat and time so I buy mine from a local butcher or you can order it online from D'Artagnan Foods.
PRO Tip:
Making sure you have the right equipment makes all your kitchen tasks simpler and safer. Sharp knives are much safer than dull ones because you do not have to press down hard and don't risk the knife slipping. Store your knifes in a wooden block and use a sharpening steel to keep the edges tuned and sharp. Take them to a professional sharpener a couple times a year or as needed to keep their edges perfectly honed.
How to make Duck Confit Potato Hash:
Partially cook the potatoes; drain and set aside

Cook the duck until fat is rendered then chop into bite sized pieces

Sauté onions and carrots; season with thyme, salt and pepper

Add the potatoes and cook until browned; toss together with the duck pieces

Divide onto two plates and top with roasted tomatoes or poached eggs

Garnish with green onions, chives, or parsley
Kitchen Tools I Use to Make This Recipe (affiliate links):
Gluten-Free Tips:
This dish is naturally gluten-free! Just be certain that any seasonings you use are safe for consumption. Most single ingredients, like thyme or oregano, are usually safe. Penzey's is a good source for safe dried herbs and spices.
Yield: 2 servings
Duck Confit Potato Hash (Gluten-Free)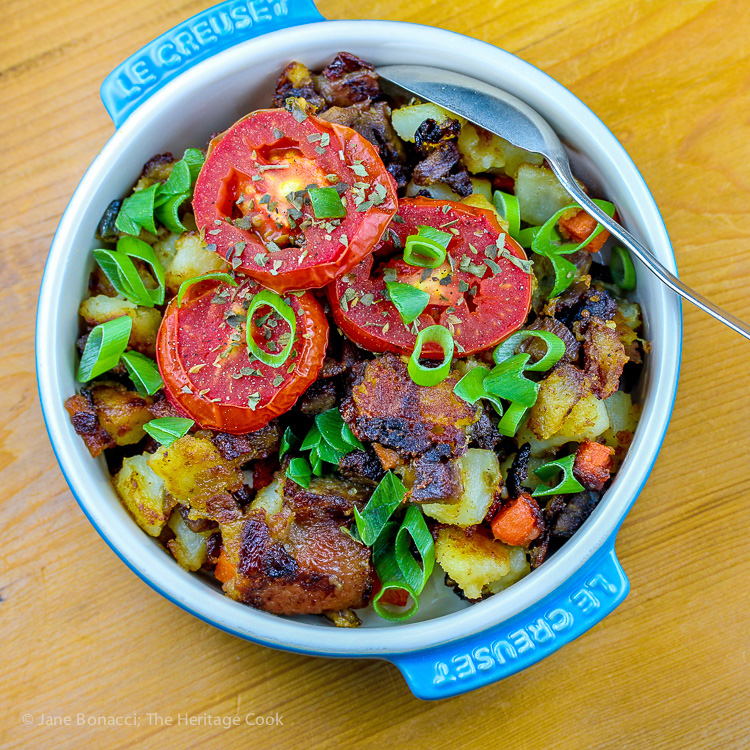 This Duck Confit Potato Hash is the most luscious, decadent way to start your day!
You will love these potatoes cooked in #DuckFat studded with duck confit. The
perfect indulgence when you have weekend guests.
Ingredients
Hash
4 medium Yukon gold potatoes (or peeled Russet potatoes), cut into 1/2-inch dice
1 confit duck leg
1/2 cup finely chopped onion
1 large carrot, trimmed and cut into 1/2-inch cubes
2 tsp fresh thyme leaves or 1 tsp dried thyme
1/2 tsp Kosher or fine sea salt
1/4 tsp freshly ground black pepper
Toppings
2 plum tomatoes, trimmed and sliced about 1/4-inch thick or 2 poached eggs, optional
Chopped green onions, chives, or parsley to garnish
Hot sauce, optional
Instructions
Partially Cook the Potatoes: Place the potatoes in a small saucepan and cover with water. Over medium high heat, bring just to a boil. Reduce the heat to a simmer and cook for 3 to 5 minutes, until almost done (potatoes should still be slightly firm in the center when you insert a fork or tip of a sharp knife). Drain the potatoes thoroughly and pat dry with paper towels. Set aside to cool.
Prepare the Duck: In a large heavy non-stick skillet, place the duck skin-side down. If there is any extra fat in the packaging, add that to the pan too. Cook over moderate heat, turning occasionally, until the skin is golden brown and the fat has been rendered, about 5 to 8 minutes total. Using tongs, transfer the duck to a cutting board.
Cook the Potatoes and Vegetables: Pour off all but 2 tablespoons drippings from the skillet (save that delicious fat!), then add the onions and carrots to the pan and cook over medium heat, stirring occasionally, until softened, about 15 minutes. Add the potatoes, thyme, and salt and pepper to taste. Toss to coat with the fat and cook, flipping portions of the hash occasionally with a spatula to lightly brown all the potatoes.
Meanwhile, remove the skin and any remaining fat from the duck leg, take the meat off the bones and coarsely chop it. Add the duck to the pan. Stir until everything is well combined. Reduce the heat to medium-low, spread the potato mixture into a single layer, pressing down lightly, and cook undisturbed until the bottom of the hash is golden brown, about 8 minutes. Taste and adjust seasonings.
Divide the hash between two plates and top each with some of the roasted tomatoes or a poached egg. Sprinkle with green onions or chives. Serve immediately. Offer hot sauce for those who prefer spicier foods.
Nutrition Information:
Yield:
2
Serving Size:
1
Amount Per Serving:
Calories:

685
Total Fat:

26g
Saturated Fat:

8g
Trans Fat:

0g
Unsaturated Fat:

16g
Cholesterol:

252mg
Sodium:

3839mg
Carbohydrates:

87g
Fiber:

11g
Sugar:

10g
Protein:

29g
If you love this recipe, be sure to follow me on social media so you never miss a post:
| Facebook | Pinterest | Instagram | Twitter |
Create a New Tradition Today!
This post was first shared in April 2017. The article was updated in 2020.
Welcome! The suggestions here are not intended as dietary advice or as a substitute for consulting a dietician, physician, or other medical professional. Please see the Disclaimers/Privacy Policy page for additional details. Unauthorized use, distribution, and/or duplication of proprietary material from The Heritage Cook without prior approval is prohibited. If you have any questions or would like permission, please contact me. We participate in the Amazon Services LLC Associates Program, an affiliate advertising program designed to provide a means for sites to earn advertising fees by advertising and linking to amazon.com. This page may contain affiliate links.