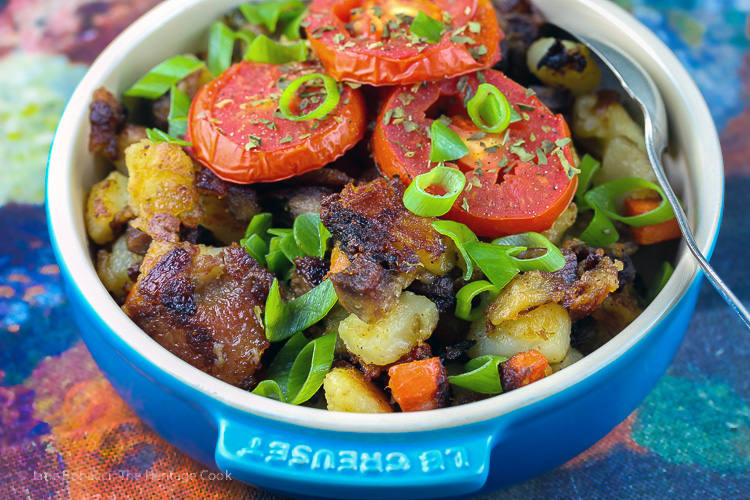 A few years ago, The Artist and I took a trip to Portland, Oregon. He had never been there and it had been many years for me, so off we went. One of the many highlights of our trip was a breakfast that included Duck Confit Potato Hash. This is my attempt to recreate that amazing memory with a few adaptations.
We splurged and stayed at the Heathman Hotel in downtown Portland, just off Pioneer Square. We walked everywhere – Portland is the perfect walking city. Short blocks, beautiful trees creating bowers to protect us from the "Oregon sunshine" (aka rain), beautiful vistas of Mt. Hood (and more of the Cascades depending on where you are), and of course Powell's Books.
The Artist is one of those who can get lost in a book store, spending hours perusing the titles, searching for and finding treasures to take home. He also enjoyed the abundant coffee scene there and we both fell in love with the hot chocolate from Cacao, a small shop in the lobby of the hotel.
The food scene there is remarkable, one of the best food cities in the country. Not really surprising given that it is the home of James Beard! The restaurateurs take their jobs seriously, judiciously seeking out the best ingredients, as local and fresh as possible, and building their menus to highlight their finds. If you love food, you need to visit Portland soon!
One of the best benefits of staying at the Heathman is the hotel restaurant's breakfast. The menu is extensive and it was hard to choose just one item, but eventually I settled for their duck confit potato hash. Oh my, it is the perfect way to begin your day! Rich and satisfying, this is about as decadent as you can get and a lovely way to celebrate a fun weekend like we did or to create memories for special occasions.
If you have never had duck confit, to confit food is to cook it slowly in its own fat until it is succulent and so tender it nearly falls off the bone. You can make your own but it can be cumbersome and time consuming so I buy mine from my butcher (we love The Fatted Calf) or you can order it online from D'Artagnan Foods (look under "Charcuterie & Sausage").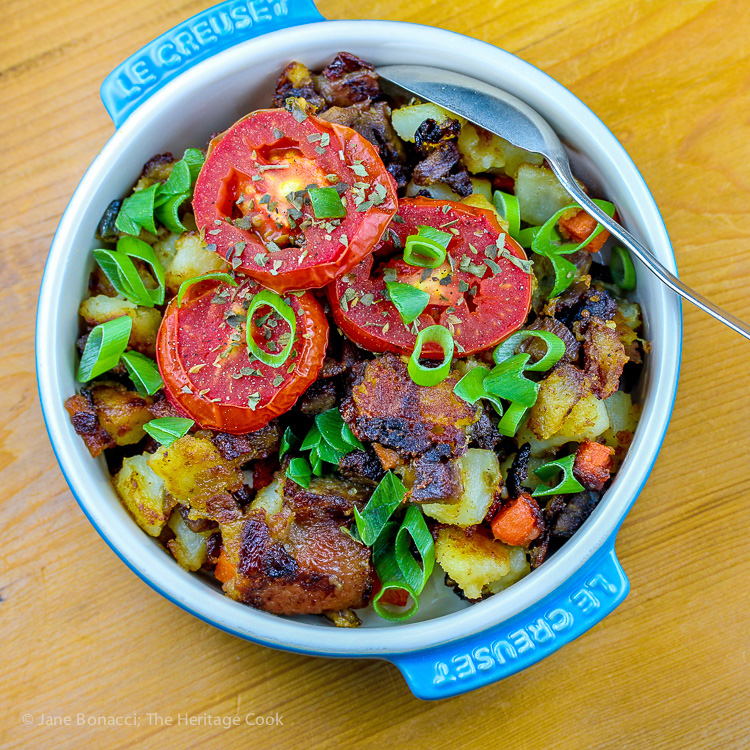 I didn't have the original recipe from the Heathman but I found a pretty close recipe on Epicurious. Because the duck is so rich I decided to forego the cream sauce their recipe calls for. And we needed to use up our tomatoes so I substituted them for the eggs. But feel free to add both the sauce and eggs if you want; directions for the cream sauce are on the original recipe.
Duck confit may seem expensive, but it is so rich that you only need a little to satisfy your family and guests. This is definitely a special occasion treat, but one you will definitely want to make often! The Artist was thrilled when he heard what was on the menu – he kept poking his head in the kitchen to ask if dinner was ready yet, LOL.
Have a wonderful weekend!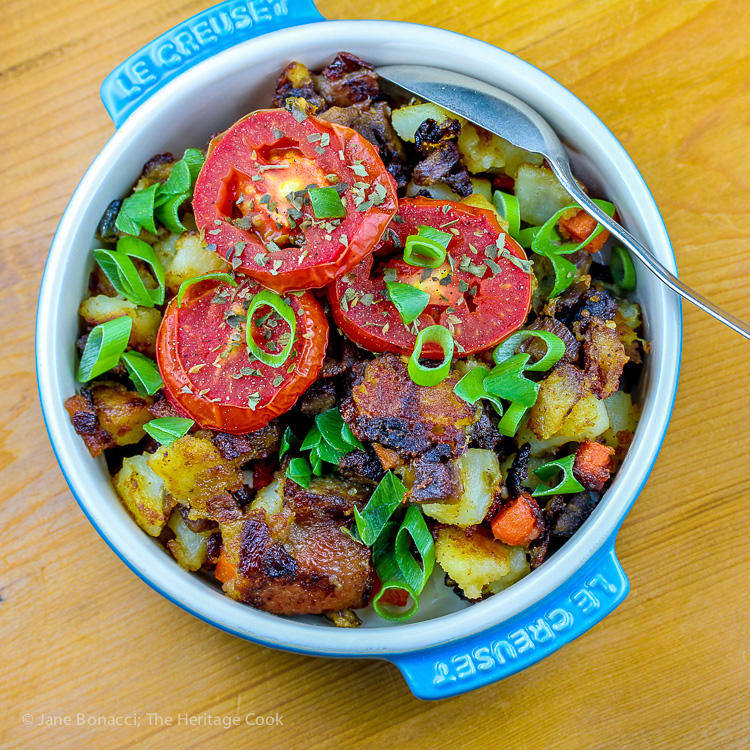 Duck Confit Potato Hash with Roasted Tomatoes (Gluten-Free)
2017-04-14 10:57:28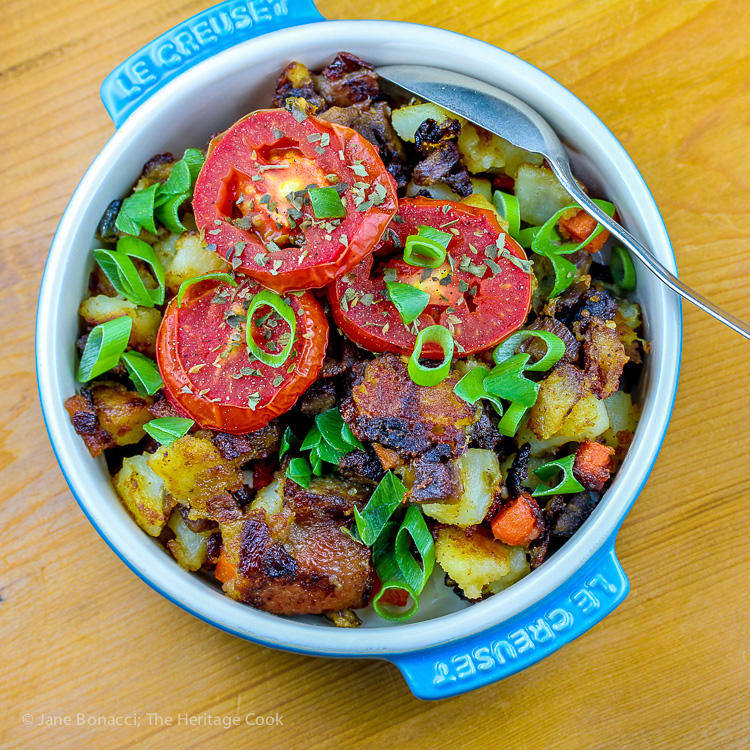 Ingredients
Hash
4 medium Yukon gold potatoes, cut into 1/2-inch dice (if using Russets, peel them first)
Kosher salt
1/2 cup finely chopped onion
1 large carrot, trimmed and cut into 1/2-inch cubes
2 tsp fresh thyme leaves or 1 tsp dried thyme
1/2 tsp Kosher or fine sea salt
1/4 tsp freshly ground black pepper
Toppings
2 plum tomatoes, trimmed and sliced about 1/4-inch thick or 2 poached eggs - follow Poached Eggs recipe, optional
Chopped green onions, chives, or parsley to garnish
Hot sauce, optional
Instructions
Partially Cook the Potatoes: Place the potatoes in a small saucepan and cover with water. Over medium high heat, bring just to a boil. Reduce the heat to a simmer and cook for 3 to 5 minutes, until almost done (potatoes should still be slightly firm in the center when you insert a fork or tip of a sharp knife). Drain the potatoes thoroughly and pat dry with paper towels. Set aside to cool.
Prepare the Duck: In a large heavy non-stick skillet, place the duck skin-side down. If there is any extra fat in the packaging, add that to the pan too. Cook over moderate heat, turning occasionally, until the skin is golden brown and the fat has been rendered, about 5 to 8 minutes total. Using tongs, transfer the duck to a cutting board.
Cook the Potatoes and Vegetables: Pour off all but 2 to 3 tablespoons fat from the skillet, then add the onions and carrots to the pan and cook over medium heat, stirring occasionally, until softened, about 15 minutes. Add the potatoes, thyme, and salt and pepper to taste. Toss to coat with the fat and cook, flipping portions of the hash occasionally with a spatula to lightly brown all the potatoes and warm the duck.
Meanwhile, remove the skin and any remaining fat from the duck leg, take the meat off the bones and coarsely chop it. Add the duck to the pan. Stir until everything is well combined. Reduce the heat to medium-low, spread the potato mixture into a single layer, pressing down lightly, and cook undisturbed until the bottom of the hash is golden brown, about 8 minutes. Taste and adjust seasonings.
Divide the hash between two plates and top each with some of the roasted tomatoes or a poached egg. Sprinkle with green onions or chives. Serve immediately. Offer hot sauce for those who prefer spicier foods.
Notes
Yield: 2 servings
Adapted from an Epicurious recipe
The Heritage Cook ® https://theheritagecook.com/
Create a New Tradition Today!
Welcome! If you ever need any entertaining or cooking advice, need to alter a recipe for gluten-free, or want recipe suggestions, don't hesitate to ask. Feel free to quote me, just give credit where credit is due, link to the recipe, and send people to my website. Unauthorized use, distribution, and/or duplication of proprietary material from The Heritage Cook without prior approval is prohibited. If you have any questions or would like permission, please contact me. The suggestions here are not intended as dietary advice or as a substitute for consulting a dietician, physician, or other medical professional. Please see the Disclaimers page for additional details. Thanks for visiting The Heritage Cook!