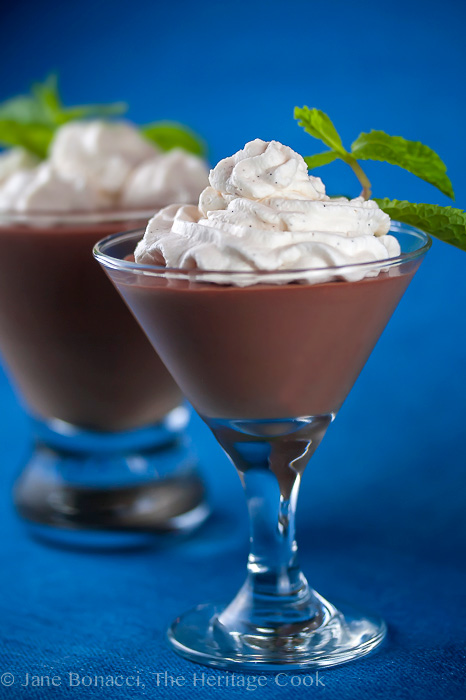 The Easiest Chocolate Mousse is the perfect dessert for parties because it is delicious, can be made ahead, and doesn't require baking. I love the deep, rich flavor and creamy texture. It is a lovely dessert that looks fancy but is easy to make!
When I was single and hosting dinner parties at my house, I was always on the lookout for easy desserts that I could put together quickly. This gave me more time to prepare for company. This chocolate mousse was one of my favorite desserts because I could put it together early in the day and then forget about it until dinner was done. Then all I had to do was whip the cream while the coffee was being made and we had the perfect dessert.
My friends love rich, creamy, chocolate desserts. Some people like milk chocolate, but I prefer using semisweet chocolate because, in my opinion, it has bold chocolate flavor which blends beautifully with the cream. If you prefer, you can use bittersweet chocolate or in combination with semisweet for a more intense flavor. Whatever combination works best for you and your family is perfect.
My favorite brand of chocolate is Guittard, which is made in the Bay Area. It is rich, made with high-quality ingredients, and extremely consistent which is key when you are looking to get the same results each time you make a recipe. I use it in almost all of my chocolate desserts. If you cannot find Guittard locally or don't want to order it online, Ghirardelli is a nationally distributed chocolate that is usually easy to find. I strongly recommend you use the best quality you can afford. It is worth spending more money because the difference in taste is remarkable.
If you have a food processor, this dessert will come together in about 15 minutes. You can also make the whole thing in a stand mixer. In that case whip the cream first and set it in the refrigerator. Then mix the eggs with the coffee while the chocolate melts. Add the chocolate very slowly to the eggs (with the motor running so you don't get scrambled eggs!) and then fold in the whipped cream. It will take about 5 minutes longer this way but is still very easy and quick.
Freshly whipped cream is one of the world's greatest science experiments. It is always a thrill to watch a liquid thicken and grow into clouds of airy goodness. It is like magic happening in my mixer. This is a wonderful way to get your kids involved in cooking. They can watch with you and help decide when the cream is whipped enough and then taste it with you to be sure there is enough sugar. That is their favorite part.
The contrast of the dark chocolate with the white whipped cream is enhanced by the bright pop of green from the mint. If you serve a lot of desserts, you should consider buying some mint plants and growing it yourself. It is hearty and just needs regular water to thrive. My mother always planted mint beneath the spigot for the hose, which automatically dripped on the mint whenever she watered her garden. It flourished and we always had fresh mint for desserts and iced tea.
Chocolate is always popular and often requested in my house. That is part of the reason I started writing Chocolate Mondays – that and you guys asked me to! It is my pleasure to bring you fun chocolate treats each week!
Enjoy the Easiest Chocolate Mousse any day of the week – no need to save it for fancy occasions.
How to make The Easiest Chocolate Mousse:
Whip the cream until thick

Make a simple syrup and melt the chocolate

Mix the eggs and coffee, then slowly add the chocolate mixture

Mix in the whipped cream and pour into serving glasses

Refrigerate 3 to 4 hours and serve chilled with fresh whipped cream
What is the best way to clean the saucepan after making the chocolate mixture?
As soon as you pour the chocolate mixture into the food processor, fill the pan about half full with water and place it over medium-high heat. Bring to a boil and cook until the chocolate mixture is melted and dissolved into the water. Just pour out the water and wash as usual.
PRO Tip:
Whipping cream from scratch is incredibly simple and once you do it you will never buy pre-whipped "cream" again. Keeping the cream and bowl chilled helps it whip higher more quickly. You will have whipped cream in no time and it tastes unbelievably delicious. It even holds in the refrigerator for a day or two. I always save any leftover whipped cream I have and use it as a topping for ice cream or other desserts the next day. Or, if you are like me, you will want to eat it straight with a spoon!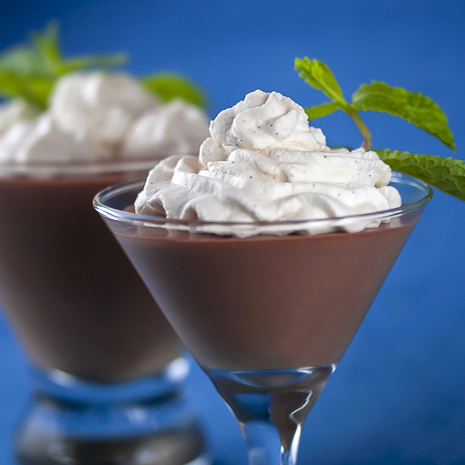 Key Ingredients for this Recipe
Heavy cream

Vanilla

Sugar

Chopped chocolate

Eggs

Powdered sugar
Kitchen Tools I Use to Make This Recipe
Gluten-Free Tips:
Make sure the chocolate you use is gluten-free and there are no additives in the coffee or espresso powder. If you have extreme sensitivity or are Celiac, you may want to avoid the alcohol. You can use coffee in its place if you like.
Yield: About 4 servings
The Easiest Chocolate Mousse (Gluten-Free)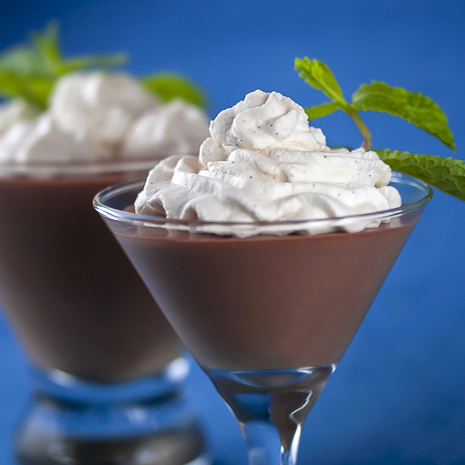 I love the deep, rich flavor and creamy texture. It is a lovely dessert that looks fancy but is easy to make!
Total Time
4 hours
20 minutes
Ingredients
Chocolate Mousse
1 cup cold heavy cream
1/2 tsp pure vanilla extract
1/2 cup granulated sugar
1/4 cup water
6 oz semisweet chocolate, chopped (about 1 cup chocolate chips)
2 large eggs (preferably pasteurized eggs)
1/2 tsp espresso powder or instant coffee, optional
2 tbsp bourbon, rum, brandy, or Grand Marnier, optional * (see Gluten-Free notes above)
Whipped Cream Topping
1/2 cup cold heavy cream
2 to 3 tsp powdered sugar
1/2 tsp pure vanilla extract
Fresh mint sprigs, for garnishing
Instructions
In the bowl of your standing mixer (or with a hand mixer) with the whisk attachment, whip the cream until thick. Beat in the vanilla. Set aside.
In a medium saucepan, combine the sugar and water. Bring to a boil over medium-high heat, stirring until sugar is dissolved. If you use a lightly colored pan you can see when the mixture becomes clear - the sugar is dissolved! Reduce the heat to low (or turn off if you have an electric stove) and add the chocolate pieces. Stir until the chocolate is completely dissolved and the mixture is smooth. If the mixture starts to thicken as it stands, reheat on low, stirring constantly, just until smooth again. Turn the burner off and leave the mixture on the burner, stirring occasionally, until needed.
In the bowl of your food processor, combine the eggs and espresso or coffee powder. Pulse several times until the eggs are blended. With the motor running, slowly pour the chocolate mixture through the feed tube in the lid. Process until smooth. Add the alcohol if you are using it and pulse a few times to evenly distribute it. Add the whipped cream to the processor and pulse just until it is blended.
Remove the bowl from the processor and use a flexible spatula to give it a couple of stirs, making sure there are no pockets of unincorporated whipped cream or white streaks.
Pour into glass serving dishes - I like white wine glasses. The mixture will be very thin but will thicken as it cools. Refrigerate at least 3 to 4 hours. If holding longer, place plastic wrap directly on the surface (to keep a skin from forming) and keep refrigerated.
When ready to serve, whip the cream until thick, and then add the sugar and vanilla. Continue to whip until very thick. Spoon dollops of the whipped cream onto the top of each serving and garnish with mint sprigs. Serve immediately.
Nutrition Information:
Yield:
5
Serving Size:
1
Amount Per Serving:
Calories:

576
Total Fat:

38g
Saturated Fat:

23g
Trans Fat:

1g
Unsaturated Fat:

12g
Cholesterol:

155mg
Sodium:

53mg
Carbohydrates:

47g
Fiber:

2g
Sugar:

44g
Protein:

6g
Create a New Tradition Today!
Welcome! The suggestions here are not intended as dietary advice or as a substitute for consulting a dietician, physician, or other medical professional. Please see the Disclaimers/Privacy Policy page for additional details. Unauthorized use, distribution, and/or duplication of proprietary material from The Heritage Cook without prior approval is prohibited. If you have any questions or would like permission, please contact me. We participate in the Amazon Services LLC Associates Program, an affiliate advertising program designed to provide a means for sites to earn advertising fees by advertising and linking to amazon.com. This page may contain affiliate links.