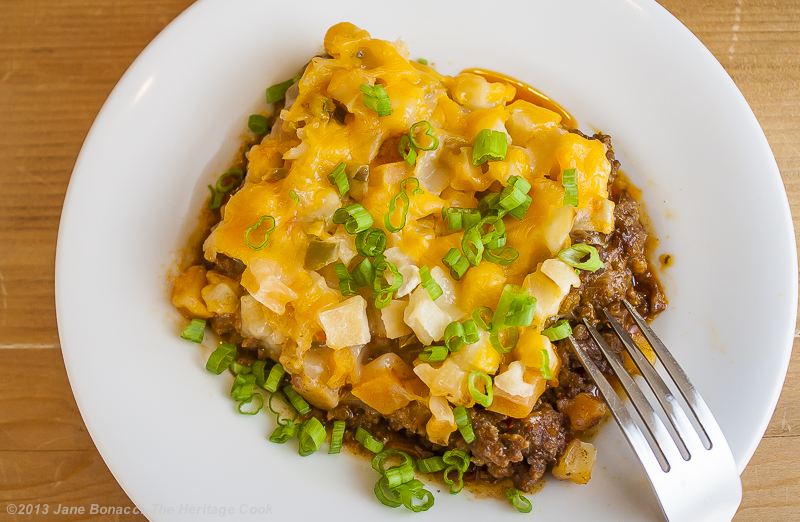 Sometimes I really crave the foods of my childhood and this Cheesy Potato Taco Casserole is just what I wanted for dinner. Rich and satisfying, it will be a hit with the whole family.
We didn't have a lot of money when I was growing up and my mother, like most of her friends, turned to casseroles to stretch her food budget and fill all of us up each day. We loved her obligatory chipped beef on toast, mac and cheese, spaghetti, and tuna casseroles. So when I heard The Artist was going on a trip. My thoughts turned to warming, comforting casseroles.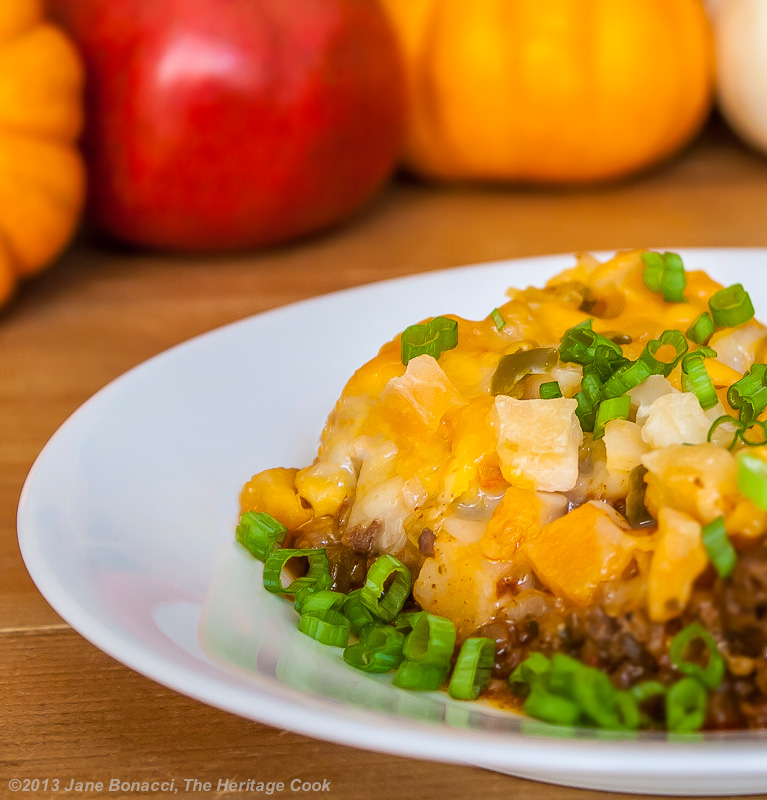 I looked in my freezer to see what I had to work with and found some ground beef, pork sausage, and frozen potatoes. Hmmm, I was thinking of a tamale pie, but what if I used the potatoes instead of a cornmeal batter for the topping? That could be fun and something new to try out!
I made this with Ore-Ida Potatoes O'Brien, the little cubes with onion and bell peppers, but you could use regular hash browns or even tater tots if that is what you have in the freezer. I liked the texture that the cubes gave the casserole and other choices may require additional time in the oven, but feel free to improvise!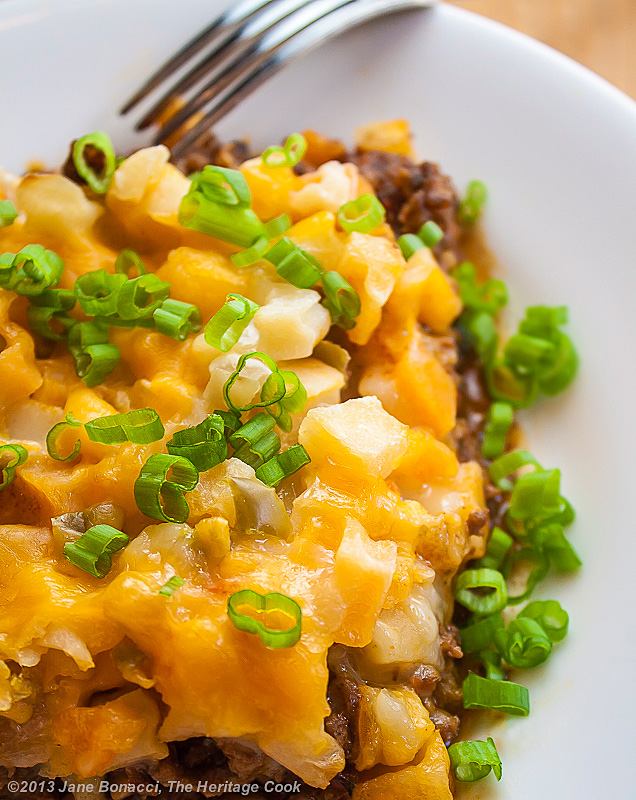 This casserole could be served for dinner, brunch or even breakfast if you made it with just sausage and left out the beef. I loved having the touch of heat from the chili peppers and you certainly could add more if you like a spicier dish. Also feel free to add more or less of the seasonings to suit your personal tastes. If you are one of those who hate cilantro, leave it out and increase the amount of parsley or add a touch of oregano instead.
If you make this casserole with mild seasonings, it will appeal to children of all ages. If you want to increase the vegetable content, you can add shaved carrots to the meat mixture and let them cook down. The kids will never know they are in there!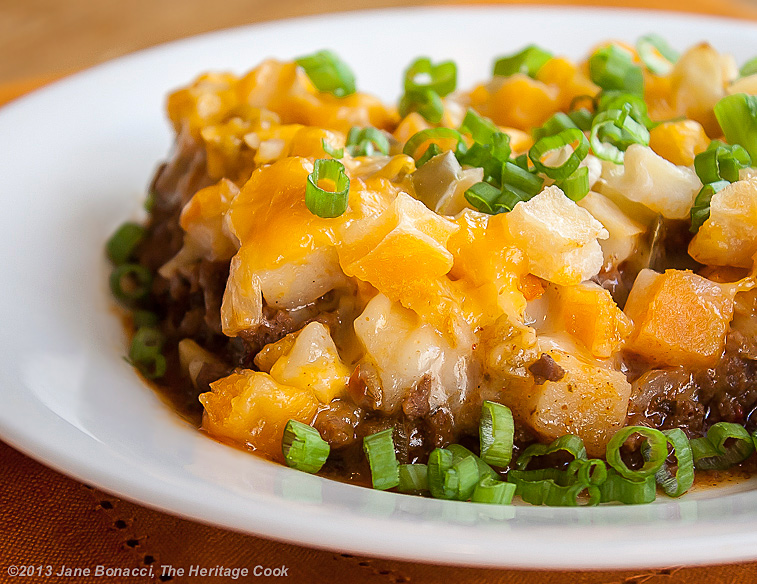 This is by no means a gourmet dish – it is just plain good food. When you want comfort food, put this Cheesy Potato Taco Casserole on the menu!
Enjoy!
How to make Cheesy Potato Taco Casserole:
Brown the meats and add the onions and seasonings

Place the meat mixture in the bottom of a 9×13-inch baking pan

Top with half the cheese and all the potatoes

Bake until browned and bubbling, top with remaining cheese and return to the oven to melt it

Let rest 10 minutes and serve
If I don't want to use pork, can I leave it out?
Absolutely, just double the beef and make the rest of the recipe as written.
PRO Tip:
Keeping a variety of ingredients on hand in the freezer gives you freedom to create new meals with just a little advance planning. Work your way regularly through the items in your freezer, adding new items to the back so that nothing gets forgotten!
Key Ingredients for this Recipe
Ground beef and Italian sausage

Onions and garlic

Cilantro, parsley, red pepper flakes, and taco seasoning packets

Shredded cheese

Frozen Potatoes O'Brien (Ore-Ida brand is gluten-free)
Kitchen Tools I Use to Make This Recipe
Gluten-Free Tips:
Most of the varieties of Ore-Ida frozen potatoes are gluten-free, so make sure to select those that are safe for your family. It is always a good idea to check the labels to be certain any foods you are cooking with do not contain any ingredients that may cause an allergic response.
Yield: about 8 servings
Cheesy Potato Taco Casserole (Gluten-Free)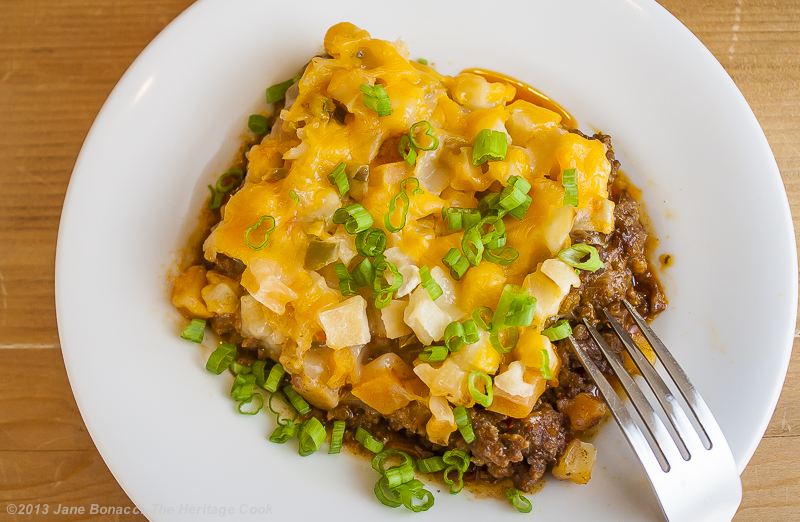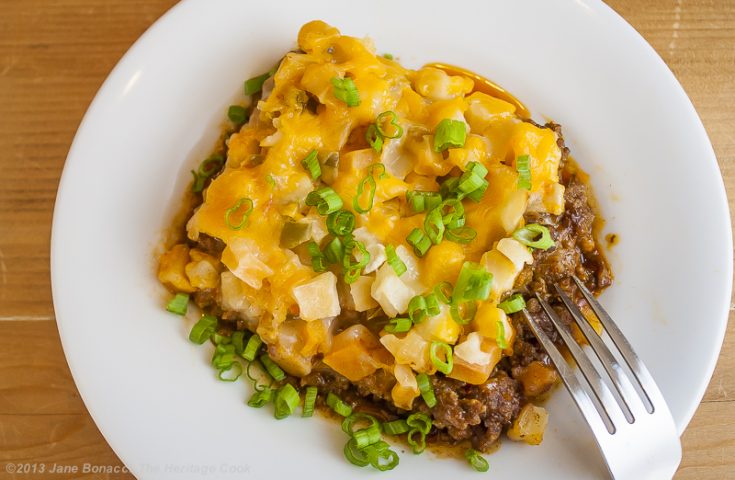 Rich and satisfying with cheesy goodness, this will be a hit with the whole family.
Ingredients
3/4 lb ground beef
3/4 lb bulk Italian sausage (or remove casings from links)
1 large onion, peeled and coarsely chopped
1/2 tsp minced garlic
2 tsp minced cilantro, or to taste
2 tsp minced parsley
1/2 tsp red pepper flakes, optional
2 packets taco seasoning, (McCormick has a gluten-free version)
1-1/2 cups water
Kosher salt and freshly ground black pepper, to taste
8 oz shredded cheese, such as a blend of Cheddar and Monterey Jack or Pepper Jack
28 oz bag frozen Potatoes O'Brien cubed potatoes (Ore-Ida brand is gluten-free)
Sliced green onions, for garnish
Instructions
Preheat oven to 400°F.
In a large skillet over medium-high heat, cook beef and sausage, breaking up large chunks with a wooden spatula, until browned, about 4 minutes. Strain the accumulated grease and discard. Add the onions, garlic, cilantro, oregano, and chili to the meat and cook until onions are softened, about 2 to 3 minutes. Sprinkle the taco seasoning over the top and stir to evenly distribute. Stir in the water and reduce the heat to low. Simmer, stirring occasionally, for about 5 minutes.
Pour meat mixture into a 9x13-inch baking pan. Sprinkle half of the cheese over the meat mixture. Top with potatoes, spreading into an even layer, and sprinkle lightly with salt and pepper.
Bake, uncovered, in the hot oven for 30 to 45 minutes or until the potatoes are heated through and lightly browned. The casserole should be bubbling in the center. Carefully remove from the oven, sprinkle remaining cheese over the top and pop back in the oven for about 5 minutes or until cheese is melted on top.
Let rest for 10 minutes before serving. Cut into squares and sprinkle the tops with green onions. Serve hot.
Nutrition Information:
Yield:
8
Serving Size:
1
Amount Per Serving:
Calories:

549
Total Fat:

33g
Saturated Fat:

15g
Trans Fat:

1g
Unsaturated Fat:

17g
Cholesterol:

104mg
Sodium:

1367mg
Carbohydrates:

29g
Fiber:

2g
Sugar:

3g
Protein:

32g
If you love this recipe, be sure to follow me on social media so you never miss a post:
| Facebook | Pinterest | Instagram | Twitter |
Create a New Tradition Today!
Welcome! The suggestions here are not intended as dietary advice or as a substitute for consulting a dietician, physician, or other medical professional. Please see the Disclaimers/Privacy Policy page for additional details. Unauthorized use, distribution, and/or duplication of proprietary material from The Heritage Cook without prior approval is prohibited. If you have any questions or would like permission, please contact me. We participate in the Amazon Services LLC Associates Program, an affiliate advertising program designed to provide a means for sites to earn advertising fees by advertising and linking to amazon.com. This page may contain affiliate links.