Today's White Chocolate Cupcakes with Buttercream Frosting are the perfect way to celebrate the fun of being Irish – or any holiday/celebration. Just change out the colors and they are transformed!
St. Patrick's Day has always been a fun holiday for my family. With our Irish heritage, we fully embrace the fun and frolicking traditions. If I wasn't wearing green when I got up on St. Patrick's Day, my brothers would pinch me, so I was careful to choose a nightgown with some green on it. My mother always wore green eye shadow to ward off the pinches, LOL.
When I got older and was working in San Francisco's Financial District, an entire block was shut down around Harrington's bar and we filled the street, drinking and partying until the wee hours of the morning. The following day at work was often a painful one 😉
The Artist and I always celebrate the anniversary of our meeting on St. Patrick's Day, adding even more to the festivities. The luck of the Irish was shining on us that night 25 years ago and each year we toast our good fortune at finding each other!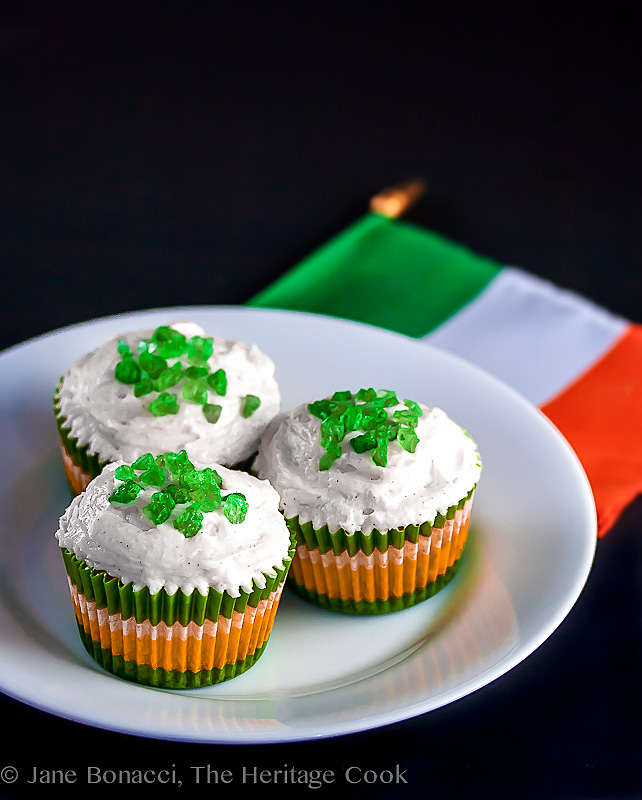 Today's White Chocolate Cupcakes with Buttercream Frosting are easy to make and can be made into either a layer cake or cupcakes. I thought the cupcakes would be fun because you can alternate the colors of frosting. I only made green and white, but you could be even more adventuresome and add orange to represent all the colors in the Irish flag.
If you like a lot of frosting, double the ingredients and then you will have plenty to be generous with decorating the cupcakes. You can either spread the frosting on with a knife like I did or use a piping bag with a round or star tip to decorate each one.
I love vanilla paste – it has the little specks of vanilla seeds in it and makes everything taste better. The only trouble is that it can turn white foods a little tan. If that is an issue for you, you can buy clear vanilla. Yep, they make it just so we can keep certain things like frostings pearly white. I don't have an issue with the color of regular vanilla, but if you do, there's an answer for you! Just note that it is imitation vanilla flavor, not pure vanilla extract.
Have a wonderful celebration tomorrow. Raise a glass to the Irish traditions and enjoy these White Chocolate Cupcakes with Buttercream Frosting. I am declaring all of you honorary Leprechauns for the holiday!
Happy St. Patrick's Day to everyone!!
How to make White Chocolate Cupcakes with Buttercream Frosting:
Combine the flour, baking powder, and salt, set aside

Combine buttermilk with the vanilla

Melt the white chocolate in a double boiler and keep warm

Cream the butter and sugar together then add the egg yolks and mix in; pour in the melted white chocolate and mix until smooth

Add the dry ingredients alternating with the buttermilk mixture, beating until fully incorporated before making the next addition

Whip the egg whites to stiff peaks and gently fold into the batter

Fill lined muffin cups about 2/3 full and pour extra batter into a buttered cake pan or more cupcake tins

Bake 25 to 30 minutes or until a toothpick comes out clean (cake may take a little longer)

When cupcakes are cool, mix together the frosting and frost the cupcakes and cake; enjoy!
PRO Tip:
Having an extra mixing bowl for your stand mixer will save you time and energy when making recipes like today's that require you to both mix a batter and whip egg whites to stiff peaks. You can do both jobs without having to stop and clean out a bowl between each step.
What is the best food coloring to use?
To get the most intense color without affecting the flavor of the frosting, use gel coloring. A tiny bit goes a long way allowing you to get deep, bright colors. For pastels, dip the tip of a toothpick in the coloring and use that to transfer it to the frosting. Stir until it is evenly distributed – always use a spatula to make sure you get all the frosting colored.
PRO Tip:
Using sour cream in the frosting may seem counterintuitive but it helps cut the sweetness slightly and makes the frosting more adult-friendly. Children will take all the sugar you can give them, but as we get older, we prefer less-sweet desserts. This frosting is beautifully balanced.
PRO Tip:
Use a medium spring-loaded ice cream scoop to portion the batter into the muffin tins – it is fast, easy, and clean.
Key Ingredients for this Recipe
Cake flour or gluten-free flour blend

Baking powder and salt

Buttermilk and vanilla

White chocolate, chopped

Unsalted butter

Sugar

Eggs

Sour cream

Powdered sugar

Food coloring, optional
Kitchen Tools I Use to Make This Recipe (affiliate links)
Gluten-Free Tips:
Using the gluten-free all-purpose flour blend makes these cupcakes safe for those with Celiac to eat. Make sure you use the same GF flour blend when dusting the cake pan!
Yield: 24 to 36 cupcakes
Festive White Chocolate Cupcakes for St. Patrick's Day (GF)
Add some sparkle to your St Patrick's Day celebrations with these festive and delicious white chocolate cupcakes with buttercream frosting!
Additional Time
15 minutes
Ingredients
Cake Batter
2-1/2 cups cake* flour or gluten-free flour blend (see directions below to convert flour to cake flour)
1 tsp baking powder
1/2 tsp salt
1 cup buttermilk, at room temperature
2 tsp pure vanilla extract or vanilla paste
8 oz white chocolate, chopped (about 1-1/2 cups chips)
1 cup (2 sticks) unsalted butter, at room temperature
2 cups sugar
4 eggs, separated
Buttercream Frosting
1/2 cup (1 stick) butter, at room temperature
1 tsp pure vanilla extract or paste
2 to 3 tbsp sour cream
2 cups sifted powdered sugar
Food coloring, optional
Instructions
Preheat the oven to 350°F with rack in the center and upper third of the oven. Set up two 12-cup muffin tins and fill with cupcake liners. Butter and flour (use GF flour if needed) a 6 or 8-inch cake pan for the excess batter.
Make the Cake: In a medium mixing bowl, combine the flour, baking powder, and salt. Whisk until thoroughly blended (this takes the place of sifting). Set aside.
Pour buttermilk into a measuring cup with a spout and stir in the vanilla extract or paste. Stir to combine. Set aside.
In a medium saucepan bring 2 inches of water to a simmer over medium heat. Place a heatproof bowl over the saucepan and add the white chocolate. Melt the chocolate, stirring often until completely melted. Turn off the heat and keep the chocolate warm while you make the cake batter.
In the bowl of your standing mixer, beat together the butter and sugar on medium until creamy and lightened in color, about 1 to 2 minutes (this is called creaming). Beat in the egg yolks until completely incorporated. Stop the mixer and scrape the sides and bottom. With the mixer running, pour in the melted white chocolate, beating on low speed until completely smooth. Add the dry ingredients to the batter, alternating with the buttermilk mixture. Start
and end with the dry ingredients.
In a separate bowl, beat the egg whites until stiff peaks form. Gently fold 1/3 of the beaten whites into the cake batter. This lightens it making it easier to fold in the remaining whites without deflating them. Add the rest of the beaten egg whites and fold in until no white streaks remain.
Fill the lined cups about 2/3 full and pour remainder of batter into the prepared cake pan. Place the muffin tins on baking sheets to insulate the bottoms. Place in the hot oven along with the cake pan.
Bake for 25 to 30 minutes or until a toothpick inserted in the center comes out clean. The cake may take a little longer than the cupcakes. When done, remove from the oven and place on a cooling rack. Leave cupcakes in the pan about 10 minutes and then transfer to a wire rack until completely cool. Leave the cake in the pan until completely cool and then turn out.
Make the Frosting: In the bowl of your standing mixer, fitted with the paddle attachment, beat the butter on medium speed until smooth and fluffy, about 2 minutes. Stop the motor, scrape the sides and bottom of bowl and add the vanilla and 2 tbsp of the sour cream; beat on medium speed for 2 to 3 minutes until light and fluffy. Add the powdered sugar. Gently beat until smooth. If you want a thinner consistency add another tbsp of sour cream.
Transfer half the frosting into a small bowl. Set it aside. Add food coloring to the frosting left in the mixing bowl, adding as much as you like for either a pastel green or a bright Kelly green. To get the Kelly green, you will need to add a little yellow coloring. Beat until the color is evenly distributed.
Frost half of the cupcakes with the white frosting and half with the green frosting. Frost the mini cake with either or a swirl of both colors. Sprinkle with colored sugars or sprinkles if you like. Enjoy!
* To Make Cake Flour: Measure out 2-1/2 cups of all-purpose flour and place in a bowl. Remove 5 tbsp (2 tbsp per cup of flour) and replace it with 5 tbsp of cornstarch. Place a wire sieve over a bowl and pour the dry ingredients through the sifter. Whisk thoroughly until completely blended and incorporated.
Notes
Cake recipe adapted from The Southern Junior League Cookbook
Nutrition Information:
Yield:
36
Serving Size:
1
Amount Per Serving:
Calories:

160
Total Fat:

3g
Saturated Fat:

2g
Trans Fat:

0g
Unsaturated Fat:

1g
Cholesterol:

24mg
Sodium:

76mg
Carbohydrates:

30g
Fiber:

0g
Sugar:

21g
Protein:

2g
If you love this recipe, be sure to follow me on social media so you never miss a post:
| Facebook | Pinterest | Instagram | Twitter |
Create a New Tradition Today!
This post was first shared in Mar 2014. The article was updated in 2020.
Welcome! The suggestions here are not intended as dietary advice or as a substitute for consulting a dietician, physician, or other medical professional. Please see the Disclaimers/Privacy Policy page for additional details. Unauthorized use, distribution, and/or duplication of proprietary material from The Heritage Cook without prior approval is prohibited. If you have any questions or would like permission, please contact me. We participate in the Amazon Services LLC Associates Program, an affiliate advertising program designed to provide a means for sites to earn advertising fees by advertising and linking to amazon.com. This page may contain affiliate links.