It is time for another edition of Gluten-Free, Pass It On and this month we are focusing on Frozen Desserts. My contribution are these Frozen Lemon Bars with an Almond Crust, gluten-free and just as delicious as their gluten-full counterparts!
I love anything with lemon. Lemon meringue pie, lemon pound cake, lemon cookies, lemon curd … all delicious treats. But my favorite may be lemon bars. When I saw this recipe I knew it was just a matter of time before I made it. Then when I saw the #PassItOnGF theme for this month, I knew exactly which recipe I wanted to make!
The naturally refreshing quality of citrus fruits is magnified when you serve them chilled or frozen. These bars will cool you off even on the hottest summer days. Bring on the heat and humidity, we've got the cure right here!
The easiest and best way to squeeze lemons or any citrus is a wooden reamer. There are lots of different reamers out there, but the texture of the wood is the best for easy juicing. Just be sure to rinse it right away so the juice doesn't get absorbed into the wood. This is especially important when juicing blood oranges – they can stain everything! And for the zesting, there is nothing better than a rasp grater and my favorites are those from Microplane.
You can mix all the parts of this dessert by hand except for the whipped cream. With a heavy-duty stand mixer that only take a couple of minutes. The whole thing comes together really quickly and then you freeze it for a few hours, leaving you plenty of free time to relax, read a book, or prepare the rest of dinner.
The original recipe fits a 9×13-inch baking pan and serves a bunch of people. If you are making this for a party, head over to the original recipe to get those ingredient measurements and baking times. And while you're there, leave a nice comment – all bloggers thrive on positive feedback!!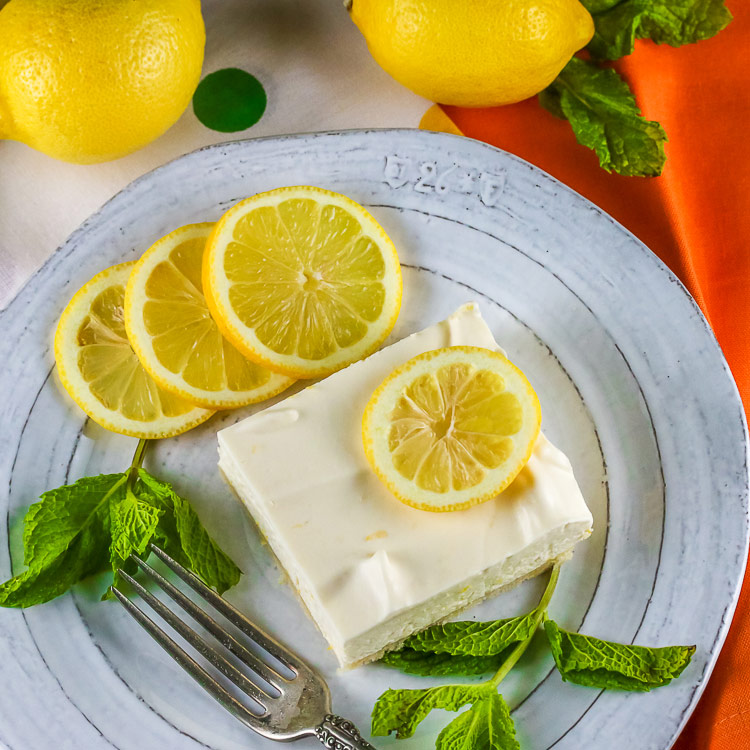 These Frozen Lemon Bars are like a lemon mousse, whipped and light, then frozen. This is one of the lightest and more refreshing desserts you can make. While good all year long, they are particularly delicious on hot and steamy summer nights.
Have a wonderful weekend! We'll see you back here for Chocolate Monday!
Gluten-Free Tips:
The almond crust is naturally gluten-free as long as you use your own ground almonds or Bob's Red Mill Almond Meal. The filling is naturally gluten-free so this is a recipe you can confidently serve to all your gluten-intolerant or celiac friends and family.
Kitchen Skill: Folding
Folding is a key skill that is easy to learn. It is often used to blend two separate mixtures together, where one has been beaten to introduce air for lifting – like egg whites or whipped cream. In this recipe for Frozen Lemon Bars, it is folding the lemon mixture into the whipped cream. It is a matter of gently drawing the top materials down to the bottom of the bowl and bringing the materials on the bottom up to the top. By repeating this, eventually your two mixtures will be perfectly blended. The mixture will lighten in color and consistency. Often you will mix in 1/3 of the first mixture to lighten the heavier batter and then fold in the remaining 2/3.
For the easiest folding, you need a deep-sided bowl and a large spatula. Cut straight down through the center, then twist your wrist and draw the spatula up, bringing some of the batter that is on the bottom up to the top. Turn the bowl a quarter turn and repeat. Keep folding and turning the bowl until the mixtures are completely blended with very few streaks.
Frozen Lemon Bars with Almond Crust (Gluten-Free)
2017-07-21 05:58:04
Ingredients
Crust
1 cup almond meal/almond flour
1/4 cup granulated sugar
3 tbsp butter, melted
Filling
1/2 (14 oz) can sweetened condensed milk
1/3 cup freshly squeezed lemon juice (from about 3 lemons) *
1-1/2 tbsp finely grated lemon zest (from about 2 lemons)
1 cup cold heavy cream
1-1/2 tbsp granulated sugar
Garnishes
Lemon slices
Mint sprigs
Adapted from Let's Dish Recipes
The Heritage Cook ® https://theheritagecook.com/
Be sure to check out these other amazing recipes and follow #PassItOnGF for more inspiration and great recipes from our talented team!
Create a New Tradition Today!
Welcome! If you ever need any entertaining or cooking advice, need to alter a recipe for gluten-free, or want recipe suggestions, don't hesitate to ask. Unauthorized use, distribution, and/or duplication of proprietary material from The Heritage Cook without prior approval is prohibited. If you have any questions or would like permission, please contact me. The suggestions here are not intended as dietary advice or as a substitute for consulting a dietician, physician, or other medical professional. Please see the Disclaimers page for additional details. Thanks for visiting The Heritage Cook!