The recipe I am sharing today is these Frozen Lemon Bars with an Almond Crust, gluten-free and just as delicious as their gluten-full counterparts!
I love anything with lemon. Lemon meringue pie, lemon pound cake, lemon cookies, lemon curd … all delicious treats. But my favorite may be lemon bars. When I saw this recipe, I knew it was just a matter of time before I made it.
The naturally refreshing quality of citrus fruits is magnified when you serve them chilled or frozen. These bars will cool you off even on the hottest summer days. Bring on the heat and humidity, we've got the cure right here!
And best of all, they only take 7 ingredients, come together quickly and easily, and can be made ahead making serving day that much easier. That makes these a winner in my book!
The easiest and best way to squeeze lemons or any citrus is using a wooden reamer. There are lots of different reamers out there, but the texture of the wood is the best for easy juicing. Just be sure to rinse it right away so the juice doesn't get absorbed into the wood. This is especially important when juicing blood oranges – they can stain everything! And for the zesting, there is nothing better than a rasp grater and my favorites are those from Microplane.
You can mix all the parts of this dessert by hand except for the whipped cream. With a heavy-duty stand mixer that only take a couple of minutes. The whole thing comes together really quickly and then you freeze it for a few hours, leaving you plenty of free time to relax, read a book, or prepare the rest of dinner.
The original recipe fits a 9×13-inch baking pan and serves a bunch of people. If you are making this for a party, head over to the original website to get those ingredient measurements and freezing times. And while you're there, leave a nice comment – all bloggers thrive on positive feedback!!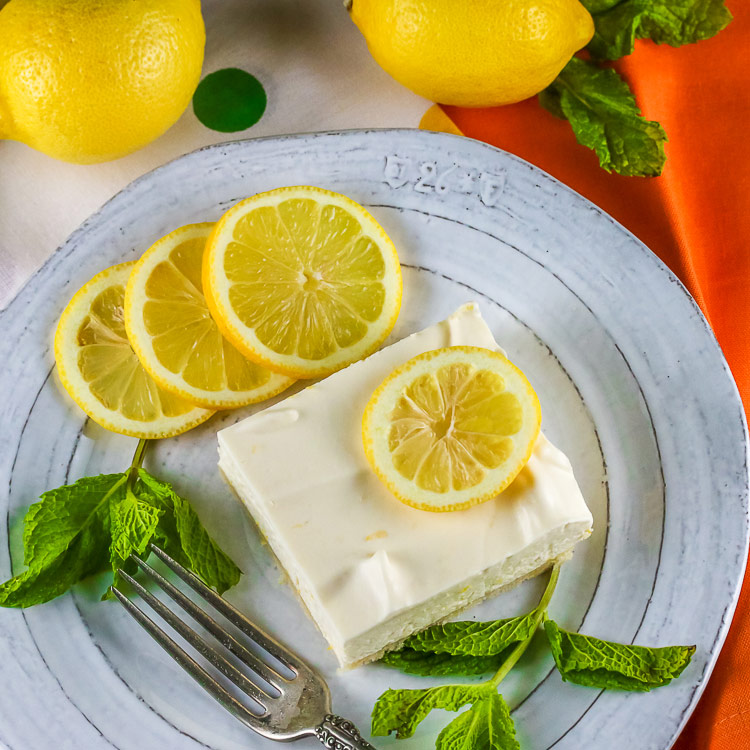 These Frozen Lemon Bars are like a lemon mousse, whipped and light, then frozen. This is one of the lightest and most refreshing desserts you can make and you don't have to heat up your kitchen with a hot oven. While good all year long, they are particularly delicious on hot and steamy summer nights.
Have a wonderful weekend! See you back here for Chocolate Monday!
Did you enjoy this recipe? Let me know in the comments, I love hearing from you!
Key Ingredients for Frozen Lemon Bars:
Crust: Almond meal/flour, sugar, melted butter
Filling: Sweetened condensed milk, fresh lemon juice

Grated lemon zest, heavy cream, sugar

Garnishes: Fresh lemon slices, mint sprigs
PRO Tip:
You can use the flat bottom of a measuring cup to help compress a crumb crust in the square pan. This will give you the smoothest, even crust.
What is Folding and How Do I Do It?
Folding is a key skill that is easy to learn. It is often used to blend two separate mixtures together, where one has been beaten to introduce air for lifting – like egg whites or whipped cream. It is a matter of gently drawing the top materials down to the bottom of the bowl and bringing the materials on the bottom up to the top. Often you will mix in 1/3 of the first mixture to lighten the heavier batter and then fold in the remaining 2/3. By repeating this, eventually your two mixtures will be perfectly blended. The mixture will lighten in color and consistency.
For the easiest folding, you need a deep-sided bowl and a large spatula. Cut straight down through the center, then twist your wrist and draw it up, bringing some of the batter that is on the bottom up to the top. Turn the bowl a quarter turn and repeat. Keep folding and turning the bowl until the mixtures are completely blended with very few streaks.
PRO Tip:
To get the most juice from the lemons, heat in a microwave for about 15 seconds and roll the fruit on the counter, pressing down firmly with the palm of your hand before cutting in half and squeezing with a wooden reamer.
How to make Frozen Lemon Bars:
Mix together the crust ingredients and press into a buttered and parchment-lined square baking pan

Whisk together the sweetened condensed milk, lemon juice, and zest; set aside

In your mixer, whip the cream with the sugar to stiff peaks; fold the whipped cream into the lemon mixture until fully incorporated

Pour into the crust, smoothing into an even layer and freeze until firm, about 3 hours

Let stand 5 minutes before cutting into squares and serving immediately
Recommended Tools (affiliate links; no extra cost to you):
Gluten-Free Tips:
The almond crust is naturally gluten-free as long as you use your own ground almonds or Bob's Red Mill Almond Meal. The filling is naturally gluten-free so this is a recipe you can confidently serve to all your gluten-intolerant or celiac friends and family.
Yield: 6 to 8 servings
Frozen Lemon Bars with Almond Crust (Gluten-Free)
These refreshing Frozen Lemon Bars are the perfect summertime no-bake treat, with pops of bright flavor from the freshly grated lemon zest and fresh lemon juice filling every bite!
Total Time
3 hours
20 minutes
Ingredients
Crust
1 cup almond meal/flour (Bob's Red Mill is gluten-free)
1/4 cup granulated sugar
3 tbsp butter, melted
Filling
1/2 (14 oz) can sweetened condensed milk
1-1/2 tbsp finely grated lemon zest (from about 2 lemons)
1/3 cup freshly squeezed lemon juice (from about 3 lemons) *
1 cup cold heavy cream
1-1/2 tbsp granulated sugar
Garnishes
Instructions
Butter a 9-inch square baking pan and line it with parchment paper, leaving the ends hanging over 2 opposite edges to form a sling. Butter the parchment. Set aside.
Prepare the Crust: In a medium bowl combine the almond meal, sugar, and melted butter. Mix thoroughly with a fork, being sure all the dry ingredients are fully moistened, and press evenly into the bottom of a 9-inch square pan. You can use the flat bottom of a measuring cup to help compress the crumbs.
Make the Filling: In another bowl, whisk together the sweetened condensed milk, lemon juice, and lemon zest until smooth. Set aside. Stir again before adding to the whipped cream.
With a stand mixer, whisk the heavy cream and sugar together to stiff peaks. Using a large rubber spatula, fold half the lemon juice mixture into the whipped cream until smooth with no streaks. Add remaining lemon mixture and fold it in until thoroughly combined, being careful not to deflate the whipped cream. Pour over the prepared crust, smooth into an even layer, and freeze until firm, about 3 hours. Note: Be sure the pan is sitting level in the freezer.
To Serve: Let stand at room temperature for about 5 minutes before running a knife along sides not covered by the parchment and using the sling to lift the bars onto a cutting board. Use a sharp knife to slice into bars. **
Garnish with lemon slices and mint sprigs. Return the rest of the dessert to the freezer (it will melt fairly quickly) and serve your guests immediately.
Recipe Source: The Heritage Cook
Notes
* To get the most juice from the lemons, heat in a microwave for about 15 seconds and roll the fruit on the counter, pressing down firmly with the palm of your hand before cutting in half and squeezing with a wooden reamer.
* * To get the cleanest slices, use a very sharp long knife dipped in hot water and wiped dry between each cut.
Nutrition Information:
Yield:
8
Serving Size:
1
Amount Per Serving:
Calories:

333
Total Fat:

23g
Saturated Fat:

10g
Trans Fat:

1g
Unsaturated Fat:

11g
Cholesterol:

47mg
Sodium:

52mg
Carbohydrates:

29g
Fiber:

2g
Sugar:

14g
Protein:

6g
If you enjoyed this recipe, be sure to follow me on social media so you never miss a post:
Create a New Tradition Today!
Welcome! The suggestions here are not intended as dietary advice or as a substitute for consulting a dietician, physician, or other medical professional. Please see the Disclaimers/Privacy Policy page for additional details. Unauthorized use, distribution, and/or duplication of proprietary material from The Heritage Cook without prior approval is prohibited. If you have any questions or would like permission, please contact me. We participate in the Amazon Services LLC Associates Program, an affiliate advertising program designed to provide a means for sites to earn advertising fees by advertising and linking to amazon.com. This page may contain affiliate links. This post was first shared in July 2017. The article was updated in 2021.