Today is the first day of Food Network's #FallFest and we are celebrating the beginning of Autumn with luscious, crisp apples! I love the fall, with warm days and cool nights, bright sparkling blue skies and golden sunsets. It is sweater weather again and I couldn't be happier to see it arrive!
One of my all time favorite desserts, and one of the first that I made when I was young and learning to cook, is a fruit crisp. You can make it with any of your favorite fruits, but my personal favorite is apple. I used to use only one type of apple, thinking that only Granny Smith or Pippins were the ones that worked in baked desserts. They are both wonderful because they are tart and hold up well to the heat, maintaining their shape in pies, tart, crisps, and crumbles.
A crisp is a fruit dessert with a sweet crumbled topping, similar to a streusel. It's an apple pie without a crust!
This time as I perused the selection of apples at my local grocers, I imagined what each one would taste like and looked for a selection that would complement each other. I wound up with some Granny Smiths for their tartness, Red Gravensteins for their sweet softness, and Jonagolds for their all around perfection. When they baked together, it was heavenly.
You are welcome to use a single type of apple in your desserts, but if you use a blend you will have some that fall apart and create a base for the firmer ones to stand on. You wind up with apple in every single bite, some firm, some soft, some tart, some sweet, all creating a perfect apple storm, LOL.
If you want to have some fun, check out Appletize.me from the U.S. Apple Association. Pick your personality type and find out which apple is the perfect one for you! There are also a ton of recipes to whet your taste buds and inspire your fall cooking and baking. How typical for me, I am a blend of many of the personalities and love all of the apple choices. Which one are you?
This time instead of sprinkling on just cinnamon I decided to use a blend of spices. If multiple types of apples are so good together, why wouldn't a combination of spices be the perfect match? So in went a pinch of nutmeg, a little mace, some cinnamon and a healthy dose of ginger. Such a beautiful blending of flavors, tingling my nose as they baked and making my mouth leap with joy at the first bite.
Always taste your apples when cutting them up to determine how much, if any, sugar you need to add. Some years the apples are so incredibly sweet that I add no sweetener at all. Other years, it takes a lot. You won't know until you taste the fruit. Today my apples were quite sweet so I didn't add as much sugar. Use your best judgment. Remember, you can always add a sprinkling of sugar right before serving for those who like sweeter desserts.
If you are going to a potluck dinner, late summer picnic, or just taking a treat to a friend, consider making a crisp. It has all the flavor of a pie without the worry of making the crust or having it get soggy as the dessert sits. In a crisp, the crunchy bits are on the top, keeping them from absorbing any liquids from the filling.
I love how baked apple desserts make my house smell, like walking into your grandmother's home. Inevitably, The Artist comes down stairs just about the time I pull the crisp out of the oven, nose in the air, asking what smells so good. And then a huge smile breaks out on his face as he spies dessert. That smile warms my heart and makes everything right in the world.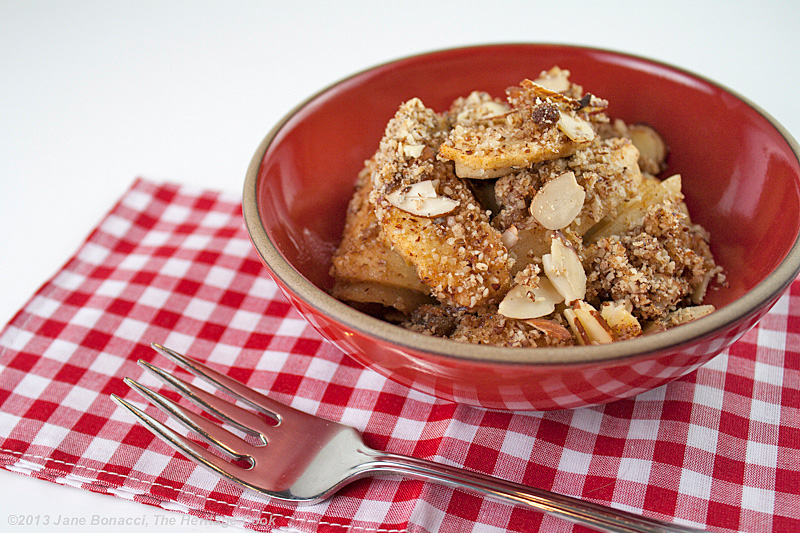 Gluten-Free Tips:
If you are Celiac and have challenges finding gluten-free oats, the common topping ingredient for this type of dessert, this topping is perfect for you. If you have gluten-free oats in your cupboard, feel free to add some to the topping!
Kitchen Skill: How to Quickly Core Apples
Peel your apples with a paring knife or vegetable peeler. Cut a thin slice off the top and bottom of each apple, creating flat surface to stabilize them when cutting. Stand the apples on a cut end and using a very sharp knife, make four cuts around the center core, just wide enough to avoid cutting into the core. Spin the apple a quarter turn between each cut. You will wind up with four pieces of apple and a rectangular core. Toss the cores or use them to make applesauce. Set each of the remaining pieces flat on the surface and cut into thin slices.
Gluten-Free Apple Crisp
2015-06-29 19:12:52
Ingredients
Apple Filling
4 tart apples such as Granny Smith or Pippin, peeled and cored
4 sweet apples such as Golden Delicious or Jonathan, peeled and cored
1/2 cup granulated sugar
1/4 tsp ground nutmeg
1/4 tsp ground mace, optional
1/2 tsp ground ginger
1/4 tsp cinnamon
Topping
1/2 cup packed light brown sugar
3/4 cup almond or hazelnut meal
1/4 tsp salt
6 tbsp butter
1/2 cup chopped pecans, sliced almonds, or other nuts, optional
Instructions
Preheat oven to 375°F. Butter a 9-inch square or 9x13-inch baking dish.
Slice apples or cut into thin wedges and place in a large bowl. Add sugar, the spices, zest, and lemon juice. Toss together and pour into prepared baking dish.
Combine brown sugar, almond meal, salt, and butter in a small bowl and mix with a fork until crumbly. Add nuts and sprinkle over the top of the apples.
Bake 25 to 30 minutes or until top is browned and apples are easily pierced with a fork.
Serve warm or at room temperature. Store leftovers, covered, in the refrigerator.
Notes
Yield: 6 to 8 servings
The Heritage Cook ® https://theheritagecook.com/
Create a New Tradition Today!
Make sure you check out all of these remarkable recipes from my blogging friends!
The Lemon Bowl: Whole Grain Pancakes with Warm Apple Topping
In Jennie's Kitchen: Homemade Apple Breakfast Bars
Jeanette's Healthy Living: Almost Crusted Cinnamon Apple Grilled Cheese
Dishing With Divya: Fresh Apple Salsa
Virtually Homemade: Potato Apple Gratin
Weelicious: Apple Almond Cake
Dishin & Dishes: Kale Waldorf Salad (A Healthy Recipe Redo)
Domesticate Me: Apple Cinnamon Baked Doughnut Holes
Napa Farmhouse 1885: Applesauce with Maple and Cinnamon
Red or Green: Apple and Green Chile Crustless Pie
The Sensitive Epicure: Toaster Oven Cinnamon Apple and Walnut Muffins with Almond Flour and Maple Syrup
And Love It Too: Apple Pie Cookies
Taste With The Eyes: The Culinary Legend of Apple Tarte Tatin
FN Dish: Early Morning Apple Recipes
Unauthorized use, distribution, and/or duplication of proprietary material on The Heritage Cook without prior approval is prohibited. This includes copying and reprinting content and photographs. If you have any questions or would like permission, I can be contacted via email at theheritagecook (at) comcast (dot) net. Feel free to quote me, just give credit where credit is due, link to the recipe, and please send people to my website, www.theheritagecook.com. Please see the Disclaimers page for additional details.
Thank You!