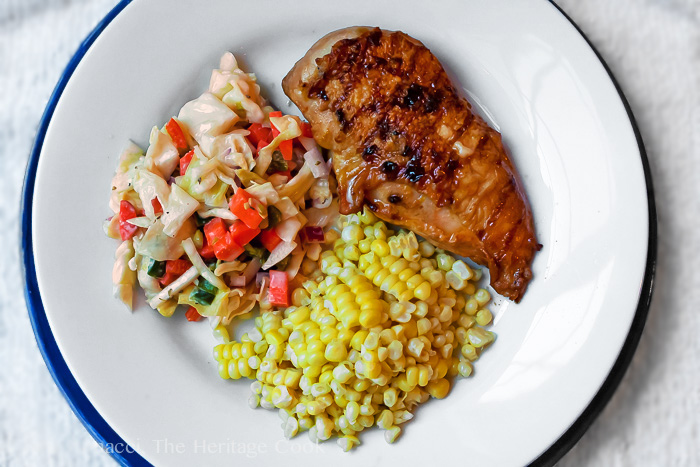 We have had warm weather in California lately and that makes me long to be outdoors. Instead of staying in the kitchen making dinner, I head to the patio and pull out the barbecue. This week I decided to kick up the heat on some chicken for a change of pace.
Brining or marinating chicken, especially white meat, always helps keep it moist. It doesn't take long in the marinade to make a big difference. Half an hour or more and you will be amazed at the improved flavor and texture.
With soy sauce (gluten-free) as the base I thought a little heat would be fun and it is always a hit in our house. Sriracha is one of our favorites, always good for a blast of heat or a little extra flavor. I've got some Greek yogurt in the fridge so let's throw a little of that in too. I love citrus in any marinade so why not add lemon zest in this one and it was perfect.
Sriracha originally comes from Thailand and is made from hot chile peppers, garlic, and vinegar with a little sugar and salt for balance. While not as hot as Tabasco or some other Louisiana-style hot sauces, it is thicker and has a unique taste all its own. I love what even a few drops can do for ordinary foods.
I especially liked the combination of the marinade with the smoke from the fire. They complemented each other with neither one overwhelming the other. There is a little sugar and oil in the marinade, so watch the chicken carefully to avoid burning. I thought the amount of Sriracha I added would be too hot, but it wasn't. When I tasted the marinade (before adding the chicken) it was pretty spicy, but the final product was perfectly flavored with little or no heat. I will definitely use more the next time I make this.
This recipe is a road map, and you can choose which route to take. That means any combination of seasonings can be used. Feel free to change up the ingredients to suit your tastes and utilize what is in your refrigerator and pantry.
We are always looking for new ways to make chicken around here and you're probably the same. If you want something that will wake up your taste buds, give this Sriracha Chicken a try. I'll bet it becomes a new favorite in your family the way it has in ours.
Have a fantastic weekend!
Jane's Tips and Hints:
I love cooking this outdoors on my grill, but you can also make it in your kitchen with either a grill pan on the stove or broiling it in the oven.
Gluten-Free Tips:
Sriracha is gluten-free! Use gluten-free soy sauce or Tamari sauce – regular soy sauce has wheat in it. Most sesame oil is gluten-free but always check the label.
Grilled Sriracha-Marinated Chicken (Gluten-Free)
2015-06-19 12:09:27
Marinade
1/2 cup soy sauce (gluten-free if needed)
1 tbsp sesame oil (gluten-free if needed)
2 tbsp plain, unflavored Greek yogurt
2 to 3 tbsp Sriracha hot chili sauce, or to taste (Sriracha is gluten-free)
1 tbsp brown sugar
1 tsp freshly grated ginger
2 cloves garlic, peeled and minced
1 shallot, peeled and minced
Zest of 1 lemon
1/4 cup organic olive oil
4 to 6 sprigs fresh thyme
Chicken
2 whole boneless chicken breasts, cut in half or 4 half breasts
Fresh thyme sprigs for garnish
Instructions
In a small bowl, whisk together the soy sauce, yogurt, Sriracha and sugar until the sugar has dissolved. Stir in the ginger, garlic, shallots, lemon zest, and olive oil. Whisk to combine.
Place the chicken and thyme in a resealable plastic bag and pour the marinade over them. Seal, pressing out most of the air. Massage the bag until the marinade has coated all of the pieces of chicken. Place the bag in the refrigerator and marinate for at least 1 hour and up to 4 hours.
Preheat one side of a gas or electric grill to medium or build a two-tier charcoal fire. When the grill is hot, scrub the grate clean and oil with a paper towel lightly drizzled with vegetable oil.
Remove chicken from the marinade and let excess drip off. Discard the marinade. Place the chicken, skin side down, on the hot side of the grill and cook until they have developed grill marks and release easily from the grate, about 4 minutes. If they are getting too dark, move them to the cooler side of the grill and cook more slowly. Using tongs, flip the chicken over to cook the second side. Cook until an instant read thermometer reaches 160°F, approximately another 4 to 5 minutes, depending on the thickness of the chicken pieces.
Remove chicken from the grill and set on a clean cutting board; tent loosely with foil. Let chicken rest for at least 15 minutes to allow juices to redistribute to the center and finish cooking to a final temperature of 165°F.
Place a piece of the chicken on each serving plate, garnish with additional thyme leaves and serve with your choice of sides and vegetables.
Notes
Yield: 4 servings; about 1-1/4 cups marinade
The Heritage Cook ® https://theheritagecook.com/
Create a New Tradition Today!
Let's connect! If you love The Heritage Cook, you can follow me on Pinterest, Facebook, and Twitter. If you ever need any entertaining or cooking advice, need to alter a recipe for gluten-free, or want recipe suggestions, don't hesitate to email me. Thanks for reading!
Unauthorized use, distribution, and/or duplication of proprietary material from The Heritage Cook without prior approval is prohibited. This includes copying and reprinting content and photographs. If you have any questions or would like permission, I can be contacted via email. Feel free to quote me, just give credit where credit is due, link to the recipe, and please send people to my website, www.theheritagecook.com. Please see the Disclaimers page for additional details.
This site is not intended to provide medical advice. The suggestions here are not intended as dietary advice or as a substitute for consulting a dietician, physician, or other medical professional. It is the reader's sole responsibility to determine which foods are appropriate and safe for their family to consume. Always consult your doctor. The author makes no claims regarding the presence of food allergens and disclaims all liability in connection with the use of this site.
Thank You!