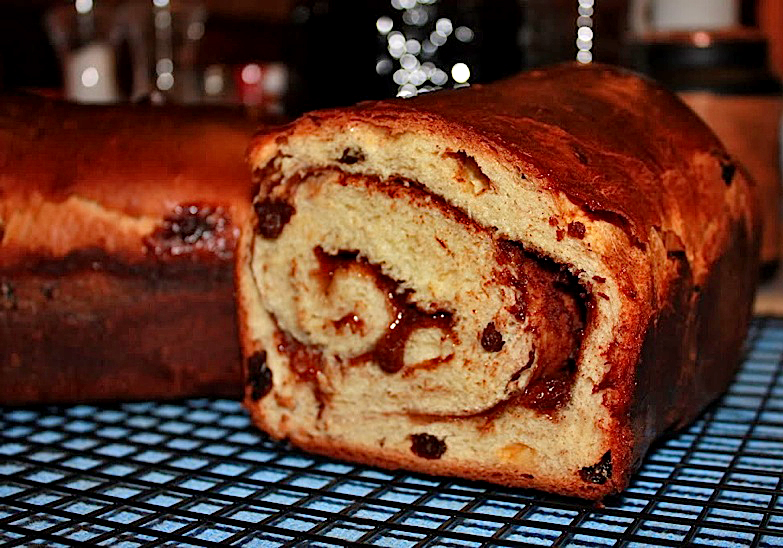 When I was a child and my father's parents came out for a visit, my grandmother Mimi would always make cinnamon rolls, twists and breads for us. There is little in this world that smells better than cinnamon baking in the oven, filling the house with the most amazing aromas. Especially when you wake up in the morning smelling the mouth-watering scent of baking cinnamon bread.
The first bread I learned to make was simple, home-style white bread. One day when I was about 15 I decided that I wanted to make bread from scratch. The closest I had gotten up to that point was making cinnamon rolls with my grandmother when I was 10. So I pulled out my trusty Betty Crocker cookbook – you know, the one with the red and white checkerboard cover – and read through the recipe. It didn't seem that hard so I gave it a try. Amazingly it came out great! Not perfect, but darn close considering it was my first loaf.
As I got a little older and developed a more mature palate I tried adding fresh herbs and other ingredients. But I always had trouble every time I tried to make cinnamon bread. I couldn't figure out why my normal loaves would be perfect but when I added cinnamon they were heavy and dense. I finally gave up making them and satisfied myself with regular loaves.
Then one day I got curious and with the help of some of my advanced bread baking cookbooks on and access to the Internet, I learned a very valuable lesson … cinnamon inhibits the activity of yeast! So there was a good reason why my loaves were heavier. You have to leave them to rise about two times longer than normal when you have a lot of cinnamon in the dough. There are a few tricks of the trade that you can utilize to give your loaves a higher, quicker rise. Read the Kitchen Skill below for the specifics.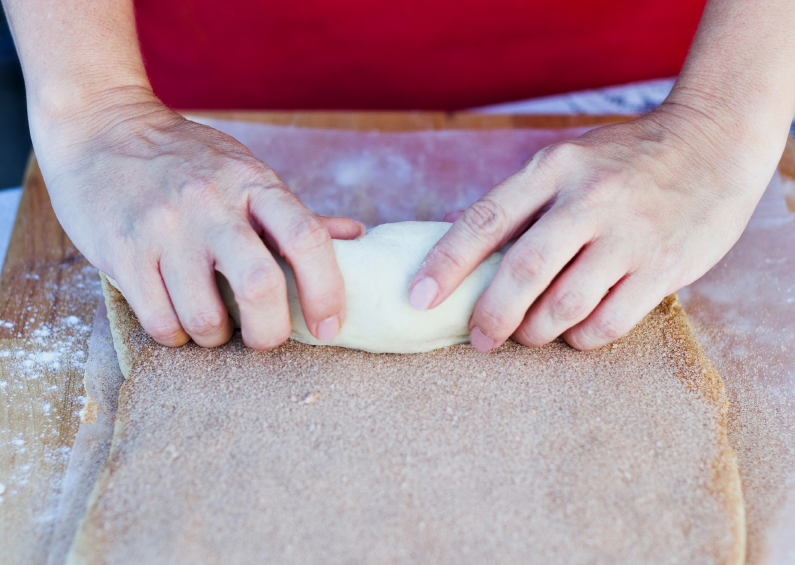 If you want to learn how to bake breads and have access to the Internet, I highly recommend King Arthur Flour's website. They have a lot of hints and tips as well as recipes to help you get the results you are looking for. Today's recipe is from them. They also make a sensational line of flours that are known for their consistency and quality.
Here is their headnote for the recipe: "The following recipe incorporates a couple of tips for successful cinnamon swirl bread that we've discovered over the years. First, for a deep-dark, moist, cinnamon swirl inside the bread, blend together sugar, cinnamon and raisins or currants till smooth. The addition of raisins or currants adds moistness, as well as subtle flavor. And second, rather than brush the dough with butter before sprinkling on the filling, brush it with beaten egg. Butter acts as a barrier between the pieces of rolled-up dough, preventing them from cohering, and giving you bread that "unravels" when you cut it. On the other hand, the protein in egg acts like glue, cementing the bread and filling together, and allowing much less (though still a bit) unraveling."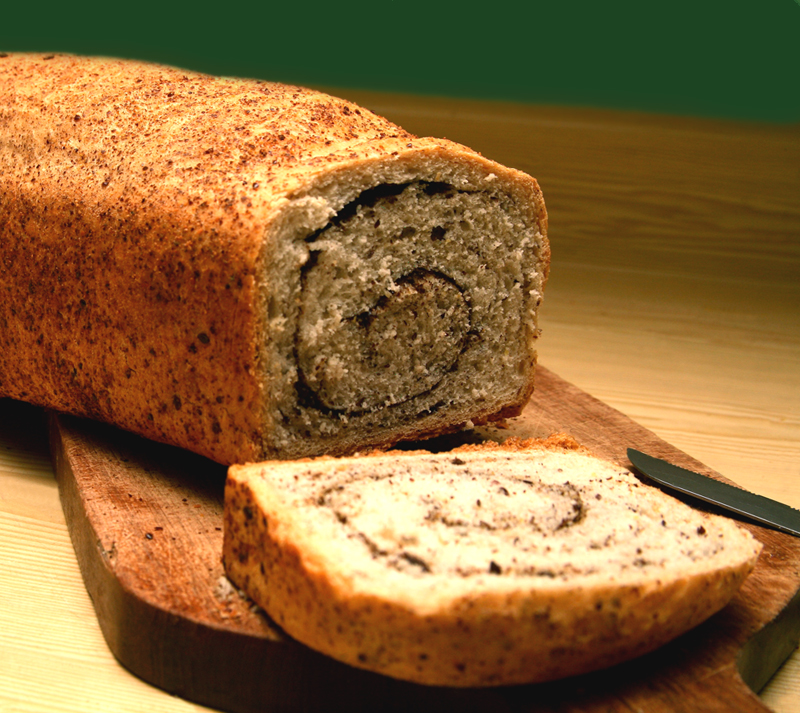 You may have found that bread rises in your kitchen faster during the heat of summer than it does in winter. If your kitchen tends to be on the cool side you can use this trick to create a nice, warm place for your doughs to rise. Turn the oven to 400°F and heat for one minute. Turn the oven OFF, turn on the light, and place your bowl of dough in the oven, covered with a clean tea towel. Close the oven door and it will maintain the perfect temperature for the yeast to work.
I am constantly amazed at how much there is to learn about baking. That's probably part of the reason I love it so much. I like the discipline it requires, but also the fact that I am free to make changes as long as they maintain the ratios of liquid to flour and fat. Don't get me wrong, I love cooking too, but I thrive on the challenges of baking. For some reason when I bake something and it turns out great, it gives me a real sense of accomplishment.
If you have always wanted to make cinnamon bread or have tried and failed in the past, try this recipe. Sometimes I make it with the raisins or currants and sometimes I leave them out – make it the way you like it. I hope it turns out to be as much fun for you as it is for me! Happy Baking!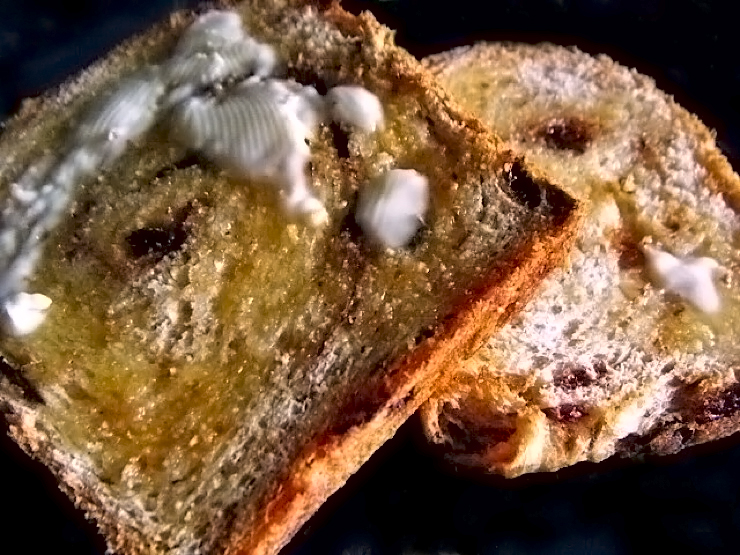 Jane's Tips and Hints:
Some cinnamons are more potent than others. Most from Asia, typically called "Cassia" tend to be stronger than those sold in Europe. They impart a delicious, spicy flavor to baked goods but may inhibit the rising capabilities of yeast (see the following Kitchen Skill). Use them with a light hand.
Kitchen Skill: Baking with Cinnamon
If you have ever had trouble with cinnamon rolls or bread rising there is a good reason. The oils in the cinnamon inhibits the activity of the yeast, limiting rising. You need to protect the bread from the cinnamon by brushing with an egg wash or a layer of butter and then sprinkling with the cinnamon filling. Your dough will rise more evenly and higher.
If you want even more cinnamon flavor without risking the rising ability of the yeast, you can soak raisins or other dried fruits in hot cinnamon water to plump them. They will absorb the flavor imparting it to the bread in a safer manner.
If you want to incorporate cinnamon directly into the dough, you can as long as you watch the percentage of cinnamon to yeast in the mix. If you use only 5% to 10% of the weight of yeast the dough will rise perfectly. If the cinnamon exceeds 35% to 40% of the weight of the yeast it will dramatically reduce the activity. (From Shirley O. Corriher's "Cookwise")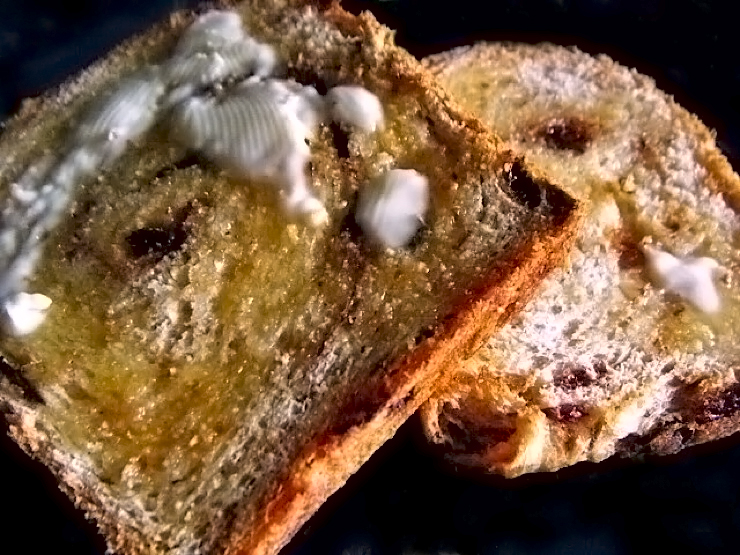 Cinnamon Swirl Bread
2015-07-10 16:32:26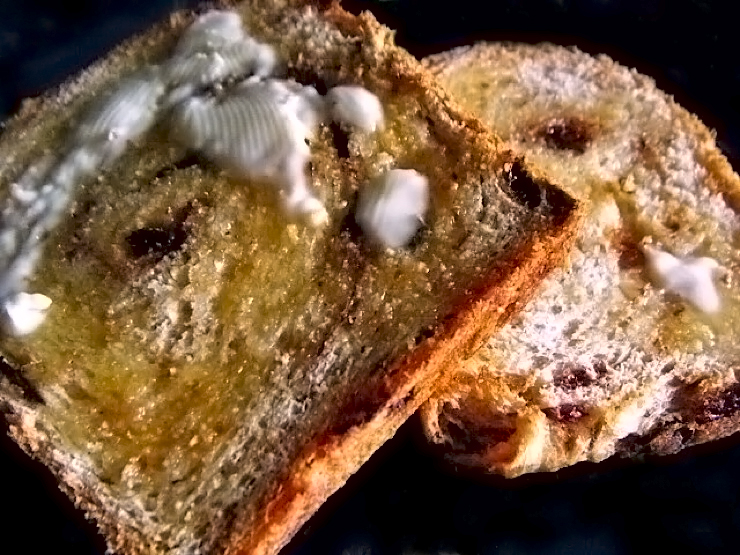 Ingredients
Dough

3 cups King Arthur Unbleached All-Purpose Flour
1/4 cup potato flour
1/4 cup Baker's Special Dry Milk
1-1/4 tsp salt
1/2 tsp cinnamon
3 tbsp sugar
2-1/2 tsp instant yeast
4 tbsp butter or margarine, at room temperature
1 cup water

Filling

Egg wash, made from 1 egg beaten with 1 tsp water
1/4 cup sugar
1-1/2 tsp cinnamon
1/4 cup raisins or currants, optional
2 tsp King Arthur Unbleached All-Purpose Flour

Topping

1 egg beaten with 1 tablespoon water
2 tbsp cold butter, cut into small pieces
2 tbsp sugar
1/4 tsp cinnamon
1/4 cup King Arthur Unbleached All-Purpose Flour
Instructions
Manual/Mixer Method: In a large mixing bowl, combine all of the dough ingredients, mixing until the dough begins to come away from the sides of the bowl. Knead the dough with an electric mixer for 2 minutes; allow it to rest for 15 minutes, then continue kneading it for an additional 5 to 7 minutes, in the mixer or until it's smooth.
If you're kneading by hand, transfer the dough to a lightly oiled work surface; knead it for 3 minutes; allow it to rest for 15 minutes, then continue kneading till smooth, an additional 8 to 10 minutes. Transfer the dough to a lightly oiled bowl, cover the bowl with plastic wrap, and set it aside to rise for 1 to 1-1/2 hours; it'll be puffy, if not doubled in bulk.
Bread Machine Method: Place all of the dough ingredients into the pan of your bread machine, program the machine for Manual or Dough, and press Start. About 10 minutes before the end of the final kneading cycle, adjust the consistency of the dough with additional flour or water; it should be smooth, though still a bit sticky. Allow the machine to complete its cycle.
Transfer the dough to a lightly oiled work surface, and shape it into a long, thin rectangle, about 16 x 8 inches. Brush the dough with some of the beaten egg, combine the filling ingredients, and pat them gently onto the dough. Beginning with a short edge, roll the dough into a log. Pinch the side seam and ends closed (to keep the filling from bubbling out), and place the log, seam side down, in a lightly greased 8-1/2 x 4-1/2 inch loaf pan. Cover the pan with lightly greased plastic wrap or a dough-rising cover, and allow the bread to rise for about 1 hour at room temperature, or until it's risen about 1 inch over the rim of the pan.
Set both racks in the lower portion of the oven and preheat to 350°F.
Make the Streusel Topping: In a small bowl or mini processor, combine the streusel ingredients, cutting in the butter until the mixture is crumbly. If you're using a mini processor, watch carefully; streusel will go from crumbly to a cohesive mass in just a second or so. Brush the loaf with some (or all) of the remaining beaten egg, and gently press on the streusel. NOTE: This is optional and you can skip this step if you prefer.
Bake the bread in a preheated 350°F oven for about 45 minutes, tenting the loaf lightly with aluminum foil for the final 15 minutes or so if it appears to be browning too quickly.
Remove the loaf from the oven, and after about 5 minutes, gently remove it from the pan. Some of the streusel will fall off, but you can alleviate this by first loosening all around the edges of the loaf with a knife, then turning the pan on its side and gently pulling it away from the loaf. Streusel will continue to fall off as you maneuver the bread -- we've never figured out how they make that stuff adhere so nicely on the store-bought loaves! -- but you'll still be left with some nice, sweet topping.
Adapted from King Arthur Flour
Adapted from King Arthur Flour
The Heritage Cook ® https://theheritagecook.com/
Unauthorized use, distribution, and/or duplication of proprietary material without prior approval is prohibited. If you have any questions or would like permission, I can be contacted via email at: heritagecook (at) comcast (dot) net. Feel free to quote me, just give credit where credit is due, link to the recipe, and please send people to my website,
www.theheritagecook.com.
Thank You!