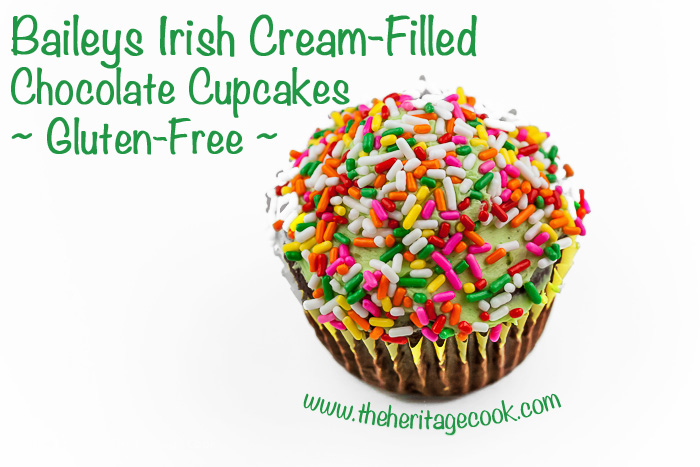 Today begins our St. Patrick's Day celebrations at The Heritage Cook. Normally I have one or two recipes for you, but this year I have a bunch of fun things to bring out your inner leprechaun. Why, you ask? Because this year is the 20th anniversary of the first time The Artist and I met!
That year I was meeting friends at a local pub to celebrate my favorite holiday, but they hadn't shown up. Thankfully there was a bunch of my buddies from IBM there so I joined them. Then in walked a couple more friends. After a few pleasantries, they said they had a guy for me to meet … and the rest, as they say, is history.
I truly believe that everything happens for a reason. If the people I was supposed to meet had shown up, we probably would have been in another part of the bar and I never would have seen my two friends walk in. When things are supposed to happen, the Universe conspires to put us in the right place at the right time.
I find it funny and ironic that I met The Artist, an Italian-American, on a holiday that celebrates Irish heritage. Until he met me he never celebrated St. Pats. Now he can't forget it, LOL.
Today is the first of four recipes designed to help you have a fabulous St. Patrick's Day. These cupcakes are a fun treat, packed with rich chocolate flavor and spiked 3 times with Baileys Irish Cream liqueur … in the cake, the filling and the frosting. Most definitely not a dessert for children! 🙂
Last year one of my blogging friends, the incredible Barbara Schieving of Barbara Bakes posted her Boston Cream Cupcakes recipe. I immediately knew I wanted to make them and share them with you. They were in my "to make" file just waiting for the perfect opportunity – and today is it!
Barbara is an extraordinary baker, with skills that rival any pastry chef. Another example of the wealth of talent in this country. I had the distinct pleasure of meeting her in person at BlogHer Food last year. She is just as delightful in person as she is online. Make sure you pop over to her blog – you won't be sorry!
Barbara's original recipe is a beautiful cupcake version of the classic Boston cream pie. I need to take a class on cake decorating from her! I decided to use Baileys and give them a distinctive Irish spin. A little whiskey never hurt anyone, right? LOL.
If you are baking these for children, leave out the Baileys and use milk instead. They will like them a lot better! You could also make a double batch of the frosting, one for the kids and one for the adults. Color them differently so your guests can easily tell them apart.
Thank you Barbara for the wonderful inspiration. These will definitely make our St. Patrick's Day celebration joyful! 🙂
Jane's Tips and Hints:
Make the filling and the frosting a day ahead to save you a lot of the steps on baking day. Breaking it up this way will make it less intimidating for beginning bakers. And, while not necessary, having a cupcake corer makes filling these a snap. Without it you have a lot more work to dig out a core from the center of each one. At around $5, this is one gadget I recommend you get. It won't take up much room and you will make up recipes just so you can use it!
Gluten-Free Tips:
If you have celiac or are very sensitive to gluten, you may want to use a different liqueur or plain milk. The website says that Baileys is gluten-free, but on the label it says it is contains caramel coloring. Sometimes this can cause a reaction. When in doubt, being careful is the best solution!
Irish Cream-Filled Chocolate Cupcakes (Gluten-Free)
2015-06-18 15:16:31
Instructions
Make the Cream Filling: In a 2-quart saucepan, whisk together the milk, Bailey's, and cornstarch until smooth. Add the sugar, yolks, and salt, whisking until there are no lumps and the mixture is smooth. Bring to a boil over medium-high heat, whisking constantly. Boil 1 minute or until thickened and the mixture coats the back of a spoon.
Remove pan from the heat and whisk in the vanilla and butter pieces, mixing until the butter has melted and the mixture is silky. If the custard is too thick, whisk in more milk, a little at a time until you get the perfect consistency. Remember, it will thicken as it cools. Transfer to a medium bowl, cover the surface of the custard with plastic to keep a skin from forming. Refrigerate until set, 1 to 2 hours.
The custard can also be made a day ahead. Press plastic wrap on the surface and top the bowl with another piece of plastic wrap to seal it. Refrigerate until ready to use. Let it sit at room temperature about 20 minutes before proceeding with filling the cupcakes.
Prepare the Cupcakes: Place an oven rack in the middle and preheat to 350°F. Line a 12-cup standard size muffin pan with paper liners.
Place chocolate and cocoa in the bowl of your standing mixer. Pour boiling water over the chocolate mixture and let sit 3 minutes; then whisk until smooth. Add the Baileys and whisk until fully incorporated. Set aside to cool completely, about 20 minutes, so you won't risk scrambling the eggs.
In medium bowl, whisk the flour, sugar, salt, and baking soda together; set aside.
Whisk the oil, eggs, vinegar, and vanilla into cooled chocolate-cocoa mixture until smooth. Add the flour mixture and beat until smooth. If using gluten-free flour, set the batter aside to rest for 15 minutes. This helps the flours absorb the liquids, reducing the sandy or gritty texture often found in gluten-free baked goods.
Divide batter evenly among muffin tins, filling about 2/3 to 3/4 full. Bake until the cupcakes are set and just firm to touch, 17 to 19 minutes. A toothpick inserted in the center will have a few moist crumbs attached to it. Remove the cupcakes from the oven and place the baking pan on a cooling rack about 10 minutes. When cool enough to handle, carefully lift each cupcake from pan and set on the wire rack. Cool to room temperature before coring, filling, and frosting, about 1 hour.
Core the Cupcakes: Use a cupcake corer to remove a "plug" from the center top of each cooled cupcake. Slice about 1/2 inch of the top off each core and set it next to the cupcake. Scoop the pastry cream into a piping bag fitted with a large round tip or star tip. Pipe the filling into the hole in the center of each cupcake nearly to the top. Place the slice from the plug onto the filling, pressing down until they are almost the same height as they were originally. This creates a surprise filling in every bite. Cupcakes can be made up to this point several hours ahead or up to overnight. If made ahead, store in an airtight container in the refrigerator.
Make the Buttercream: Place the butter in the bowl of your standing mixer. Beat until softened and fluffy. Add remaining ingredients and mix until smooth and creamy. Beat in food coloring if desired.
Frost the Cupcakes: If the plug has lifted, press it back down so the top is fairly even. Put a dollop of frosting on each cupcake and smooth it over the top with an off-set spatula. Or you can put the buttercream into a piping bag fitted with a round or star tip and pipe it onto the cupcakes. You can add sprinkles, chocolate jimmies, or any other decorations you and your family like.
Enjoy!
Adapted from Barbara Schieving
The Heritage Cook ® https://theheritagecook.com/
Create a New Tradition Today!
Let's connect! If you ever need any entertaining or cooking advice, need to alter a recipe for gluten-free, or want recipe suggestions, don't hesitate to contact me. Thanks for joining the Heritage Cook Family!
Unauthorized use, distribution, and/or duplication of proprietary material from The Heritage Cook without prior approval is prohibited. This includes copying and reprinting content and photographs. If you have any questions or would like permission, I can be contacted via email. Feel free to quote me, just give credit where credit is due, link to the recipe, and please send people to my website, www.theheritagecook.com. Please see the Disclaimers page for additional details.
This site is not intended to provide medical advice. The suggestions here are not intended as dietary advice or as a substitute for consulting a dietician, physician, or other medical professional. It is the reader's sole responsibility to determine which foods are appropriate and safe for their family to consume. Always consult your doctor. The author makes no claims regarding the presence of food allergens and disclaims all liability in connection with the use of this site.
Thank You!