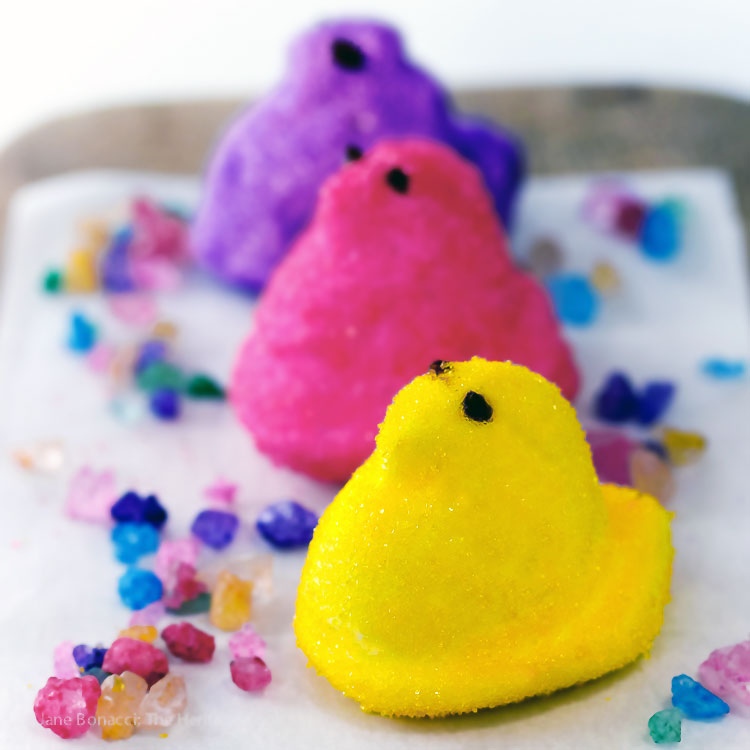 Homemade Marshmallow Peeps are the quintessential American indulgence of Easter for children of all ages. Originally, they were chicks in bright yellow, spawning the iconic name, then they introduced bunny shapes, and now they come in a range of colors to delight us all.
Peeps are sugar coated marshmallows. Marshmallows are actually quite easy to make, a combination of sugar syrup beaten into softened gelatin, but don't try to make these with a hand mixer. You need the power of a large heavy-duty mixer and a large bowl to allow for expansion.
You can pipe these by hand if you want – there are a ton of recipe and videos showing you how to do this – but I wanted something easier. Whip up a batch of marshmallow and pipe it into the bunny molds. Easy peasy!
I love the flavoring products from LorAnn Oils. They are extremely high quality and concentrated so you need just a few drops to flavor a whole batch of candy. They are 3 to 4 times the strength of normal alcohol-based flavorings or extracts. For each 1 teaspoon of regular extract, use just 1/4 to 1/2 teaspoon of any LorAnn candy oil. LorAnn also carries all the supplies you need for candy making and formed chocolates as well as aromatherapy and spa products.
You can buy them in multiple size bottles and they also sell lids with built-in eye droppers to give you the ultimate measuring control. There is nothing worse than ruining a whole recipe because the bottle tipped and you added too much. (Just ask The Artist about the orange chicken I made him once, LOL). I keep mine in the refrigerator for long term storage.
Peeps are also adorable as decorations for your holiday table alongside your colorful dyed eggs. Mini baskets scattered down the length of the table are always bright and festive!
Serve these Homemade Marshmallow Peeps as treats in your children's Easter baskets or dessert for your Easter supper. When people learn you made them yourself, they may think you are joking. But one bite and they will know that these incredibly delicious sweets are most definitely homemade by you!
Have a wonderful Easter and I hope the Bunny brings you plenty of delightful treats to sweeten your day!
Key Ingredients for Homemade Marshmallow Peeps:
Colored sanding sugars in a variety of colors

Unflavored gelatin powder (find it near the Jell-o)

Granulated sugar, light corn syrup, kosher salt

Vanilla or concentrated oils from LorAnn

Chocolate chips
How Do You Make Sugar Candies?
When making caramels or any candy with a sugar base, you cook the syrup to the required temperature depending on what you are using the sugar syrup for. Caramels and fudge are usually done somewhere between the soft ball and firm ball stage. You cook taffy to the hard ball stage, and peanut brittle goes all the way to the hard crack stage.
Using a candy thermometer gives you both the stage markings and temperature so you can use older recipes and new. Bring the syrup to a boil and it will rise quickly to 220°F and then stall and very slowly inch its way upward. This is when the water is being boiled off – it has to be completely evaporated before the sugar can caramelize. Once it gets over 230°F keep a close eye on it. I set a chair next to the stove and keep a flashlight handy … it helps me keep an eye on exactly where the mercury is in the thermometer.
PRO Tip:
Using corn syrup when making candy helps reduce re-crystallization of the sugar. This is one case where I do not recommend you replace it with another liquid sugar. Stick with the corn syrup and you will get much better results.
PRO Tip:
While you can make your own fine colored sugars by pulsing them in a food processor and adding food coloring, buying sanding sugars is worth considering. They are perfect for many applications and come in a wide variety of colors. They last virtually forever so you can keep them on hand for adding festive color to any baked treats all year long.
PRO Tip:
If you can enlist the help of someone, this is much easier as a two-person job. One person can push the marshmallows out of the molds while the other one coats them in the sugar and places them on the parchment-covered baking sheet. It is best to work fairly fast before they set up and having an extra pair of hands will make it much more fun too!
How to make Homemade Marshmallow Peeps:
Combine the gelatin with cold water and set aside to bloom

Cook water and sugar with corn syrup and salt to the soft-ball stage

With the mixer on low, slowly pour the sugar syrup into the gelatin mixture then increase the speed to medium-high and let the mixture quadruple in size and become light and fluffy like meringue; mix in the vanilla or other flavoring

Pipe into oiled molds and set aside to dry for 10 minutes; turn out onto the containers of colored sugars, rolling to coat all sides, then set onto a parchment-covered baking sheet to dry fully

Melt the chocolate chips and using a toothpick, make the eyes and noses on the bunnies

Store in an airtight container with the colors separated by sheets of parchment paper to keep the peeps as clean as possible
PRO Tip:
When you are working with different colors of sanding sugars, work with one color at a time so you don't transfer the different colors to other pieces.
PRO Tip:
In addition to flavoring desserts, I also use LorAnn oils to make a kitchen freshener. Bring a pot of water to a boil on the stove, add a few drops of your favorite oil(s) and any lingering cooking odors are gone in minutes. The citrus oils are my favorites for this.
Recommended Tools (affiliate links; no extra cost to you):
Gluten-Free Tips:
Marshmallows are naturally gluten-free candies!
Yield: about 15 peeps
Homemade Marshmallow Peeps (Gluten-Free)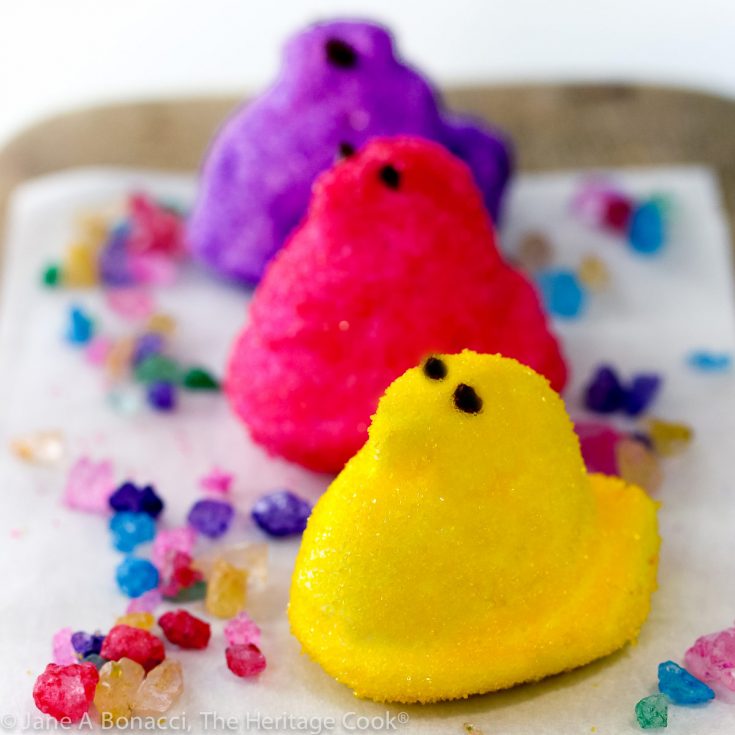 Serve these Homemade Marshmallow Peeps as treats in your children's Easter baskets or dessert for your Easter supper. One bite and your family and friends will know that these incredibly delicious sweets are most definitely homemade by you!
Additional Time
30 minutes
Total Time
1 hour
15 minutes
Ingredients
1/2 cup colored sanding sugar (or multiple different colors if desired)
3/4 cup cold water, divided
2 packets unflavored gelatin powder
3/4 cup granulated sugar
1/2 cup light corn syrup
1 pinch kosher salt
2 tsp vanilla or a few drops of flavored oil, preferably from LorAnn Oils
1 tbsp chocolate chips, melted
Instructions
Set a parchment-lined baking sheet on the counter. Set your peep molds on a second baking sheet and brush the indentations with light vegetable oil or spray with cooking spray (do not use the variety with flour in it). Pour the sanding sugar into a pie plate or other similar shallow baking dish. Use multiple pans if you are using more than one color.
Set a silicone spatula and 2 piping bags fitted with medium round tips or 2 large resealable bags next to the mixer. Have an extra one or two bags ready in case you need them.
In the bowl of your stand mixer fitted with the whisk attachment, place 1/2 cup of the water and the gelatin. Whisk until the gelatin is fully dissolved, scraping the sides of the bowl often. Set aside to let the gelatin bloom. It will absorb all the liquid and become a thick soft paste.
In a 2 qt saucepan with straight sides, preferably one with pour spouts, stir together the remaining 1/4 cup water with the sugar, corn syrup, and salt. Stir until the sugar is dissolved. Bring to a boil over medium heat and cook without stirring until it reaches 240°F (the soft ball stage) on an instant read thermometer or candy thermometer attached to the edge of the pan.
With the mixer on low, very slowly pour the sugar mixture into the gelatin, between the edge of the bowl and the whisk in a steady, even stream. Turn the mixer off and scrape the sides of the bowl thoroughly.
Turn the mixer back on, slowly increasing the speed to medium-high and let it mix for about 10 minutes. Once it has started thickening, you can increase the speed a little higher. Then sit back and watch the magic happen! The mixture will lighten in color, get fluffy, quadruple in size. It will look like meringue, glossy and white. When it has cooled to lukewarm (you can hold the bottom of the bowl in your hand comfortably), add the vanilla and beat it in until there are no streaks.
Immediately scoop into the plastic bags, press into one corner, cut the tip off the corner, and pipe it into the molds. Let them stand for 10 minutes. Gently push the silicone molds inside out and drop the marshmallows into the brightly colored sanding sugars. Gently roll them around until completely covered. Work with one color at a time to keep the Peeps as clean as possible. Set each piece on the parchment-covered baking sheet.
If you have any leftover marshmallow you can pipe or spread it into a container that you have oiled and coated heavily with sifted powdered sugar. Sift more powdered sugar over the top and set aside to dry.
Use the melted chocolate and a toothpick to make the eyes and noses of the bunnies. Let the peeps dry fully and then store in an airtight container at room temperature. Once dry you can stack them with sheets of parchment paper between each color layer. Store in a dry place at cool room temperature.
Nutrition Information:
Yield:
15
Serving Size:
1
Amount Per Serving:
Calories:

121
Total Fat:

2g
Saturated Fat:

0g
Trans Fat:

0g
Unsaturated Fat:

2g
Cholesterol:

0mg
Sodium:

18mg
Carbohydrates:

26g
Fiber:

0g
Sugar:

26g
Protein:

1g
If you enjoyed this recipe, be sure to follow me on social media so you never miss a post:
Create a New Tradition Today!
Welcome! The suggestions here are not intended as dietary advice or as a substitute for consulting a dietician, physician, or other medical professional. Please see the Disclaimers/Privacy Policy page for additional details. Unauthorized use, distribution, and/or duplication of proprietary material from The Heritage Cook without prior approval is prohibited. If you have any questions or would like permission, please contact me. We participate in the Amazon Services LLC Associates Program, an affiliate advertising program designed to provide a means for sites to earn advertising fees by advertising and linking to amazon.com. This page may contain affiliate links. This post was first shared in Mar 2016. The article was updated in 2021.