Of all the Asian cuisines, Japanese is my favorite. I love the clean flavors and elegant plating. Sushi isn't my preferred choice, so I tend to look for traditional dishes that are cooked. A lingering childhood favorite is teriyaki – the balance of sweet and salt is my equivalent of crack and I can't resist it.
I have made various versions of teriyaki over the years, some with unconventional ingredients, others more commonly found. But I will be the first one to acknowledge that they have all been "American" concoctions. I am so excited to explore the world of classic Japanese foods!
I am pleased to be among a group of writers participating in the #JapaneseHomeCooking Blog Party 2016. We were given the opportunity to review Chef Masaharu Morimoto's new cookbook, Mastering the Art of Japanese Home Cooking, 2016 from Harper Collins/Ecco. We each chose the recipe(s) we wanted to share with you and if you follow #JapaneseHomeCooking on social media, you'll find all of our articles. I am delighted to make any of Chef's recipes, in the hopes that some of his immense skills may rub off on me!
The cookbook has all the foods we are accustomed to seeing at Japanese restaurants here in the U.S., and many more. Chef adapted the recipes to utilize more easily found ingredients when possible, and for the less common items, you can order those online. It is fun to see the real Japanese names for the dishes and learn some of the history behind them. There are also "Japanese Grandmother Wisdom" jewels sprinkled throughout that give us ideas for how to best utilize products, present the plates, and cook items. Those alone are worth buying the book.
But it is the recipes that instantly capture your attention and imagination. The photographs transport you to another land where the smallest details are intricately executed for the most beautiful presentations. I immediately marked over a dozen recipes I want to make – there will be many delicious Japanese meals coming out of my kitchen in the months ahead.
They have a chapter on rice, noodles, and soup, exploring different ways to utilize these foundation ingredients in surprisingly easy ways. And in case you were wondering, yes, he shows you how to make sushi rolls (including the rice and vinegar)! Step-by-step photos help us imagine we are standing beside the master, learning directly from his years of training.
The rest of the book is separated by cooking technique, teaching us the subtle nuances of each method from grilling, steaming, and stir-frying, to simmering, frying, dressing, and pickling. Each chapter includes recipes to help us master the technique. There is truly something for everyone in what is sure to become a classic cookbook that everyone will want in their culinary library.
Now, let's talk about the dish I made for you, "true" Japanese Teriyaki Chicken! What a simple dish and so delicious! The sauce is a quick matter of putting the ingredients together, cooking them on the stove, straining out the solids, and you're done. I love that you can make it in advance, shortening the time you need to get this meal on the table on busy days!
And the chicken is just as easy. You can pan-sear, grill, or broil it. Then you toss it in a hot skillet with some of the sauce, stirring as it thickens, turning occasionally. Then it is out of the pan, resting for a few minutes, sliced and served! The Artist kept coming into the kitchen as I was working, sniffing the air and asking when dinner was going to be ready. Yes folks, this smells That Good! And it tasted even better!
I ate way more than I intended because I just couldn't stop. And for a dish I know your kids will LOVE, you can double the sauce recipe, add a little more chicken, and use the leftover sauce and chicken from this recipe, toss it with spaghetti and your kids will devour it! (The recipe is also in the book.) 🙂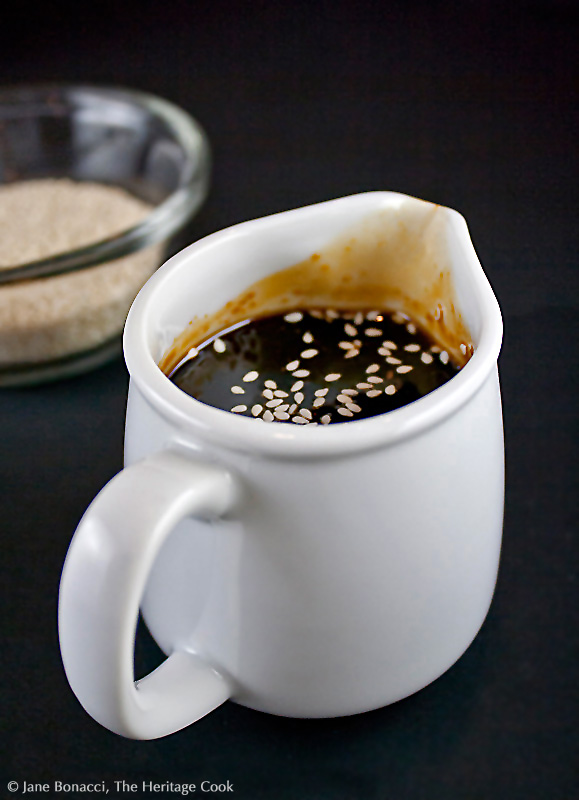 If you are in the Bay Area, this Sunday I will be at a book signing event hosted by Les Dames d'Escoffier. On Sun Nov 13th at the Ferry Building in San Francisco, there will be 35 authors signing cookbooks and sharing tastes, a silent auction and raffle drawings, and you can get all your holiday shopping done in one place! Come join in the fun, 3 PM to 6 PM on the Mezzanine level. Be sure to stop by and say Hi!
Enjoy this delicious meal with your family and friends, sip on some saké, and have a healthy, fun, and delicious evening. Happy Friday everyone!
Jane's Tips and Hints:
I recommend doubling the sauce recipe because once you taste it, you will want to put it on everything!
Gluten-Free Tips:
Be sure to use gluten-free soy sauce or Tamari, and be certain that the saké you use is gluten-free.
Morimoto's Tori No Teriyaki (Teriyaki Chicken)
2016-11-11 10:21:35
"Ah, chicken teriyaki --- so familiar, so rarely done right. Bottled products and mediocre restaurants have sullied the reputation of this fantastic dish. I can't wait until you try the real thing, which is lightly coated in a homemade sauce that's not goopy and saccharine, but thick and complexly sweet. In fact, the sauce provides such a boost that the grill isn't even necessary. The chicken turns out great on the stovetop." Chef Morimoto, Mastering the Art of Japanese Home Cooking.
Ingredients
2 lb boneless chicken thighs, breasts, or a mixture of the two
Kosher salt and black pepper
1 tbsp vegetable oil
1-1/2 tsp cornstarch
1/2 cup Tare No Teriyaki sauce, recipe follows
Instructions
If you are using chicken breasts, place a breast between 2 sheets of plastic wrap and pound it out to an even 1/2-inch thickness. Repeat with the remaining breasts. Lightly season both sides of the chicken with salt and black pepper.
Heat the oil in a large skillet over high heat until it shimmers. To avoid crowding the skillet, cook the chicken in 2 batches until deep golden brown on one side, about 6 minutes. Flip the chicken, reduce the heat to medium, and cook until just cooked through, 4 to 5 minutes more. Transfer the chicken to a plate as it's cooked.
In a small container, stir together the cornstarch and 1-1/2 tsp water until smooth. Return half the chicken to the skillet and reduce the heat to medium. Pour in half of the Tare No Teriyaki, let it bubble, and drizzle on 1 tsp of the cornstarch mixture. Cook, flipping over the chicken often, until the sauce thickens and coats the chicken well, 1 to 2 minutes. Transfer the chicken to a cutting board and repeat with remaining chicken.
Let the chicken rest for a few minutes, then cut into bite-sized pieces. Serve right away or keep refrigerated in an airtight container and serve it in your bento box the following day.
Notes
Yield: 4 servings
The Heritage Cook ® https://theheritagecook.com/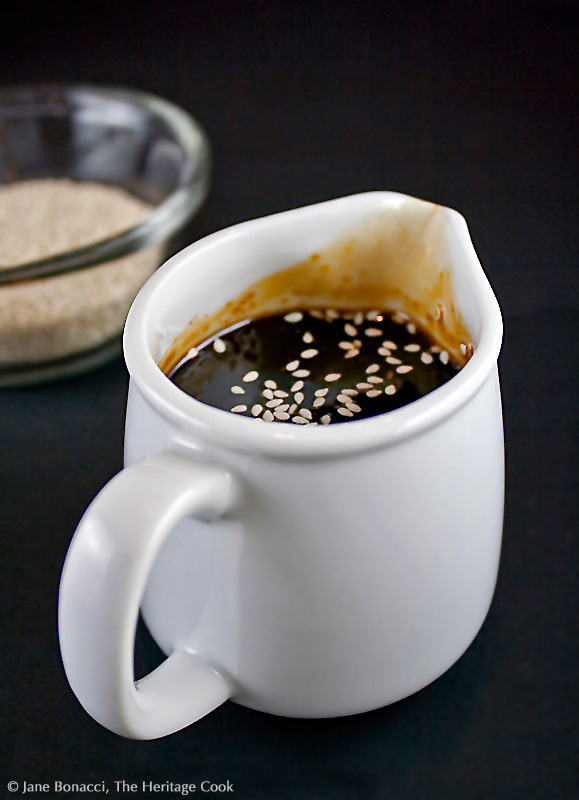 Tare No Teriyaki - Teriyaki Sauce
2016-11-11 11:30:03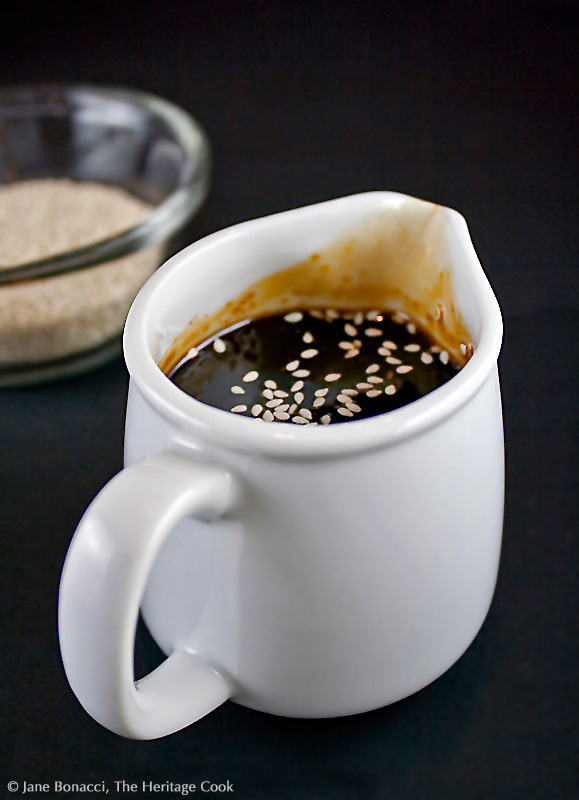 "Teriyaki has become as common in America as tacos and General Tso's. Yet like those other famous foreign T-words, the dish is so much better than its many impostors lead you to believe. The key is the sauce, which takes minutes to make and keeps well. My version boasts extra complexity from ginger and garlic." Chef Morimoto, Mastering the Art of Japanese Home Cooking.
Ingredients
1/2 cup Japanese soy sauce (gluten-free if needed)
1/2 cup mirin (sweet rice wine)
1/2 cup sake (Japanese rice wine; gluten-free if needed))
1/2 cup granulated sugar
1/4 cup roughly chopped yellow onion
5 thin round slices peeled ginger
2 medium garlic cloves, smashed and peeled
Instructions
Combine the ingredients in a small pot, bring to a boil over high heat, and reduce the heat to maintain a gentle simmer. Cook for about 8 minutes so the aromatics have a chance to infuse their flavor into the liquid. Strain, discarding the solids.
The sauce keeps in an airtight container in the fridge for up to 2 weeks.
Notes
Yield: about 1-1/2 cup
The Heritage Cook ® https://theheritagecook.com/
Keep in touch with our partners and sponsors through their social media channels:
Iron Chef Morimoto: Twitter | Facebook | Instagram
Harper Collilns/Ecco: Twitter | Facebook | Pinterest | Instagram
Book Club Cookbook: Twitter | Facebook | Pinterest | Instagram
Create a New Tradition Today!
Disclosure: I received a copy of Morimoto's cookbook to review. All opinions, as always, are my own.
Let's connect! If you ever need any entertaining or cooking advice, need to alter a recipe for gluten-free, or want recipe suggestions, don't hesitate to ask. Feel free to quote me, just give credit where credit is due, link to the recipe, and send people to my website. Unauthorized use, distribution, and/or duplication of proprietary material from The Heritage Cook without prior approval is prohibited. If you have any questions or would like permission, please contact me. The suggestions here are not intended as dietary advice or as a substitute for consulting a dietician, physician, or other medical professional. Please see the Disclaimers page for additional details. Thanks for joining the Heritage Cook Family!