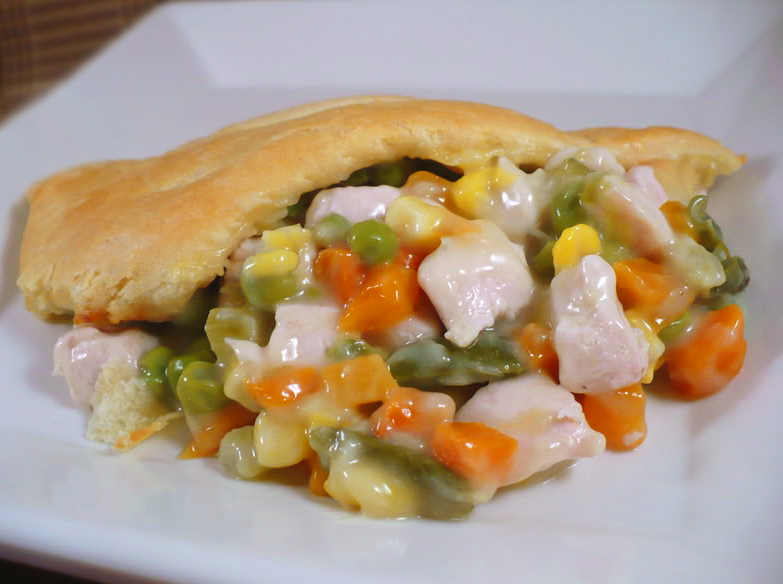 Today's Recipes: Chicken Pot Pie with Savory Crumble Topping, Creamy Chicken and Corn Pot Pie, Quick Weeknight Chicken Pot Pie, and Traditional Pie Crust Topping.
When you think of pot pie, you probably remember little frozen dinners in foil containers, tossed in the oven and baked. They were lackluster and boring with squishy vegetables that would be hard to define in a blind tasting. If you were lucky you might find 10 tiny cubes of processed pressed chicken. The sauce was not creamy, but glutinous and gummy on your tongue. It is no wonder that most children don't like pot pies. They aren't anything like my grandmother used to make us. Hers were luscious and velvety, full of big chunks of freshly cooked chicken and covered with a gleaming brown crust that crumbled when you broke into it with a spoon. The steam that poured out filled the kitchen with the aromas of cream, sauteed vegetables, and roasted chicken. My mouth is watering just thinking about it!
Pot pie doesn't have to be a throw away meal. It can be everything you want in comfort food – perfect anytime you have had a rough week and need some food to soothe your soul. Pot pies are really savory stews that are topped with a crust or biscuit topping. There is no need to line your container with dough – it will just get soggy and be a gloppy mess. Stick with using the dough just on the top. Not only will it be much easier, but there is less fat and calories in the final dish. I love bringing these flavors back into your kitchen, and today you have several recipes to choose from.
The first is from America's Test Kitchen and is an updated version of the old classic. This recipe relies on two unusual ingredients: soy sauce and tomato paste. Do not omit them. You won't actually taste them, but they greatly deepen the savory flavor of the filling. The recipe offers you a crunchy, crumbly topping made with a touch of Parmesan for added depth. I love the topping, but there are some who want to remain loyal to the old-fashioned pie crust topping.
If you are one of these folks who love a pastry crust – like my husband – I have a wonderful recipe for you. This is the savory version of my favorite sweet pie dough. You don't need vegetable shortening for a flaky crust. Using only butter reduces the amount of harmful trans fatty acids and greatly improves the flavor. The vinegar in this recipe, which leaves no taste behind, promotes flakiness and helps prevent gluten from developing. You will have a flavorful, tender, flaky, and foolproof crust every time.
The second pot pie recipe is from Real Simple magazine and is super easy to make. When time is tight, I often use store-bought rotisserie chickens. They are perfect for recipes like these. You get all the flavor and goodness of rotisserie without the hassle and time. For this sauce you make a basic seasoned white sauce using a slurry made from butter and flour. Like a roux, it thickens sauces and gives you that amazing mouthfeel you want in a sauce. Instead of a homemade crust it utilizes store-bought. If you look through your frozen foods section you will most likely find premade piecrusts. If you have a Whole Foods nearby, they offer really high quality frozen crusts. All you have to do is thaw them, roll them out and place on your pot pie filling. You can also use frozen puff pastry, another of my all time favorites! Rich and buttery, it make amazing crusts for baked goods.
And if that isn't fast enough for you – the third option is an even simpler recipe that utilizes all pre-made ingredients to quickly throw together a dinner that tastes almost as good as made from scratch! Buy high-quality canned soups, such as Wolfgang Puck or my favorite, Whole Food's brand, for this recipe. It creates the sauce for your filling and all you have to do is add the rotisserie chicken and other vegetables. It just doesn't get any easier than this! Another soup that I think would make a delicious base for a Mexican-flavored pot pie, is tortilla soup. Thicken it with a slurry made with masa harina and add some chopped mild green chiles. Oh My Goodness – I think I need to make this for lunch today, LOL!
As with all of my recipes, they are only a guideline for you – a starting point. Change the ingredients, add more vegetables, use tofu instead of chicken, or leave off the crust entirely. It is up to you and what you like. If you have ovenproof soup bowls or large ramekins, these make wonderful individual servings. If you know someone who is ill or has had a death in the family, you can make these ahead and freeze them. Deliver them still frozen with cooking instructions so they can bake them at their convenience. If you have a church potluck coming up, this is a sure winner for the crowd. No matter which recipe you choose to make, I hope you enjoy all the good feelings that come from the love you put into your meals for others. I know they will appreciate your efforts on their behalf! Get creative, let your imagination fly, and see what you come up with on your own!
Jane's Tips and Hints:
If you are short on time or not comfortable with your knife skills, utilize the packaged pre-cut vegetables in many produce departments or hit up the salad bar. Most of your ingredients will be there, already prepped for a fast dinner!
Kitchen Skill: Deboning a Cooked Chicken
When time is short, I often utilize rotisserie chickens from the grocery store or our local barbecue restaurant. You can cut them into pieces and serve as is, or to use in recipes like today for pot pie, you will need to debone the chicken. Using a sharp small knife, such as a paring knife, separate the legs and thighs from the body and remove the wings from the breast. Pull the leg away from the thigh and cut through the joint. Cut the meat off the bones. Cutting down either side of the center bone of the breast, separate the breast meat from the carcass, pulling the meat and using your knife to cut it away from the bones. If the meat is still hot, you can use a clean kitchen towel to protect your hands. Once the meat is off the bone, discard the skin and cut into bite-sized cubes.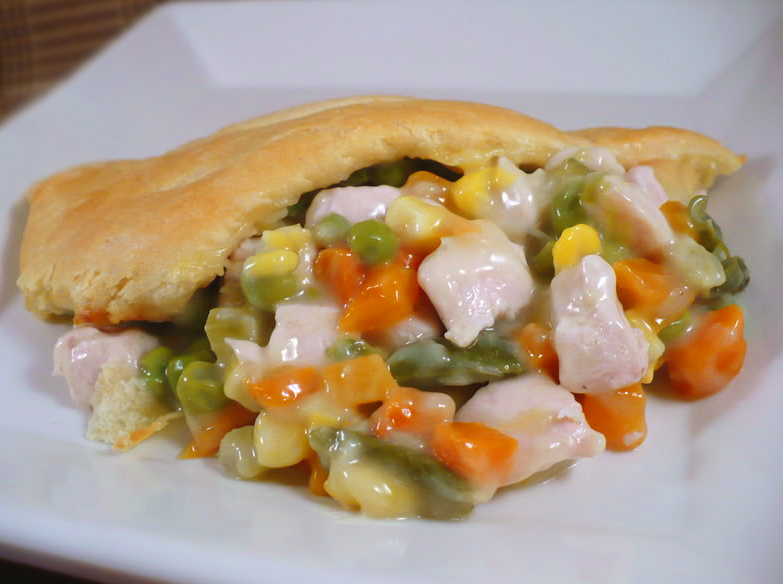 Chicken Pot Pie with Savory Crumble Topping
2015-07-20 14:49:03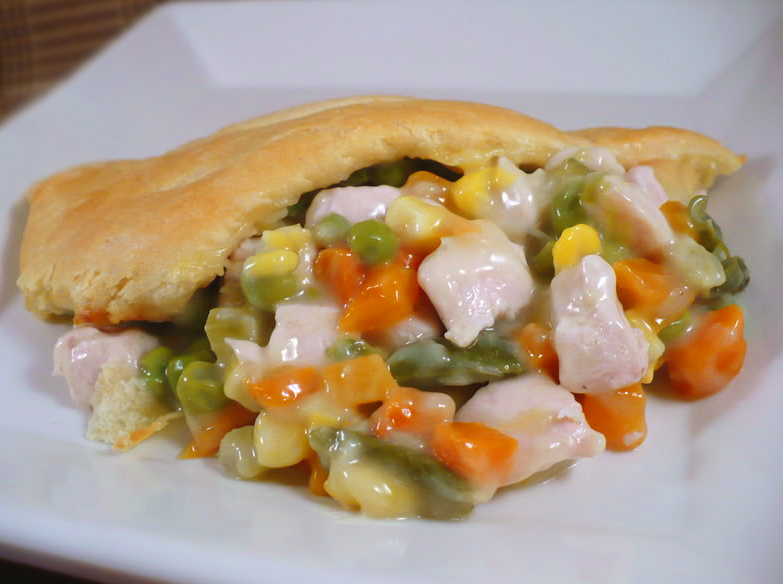 Ingredients
Chicken and Filling
1-1/2 lb boneless, skinless chicken pieces (preferably thighs)
3 cups low-sodium chicken broth
2 tbsp vegetable oil
1 medium onion, chopped fine (about 1 cup)
3 medium carrots, peeled and cut into 1/4-inch-thick coins (about 1 cup)
2 small celery ribs, chopped fine (about 1/2 cup)
Table salt and ground black pepper
10 oz cremini mushrooms, trimmed, cleaned, and sliced thin
1 tsp soy sauce (unusual, but don't omit)
1 tsp tomato paste (unusual, but don't omit)
3/4 cup frozen baby peas, unthawed
Crumble Topping
2 cups (10 oz) all-purpose flour
2 tsp baking powder
3/4 tsp table salt
1/2 tsp ground black pepper
Dash cayenne pepper
6 tbsp unsalted butter, cut into 1/2-inch cubes and chilled
1 oz Parmesan cheese, finely grated (about 1/2 cup)
3/4 cup plus 2 tbsp heavy cream (no substitutions)
Sauce
4 tbsp (1/2 stick) unsalted butter
1/2 cup all-purpose flour
1 cup whole milk (don't substitute low fat milk if possible)
2 tsp freshly squeezed lemon juice (from 1 lemon)
3 tbsp minced fresh Italian parsley leaves, divided
Instructions
Arrange oven rack in upper-middle position and preheat to 450°F. Grease a 9x13-inch baking dish or casserole and set aside.
For the Chicken: Bring chicken and broth to a strong simmer in covered Dutch oven over medium heat. Cook for 20 minutes or until chicken is cooked through. Remove from the heat and let cool in the broth for 30 minutes. Transfer chicken to a large bowl. Strain broth into liquid measuring cup and reserve. Discard any solids. Do not wash Dutch oven.
For the Topping: While chicken is resting, combine flour, baking powder, salt, black pepper, and cayenne pepper in large bowl. Sprinkle butter pieces over top of flour. Using your fingers or two forks, rub butter into flour mixture until it resembles coarse cornmeal. Stir in Parmesan. Add cream and stir until just combined. Crumble mixture onto parchment-lined rimmed baking sheet. Bake until fragrant and starting to brown, 10 to 13 minutes. Set aside.
For the Filling: Heat 1 tbsp oil in the Dutch oven used to cook chicken over medium heat until shimmering. Add onion, carrots, celery, 1/4 tsp salt, and 1/4 tsp pepper; cover and cook, stirring occasionally, until just tender, 5 to 7 minutes.
Meanwhile, shred chicken into small bite-size pieces. Transfer cooked vegetables to bowl with chicken; set aside.
Heat remaining tbsp oil in the Dutch oven over medium heat until shimmering. Add mushrooms; cover and cook, stirring occasionally, until mushrooms have released their juices, about 5 minutes. Remove cover and stir in soy sauce and tomato paste. Increase heat to medium-high and cook, stirring frequently, until liquid has evaporated, mushrooms are well browned, and dark fond begins to form on surface of pan, about 5 minutes. Transfer mushrooms to bowl with chicken and vegetables. Add frozen peas and set aside.
Make Sauce: Heat butter in empty Dutch oven over medium heat. When foaming subsides, stir in flour and cook 1 minute. Slowly whisk in reserved chicken broth and milk. Bring to simmer, scraping pan bottom with wooden spoon to loosen browned bits, then continue to simmer until sauce fully thickens, about 2 minutes. Season to taste with salt and pepper. Remove from heat and stir in lemon juice and 2 tbsp of the parsley.
To Assemble and Bake: Stir chicken-vegetable mixture into sauce. Pour mixture into prepared baking dish. Scatter crumble topping evenly over filling. Place on rimmed baking sheet (to catch any drips) and bake until filling is bubbling and topping is well browned, 12 to 15 minutes. Sprinkle with remaining tbsp parsley and serve.
Adapted from America's Test Kitchen
Adapted from America's Test Kitchen
The Heritage Cook ® https://theheritagecook.com/
Unauthorized use, distribution, and/or duplication of proprietary material without prior approval is prohibited. I can be contacted via email at: heritagecook (at) comcast (dot) net. Feel free to quote me, just give credit where credit is due, link to the recipe, and please send people to my website,
www.theheritagecook.com.
Thank You!