When I was a child I used to beg my mother for Peppermint Patties, the refreshing chocolate covered mint-flavored disks, and when I went to the movies I always bought Junior Mints. I loved how they made my mouth tingle when I drew in a breath of air. When I was young I only ate milk chocolate, but these days, when I can find a gourmet version with dark chocolate, I snap them up. A few years ago during the holiday, one of our local coffee house chains sold a version made for them with Scharffen Berger chocolate. Every year The Artist and I go hunting for them, but it was a one time extravagance that we hope will be made again!
Today is September's Secret Recipe Club reveal day and I have a delightful and easy recipe for you. It's like a Peppermint Pattie or Junior Mint in a pie with its chocolate cookie crust, creamy mint filling, whipped cream topping and chocolate syrup drizzle over the top. Similar to the old Grasshopper pies of the 1950s, this has a purer minty flavor thanks to the peppermint oil in the recipe. Wonderful any time of the year, somehow I think you are going to really enjoy this indulgence.
The chocolate syrup is optional, but I think it really is the icing on the cake so to speak. Plus it makes an amazing gift for your friends. Buy some really great clear glass jars so you can see the beautiful chocolate color, design a fun label on your computer and present it with a flourish – I guarantee it will be met with huge smiles, LOL. In addition to drizzling over this pie or a scoop of ice cream, the chocolate syrup makes a terrific after school treat. If you need an extra hit of chocolate, briskly stir 1 tsp of the chocolate syrup into a glass of milk and have a cool glass of chocolate milk with your slice of pie!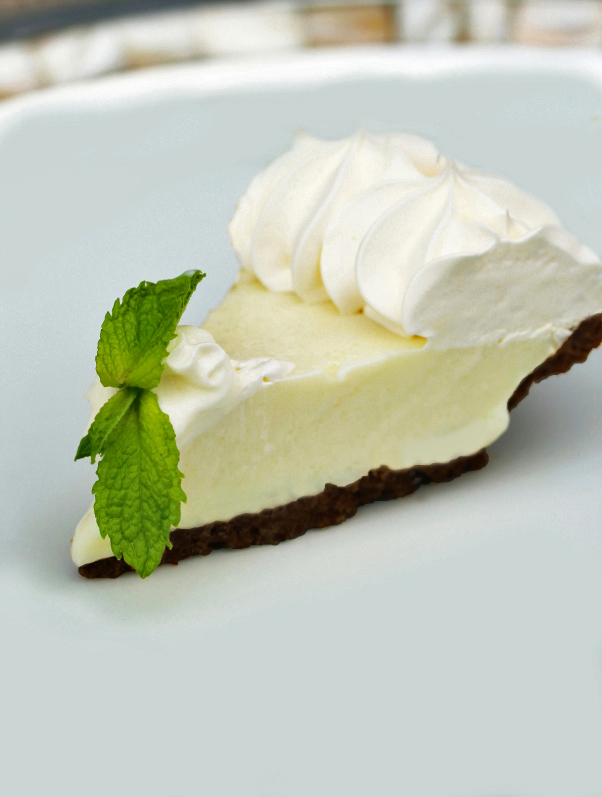 I actually made two pies, one with food coloring and one with none. I wanted to see if the lack of green color changed the perception of the flavor of the pie. I had a sprig of mint on each so the aroma of mint was the same. Surprisingly, people did think the greener one had more mint in it. It guess the old adage, "we eat with our eyes" is more true than I realized. If you use the food coloring this pie is perfect for the holidays, St. Patrick's Day, and Arbor Day.
This month I was assigned the blog Pictures of All my Princesses; Cafe Mayhem written by Jules. She is a stay-at-home mom with three girls, ages 6, 5 and 3. Her husband is in the US Air Force (thank you both for your service!) and they have enjoyed their somewhat nomadic life. She loves making and eating great food which she makes mostly from scratch. In her spare time she reads everything she can about food, researching new recipes to try. When her experiments turn out you can read about them on her blog. I found so many recipes I wanted to try and had trouble narrowing it down, but this one really spoke to me.
Pictures of All my Princesses has recipes that cover a number of cuisines, healthy choices, breakfast, lunch and dinner options as well as a variety of meats and poultry. Head over to her blog and check out the Cafe Mayhem Menu, you will thank me! She also is a contributor on three other blogs, Definitely Desserts, Bean Basics and The Double Take Cooking Club. For Definitely Desserts Jules shares writing responsibilities with Cecilotta and Stanley, and they are dedicated to documenting everything sweet that they make.
Bean Basics, also written with Cecilotta, is focused on utilizing beans and lentils as the primary protein source. If you are a vegetarian, this is the site for you. And when you are throwing parties this is a page that will help you plan your vegetarian-friendly menu. Double Take is fun because everyone is assigned two ingredients and they each make whatever they want with them. They just kicked this off this summer and you can get in on the fun too. Some of their recent combinations are Spinach and Cheese, Peanut Butter and Cream, and the current combo is Bacon and Rice. It is always interesting to see how different people interpret the same ingredients.
I hope you will "hop" over to Jules' blog and check it out. As a matter of fact, I highly recommend you click on all of the thumbnail photos below and enjoy the amazing array of talent that is The Secret Recipe Club! Each month we are sent the name of a member's blog and we can choose any recipe from it that we want to try. We don't reveal which blog we were given or what we are making from it. Then on a specific day we all post our recipes. It is fun to see which recipe was chosen and how other people have interpreted it. Sometimes their changes are great improvements. If you are interested in joining and have a fair number of recipes on your blog, click here for more information.
Jane's Tips and Hints:
There are lots of gadgets that clutter up our kitchens but one that is worth having is a pie server. Shaped like a triangle with a handle, it slips easily beneath pie crusts, giving each piece stability you never get when you use a knife to transfer slices to serving plates.
Kitchen Skill: How to Cleanly Cut Pie and other Desserts
The secret to cleanly cut slices is a hot knife. Run the knife under very hot tap water, wipe dry and make the first slice. Rinse in hot water again, wipe dry and make next slice. Repeat, cleaning and reheating the knife between each cut.
Peppermint Pattie Cream Pie
2015-07-13 12:53:10
Ingredients
Chocolate Cookie Crust
2 cups chocolate cookie crumbs, from about 45 chocolate wafer-style cookies
6 to 7 tbsp melted butter, slightly cooled
Pinch salt
1/2 tsp vanilla extract
About 1/2 cup chocolate chips
Chocolate syrup (optional, see notes above)
3/4 cup cocoa powder
Pinch salt
1 cup water
2 cups sugar
1/2 tsp vanilla
Filling
6 egg yolks
1 cup granulated sugar
1-1/2 (1/4 oz) packages unflavored gelatin
1/2 cup cold water
2 to 4 drops peppermint oil, or to taste
Green food coloring (optional)
2 cups heavy cream
Toppings
1 to 3 cups whipped and lightly sweetened heavy cream
1 cup crushed minty chocolates such as Peppermint Pattie pieces, Mint M&M's, Andes mints, mini chocolate chips or chocolate curls for garnish
Fresh mint sprigs, rinsed and patted dry with paper towels
Instructions
Make the Crust: Preheat the oven to 350°F.
Break up cookies in food processor or place in a heavy-duty plastic bag and pound with a meat pounder or rolling pin until finely crumbled. Transfer to a mixing bowl and add the butter, salt and vanilla. Combine with a fork until evenly moistened.
Pour crumb mixture into a 9-inch pie plate and spread evenly on the bottom and up the sides. Starting in the center, press crumbs to compact them, moving out to the edges. Gently press down on the top edge to make it even all the way around. Bake for 6 to 8 minutes or until lightly crisp and fragrant. Watch it carefully, dark crusts can burn easily.
Remove from the oven and sprinkled chocolate chips over the bottom. When they have partially melted, use an offset spatula and spread the chocolate evenly over the bottom of the crust. Place on a wire rack to cool completely. The layer of chocolate over the chocolate cookie crust is like lining the crust with a layer of ganache. This crust can be made ahead - don't spread with the chocolate chips if you are making it in advance - wrap tightly in plastic and freeze up to 1 month.
Make Chocolate Syrup: Combine the cocoa powder, salt and water in a medium saucepan, stirring to dissolve the cocoa. Add the sugar and bring to a boil over medium-high heat, stirring until sugar is dissolved. Reduce heat to medium and boil for 3 minutes. Remove from the heat and very carefully add the vanilla. It will sputter as you stir it in.
Set aside to cool. Once thoroughly cool, pour into a container and store in the refrigerator up to several months. Set out at room temperature for about 30 minutes to warm up slightly before using.
Make Filling: Place the egg yolks and sugar in the bowl of a stand mixer and beat with the paddle attachment until light and fluffy. The color will change to a pale yellow and they will increase in volume.
In a small saucepan, combined the gelatin and water. Let soak until no longer opaque. Bring to a boil over medium heat.
With the mixer running, slowly pour hot gelatin mixture into the egg and sugar mixture. Stir in the peppermint oil and food coloring (if using).
In a clean mixing bowl whip the cream until stiff peaks form (the cream will lift into peaks and the tips will fall over when you lift the beater). Using a large rubber spatula, stir 1/3 of the whipped cream into the egg and sugar mixture to lighten it. Fold in the remaining whipped cream, working until no streaks remain. Place mixture in the refrigerator and chill until it is firm enough to hold its shape.
Spoon filling into the cooled chocolate crust, smoothing the top with an offset spatula. Cover and chill in the refrigerator several hours or overnight. Keep pie refrigerated until just before serving.
To Serve: When you are ready to serve, make the whipped cream and using a piping bag with a star tip, pipe decoratively over the top of the pie. Sprinkle with the crushed mint chocolates and drizzle with a little of the chocolate syrup. You can also slice the pie first and then top each piece with the whipped cream and other toppings. Garnish each piece with a sprig of mint. If you are using whipped cream sparingly, make the lower portion; if you are putting a thick layer over the entire pie, make the larger amount.
Notes
Yield: 1 (9-inch) deep-dish pie
The Heritage Cook ® https://theheritagecook.com/
Unauthorized use, distribution, and/or duplication of proprietary material without prior approval is prohibited. If you have any questions or would like permission, I can be contacted via email at: heritagecook (at) comcast (dot) net. Feel free to quote me, just give credit where credit is due, link to the recipe, and please send people to my website, www.theheritagecook.com.
Thank You!