Today we are celebrating potatoes as my personal favorite comfort food! The Artist learned long ago that if I am in a bad mood or feeling down, he can offer me French fries, a baked potato, potato chips or any other potato dish and it will bring a smile to my face. Too bad I didn't teach him that diamonds do the same thing, LOL!
This recipe is part of the latest iteration of Food Network's Food Fest, Comfort Food Feast. Ahhh, it is truly my pleasure to participate in this one 😉 There is a group of bloggers who are all posting their favorite potato recipes today so be sure to check them out below. Each Wednesday we will be celebrating a different comfort food, so come back each week to see what we are making that day!
When I was trying to figure out which type of potato dish I wanted to make for today I had a really hard time. There are so many ways that I make potatoes – potato salad, roasted rosemary potatoes, mashed potatoes, hash browns, … the list is nearly endless. But I finally settled on a gratin. Rich, creamy, luscious, yes, a gratin is all of these and those words immediately create and image of comfort for me. Do they for you too?
I have been making different forms of this dish since I was a teenager. This week's CSA box of fresh vegetables inspired this version. I had a lot of different types of potatoes and a ton of shallots. Therefore my gratin was made with Garnet sweet potatoes, Russet, Yukon Gold and Red Bliss potatoes and several very large shallots.
Gratins are a snap to make. You just layer a bunch of vegetables together, season, and add some liquid. The hardest part is waiting for them to cook because the house smells so good!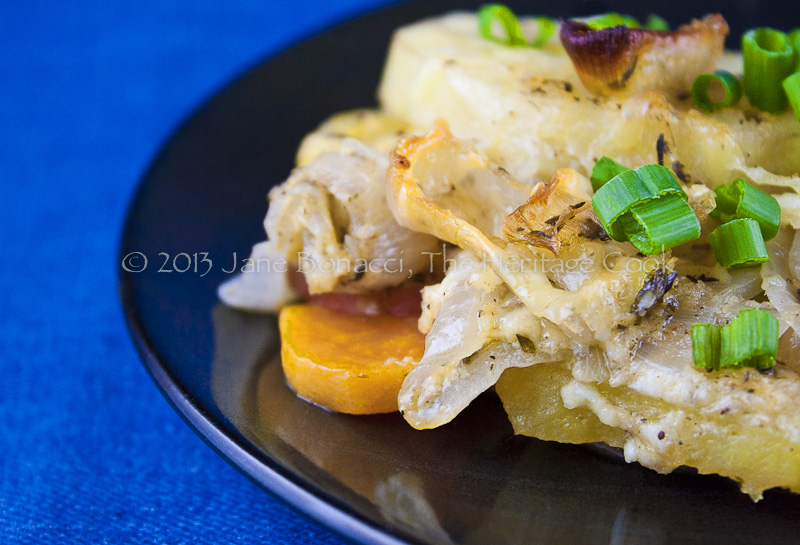 I loved the combination of potatoes, especially the touch of sugar from the sweet potatoes. The bourbon, which you can't taste in the final dish, complements them – it just makes everything taste better. The sweet potatoes make this an unusual and healthier side dish, plus it is totally gluten-free!
I used Monterey Jack because that is what I had on hand, but shredded Gruyere, pepper Jack, asiago, or other cheeses would be delicious too. Worth with what you have in the refrigerator and get creative.
I hope this inspires you to step outside your usual mashed potatoes and try something new.
Gluten-Free Tips:
This dish is naturally gluten-free!
Kitchen Skill: Cutting Round Vegetables
When you are working with round or wobbly vegetable such as carrots, onions, potatoes, turnips or tomatoes, the goal is to create a flat surface to stabilize it. Take a thin slice off the flattest side and place that side down on your cutting board.
The other challenge is when you are not working with sharp knives. If the edge doesn't grab the surface of the vegetable (especially slippery tomatoes), the knife will slip and can cut you badly. I always try to work my way UP toward the tallest portion of the vegetable, then spin it around and work my way up the other side, ending up in the center of the original vegetable with the tallest slice. This way, if my knife slips, my fingers are above it, not below.
Potato & Sweet Potato Gratin with Bourbon-Laced Cream Sauce
2015-07-02 14:50:29
Ingredients
Bourbon Cream Sauce
1 tbsp extra virgin olive oil plus extra for the baking dish
1/2 cup heavy whipping cream or fromage blanc (see note)
2 tbsp good quality Bourbon, optional
4 large shallots, peeled and sliced about 1/4-inch thick
1 tsp kosher salt
Freshly ground pepper, to taste
2 tbsp fresh thyme leaves or 2 tsp dried thyme leaves
Potato Gratin
2 cups grated Monterey Jack cheese
2 lb sweet potatoes, peeled and sliced thinly
3 lb potatoes, Russets, Yukon Gold, or red-skinned, or a combination (peel the Russets), sliced
3 tbsp butter, softened
1/4 cup grated Parmesan cheese
2 tbsp chopped green onions, for garnish
Instructions
Preheat the oven to 375°F. Brush a 2 to 3 quart baking dish or 9x13-inch baking pan with a little olive oil; set aside.
In a measuring cup combine the cream with the bourbon. Note: If you are using the fromage blanc, melt it in the saucepan first and then add the bourbon and 2 tbsp water.
Make the Cream Sauce: In a saucepan, heat the olive oil over medium-high heat. Add the shallots and cook for 2 minutes, stirring regularly. Pour in the cream/bourbon mixture. Add the thyme and season with the salt and pepper. Stir to combine, reduce the heat to medium-low, and let cook until the vegetables are soft and the sauce has reduced slightly, about 4 minutes, stirring occasionally. Remove from the heat.
Assemble the Gratin: Place about half the potatoes and sweet potatoes in the prepared baking dish. Pour half the cream mixture over the potatoes. Sprinkle generously with kosher salt and pepper to taste. Top with half of the Monterey Jack cheese. Place the remaining potatoes and sweet potatoes on top of the cheese, pour on the remaining cream mixture and sprinkle with salt and pepper. Dot the top with the butter. Top with the remaining 1 cup of Monterey Jack and sprinkle the top with the Parmesan.
Bake the Gratin: Cover the baking dish with a lid or aluminum foil, crimping the edges closed, and place in the hot oven. Bake for 30 minutes. Remove the lid or aluminum foil and continue baking until potatoes are fork tender and the top is golden brown, about 30 to 45 minutes longer.
Remove from the oven and set aside for 15 to 30 minutes, giving the potatoes time to absorb most of the liquid. Cut into squares or scoop onto serving plates, making sure everyone gets some of the golden topping. Sprinkle with green onions and serve.
Make Ahead: This dish is actually better on the second day, which makes it perfect for parties and potluck dinners. Baking it in an enamel-coated cast iron pot, such as a Dutch oven, allows you to take the pan directly from the stove to the table or buffet and helps keep it warm throughout your meal.
Notes
Yield: about 8 servings
The Heritage Cook ® https://theheritagecook.com/
Create a New Tradition Today!
If you want to follow us on Pinterest, click here. And on Twitter you can follow #ComfortFoodFeast.
Make sure you check out these other recipes from some of the most talented bloggers on the web!
Jeanette's Healthy Living: Grilled Smashed Baby Potatoes With Green Harissa Sauce
Devour: 5 Ways to Cook Potatoes
Haute Apple Pie: Twice-Baked Southwestern Sweet Potatoes
Napa Farmhouse 1885: Healthy Warm Potato Salad With Onion and Vinegar
Red or Green?: Spicy Baked Sweet Potatoes
And Love It Too: Sweet Potato Hasselback Potatoes
Virtually Homemade: Twice-Baked Potatoes With Cheddar and Caramelized Onions
Big Girls, Small Kitchen: Crispy Potatoes With Baked Eggs and Pesto Yogurt
Cooking With Elise: Vavos Stewed Potatoes
The Cultural Dish: Garlic and Rosemary Roasted Potatoes
Thursday Night Dinner: If You Need Me, I'll Be With My Potato Soup
Feed Me Phoebe: Baked Sweet Potato Fries With Rosemary
Add a Pinch: Loaded Smashed Potatoes
From My Corner of Saratoga: Garlic and Herb Infused Cheesy Potatoes
FN Dish: Well-Loved Potato Sides
Unauthorized use, distribution, and/or duplication of proprietary material on The Heritage Cook without prior approval is prohibited. This includes copying and reprinting content and photographs. If you have any questions or would like permission, I can be contacted via email: theheritagecook (at) comcast (dot) net. Feel free to quote me, just give credit where credit is due, link to the recipe, and please send people to my website, www.theheritagecook.com. Please see the Disclaimers page (under the "About" tab above) for additional details.
Thank You!