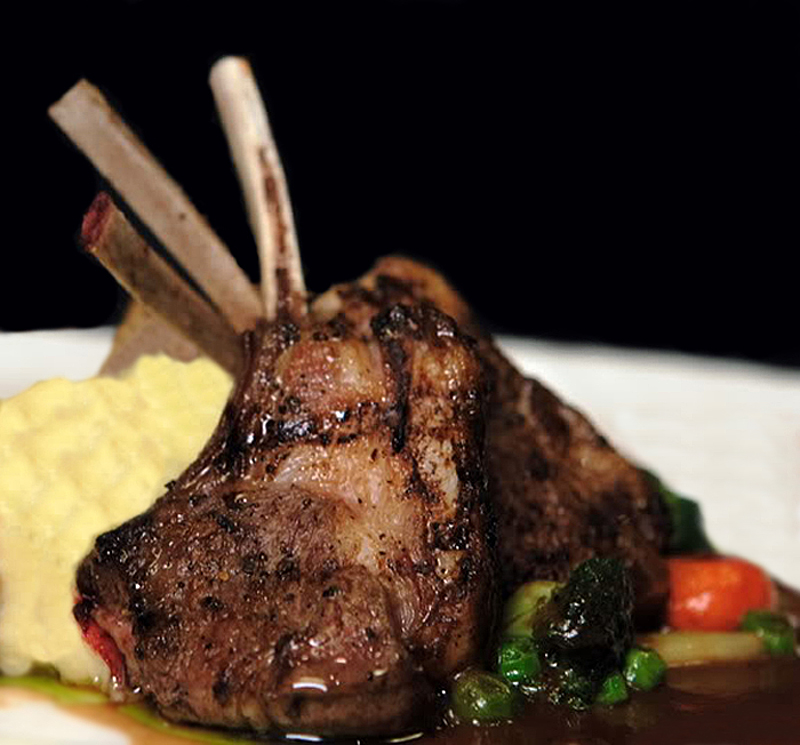 Many years ago when I was working at IBM, I used to host impromptu dinner parties all the time. A bunch of folks would come over to my place after work, everyone would chip in with either some food or cash and I would make dinner for all of us. The one main rule, that still holds true, was that since I cooked, the guys had to clean up. After working hard in the kitchen on a great meal, it is wonderful to be able to sit back and relax, letting the others do the dishes!
One night I got ambitious and tried a new technique I had read about in a food magazine. It took much longer than I anticipated and by the time I got dinner on the table everyone was ravenous. That night I learned two things … that adding mustard to pan drippings creates an amazing sauce and if you keep people waiting for dinner, smelling it as it cooks, everything tastes delectable when you finally serve them, LOL!
A rack of lamb, roasted with fresh herbs is available on nearly every restaurant menu. The possible preparations are nearly endless, but one thing is universal … how long to cook it. Lamb should always be served medium-rare, quite pink in the center, never well done or it will be tough and dry. Also, the smaller the ribs, the younger and more tender the lamb will be.
One of the complaints about lamb is its gaminess. That is most prevalent when you are cooking a leg of lamb due to a musk sack near the hip joint. Racks of lamb (the ribs) are more subtle and less gamy making them more palatable. Another way to balance the flavors is to add mustard to the pan sauce as I have. You can also put a few wedges of lemon on the plates. Squeezed over the lamb, it adds a fresh note, brightening the savory flavors.
In today's recipe once the lamb has been cooked, you set it aside, tented with foil to rest, while you make the pan sauce. Mustard, lemon juice and herbs are added directly to the pan drippings. When combined they make an absolutely delectable glaze and serving sauce. Whisk in a little butter right before drizzling over the lamb and your guests will swoon with joy.
Bon Appetit!
Jane's Tips and Hints:
Cutting your chops into double-thickness makes tiny chops much more succulent. To do this, hold the rack up in front of you. Just to the inside of the first rib slice through, staying as close to that bone as possible. Now, skip the next rib and move to the next one over. Keeping your knife on the side of the rib closest to the one you skipped over, cut through again staying as close as possible to the bone creating an extra fat meat portion on the rib you skipped over. Set that rib aside. Repeat that process, discarding the closely trimmed ribs (you can nibble on them later) and serving the double-thick ribs.
Kitchen Skill: How to "French" a Rack of Lamb or Pork
Frenching means to scrape all the clinging meat, membranes, and fat off the exposed bones on a rack of ribs. Most of the time racks are sold already frenched, but often the racks I buy are not cleaned as well as I like so I wind up doing it myself anyway.
You want about 2-inches of the bones completely clean, to just above the ribeye of meat. Cut off any larger pieces with a boning knife, scrape the edges of the exposed bones with the back of your knife and finally use a towel to finish cleaning each rib. For a demonstration showing you the full technique, Fine Cooking has a terrific step-by-step video Here.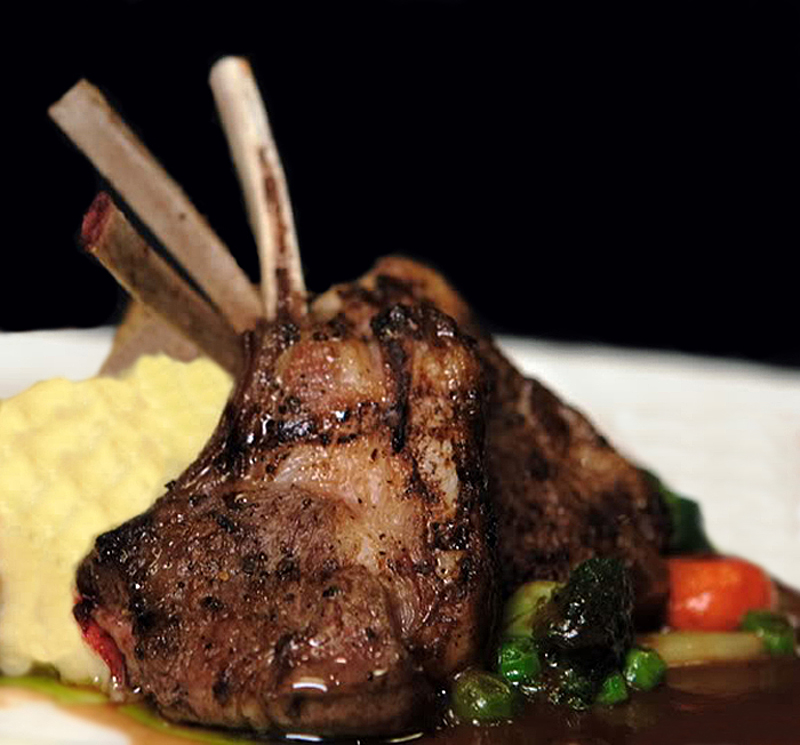 Rack of Lamb with Mustard-Rosemary-Lemon Pan Sauce
2015-07-07 18:08:38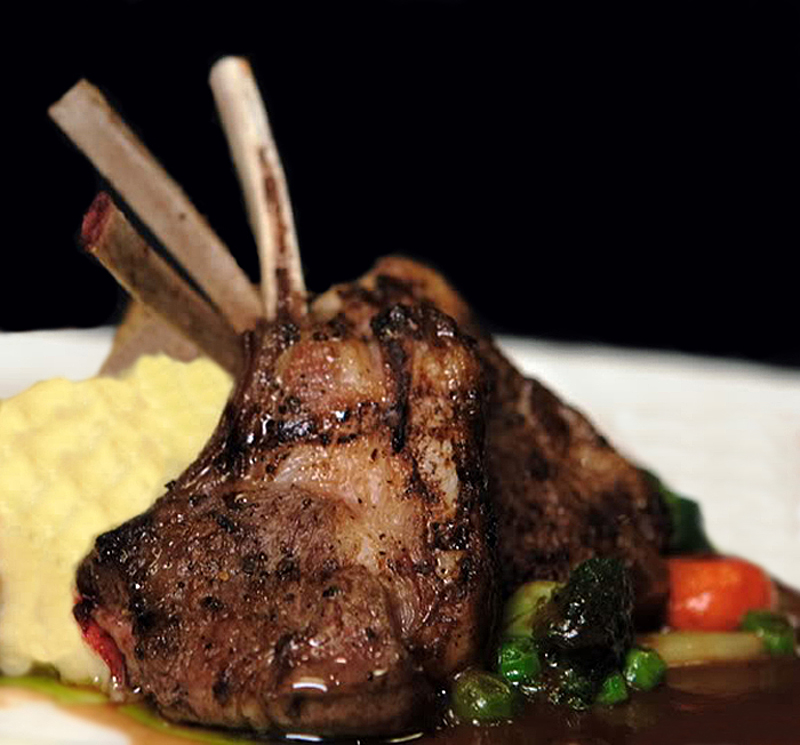 Ingredients
Lamb
1 to 2 tsp freshly ground black pepper
1/4 cup plus 2 tbsp extra virgin olive oil
2 cloves garlic, peeled and smashed (use the flat side of a Chef's knife)
10 sprigs fresh rosemary; the leaves stripped off 6 sprigs (or 4 tbsp dried rosemary) and 4 sprigs left whole, for garnish
Zest of 2 lemons (yellow portion only; use a Microplane grater)
2 (14 to 16 oz) racks of lamb, usually 8 ribs each, cut in half with 4 ribs in each piece
Kosher salt
Sauce
6 small shallots, finely chopped
1 cup low-sodium beef broth
1/2 cup dry white wine or dry vermouth
2 tbsp Dijon or Creole-style mustard
2 tsp fresh lemon juice
1 tbsp finely chopped fresh rosemary
2 tbsp cold butter, cut into small pieces
Instructions
8 hours ahead or the day before serving, combine 1/4 of the olive oil, pepper, garlic, rosemary leaves, and lemon zest together in a small bowl. Using a sharp knife, score the fat side of each rack in a crisscross pattern, being careful not to cut into the meat. Rub the olive oil mixture liberally over all sides of the lamb and transfer to resealable plastic bags or place in a baking dish covered with plastic wrap. Refrigerate at least 8 hours and up to overnight.
Preheat oven to 425°F with a rack in the center of the oven.
Remove lamb from the refrigerator at least 30 minutes before cooking and scrape off excess herbs and zest (they will burn). Discard marinade. Sprinkle each piece lightly with kosher salt.
Cook the Lamb: Heat the 2 tbsp oil in a large oven-safe skillet over medium-high heat. Sear the lamb, fat-side down, in the hot oil until golden brown, 5 to 7 minutes. Flip the racks over and place the skillet in the hot oven. If your skillet is too small you can use two skillets or do this in batches. When transferring to the oven, stand the racks up with the ribs interlocking so that all racks are in one skillet.
Roast the lamb for 15 minutes at 425°F and then reduce the temperature to 325°F. Continue roasting until an instant read thermometer reads 130°F for medium rare, about 5 to 10 minutes longer.
Remove from the oven and transfer lamb to a cutting board. Tent loosely with foil and set aside to rest for at least 10 to 15 minutes while you make the sauce. Keep an oven mitt draped over the handle of the hot skillet so you do not accidentally grab it and burn your hand.
Prepare the Sauce: Set the skillet with the drippings over medium-high heat. Add the shallots and cook about 1 minute until softened, stirring often. Add the broth and wine and cook, scraping up any browned bits, until reduced slightly and thickened, about 4 to 5 minutes.
Reduce the heat to medium low, stir in the mustard, lemon juice, and rosemary and cook for 1 minute more. Add the butter, a few pieces at a time, whisking until the butter melts it into the sauce. Repeat until you have added all the butter. Season sauce with salt to taste.
To Plate: Slice the four racks in half. On each plate, stand two pieces of the lamb upright with ribs interlocking for the most dramatic presentation. Alternately you can lay them flat on the plate, the exposed ribs of one piece laid over the other creating a "V." Garnish with one of the rosemary sprigs. Drizzle lightly with a little of the pan sauce and serve with steamed fresh asparagus or spring peas, roasted or mashed potatoes, or other vegetables of your choice.
The Heritage Cook ® https://theheritagecook.com/
Unauthorized use, distribution, and/or duplication of proprietary material without prior approval is prohibited. If you have any questions or would like permission, I can be contacted via email at: heritagecook (at) comcast (dot) net. Feel free to quote me, just give credit where credit is due, link to the recipe, and please send people to my website,
www.theheritagecook.com.
Thank You!