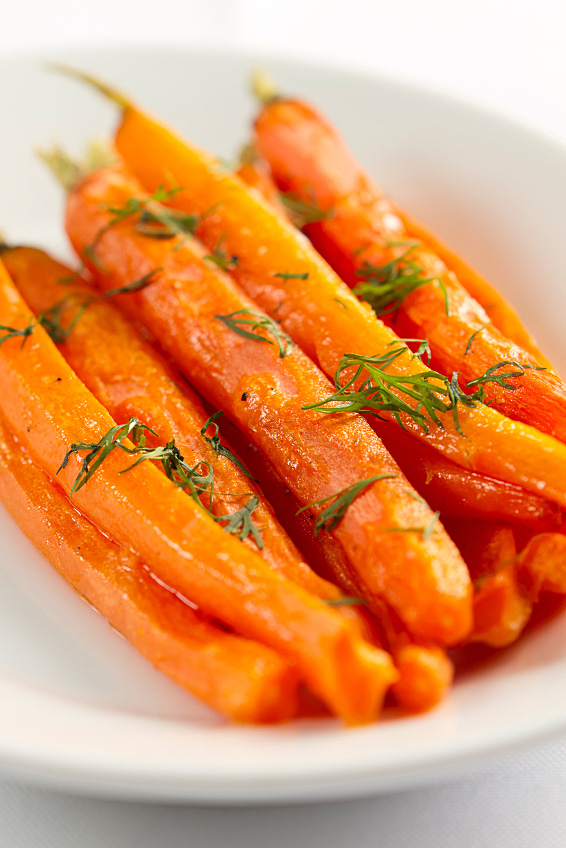 This week's Food Network #FallFest is all about carrots. Fresh carrots have a lot of natural sugars in them and I love pressing to the wall by adding even more sugar to them while cooking and balancing them with seasonings and herbs. My favorite additions are maple syrup and fresh dill. Adding in shallots, which caramelize when cooked, adds depth and flavor to the dish. I think this makes for one heck of a winning dish!
I was a picky eater as a child and couldn't stand the carrots my mom would serve us. She hated cooking so pretty much every vegetable came from a can. I spent many evenings sitting alone at the table because I wouldn't eat my vegetables. And then I grew up and discovered fresh vegetables and I fell in love! If you have picky eaters at your house, try preparing fresh vegetables instead of canned and you may get some converts like me!
Picking carrots at the grocery store should be a simple thing. But carrots vary a lot, mostly by age. Because they tend to store well after picking, most vendors cut off the tops and bag them, hoping you won't notice that they are splitting because they've dried out. When you go to the store, try to buy carrots that still have their greens attached and look for the freshest looking greens. Those will be the freshest and last longest in your refrigerator.
There are a lot of vitamins in the skins of carrots, so if they are young and fresh, just scrub them under running water and cook with the skins on. If you don't use your carrots right away and they start to sprout, peel them before cooking and they will be just fine.
Carrots are very hard. They are also round and can be slippery. A dull knife will greatly increase your likelihood of cutting a finger … the harder you have to press, the more likely the knife is to slip. Make sure you are using an extra sharp knife when working with them. I use my steel whenever the edge of my knives feels a little dull. It realigns the edge and removes any small burrs. I have an electric sharpener for my ceramic blades and I take my metal knives in to a pro every couple of years to have a fresh edge put on them. In between professional sharpenings I use an electric sharpening system to keep them tuned up. With proper care you knives will last nearly forever and you can gift them to the next generation when you are ready to pass the culinary torch.
If you are going to make this dish ahead, go ahead and use dried dill. The flavor will stand up to the delay and reheating better than fresh. But if you can, finish the dish and garnish with fresh dill. It really brightens the flavors and bursts in your mouth with every bite.
The next time you buy maple syrup, get a larger container so you will have a little left over to make these carrots. I promise, even the pickiest eaters in your crowd will be begging for seconds!!
Make sure you check out the incredible recipes from my talented friends below and find all of our seasonal recipes on our Pinterest page!
Jane's Tips and Hints:
To make any round vegetable easier and safer to work with, carefully cut a slice off one edge (or for carrots, that might be in half lengthwise). Flip the vegetable onto that flat surface so that it is very stable and then create whatever shape and size pieces you need.
Gluten-Free Tips:
This is naturally gluten-free!
Roasted Maple Dilled Carrots and Shallots
2015-06-29 18:45:03
Ingredients
2 lb baby or slender carrots with the tops still on (look for fresh greens)
2 shallots, peeled and sliced
1-1/2 tsp organic olive oil
1/2 tsp kosher salt
1 tbsp butter
3 tbsp pure maple syrup
1/2 tsp ground ginger
2 tsp freshly minced dill or 1 tsp dried dill weed, plus extra fresh for garnishing
Instructions
Adjust oven rack to middle position and heat oven to 450°F. Cut the green tops off the carrots, leaving a little of the stems if you like, and cut thicker carrots in half lengthwise.
Place carrots, shallots, oil, and salt in a baking dish. Toss to thoroughly coat and spread into single layer. Place in the oven and roast 10 minutes.
While the carrots are roasting, melt the butter in a small saucepan over medium heat, stirring occasionally. Stir in the maple syrup, ginger, and dill, and whisk until smooth.
Remove the carrots from the oven and drizzle the maple butter mixture over the top, stirring to coat thoroughly. Return the carrots to the oven and continue roasting about 8 to 12 minutes longer, stirring occasionally, until carrots are starting to turn lightly brown and are fork tender.
Garnish with fresh dill and serve hot.
Make Ahead: You can partially prepare these up to two days in advance, making these perfect for busy holiday meals. Cook for the first 10 minutes and top with the maple butter mixture, tossing to coat evenly. Let cool, cover the pan with aluminum foil and refrigerate. On the day when you want to serve them, while you are making the rest of your meal, remove from the refrigerator and bake at 450°F for 15 to 20 minutes or until tender.
Notes
Yield: 6 to 8 servings
The Heritage Cook ® https://theheritagecook.com/
Create a New Tradition Today!
Make sure you check out all of these remarkable recipes from my blogging friends!
Feed Me Phoebe: Carrot Cake Pancakes
Napa Farmhouse 1885: Fresh Carrot, Banana and Peach Smoothie
Red or Green: Honey Glazed Roasted Carrots with Cayenne Pepper
And Love It Too: Carrot Cake Blondies with Cinnamon Coconut Butter
Virtually Homemade: Easy Carrot Torte
Made By Michelle: Carrot Apple Bread
In Jennie's Kitchen: Carrot Persimmon Cake
Devour: Roasted Carrots with Cumin and Coriander
The Sensitive Epicure: Chimichurri Carrots
Domesticate Me: Carrot Cake Whoopie Pies with Maple Cream Cheese Frosting
FN Dish: 10 New Ways to Devour Carrots
Unauthorized use, distribution, and/or duplication of proprietary material from The Heritage Cook without prior approval is prohibited. This includes copying and reprinting content and photographs. If you have any questions or would like permission, I can be contacted via email at theheritagecook (at) comcast (dot) net. Feel free to quote me, just give credit where credit is due, link to the recipe, and please send people to my website, www.theheritagecook.com. Please see the Disclaimers page for additional details.
Thank You!