Photo Credit: Matt Armendariz, courtesy of Little, Brown and Company
Today I want to tell you a story about two friends who had a dream, a dream that is coming true! My friends, Stephanie Stiavetti and Garrett McCord are avid lovers of cheese and thought it would be fun to take our old childhood favorite, mac and cheese, and upgrade it to gourmet status. The end result is one of the most beautiful and creative cookbooks I've ever seen, Melt: The Art of Macaroni and Cheese. You will never look at mac and cheese the same way again!
I followed the trials and tribulations of Stephanie and Garrett through Facebook and Twitter, feeling my stomach twist in knots as theirs did when a glitch or hiccup would occur. I felt their excitement when they were in the photo studio watching Matt Armendariz (one of my heros) bring their creations to life for the book. I knew it would be beautiful, but this book honestly took my breath away.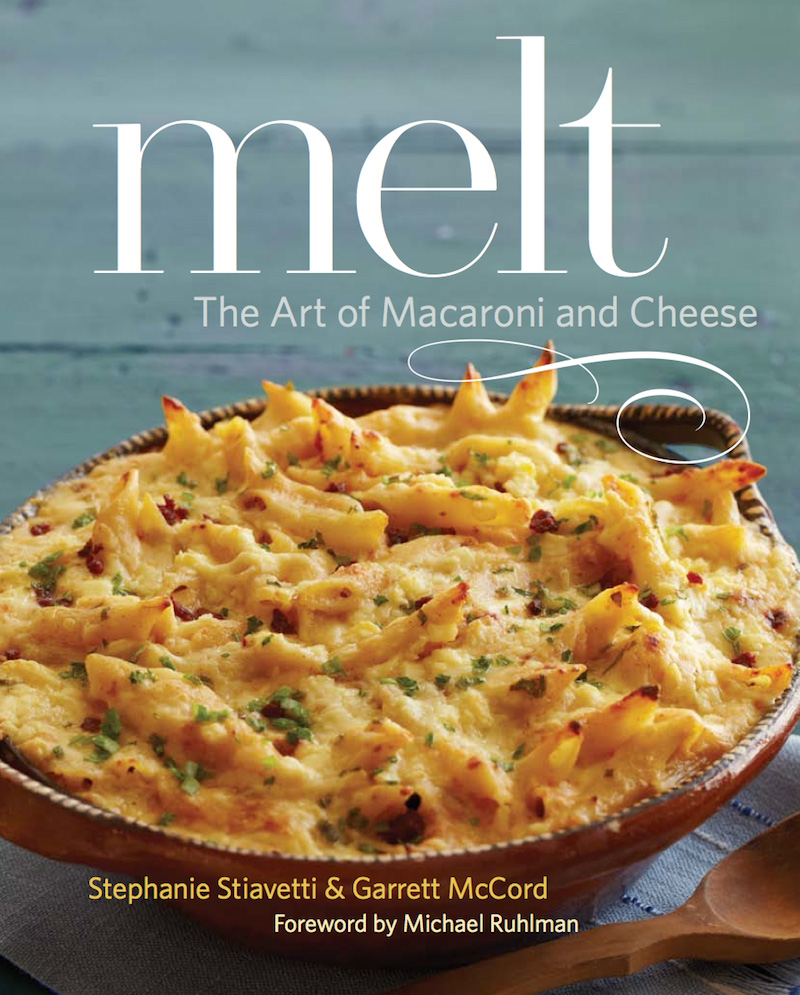 Photo Credit: Matt Armendariz, courtesy of Little, Brown and Company
Filled with Matt's stunning photos, you want to make every single recipe in this book! I have hundreds of cookbooks sitting on my shelves covered with a thin layer of dust as I only make one or two recipes from each. I can guarantee you that Melt will not be gathering dust anytime soon! I keep picking it up and thumbing through, getting ideas for new ways to approach our childhood favorite.
If you think that the only cheese to use for mac and cheese is Velveeta or cheddar, think again! Stephanie and Garrett have thoughtfully included a useful cheese compendium and resources to help us shop for, store, shred, and present cheeses. They have helped me discover previously unknown cheeses and have combined them with a fascinating array of ingredients to create remarkable, unforgettable versions of Mac and Cheese.
Photo Credit: Matt Armendariz, courtesy of Little, Brown and Company
I was thrilled when I found the Robusto cheese called for in this recipe at my local Whole Foods market. But if your grocer doesn't carry it, each recipe offers alternatives that will also work. I really appreciate the thoughtfulness of this and it shows how creative and understanding the authors are. If you want to "meet" them, here is a link to their video talking about the reasons why they wrote the book and how much they love mac and cheese.
As part of the Melt book launch, there is an incredible giveaway that you can participate in. Click Here to enter to win $500 in cookware from Le Creuset and a $100 gift certificate for Murray's, the premier online retailer for artisan cheese! One lucky winner will receive the following pieces, making it the ultimate set for creating all the macaroni and cheese dishes in the book:
◦ 4 1/2-qt round French oven
◦ 3 3/4-quart deep covered sauté pan
◦ 3 3/4-quart oval stoneware baking dish
◦ One set of four oval mini-cocottes
◦ Plus a $100 gift card for Murray's online cheese shop
I hope you all register because I would love it if you won!!
Today's recipe (shared with the permission of the publishers) is one of the most creative and delicious ways to use your leftover Thanksgiving turkey that I've ever heard of! Combining cooked turkey with a somewhat sharp Robusto and blending them with fresh sage and cooked pasta makes use of leftovers that isn't just a warmed up plate of the same meal. And baking them in muffin tins provides instant portion control and the small size will have your kids hollering for more!
And if you made these in mini muffin tins they would be perfect for party appetizers!!! And wouldn't they be absolutely amazing finger foods for Super Bowl Sunday? I think so!!
I loved Stephanie and Garrett's choice of Robusto in this dish. It is a gouda-style cheese that starts with the same cultures used to make Parmesan. This gives you the smoothness of Gouda with the punch and nuttiness of Parmesan. What an incredible cheese! I saved the rinds and will be using them in soup soon. 😉
Stephanie and Garrett are also happy when cooks adapt their recipes to suit their own tastes and budgets. Because I wasn't making this right after Thanksgiving, I substituted ground dark turkey meat, sautéing it in a dry pan and adding the seasonings. I crumbled it as finely as I could, but the chunks of meat were delightful against the creamy sauce and pasta. I can't wait to make these again when I can use my Thanksgiving turkey leftovers!
The Artist kept coming into the kitchen while these were baking, telling me how wonderful they smelled! We will be happily nibbling on these little cheeselets over the weekend while we watch football.
This is also a generous recipe. I was able to get 12 muffins and a small casserole made. I should have filled the tins a little more than I did, but I was concerned about spillover. I would definitely fill them all the way to the rim next time because they will settle slightly as they cool. I also used gluten-free pasta made with brown rice, which gave them a slightly odd color, but if you can find GF elbow pasta that is more golden in color, your cheeselets will be just as glorious as Matt's photo above!
So, do yourself a favor and order a copy of Melt today and while you're at it, add one or two extra copies for holiday gifts. Your family and friends will be so grateful and I promise, every book will soon be splattered and messy, the sign of a fantastic recipe and cookbook!
Jane's Tips and Hints:
If you wind up with lumps in the sauce, pouring the mixture through a wire sieve will help remove them or you can use an immersion blender to puree them into the sauce. If your holiday gravy is usually lumpy, try this simple trick and your guests will be amazed at how smooth and creamy your gravy is!!
Gluten-Free Tips:
Those of you who are gluten-free will be glad to know that I followed the directions in the front of the book for making a gluten-free version of Mornay sauce and it turned out beautifully. Gluten-free flours don't brown as easily as regular wheat flour does, so it took a little longer than I expected, and I went more by the smell than the color. I took it off the heat when it started smelling nutty and rich. Because I was using rice flours, the sauce thickened more than I expected so I added about 1/4 cup more milk to the mixture to get the texture I was looking for. It came out perfectly and tasted divine!!
Kitchen Skill: Making a Roux
A roux (pronounced roo) is the base for many sauces and gravies and is simply a mixture of equal parts flour and fat. You can use butter, oil, or pan drippings for more flavor. Heat the fat first and then add the flour. Use a whisk to blend it in until you have no lumps (critical step). Cook over medium heat, whisking constantly, until it browns to the desired degree, being careful not to burn the mixture. If you are making Creole or Cajun foods, they will often tell you to cook it longer than normal until it reaches a deep caramel color.
When you add the milk or other liquid to mixture, make sure it is warm and add it very slowly, whisking constantly. This is the trick to lump free gravy! Stop along the way, whisking the newly added liquid into the mixture until smooth and silky, then add more liquid. It is worth the extra time to get this right and you will be rewarded with amazing sauces and gravies!
Turkey and Robusto Mac-and-Cheeselets
2015-06-29 18:27:59
One of the best things about cooking a big o l' Thanksgiving turkey is the leftovers. The carcass goes to making turkey stock, the legs are best saved for eating while watching television, and the last little bits of meat are reserved for all manner of dishes, from posole to sandwiches. Or, perhaps, turkey macaroni and cheese. Cooked in a muffin tin, these adorable individual mac-and-cheeselets are a good way to exercise portion control (assuming you eat just one or two and not, like, seven). Robusto is a Gouda-style cheese made with the cultures used for Parmesan, so it has a Gouda-like personality while maintaining the sharp nuttiness that makes Parmesan so delightful. The recipe for cranberry jam (below) is a festive addition to this dish, adding grace to the turkey and cheese. If you're making the mac-and-cheeselets after Thanksgiving and have leftover cranberry sauce, feel free to use that instead.
Ingredients
8 ounces elbow macaroni
6 ounces cooked turkey, shredded (about 1-1/4 cups)
12 ounces Robusto*, shredded, divided
3 tablespoons chopped fresh sage
2 eggs
2 cups milk
2 tablespoons olive oil
2 tablespoons flour
1/2 teaspoon sea salt
Freshly ground black pepper
1 cup leftover cranberry sauce or cranberry jam (recipe follows)
Instructions
Cook the pasta in a large pot of salted boiling water until al dente. Drain through a colander and rinse with cool water to stop the cooking process. Drain again and set aside.
Once the macaroni has cooled, toss it with the turkey, 5 ounces of Robusto, and sage in a bowl and set aside. In another bowl, whisk the eggs and set aside.
Preheat oven to 375°F. To prepare the Mornay sauce, heat the milk in a small saucepan over medium heat. As soon as the milk starts to steam and tiny bubbles form around the edges of the pan, turn off the heat. Place the olive oil in a medium saucepan and heat over medium flame. Add the flour and stir with a flat-edge wooden paddle just until the roux begins to take on a light brown color, scraping the bottom to prevent burning, about 3 minutes. Slowly add the milk and stir constantly until the sauce thickens enough to evenly coat the back of a spoon—a finger drawn along the back of the spoon should leave a clear swath. Remove from heat and stir in salt and pepper. Add 5 ounces of the remaining Robusto to sauce, reserving 2 ounces, and stir until completely melted.
Temper the eggs by slowly pouring 1/4 cup of the Mornay sauce into the bowl with the eggs while whisking continually. Once combined, add the eggs to the rest of the Mornay and whisk together. Carefully fold the pasta into the Mornay sauce.
Spoon macaroni and cheese into the cups of a well-greased muffin tin. Two or three good spoonfuls per cheeselet should be fine, and they shouldn't be too heaping big. Level with the pan is just enough. Top each with some of the remaining Robusto and bake for 20 to 25 minutes, or until the tops are slightly golden brown. Cool for 3 minutes and serve with a few spoonfuls of cranberry jam.
Notes
Yield: 12 to 16 Mac-and-Cheeselets
Adapted from Melt: Stephanie Stiavetti and Garrett McCord
The Heritage Cook ® https://theheritagecook.com/
Cranberry Jam
2015-06-29 18:29:15
Ingredients
1/2 cup water
1 cup sugar
1/2 cup orange juice
12 ounces whole fresh cranberries (if using frozen, defrost first)
1 teaspoon vanilla extract
1/4 teaspoon butter
Instructions
Place the water, sugar, and orange juice in a pot and bring to a boil. Add the cranberries, vanilla extract, and butter. Cook for about 10 to 15 minutes, or until the sauce has thickened up a bit. Serve hot, warm, or cold.
Notes
Alternative cheeses: Marieke Gouda, Willamette Valley Aged Gouda, Branched Oak Nettle Gouda, any excellent Dutch goat's-milk Gouda, Emmentaler, Gruyère
Wine pairings: Viognier, Rhône Valley white blends, rosé, Gamay, Pinot Noir
Additional pairings for the cheese: fenugreek, smoked country ham
Adapted from Melt: Stephanie Stiavetti and Garrett McCord
The Heritage Cook ® https://theheritagecook.com/
Create a New Tradition Today!
Unauthorized use, distribution, and/or duplication of proprietary material from The Heritage Cook without prior approval is prohibited. This includes copying and reprinting content and photographs. If you have any questions or would like permission, I can be contacted via email at theheritagecook (at) comcast (dot) net. Feel free to quote me, just give credit where credit is due, link to the recipe, and please send people to my website, www.theheritagecook.com. Please see the Disclaimers page for additional details.
Thank You!