Etouffee (eh-too-fay or ay-too-fay) is a classic New Orleans dish and a favorite memory of my visits there. I used to be a project manager for a company that sponsored a racecar. Our final race of the season was in New Orleans. Our whole team went down for the race and had the time of our lives. Dinners out at great restaurants, getting the drivers of our horse-drawn carriages to race each other through the streets of the French Quarter, and a very memorable night dancing at the House of Blues. It just doesn't get much better than that!
If you have ever thought of going to New Orleans for Mardi Gras (mar-dee grah), I would recommend that you consider going at another time of the year. While Mardi Gras is a blast (I had way too much fun!) it is so crazy that you don't really get to experience New Orleans' charm and grace. It is a beautiful city with lots of wrought iron balcony railings and stunning gardens. If you go when it is quieter, you can relax and enjoy the tranquility.
Many Cajun dishes are thickened with a combination of flour and fat called a roux (roo). You cook the paste until the raw flavor has disappeared. Roux can be light, medium, or dark and the longer you cook it, the deeper the flavor becomes. When it is very dark, there is a slight bitterness and an almost burned flavor. Depending on your preferences and the other ingredients in the dish, choose which color of roux you like for each recipe.
While you may think that all Creole and Cajun dishes are screaming hot with spices, there are many that are quite mild. This dish is one of them. With just a pinch of cayenne, even people sensitive to spicy food can enjoy it. On the other hand, if you love heat, you can add more to your taste. When you are cooking for company, it is always safer to cook with less spice and let people add more at the table.
While traditionally made with shrimp, Etouffee is equally delicious with crawfish, crab, and lobster meat. Use what you can get fresh, in season, and preferably locally sourced. I am a huge advocate of sustainable fishing and if you have any doubt about what your best choices are, check the website for the Monterey Bay Aquarium's Seafood Watch organization. They will give you a list of the smartest choices to protect our oceans and fish populations. (International Recommendations and U.S. Pocket Guides)
I hope you enjoy your taste of New Orleans. Let the good times roll or as they say in Cajun country, Laissez Les Bon Temps Roulez!!
Jane's Tips and Hints:
When Etouffee is served in New Orleans the rice is packed tightly into a small cup or bowl and inverted onto the center of a plate. The Etouffee is then poured around the rice and garnished with fresh herbs.
Kitchen Skill: Deveining Shrimp
Why: To cut out the dark vein that runs down the back of each shrimp
How: Using a very sharp paring knife, make a clean slice down the back of the shrimp (the outside rounded edge.) Remove the shells if needed, and the place the shrimp under running water and remove the dark vein. Drain cleaned shrimp before cooking.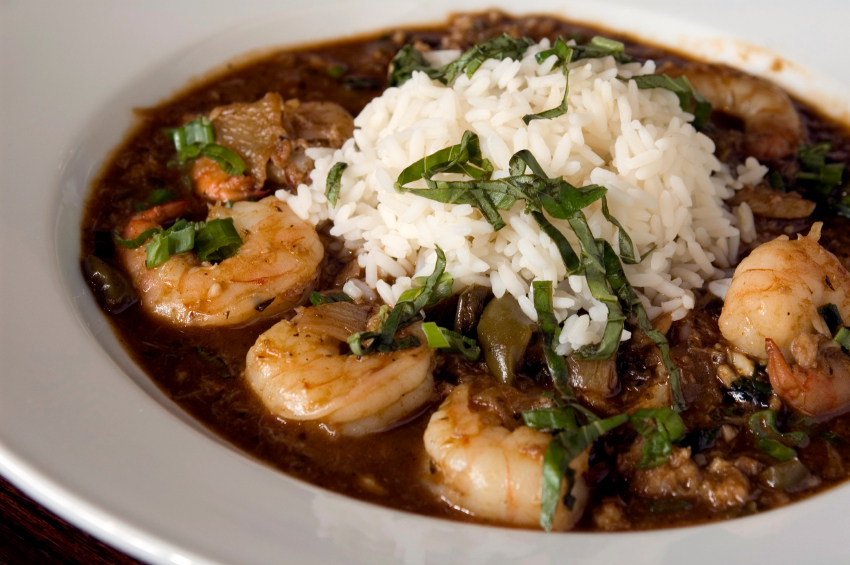 Shrimp Etouffee
2015-07-24 17:23:29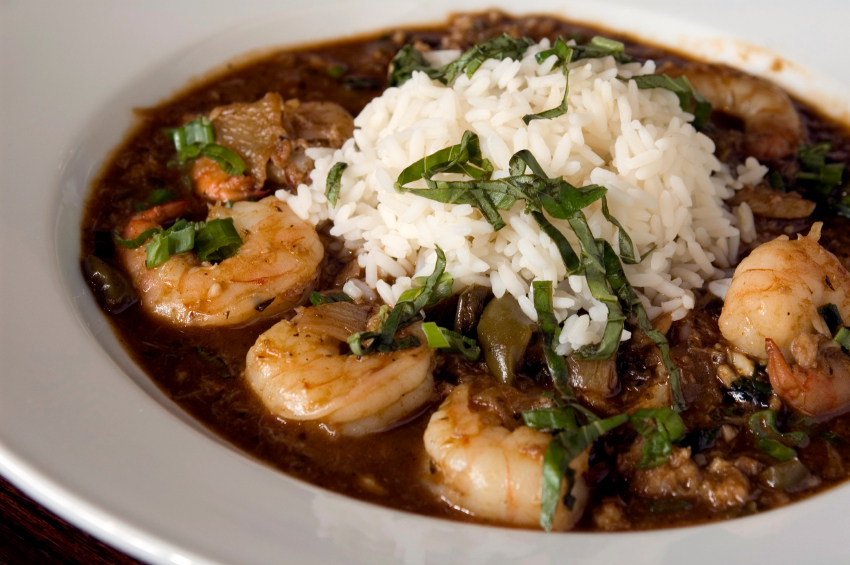 Ingredients
2 tbsp butter
2 tbsp flour
Salt and pepper
Etouffee
1/2 cup butter
2 cups chopped onions
1 cup chopped celery
1/2 cup chopped bell pepper
1 lb medium shrimp, peeled and deveined
2 tsp minced garlic
1 tsp salt
Pinch cayenne pepper
2 tbsp finely chopped parsley
3 tbsp chopped green onions
Steamed white or brown rice
Fresh herbs for garnish
Instructions
Make the Roux: In a medium saute pan over medium heat, melt the butter and stir in the flour until you have a paste. Cook, stirring often, until the raw flavor is gone and the flour has started to turn a light yellow color. The roux is now ready to use, but you can continue to cook it if you like a darker color and deeper flavor. Set aside.
Make the Etouffee: In a large saute pan over medium high heat, melt the butter. Add the chopped onions, celery, and bell peppers, and saute until the vegetables are wilted, about 10 to 12 minutes. Add the shrimp, garlic and bay leaves and reduce the heat to medium. Cook the shrimp for 3 minutes, until shrimp turn opaque, stirring occasionally.
Stir the roux into the shrimp mixture. Season with salt and cayenne. Stir until the mixture thickens, about 4 minutes. Stir in the parsley and green onions and continue cooking for 2 minutes. Serve over steamed rice.
The Heritage Cook ® https://theheritagecook.com/
Please be nice. Unauthorized use and/or duplication of proprietary materials without prior approval are prohibited. Feel free to quote and link, just give credit where credit is due and please send folks to my website, www.theheritagecook.com.
Thank You!