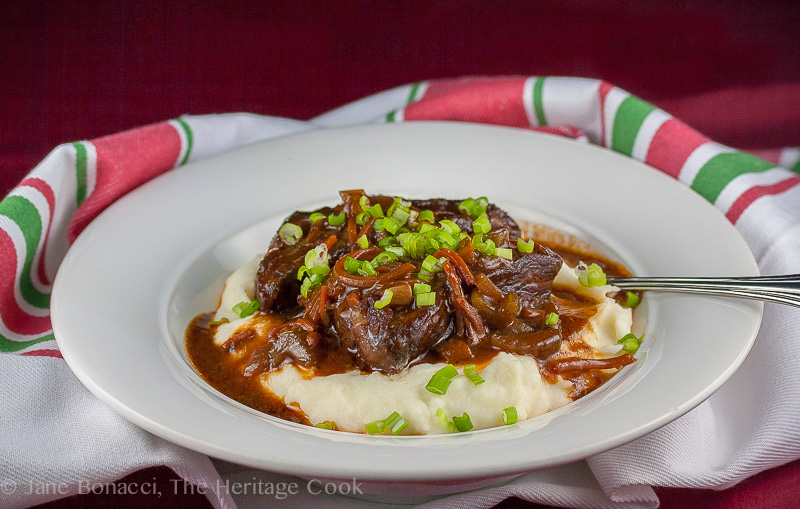 Slowly braised beef short ribs with red wine are the perfect meal for these cool days. You can make them over a weekend and serve them during the week because the flavor improves with time. And of course, with most of us staying home, you don't need to wait for the weekend – any day is a great day for slow braising meats!
The weather is starting to turn colder and I am in the mood for comfort foods. I knew The Artist would be busy today and may not be ready to eat early, so I wanted something I could make and that wouldn't be ruined if it had to sit for an extra hour or two. A slow braise would be perfect.
I rummaged through my freezer and sure enough I had a package of beef short ribs. They are a very tough cut of meat, usually cut into 2 to 3-inch lengths, they have a large flat bone running through the center of them and a lot of connective tissue. Whenever you have this combination, you need a slow, gentle cooking method to melt the connective tissue and make the meat tender. Braising, which is cooking in liquid over low heat for a long time, is the perfect way to transform tougher meats into mouthwatering meals.
The beauty of slow-cooked foods is that they can be made ahead and kept warm for a long time without any degradation of quality. They can also be cooled, refrigerated for a day or two, and then reheated. Most of the time the flavors are actually improved on the second day because they have had time to blend and intensify.
When you first look at the recipe, don't be intimidated by the ingredients. Most of them are vegetables and seasonings you already have in your cupboard. Adding a little tomato paste and soy sauce to the vegetables as they cook down really amps up the flavor. Many of the classic recipes use either bacon or pancetta, but I decided that since I had a little bacon fat left over, I would add a little of that to also boost the meat and add a touch of smokiness.
I used my trusty enameled cast iron Dutch oven, a kitchen workhorse if there ever was one. It is truly remarkable how well it conducts heat. Once it heats up, reduce the heat to medium or it will get too hot. You can also make this in a slow cooker, just brown the meat first in a skillet and transfer the meat and all of its juices to the slow cooker, add in the vegetables, seasonings, and liquids. Then cook on High for about 4 to 5 hours.
Tonight I served these braised beef short ribs with red wine over luscious mashed potatoes but it would be equally as good over creamy polenta, cooked noodles, or rice. You could serve a beautiful loaf of artisan bread as well (gluten-free if needed). You just want to be sure to have something to mop up all that wine-enriched sauce!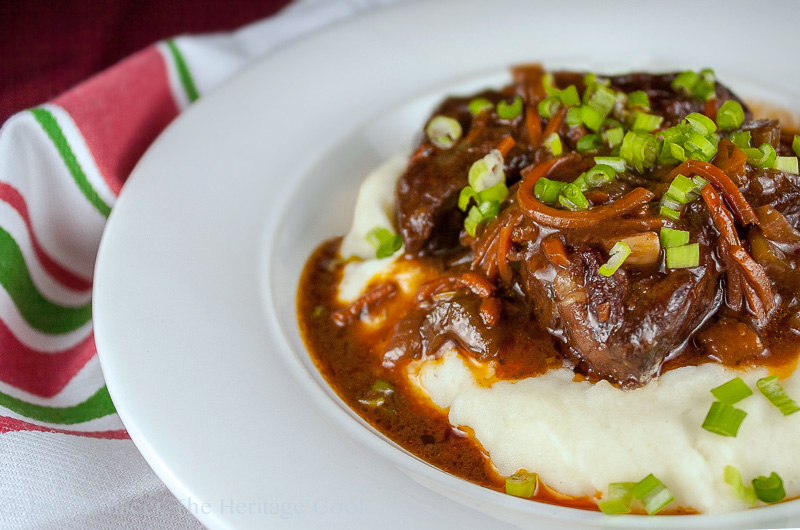 As the weather continues to dip at night and we head into winter, I hope you put this recipe on your regular menu rotation. It is so good and filling when we need it most.
Have a fabulous weekend and we'll see you next week for Chocolate Monday!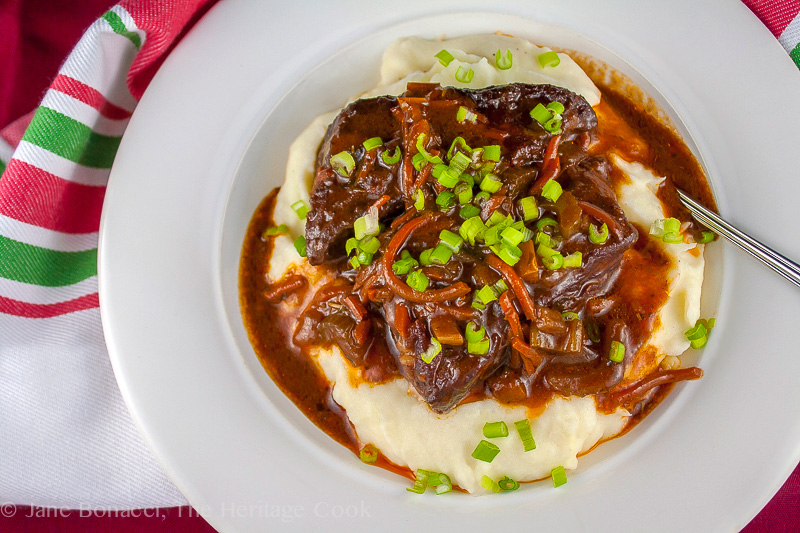 Key Ingredients for Slowly Braised Beef Short Ribs with Red Wine:
Beef short ribs, olive oil, bacon fat

Carrots, celery, bell pepper, onion, and garlic

Flour (or GF flour), tomato paste, GF soy sauce, and sugar

Oregano, thyme, rosemary, chili powder

Red wine, beef broth, water

Mashed potatoes, soft polenta, GF noodles, or rice, for serving
What Kind of Wine Should I Use?
Whenever you are cooking with wine, always use a wine that you would enjoy drinking on its own. The bottles sold labeled "cooking wine" are truly unpalatable and will ruin your food. It doesn't have to be an expensive bottle, but remember that it will impart a flavor to the dish and you want that to be a positive experience for everyone!
PRO Tip:
If you can, invest in a good quality Dutch oven. It will last your lifetime and can be passed to the next generation. It is an investment that will pay for itself time after time as it works for so many different recipes. Use it to make stock, soup, pasta sauces, braises, stews, etc. The list is nearly endless.
How to make Slowly Braised Beef Short Ribs with Red Wine:
Brown the ribs in the oil and bacon fat; use long tongs to turn them

Add the vegetables and cook until softened; season with garlic, herbs, and salt and pepper; sprinkle with the flour then stir in the tomato paste, soy sauce, and sugar

Add the wine, stock, and water, stirring until fully incorporated and there are no lumps; return ribs to the pan, cover with a lid and bake in the oven until tender, about 2 to 2-1/2 hours

Defat the sauce, scoop potatoes, polenta, etc. into serving bowls and top with a couple of ribs and some of the sauce; serve immediately
Recommended Tools (affiliate links; no extra cost to you):
Gluten-Free Tips:
Use a gluten-free flour blend for thickening the sauce.
Yield: about 4 servings
Slowly Braised Beef Short Ribs with Red Wine (Gluten Free)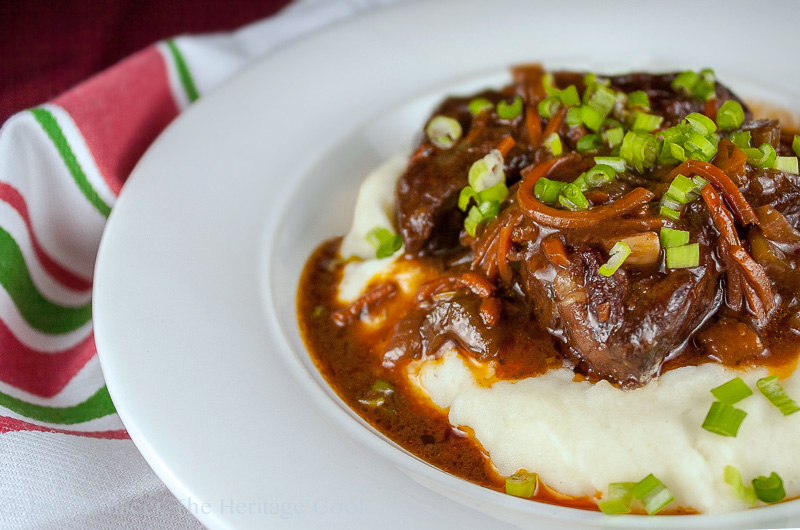 This dish takes about 30 minutes of active work and then you forget about it in the oven for a couple of hours. The flavors improve if you let this rest overnight in the refrigerator, making it perfect for parties or make this over the weekend and serve it during the week on busy days.
Cook Time
2 hours
30 minutes
Additional Time
30 minutes
Total Time
3 hours
20 minutes
Ingredients
4 to 5 lb beef short ribs, cut into 3-inch lengths
2 tbsp organic olive oil
1 tbsp bacon fat (or more olive oil)
Kosher salt and freshly ground black pepper
3 carrots, finely chopped or shredded
3 stalks celery, finely chopped
1 bell pepper, finely chopped
1 large onion, finely chopped
3 cloves garlic, peeled, chopped
2 tsp dried oregano
2 tsp dried thyme
1 tsp dried rosemary
1 tsp ancho chili powder, optional
2 tbsp flour (or gluten-free flour blend)
3 tbsp tomato paste
1 tbsp gluten-free soy sauce
A pinch of sugar
2 cups dry red wine
2 cups beef broth or stock
1 cup water
Mashed potatoes, soft polenta, cooked noodles, or rice, for serving
Instructions
Set your oven rack in the lower third of the oven and preheat to 350°F.
Pat the beef ribs dry on paper towel and set on a plate next to the stove. Heat the olive oil and bacon fat over medium-high heat in an ovenproof Dutch oven with a lid. When the oil is shimmering, add half the rib to the pan using long tongs to keep your hands away from the splattering oil. Lightly sprinkle ribs with salt and pepper. Reduce the heat to medium and cover the pan with a wire splatter guard. This not only protects you from the popping oil but also reduces your clean up afterwards.
Leave the meat undisturbed for about 4 minutes or until the first side is nicely browned and it releases automatically from the bottom of the pan. If it is sticking, leave it alone for another minute or two, giving it time to develop a nice crust on the outside. Use the tongs to turn the ribs to the other side and leave alone for another 4 minutes or so. When browned, stand the ribs on their edges to brown, flipping one more time until all four sides are evenly browned. Use the tongs to transfer the browned ribs to a baking sheet.
Repeat with remaining ribs, seasoning lightly and browning on all sides. Transfer to the baking sheet with the first batch of ribs. Set aside while cooking the vegetables and making the braising sauce.
Add the carrots, celery, bell peppers and onions to the pan and cook, stirring often for about 2 minutes or until slightly softened. Add the garlic and herbs, stirring. Lightly sprinkle with salt and pepper. Sprinkle the flour over the top of the vegetables and stir until completely incorporated. Add the tomato paste and soy sauce and mash into the vegetables, cooking for another 3 minutes until slightly dissolved and everything is evenly coating the vegetables. Stirring the mixture well at this point to be sure everything is smooth will guarantee no lumps later on!
Add the wine, stock and water, stirring until everything is evenly blended. Tuck the ribs into the pot, snuggling them down into the liquid, meaty-side down. Cover with the lid and transfer to the hot oven. Cook in the oven about 2 to 2-1/2 hours or until the meat is fork tender and falling off the bone.
Remove the pan from the oven and set on the stove to cool slightly. Spoon as much of the fat off the top as you can. Discard the fat. If you are making this ahead, cool and place in the refrigerator. The fat will rise to the top and solidify in the cold making it really easy to remove later on.
Place the potatoes, polenta, GF noodles, or cooked rice in the bottom of warmed wide, shallow serving bowls. Place a couple of ribs in each bowl and spoon some of the braising liquid over the top. Serve immediately with a glass of the same wine you cooked with and enjoy!
If you enjoyed this recipe, be sure to follow me on social media so you never miss a post:
| Facebook | Pinterest | Instagram | Twitter |
Create a New Tradition Today!
This post was first shared in Oct 2013. The article was updated in 2020.
Welcome! The suggestions here are not intended as dietary advice or as a substitute for consulting a dietician, physician, or other medical professional. Please see the Disclaimers/Privacy Policy page for additional details. Unauthorized use, distribution, and/or duplication of proprietary material from The Heritage Cook without prior approval is prohibited. If you have any questions or would like permission, please contact me. We participate in the Amazon Services LLC Associates Program, an affiliate advertising program designed to provide a means for sites to earn advertising fees by advertising and linking to amazon.com. This page may contain affiliate links.