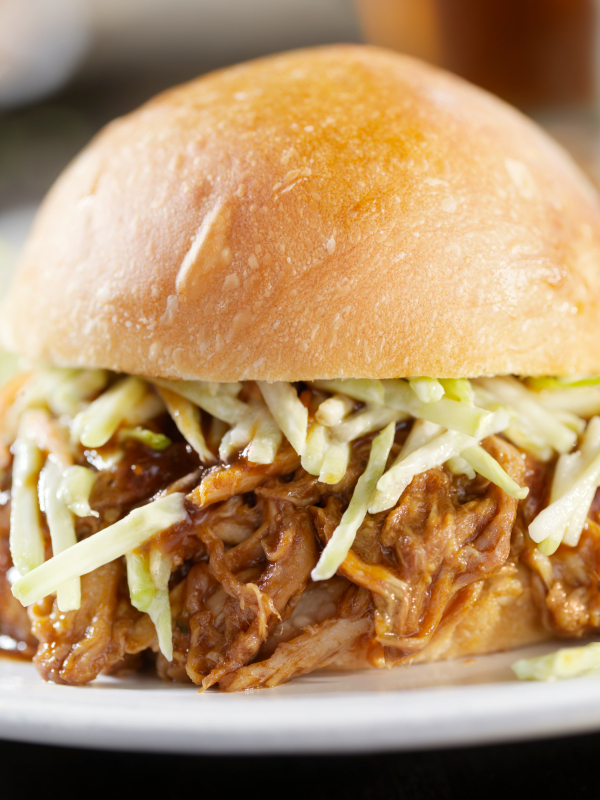 Pulled Pork is an all-time favorite and perfect for casual parties and family gatherings. With football season just getting underway and the holidays right around the corner, I thought you could give this a try when there is no pressure on you and then have it in your back pocket (not literally, LOL) when you need to feed a crowd.
Using the slow cooker allows you to assemble it and then forget it for hours. I love that I can leave it alone without worrying about stirring or turning the ingredients. It also does not heat up the kitchen – a real blessing on hot days. Make this once, adjust the seasonings to your personal tastes and cooking equipment, and you'll be ready to have this whenever the gang is coming over.
I wrote this recipe for a slow cooker, but you could also make this in the oven. Use a large Dutch oven if you have it and brown the meat on all sides in hot oil. Add onions, garlic, bay leaf, and water to the pot, cover with a tight lid, and bake at 300°F until tender. You can baste the roast occasionally during cooking. This technique gives you a crunchy exterior and darker color.
Of course you can also make this on a BBQ grill. Use the indirect method of cooking, with a disposable foil pan under the roast and the heat on the opposite side of the grill. Spin the meat occasionally during cooking. This gives it a delightful smoky flavor, but does require more attention. Strain the juices from the drip pan to remove any ash particles and use it to moisten the pork after it has been shredded.
One of the ingredients that really makes this taste like the Southwest is green chile powder. Made from dried green chiles, it isn't the easiest seasoning to find in stores, but you can always buy it from one of the best sources for Southwestern food items, the Santa Fe School of Cooking. If you are a fan of New Mexican-style cooking or know someone who is, browsing through their online store will be a real treat. And the next time you are in the area, sign up for one of their classes. You will have your mind and taste buds blown away by the intensity of heat and rich layering of flavors in every dish.
Because of all the flavor the rub adds to the meat, I don't think you need to add a barbecue sauce to this pork. I prefer to serve it as is, moist and tender with the cooking juices. But there are some die-hard BBQ lovers out there that will insist it isn't pulled pork unless there is a sauce. For those people, feel free to serve a barbecue sauce on the side. If you want to make your own, try my Root Beer BBQ Sauce. You won't taste the root beer but it adds a beautiful layer of flavor that makes this sauce extra special.
Serving these sandwiches with cole slaw piled high on top is a tradition in many parts of the country. You can add as many vegetables to the slaw as you like, but I like to start with a fairly simple combination so that the meat is the star of the sandwich. If you prefer you can certainly serve the slaw on the side.
Because this recipe yields a lot of meat, you can serve some for your dinner and then use the leftovers in a number of ways. I have used it as fillings for tacos, enchiladas, and burritos. You could roll it into tamales. You can put it in spring rolls or pot stickers. Consider it as a topping for crostini with melted cheese over the top and serving it at your next party as an appetizer. What about on top of grilled pizza? Or maybe you would like it in Tamale Pie … how far will your imagination go?
Jane's Tips and Hints:
You can put the dry rub on the pork up to 24 hours in advance. Place in a container or zip top bag, cover, and keep in the refrigerator until ready to cook. Return to room temperature before cooking.
Any meat that has a layer of fat on one side is best when cooked with the fat side up. This way the meat is self-basting and comes out tender and moist!
Kitchen Skill: Using Rubs
Rubs impart a lot of flavor without adding any calories or fat. They can add color (if they contain chile powder, paprika, or turmeric for example), heat (with cayenne or other chile pepper), and of course seasoning. You can use a rub on beef or pork for up to 24 hours before cooking, but if you are using it on chicken or fish, don't let it sit for much more than about 30 minutes. Any longer and the seasonings will overwhelm the delicate flavors. When rubs have sugar in them they can burn easily, so cook them over a lower heat. Whichever combination of ingredients you use, the ease of use and huge increase in flavor will have you reaching for a rub mix every time you cook!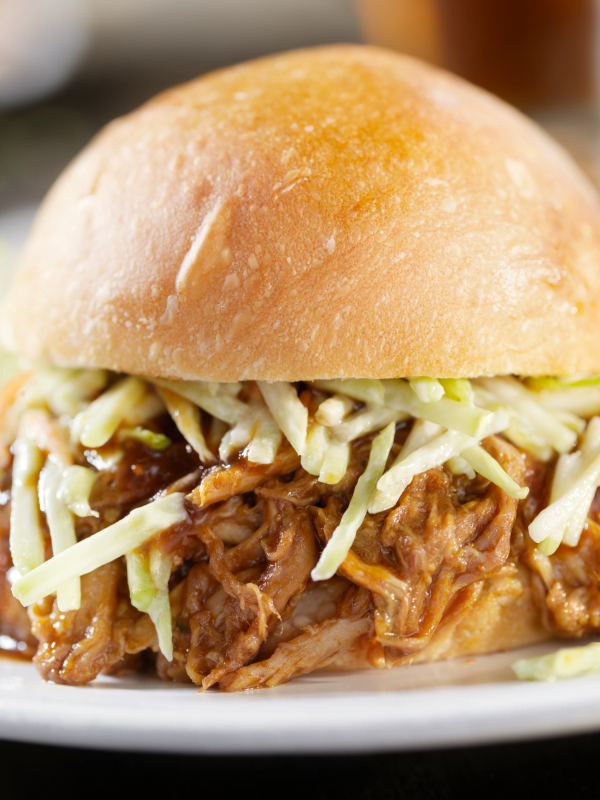 Slow Cooker Southwestern Pulled Pork
2015-07-13 12:50:12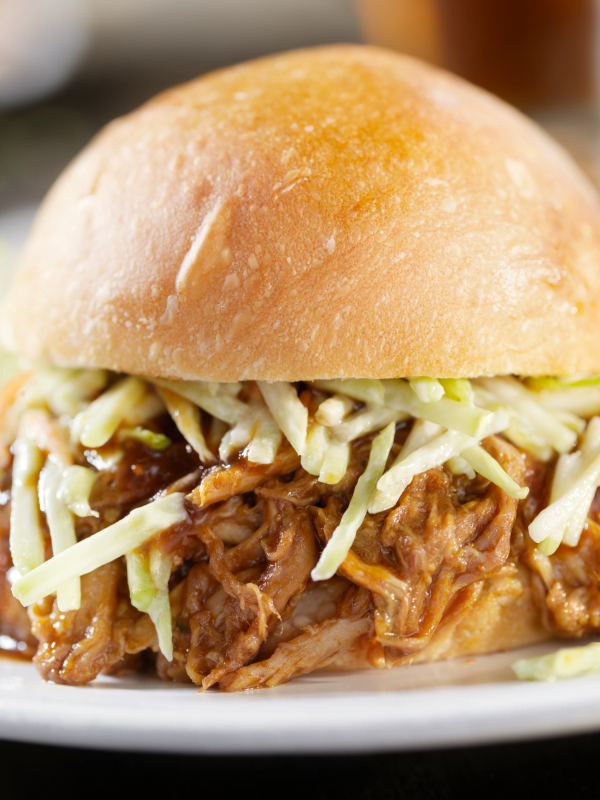 Ingredients
Rub

1 tsp kosher salt
1/2 tsp ground black pepper
1 tsp ground cumin
1/2 tsp dried thyme leaves
1 tsp smoked paprika
1/2 tsp dried mustard
1 tsp green chile powder
1/2 tsp ground coriander
1 to 2 tsp olive oil, optional

Pork Roast

5 to 7 lb pork shoulder or Boston butt roast
2 large onions, peeled and sliced thickly
3 cloves garlic, peeled and smashed
1/4 cup water
1 bay leaf

Cole Slaw

1/4 head of Napa cabbage or other green cabbage
3 carrots, peeled and shredded
3 green onions, rinsed, trimmed, and finely sliced
1/4 cup cider vinegar
1 tsp sugar, or more to taste
1/2 tsp kosher salt, or to taste
Dash of ancho chili powder, optional
Instructions
Make the Rub: Combine all rub ingredients in a small bowl. Mix until evenly blended into a thick paste. You can leave out the olive oil if you want, but it does make it easier for the rub to stick to the meat.
Rinse pork roast with water and pat dry with paper towels. Remove some of the obvious pockets of fat, but not all. You need some for the flavor and moisture it provides. Rub all over with the dry rub.
Make Roast: Place onion slices and garlic in bottom of slow cooker. Pour in water and add bay leaf. Place pork roast on top, fat side up, cover with lid, and cook on low for about 8 hours or until fork tender. The internal temperature should be about 200°F.
Make Slaw: While the pork is cooking, make the slaw. Shred the cabbage and carrots and place in a very large bowl. You need room to toss the salad. Add the onions. In a small jar with a tight fitting lid, combine the vinegar, sugar, salt and chili powder. Tighten the lid and shake vigorously until the sugar and salt have dissolved. Pour over the cabbage mixture and toss until everything is coated and evenly distributed. Cover and place in the refrigerator until 20 minutes prior to serving. Slaw will hold, refrigerated, for up to 2 weeks. Use a slotted spoon to serve, leaving most of the dressing behind in the bowl.
Finish Pork: Transfer meat to a bowl and shred with two forks. Discard any large pieces of fat. Place shredded meat back in slow cooker to absorb some of the cooking juices. You can hold the meat on the "warm" setting until ready to serve. Store meat in the cooking juices in a tightly covered container in the refrigerator.
Serve on soft sandwich rolls.
Notes
Yield: 7 to 10 servings.
Variation: For a more traditional barbecued pulled pork flavor, you can add 1/4 cup of your favorite barbecue sauce (you may want to try my Root Beer version) at the beginning of cooking and pass additional sauce at the table. Serve with a spicy cole slaw.
The Heritage Cook ® https://theheritagecook.com/
Unauthorized use, distribution, and/or duplication of proprietary material without prior approval is prohibited. If you have any questions or would like permission, I can be contacted via email at: heritagecook (at) comcast (dot) net. Feel free to quote me, just give credit where credit is due, link to the recipe, and please send people to my website,
www.theheritagecook.com.
Thank You!