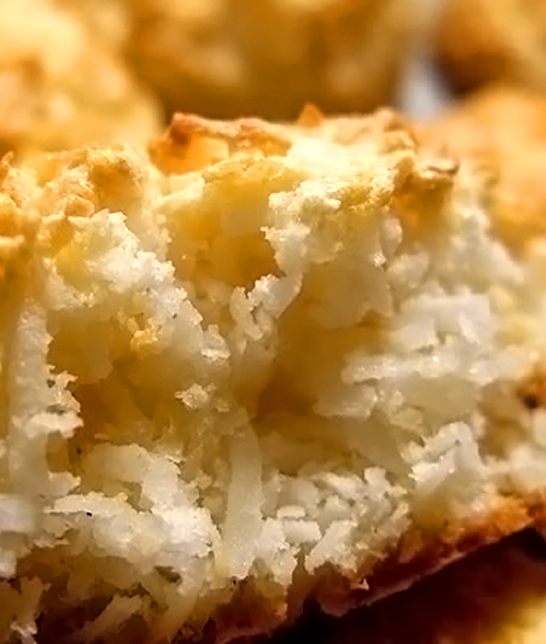 When The Bakers' Dozen, San Francisco organization was compiling their cookbook, I was lucky enough to be a tester for the Coconut Macaroon cookies. It was my first professional recipe testing and I was thrilled. I have tested hundreds of recipes since then, but like anything else in life, your first is the most special. I was overly enthusiastic when I reported my results at the meeting and everyone laughed. I was embarrassed, but still thrilled to be part of the experience.
In America, when you hear the word macaroon, you assume that it will be a mounded coconut cookie, sticky and uber-sweet. In fact macaroons can be a variety of baked meringue-like cookies which vary based on what region they come from. In England they are called macaroons, in France they say macaron, and both come from the original Italian maccarone or maccherone. No matter what you call them, these are delicious cookies and some of my most requested.
When you buy these at bakeries most of the time they are as big as your fist and gooey in the middle. That is because the mounds of dough are too big to cook the center completely before the outside burns. Using a small spring-loaded ice cream scoop will save you hours of time because the "dough" is so sticky it is hard to work with. You can spray the scoop with vegetable spray to help it release, but I just run my finger around the inside occasionally and pull out the excess.
You can make the dough a day ahead if necessary, or bake the cookies in two batches. Refrigerate with plastic wrap pressed directly on the top of the dough. When you bring it out the next day make sure you stir it well. The egg whites have a tendency to separate from the coconut while it sits and they need to be reincorporated. A large rubber spatula works best for this.
The use of unsweetened coconut is the real secret – the cookies are dryer, cook more evenly, and aren't cloyingly sweet. You will have to look at the packaging carefully to make sure you are buying unsweetened coconut. I often find it in the bulk section of the market. If you cannot find unsweetened, you can use regular coconut as well but cut back on the amount of sugar.
Dried coconut comes in a variety of shredded widths, from coarse to very fine. The coarser the grind of the coconut, the more the cookies look like haystacks. I like a blend of fine and medium grind, so I have some chewy pieces and then smaller pieces that blend together more like a dough. If you can't find a small enough grind, you can always put the coconut in a food processor and grind it down yourself.
Adding finely chopped pecans also adds a complexity that is absent in most macaroons. The nuts offset the sweetness a little and add an appealing flavor that really enhances the coconut. I find that pulsing the pecans in a food processor makes quick work of this task with good results. Do not just hit the "on" button or you may wind up with pecan butter!
These are by far the best macaroons I've ever had and I'm certain they will become a family favorite for you too. Even people who don't normally like macaroons will enjoy these because they are crunchy and chewy but not goopy – and that's a technical term ;o) If you want an even more special treat, you can dip the tops in melted chocolate once they've cooled. No one can resist them!
Jane's Tips and Hints:
Because the dough for macaroons is just egg whites, the cookies need to be cooked all the way through to be safe. Making the cookies small allows the inside to cook before the outside gets too brown. You wind up with a tender, moist cookie with a delightful crunchy exterior! Using unsweetened coconut reduces the sugar content so that the coconut flavor is more pronounced.
Kitchen Skill: How to Separate Eggs
Separating eggs means you are supposed to separate the yolks from the whites, placing each in a separate bowl. The easiest way to do this with the least risk of breaking the yolks is while holding your hands over a bowl, to break an egg into one hand and gently toss the yolk back and forth between your hands, letting the whites drip through your fingers into the bowl. Drop the yolk into a separate bowl.
Coconut-Pecan Macaroons
2015-07-13 12:48:52
Ingredients
4 cups (10 oz) unsweetened desiccated (dried) coconut
1-1/4 cups (5 oz) pecans, coarsely chopped (measure the pecans first and then chop them)
1-1/2 cups sugar
3/4 cup egg whites (about 6 large)
3 tbsp light corn syrup
1 tsp vanilla extract
1/4 tsp salt
Instructions
Position racks in the center and top third of the oven and preheat to 350°F. Line two baking sheets with parchment paper, Silpats or lightly butter the sheets. Combine the coconut and pecans in a large bowl and set aside.
Combine the sugar, egg whites, corn syrup, vanilla, and salt in a heavy-bottomed small saucepan. Stirring constantly, heat over low heat just until hot to the touch or about 104°F. You can very carefully dip your finger in the mixture without burning yourself. Do not bring to a boil. Pour over the coconut and pecans and mix well with a wooden spoon.
Make balls with about 1 tbsp of dough (using an ice cream scoop is the fastest and easiest) and drop onto the prepared sheets, spacing them about 1 inch apart. They will not spread but the air needs to be able to reach all sides.
Bake, switching the position of the sheets from top to bottom and spinning them back to front halfway through baking, until golden brown, about 17 minutes. Transfer to wire cooling racks and cool completely.
These are definitely best eaten the day they are baked but can be stored at room temperature in airtight containers for up to 1 week.
Notes
Yield: about 5 dozen cookies.
MAKE AHEAD: The "dough" can be made a day ahead and baked off the following day. If you are planning on shipping them to someone, wrap them individually before packing.
Adapted from The Baker's Dozen Cookbook
Adapted from The Baker's Dozen Cookbook
The Heritage Cook ® https://theheritagecook.com/
Unauthorized use, distribution, and/or duplication of proprietary material without prior approval is prohibited. If you have any questions or would like permission, I can be contacted via email at: heritagecook (at) comcast (dot) net. Feel free to quote me, just give credit where credit is due, link to the recipe, and please send people to my website,
www.theheritagecook.com
Thank You!