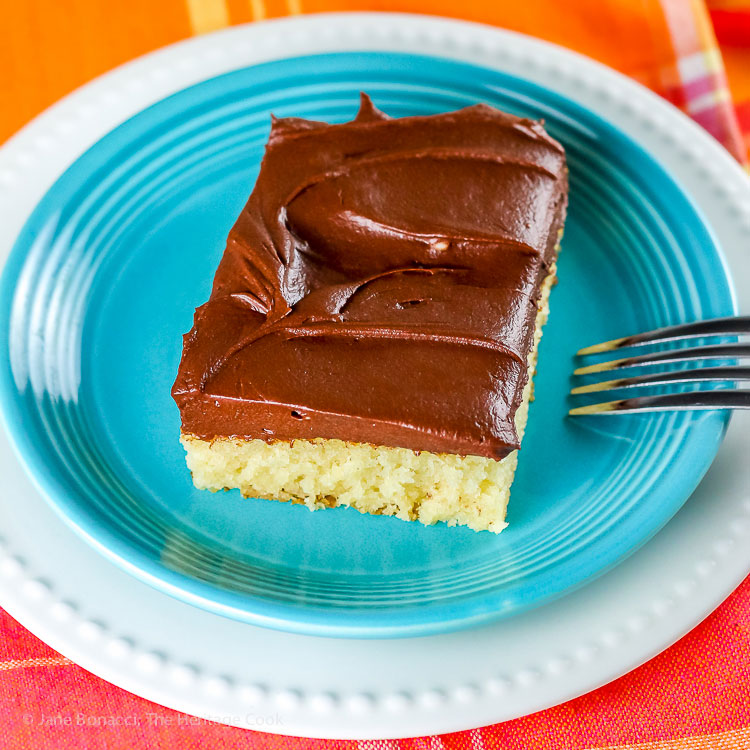 One of my childhood favorites is a yellow cake with fudge frosting. To me this cake is love in every bite; the love of my mother or grandmother who baked it for us and now my love for my family and friends.
I've been searching for a really exceptional recipe for a yellow cake that matches my memories (or is even better) and I finally found one! It is a luscious, moist, and tender cake just like the one that you've always dreamed of making.
It is an interesting recipe, a blending of a classic yellow cake and a pound cake which results in a pound cake-like dessert with all the flavor and richness and none of the heaviness. And since it is pretty much a dump cake (everything in the bowl at the same time) it could be close to the perfect cake.
This cake is seriously good folks. Tender and packed with vanilla flavor. I used farm fresh eggs whose yolks are deep golden and makes this the most beautiful yellow cake, no food coloring needed! It is so good that you could serve it without any frosting, maybe just a little whipped cream or a drizzle of a fruit reduction for an even lighter dessert.
The recipe for the frosting is enough for a double layer cake, but cutting it down is hard with a large mixer. If you want to use a smaller bowl and hand mixer, feel free to cut the recipe in half. If you make it as is, the frosting holds for up to a week. You can make an extra batch of cupcakes and have lovely frosting for them!
This time I just wanted an easy, casual dessert, nothing fancy. A single pan was the perfect option for me. But this cake is good enough to deserve special treatment. I can see it decorated with piping or festive sprinkles for parties eliciting ooh's and ahh's from the crowd!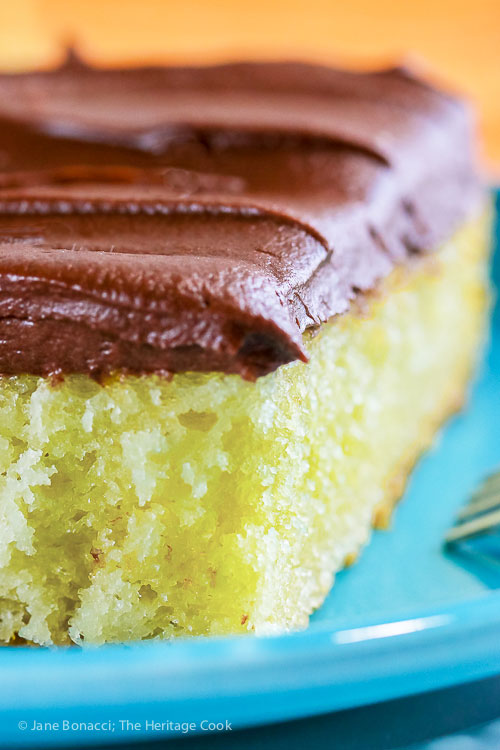 If you want to convert this recipe to a layer cake, just double the cake ingredients – it will fill three (9-inch) round cake pans! The bake time will be just slightly less, around 25 to 30 minutes. Cool thoroughly before frosting. If you want a very generous amount of frosting, you can double those ingredients too, giving you plenty to fill the cake with thick layers of frosting between the cake layers and still have plenty for the sides and top.
The next time you are throwing a birthday party, hosting a get together or barbecue, or bringing dessert to a potluck, put this yellow cake with fudge frosting on your menu. People will be delighted with the throwback classic, one of America's favorites that is rarely seen on restaurant menus anymore!
How to make this Tender Yellow Cake with Fudge Frosting:
Preheat the oven to 350°F and butter a 7×11-inch baking pan
Mix together the flour, sugar, baking powder, and salt
Add in the milk, oil, and vanilla; add the butter and eggs
Bake 30 to 45 minutes; let cool in the pan
For the frosting, whip the butter until light
Slowly add the powdered sugar then add the vanilla, cocoa, and milk
Spread the frosting over the top of the cooled cake and serve
What Makes a Yellow Cake Yellow?
It is from the color of the egg yolks. If you have freshly laid eggs, they usually have darker yolks and will add even more color. If you want, you can always add a couple drops of food coloring, but I like the natural look myself.
PRO Tip:
Stand mixers, especially heavy-duty ones, weigh a lot and can be hard to move around. I keep mine on the counter because I use it so often. To make it easier to slide, I placed it on a plastic cutting board. This makes it easy to position the mixer wherever you like on the counter.
Key Ingredients for this Recipe
All-purpose flour or a gluten-free flour blend
Sugar
Baking powder and salt
Milk
Vegetable oil and butter
Eggs and vanilla
Powdered sugar
Unsweetened cocoa powder
Kitchen Tools I Use to Make This Recipe
Other Cake Recipes You May Enjoy:
Gluten-Free Tips:
You can use a store-bought gluten-free flour blend or make your own. Always use a kitchen scale to weigh the dry ingredients for the most accurate baking results!
Yield: About 8 servings
Tender Yellow Cake with Fudge Frosting (Gluten-Free)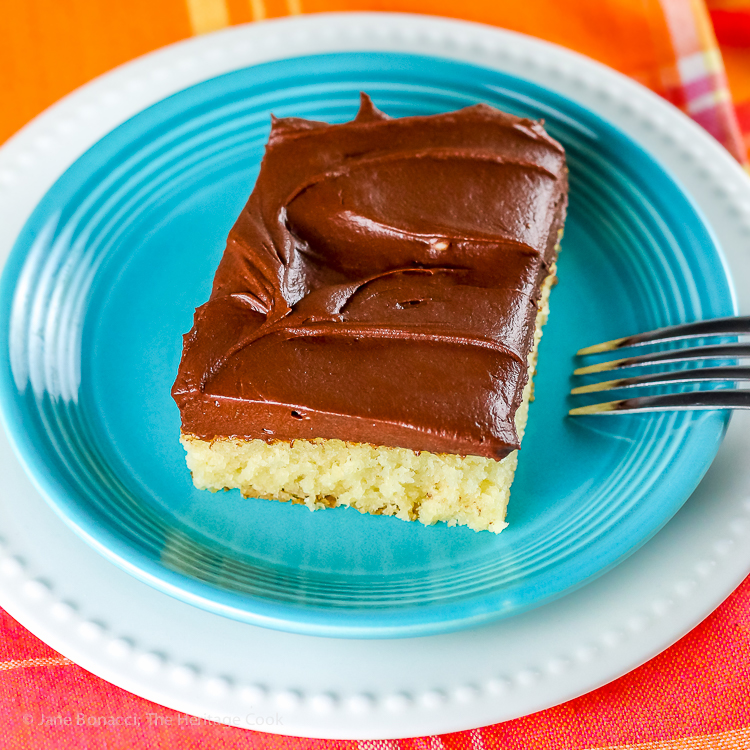 One of my childhood favorites is a yellow cake with fudge frosting. To me this cake is love in every bite; the love of my mother or grandmother who baked it for us and now my love for my family and friends.
Additional Time
20 minutes
Total Time
1 hour
20 minutes
Ingredients
Cake
1 cup + 2 tbsp (135g) all-purpose flour or gluten-free flour blend
3/4 cup granulated sugar
1-3/4 tsp baking powder
1/2 tsp salt
1/4 tsp xanthan gum (only if using gluten-free flour blend that doesn't already include it)
1/2 cup + 2 tbsp cups milk
2-1/2 tbsp vegetable oil
1/4 cup (1/2 stick) butter, at soft room temperature
2 tsp vanilla extract
2 large eggs
Fudge Frosting
1/2 cup (1 stick) butter, at room temperature
3 cups (338g) powdered sugar
3/4 cup (89g) unsweetened cocoa powder
2 tsp vanilla paste or pure vanilla extract
1/3 cup whole milk or half and half, or as needed
Instructions
Preheat the oven to 350°F. Butter a 7x11-inch pan; set aside.
Make the Cake: In the bowl of your standing mixer, combine the flour, sugar, baking powder, salt, and xanthan (if using).

Combine the milk, oil, and vanilla in a measuring cup with a spout. Pour into the flour mixture and beat until smooth and creamy. Add the butter and mix in. Scrape the bottom and sides of the bowl, being sure there is no butter or dry ingredients hidden or stuck to the bottom of the bowl. Beat on low until everything is fully incorporated and then beat in the eggs. Increase the speed to medium and beat for another 2 minutes to fully blend and add air to the batter.
Pour the batter into the prepared pan, easing it into the corners of the pan with an offset spatula.
Bake at 350°F for 30 to 45 minutes or until a wooden pick inserted near center of cake comes out clean. If your oven runs hot or you are using a thin pan, the cake may bake more quickly.

Cool cake in the pan on a wire rack until it is at room temperature.

To make the Fudge Frosting: In the bowl of your stand mixer fitted with the paddle attachment, beat the butter until light and fluffy. Add the sifted powdered sugar, about 2 tablespoons at a time, mixing well after each addition. Scrape the bowl. Add the vanilla, cocoa, and milk, beating until fully incorporated. Stop the mixer and scrape down the sides of the bowl; be sure there is nothing caught beneath the beater. Continue beating until smooth. Turn the mixer to medium high. Beat frosting until light,
fluffy and of spreading consistency. If the frosting is too thick, slowly add more milk or half and half, one tablespoon at a time, until it reaches the desired consistency.
You can use the frosting immediately, or store it in the refrigerator for 3 days. Allow frosting to come to room temperature before using.
Frost the Cake: Once the cake is fully cooled, spread the frosting over the top, using an offset spatula, and use the tip to decorate the top with lines or swirls if desired.

Nutrition Information:
Yield:
8
Serving Size:
1
Amount Per Serving:
Calories:

321
Total Fat:

6g
Saturated Fat:

1g
Trans Fat:

0g
Unsaturated Fat:

4g
Cholesterol:

48mg
Sodium:

903mg
Carbohydrates:

60g
Fiber:

1g
Sugar:

21g
Protein:

7g
If you love this recipe, be sure to follow me on social media so you never miss a post:
| Facebook | Pinterest | Instagram | Twitter |
Create a New Tradition Today!
First Published: 22 May 2017
Last Updated: 18 Nov 2019
Welcome! The suggestions here are not intended as dietary advice or as a substitute for consulting a dietician, physician, or other medical professional. Please see the Disclaimers/Privacy Policy page for additional details. Unauthorized use, distribution, and/or duplication of proprietary material from The Heritage Cook without prior approval is prohibited. If you have any questions or would like permission, please contact me. We participate in the Amazon Services LLC Associates Program, an affiliate advertising program designed to provide a means for sites to earn advertising fees by advertising and linking to amazon.com. This page may contain affiliate links.