I've been in the mood for casseroles, stews, and soups lately and today's recipe for Comforting Chili has kept us happy and satisfied during the recent storms. When the weather is wet and cold, there is nothing better than good old-fashioned comfort foods to warm us and fill us up. They are the solution to chase away the blues and warm up chilly days!
To combat the cold and damp, I made this big pot of spicy, flavor-packed chili, combining beef and pork for depth and complexity. The vegetables and stock help with balance so you don't wind up with overpowering tomato. You can add more heat if you want by increasing the amount of chile powders, adding fresh peppers, or using hot sauce.
When I am cooking I like to lightly season my dishes with salt and pepper along the way, flavoring both the vegetables and meats as they cook, and then making a final adjustment after everything has been added. There are others that would argue with me that I should add specific measurements for the salt and pepper to my recipes, but I want you to get used to tasting as you go along, layering the flavors and training your palate. The more you do this, the more intuitive your cooking will become!
For today's meal I chose to top my "bowl of red" with shredded Monterey Jack cheese (what I had available), slices of avocado, and crumbled tortilla chips. Cheese is always a good idea, LOL, avocado adds lushness, and the chips are perfect for a little much needed crunchiness.
I'll bet your family will love the crunch, so you definitely want to serve extra chips with each bowl. You can give small bowls of pre-crumbled chips for your littlest ones saving you from having to clean up a bunch of crumbs from the floor. They can feel empowered to add more to their own bowl without making a huge mess.
This time I kept my chili fairly mild to give The Artist's tummy a much-needed respite. Normally I would have included some chopped jalapeno peppers. If these are too hot for you, try using chopped mild chiles for a spark of heat without searing your mouth.
A recipe is only a guideline to help you be creative. Stretch yourselves, if you like a specific flavor or ingredient, add more. If you don't like something leave it out or replace it. When you make a recipe your own with adaptations, it becomes a memory that can evolve into a family tradition.
Have a wonderful weekend!!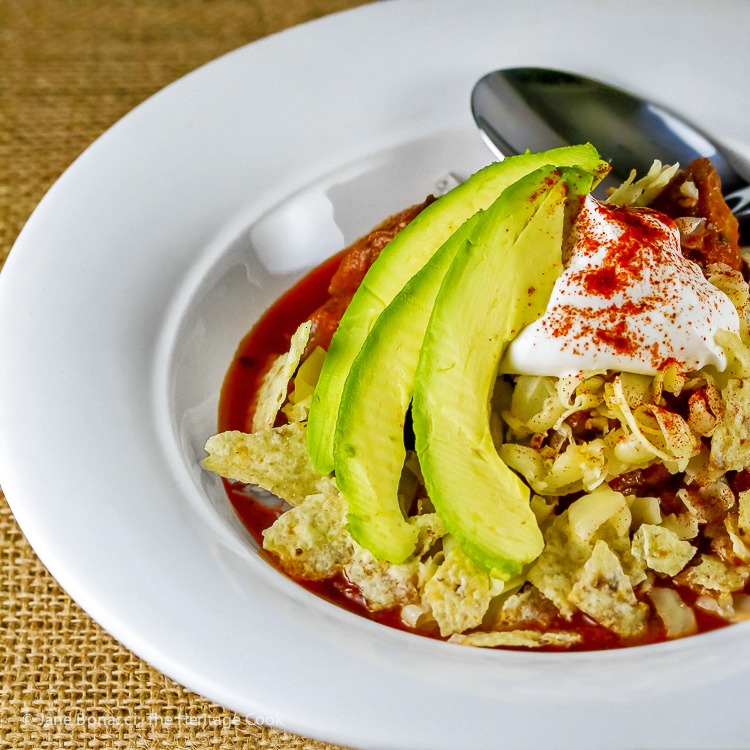 How to make Comforting Chili:
Heat oil and sauté the celery, onions, carrots, and bell peppers
Brown beef in the oil, then cook the sausage
Stir in the broth, tomatoes, wine and Worcestershire sauce
Add the seasonings; reduce heat to low and cook 1 to 1-1/2 hours
Thicken with cornmeal if desired
Taste and adjust seasonings as needed; serve and enjoy!
Does chili need to have beans?
Not in my opinion. I prefer Texas-style which is loaded with meat and without any beans. If you love beans in your chili, add them or make a pot of black beans and serve alongside. They can be stirred into a bowl of the chili to add flavor and help reduce some of the spicy heat.
PRO Tip:
If you are only going to be using a few slices of avocado, you can cut them straight off the pit. Yep, just use a sharp knife to cut a slice or more off the avocado, straight through the skin, and then you can very easily peel off the tough outer skin from each slice. This is so much easier than removing the pit and scooping the avocado out of the peel!
Key Ingredients for this Recipe
Celery, carrot, onions, bell peppers, and garlic
Beef, cubed and Italian sausage
Beef broth, crushed tomatoes, red wine, and Worcestershire sauce
Chili powder, cumin, oregano, chipotle powder, sugar, salt, and pepper
Finely ground cornmeal and corn kernels, optional
Toppings of your choice
Kitchen Tools I Used to Make This Recipe (affiliate links)
Gluten-Free Tips:
While this dish is fairly easy to make gluten-free, always check the component ingredients for any gluten ingredients or cross-contamination. The labeling laws have gotten much stricter in recent years making it easier for us to recognize gluten-free products. When in doubt, contact the manufacturer and ask about their safety practices.
Yield: About 10 servings
Comforting Chili for Chilly Days (Gluten-Free)
Enjoy today's Comforting Chili to chase away chilly days. Packed with chunky beef and sausage, it will warm you to your toes!
Cook Time
1 hour
30 minutes
Total Time
1 hour
50 minutes
Ingredients
Chili
3 tbsp organic olive oil
2 stalks celery, trimmed and chopped
1 carrot, scrubbed clean, trimmed, and chopped
3 med onions, chopped
2 red bell peppers, stem and seeds discarded, finely chopped
2 cloves garlic, peeled and minced
2 lb chuck, sirloin or London broil, trimmed of excess fat and cubed
1 lb gluten-free mild or hot Italian bulk sausage, optional (use more beef if leaving out)
2 cups gluten-free beef broth
2 (28 oz) cans crushed tomatoes
2 cups dry red wine
1 tbsp Lea & Perrins Worcestershire sauce
1/4 cup chili powder or ancho chile powder
3 tbsp ground cumin
2 tbsp dried oregano
2 tsp chipotle powder, or to taste (or use smoked paprika)
1 tsp sugar
Kosher or fine sea salt and freshly ground black pepper, to taste
2 tbsp masa harina or finely ground cornmeal for thickening, optional
1 cup frozen corn kernels, optional
Garnishes
Grated cheese, sour cream, crumbled tortilla chips, avocado, etc.
Instructions
In a large Dutch oven, heat the oil over medium-high heat. Sauté the onions, celery, carrots, and bell peppers until softened, stirring often, about 3 to 5 minutes. Keep an eye on the heat under the pan because once it heats up, you can lower the temp. Use a slotted spoon to transfer the vegetables to a large bowl and set aside.
Add the beef to the same pan, about 1/3 at a time, and cook until well browned. Use the slotted spoon to remove each batch of meat, transferring it the bowl with the vegetables. When the beef is done add the pork sausage to the pan and cook, stirring regularly breaking up large clumps. When the pork is cooked through, return the browned beef cubes and vegetables to the pan. Stir to combine.
Add the broth, tomatoes, wine, and Worcestershire sauce. Scrape the bottom of the pan to release the browned bits. Sprinkle with the chili powder, cumin, oregano, and chipotle, stirring everything together to combine. Stir in the sugar. Taste and adjust seasonings with salt and pepper. Add more chili powder or a little cayenne pepper if you want the mixture spicier … just remember that it will get hotter as it sits so don't add too much now!
Reduce the heat to low and cook for 1 to 1-1/2 hours, stirring occasionally, until the meats are tender and flavors have blended. Skim any accumulated grease from top and discard. If the chili is too thin, you can thicken it with the cornmeal. Sprinkle it over the top and stir in, being careful to break up any lumps. Simmer, stirring often, until thickened, about 5 minutes. Taste and adjust seasonings again.
Ladle into bowls and pass the garnishes. The crumbled tortilla chips add a nice crunchy texture to the stew and your kids will love helping you smash them!
Enjoy!
Notes
Gluten Free Note: Be careful with seasonings, especially blends. Fillers can be used and often contain gluten ingredients. Check with the manufacturers to be sure their products are safe.
Nutrition Information:
Yield:
10
Serving Size:
1
Amount Per Serving:
Calories:

607
Total Fat:

32g
Saturated Fat:

10g
Trans Fat:

0g
Unsaturated Fat:

19g
Cholesterol:

142mg
Sodium:

841mg
Carbohydrates:

28g
Fiber:

6g
Sugar:

6g
Protein:

46g
If you love this recipe, be sure to follow me on social media so you never miss a post:
| Facebook | Pinterest | Instagram | Twitter |
Create a New Tradition Today!
First Published: 12 Jan 2017
Last Updated: 29 Nov 2019
Welcome! The suggestions here are not intended as dietary advice or as a substitute for consulting a dietician, physician, or other medical professional. Please see the Disclaimers/Privacy Policy page for additional details. Unauthorized use, distribution, and/or duplication of proprietary material from The Heritage Cook without prior approval is prohibited. If you have any questions or would like permission, please contact me. We participate in the Amazon Services LLC Associates Program, an affiliate advertising program designed to provide a means for sites to earn advertising fees by advertising and linking to amazon.com. This page may contain affiliate links.