I think I am safe in saying that Macaroni and Cheese is the Queen of Comfort Foods. Every child knows it is available at any restaurant. It is warm and comforting when you have had a bad day and adding buttery breadcrumbs as a topping just gives you more reason to love it. In some parts of the country, Mac and Cheese is considered a side dish. In our household, it was the star attraction.
All Mac and Cheese's are not create equal, but they are all made using similar techniques. It isn't hard to make, it just takes a little practice. Once you have mastered these techniques, this and many other recipes will become easy.
Some people layer the pasta and cheese, depending on the heat of the oven to melt the cheese. The first recipe is an example of this method. The rest of the world makes a simple sauce of thickened milk and melts the cheese into that. Either way you will have a wonderful meal, but the second method will produce a much smoother, creamier sauce. The second recipe is my version and the one I make most often. It doesn't take that much longer and I think it is worth the extra effort.
There are five "Mother" sauces in the cooking world. And from these five there are hundreds of variations, each with its own primary use. The five sauces are: Bechamel, Veloute, Espagnole, Hollandaise and Mayonnaise. There is also Tomato (pasta) sauce which some think should be added to the list. It certainly has a place of honor in our home!
The base for the bulk of Macaroni and Cheese is a Bechamel sauce, more commonly called a White Sauce. A standard in the 50's, (think Chicken a la King or Creamed Beef on Toast,) Bechamel has gotten a bad rap. It is the "King" of the sauces, and the one that is used the most often. You start by making a roux, a combination of equal parts flour and butter. Cooked together over medium heat until smooth and bubbling, you then add hot milk in a steady stream while whisking constantly. Cook until thickened, season to taste with salt and pepper, and you have a White sauce. When you stir in grated cheese you have the cheese sauce for Mac and Cheese. See how easy it is!
By using a combination of cheeses, you get intense cheese flavor and the creaminess so many are lacking. The cheddar gives you the cheesiness, while Monterey Jack and muenster both will give you a creamy consistency. I like the added layer of smokiness from smoked mozzarella, but if you want a more traditional flavor, you can substitute mild cheddar. You can play around with the combination of cheeses – some like to add a little Bleu cheese and others prefer Feta. Whatever you choose, make sure you have some cheddar in the mix!
When you're making the Bechamel, make sure you get it as thick as you want before adding the cheese. For years whenever I tried to make homemade Mac and Cheese I wound up with a grainy sauce. It took some digging to find out that in my attempt to further thicken the sauce after I added the cheese, I was actually causing the sauce to break. Now that I know the secret it comes out perfectly creamy and smooth every time.
Once you have mastered this sauce and made the Mac and Cheese from scratch, you'll never go back to the boxed mixes again! Have fun creating memories with your family!!
Jane's Tips and Hints:
Patience is the key to success with Bechamel and cheese sauces. Whisk constantly and add ingredients slowly. If you wind up with a few lumps, you can always strain them out by pouring the sauce through a sieve.
Kitchen Skill: Making a White Sauce (Bechamel)
Melt butter in a skillet and stir in the flour. Cook over medium heat, stirring constantly, until mixture is thick and bubbling. Very slowly whisk in hot milk or other liquid. Bring to a boil and cook until thickened and smooth, whisking constantly. If you have to step away from the stove while making this, take it off the heat. When ready to resume, whisk thoroughly, return to the heat and continue cooking. There should be no raw flour flavor. Season to taste with salt and pepper.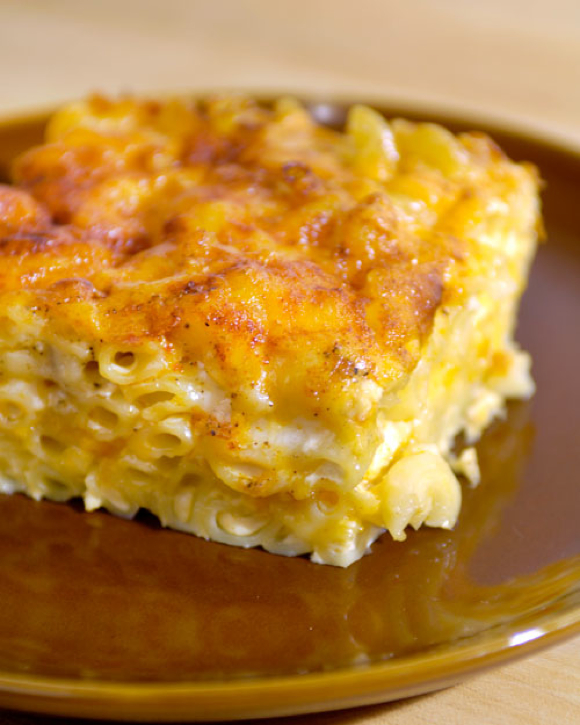 John Legend's Fast and Easy Macaroni and Cheese
2015-07-15 16:55:07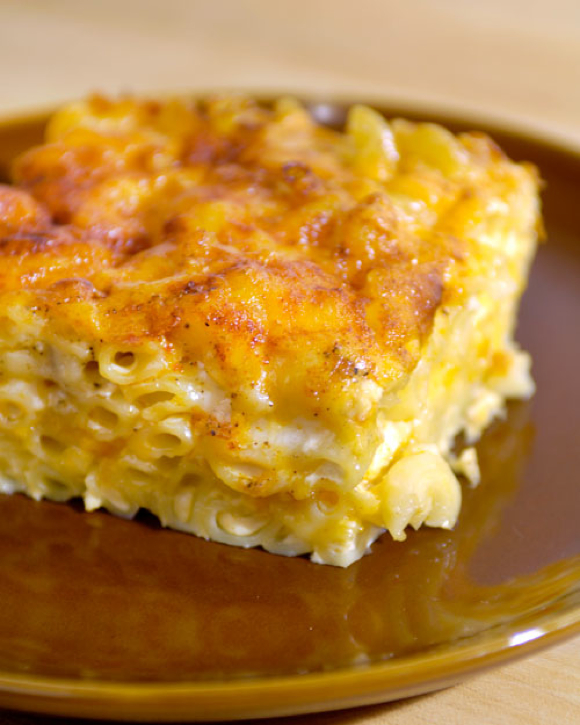 When musician John Legend visited Martha, he shared his recipe for this favorite Southern comfort food, with generous helpings of both Monterey Jack and cheddar cheeses; evaporated milk creates a creamy texture under the golden-brown surface.
Ingredients
4 tbsp (1/2 stick) unsalted butter, plus more for baking dish
Coarse salt and freshly ground pepper
3 cups elbow macaroni
2 (12-oz) cans evaporated milk
1/3 cup skim milk
2 large eggs
1/2 tsp seasoned salt
1/4 tsp garlic powder
2 (8 oz) packages extra-sharp cheddar cheese, grated
1 (8 oz) package Monterey Jack cheese, grated
Paprika, for sprinkling
Instructions
Preheat oven to 375°F. Generously butter a 13-by-9-inch glass baking dish; set aside.
Bring a large pot of water to a boil; add salt and macaroni. Cook until al dente according to package directions. Drain, and return to pot. Add butter, and toss until pasta is coated and butter has melted; set aside.
In a medium bowl, whisk together evaporated milk, skim milk, and eggs. Add seasoned salt, garlic powder, 1 tsp salt, and 1/2 tsp pepper; set aside.
In another medium bowl, combine cheeses; set aside.
Place 1/3 macaroni in an even layer in the bottom of prepared baking dish; cover evenly with 1/3 cheese. Repeat with remaining macaroni and cheese mixture. Pour milk mixture evenly over contents of baking dish. Sprinkle with paprika. Bake until top layer is lightly browned, 35 to 45 minutes. Let stand 10 to 15 minutes before serving.
Notes
Yield: about 6 to 8 servings
The Heritage Cook ® https://theheritagecook.com/
The Heritage Cook's Velvety Mac and Cheese Casserole
2015-07-15 16:56:08
Ingredients
Topping

4 tbsp butter
1/2 tsp onion powder, optional
1/2 tsp garlic powder, optional
1/4 cup grated Parmesan cheese
2 tsp dried thyme leaves
1 cup panko breadcrumbs (or gluten-free breadcrumbs if needed)

Pasta

3 quarts of water
1 tsp salt
4 tsp chicken base or bouillon granules (gluten-free if needed)
1 lb pasta of your choice; e.g. mini penne, elbows, shells, or mini ziti (gluten-free pasta if needed)

Cheese Sauce

2-1/2 to 3 cups half and half or evaporated milk (not sweetened condensed!)
1 bay leaf
1/2 medium onion, peeled and coarsely chopped
1/2 tsp grated nutmeg, optional
1-1/2 tsp Dijon or other prepared mustard – you can leave this out if kids don't like it
2 tbsp butter
2 tbsp all-purpose flour or sweet rice flour (for gluten-free sauce)
1/2 tsp turmeric, optional (adds the bright yellow color kids like to see)
Salt and ground white pepper, to taste
3/4 cup grated Sharp cheddar cheese
3/4 cup grated Monterey Jack cheese
1/2 cup grated Smoked Mozzarella cheese or Mild Cheddar cheese
1/2 cup grated Muenster cheese
Instructions
Preheat oven to 350°F. Butter a 9×13-inch or similarly sized baking dish.
Prepare Topping: In a small skillet, melt butter and using a fork, stir in remaining topping ingredients. Set aside.
Cook pasta: In a large stockpot, bring water to a boil, stir in salt and chicken base, return to a boil, and stir in pasta. Cook to just al dente or according to package directions. Pasta should still be a little underdone – it will finish cooking in the oven. Reserve 1 cup of pasta cooking water. Drain cooked pasta in a colander and then pour into a large mixing bowl.
While pasta is boiling, heat 3 cups of half and half in a saucepan over medium heat with bay leaf, onions, nutmeg, and mustard, until steaming hot but not boiling. Remove from heat and set aside to steep. Alternately, you can place milk in a heatproof container, such as a Pyrex measuring cup, and heat in the microwave.
Make the Sauce: In a large skillet, combine butter and flour and cook over medium-high heat, whisking, until smooth and there are no lumps, until the raw smell of flour is gone, 1 to 3 minutes. (If using sweet rice flour, cook over medium-low heat for 1 minute or until just barely starting to turn color.) Strain the solids from the milk and discard, then pour 2-1/2 cups of the hot milk slowly into the roux, whisking constantly, making sure there are no lumps. Continue to cook, whisking, until thick and bubbly, 3 to 5 minutes. Whisk in turmeric, salt, and pepper. Taste and adjust seasonings. If it gets too thick, add a little more of the milk.
Remove from heat and add cheeses. Stir until everything is melted and sauce is smooth. Pour over pasta in mixing bowl, tossing until thoroughly coated. If sauce is too thick, add a little of the reserved pasta cooking water or reserved milk to thin it.
Bake casserole: Pour the mac and cheese into the prepared baking dish, sprinkle the top with the breadcrumb mixture, and bake in the preheated oven for 15 to 20 minutes or until heated through and the top is browned and crispy. You can put the pan under a broiler for a few minutes if needed for browning. Serve hot.
Notes
Yield: about 8 servings
The Heritage Cook ® https://theheritagecook.com/
Unauthorized use, distribution, and/or duplication of proprietary material without prior approval is prohibited. If you have any questions or would like permission, I can be contacted via email at: heritagecook (at) comcast (dot) net. Feel free to quote me, just give credit where credit is due, link to the recipe, and please send people to my website,
www.theheritagecook.com.
Thank You!