Today's Vanilla Bean Cannoli Cookies are amazing. All the flavors of classic cannoli but easier to eat. And each bite bursts with vanilla thanks to Nielsen-Massey's remarkable products. They are so good that we're giving a bottle of vanilla away! More on that in a moment.
When I married an Italian, I knew there would be culinary differences in our comfort foods, but I didn't know how extensive they would be. From our choices of main courses to desserts we have huge contrasts.
With my Irish heritage, I grew up loving potatoes as a side dish while The Artist had pasta. For The Artist, pasta was a starter course in a meal, for me pasta meant spaghetti, always a main course. Growing up I didn't even know there were any shapes other than spaghetti and macaroni.
Desserts are the same. I grew up baking sweet cakes and pies for my family while The Artist ate Italian cookies, Semifreddo, Neapolitan ice cream, and of course Cannoli. He will always choose cookies if they are on the menu. So today's Cannoli cookies were the perfect choice to make his day!
These cookies are delicate texture and packed with vanilla flavor. You get a beautiful combination of crunchy cookies with creamy filling, and if you add the chocolate chips (be sure they are minis) you get a bit of chocolate in every bite.
I decided to change the original recipe from chocolate cookies to vanilla to showcase the flavor even more. I found a fantastic recipe from Sue of The View from Great Island, made a couple of small modifications to make them gluten-free and paired them with the cannoli filling from the Nielsen-Massey recipe. Perfection!
Be sure to check the two original recipes, Vanilla on Vanilla Sandwich Cookies from The View from Great Island, and Chocolate Cannoli Sandwich Cookies from Nielsen-Massey for even more fun in the kitchen!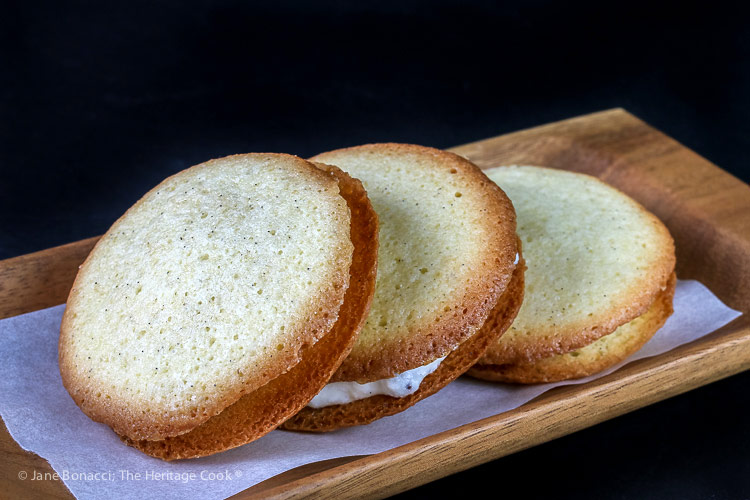 Now let's get to the Giveaway!
Nielsen-Massey has generously offered to give one lucky reader a bottle of their Madagascar Bourbon Vanilla Extract! Follow the directions in the Rafflecopter below to enter. A winner will be selected at random. This giveaway is limited to the United States (sorry Canadian and international friends!) and you must be over 18 to enter.
The Giveaway is now closed. Congratulations to our winner Jennifer!
Enjoy these Vanilla Bean Cannoli Cookies, happy Chocolate Monday everyone, and Good Luck on the Giveaway!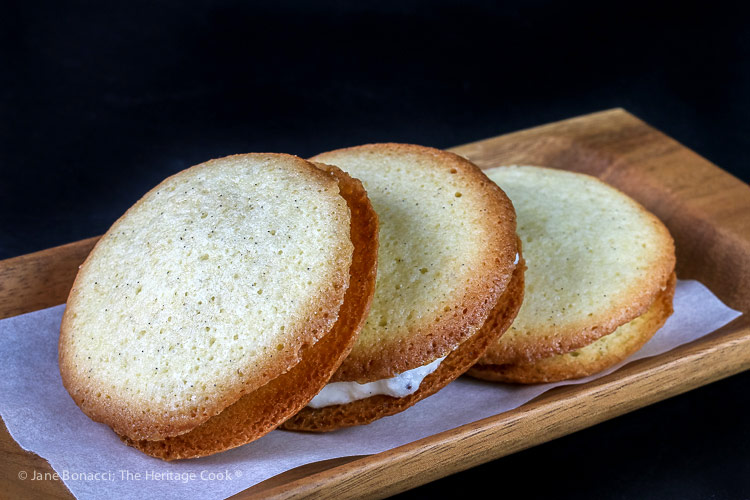 Vanilla Bean Cannoli Cookies (Gluten-Free)
2018-09-17 09:48:46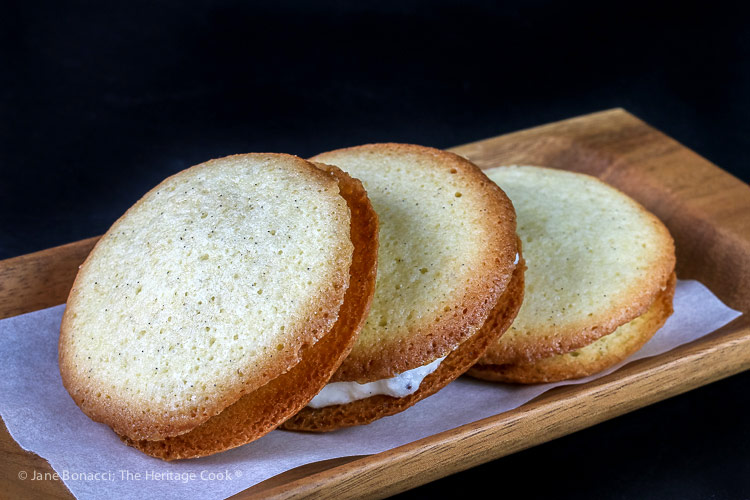 The cookies are based on a recipe from Sue of The View from Great Island: https://theviewfromgreatisland.com/vanilla-on-vanilla-sandwich-cookies/
Ingredients
Vanilla Cookies
1-1/2 cups (180g) gluten-free flour blend or all-purpose flour
1/2 tsp kosher or fine sea salt
1/4 tsp baking powder
1/8 tsp xanthan gum (only if using gluten-free flour)
3/4 cup (1-1/2 sticks; 170g) unsalted butter, at room temperature
1 cup (200g) granulated sugar
2 tsp Nielsen-Massey Madagascar Bourbon Pure Vanilla Bean Paste or Madagascar Bourbon Pure Vanilla Extract
2 large eggs
Vanilla Bean Cannoli Filling
2 cups whole milk ricotta
1/2 cup powdered sugar
2 tsp Nielsen-Massey Madagascar Bourbon Pure Vanilla Bean Paste or Madagascar Bourbon Pure Vanilla Extract
1/3 cup mini chocolate chips (optional)
Instructions
Prepare the Cookies: Heat the oven to 375°F. Line 2 baking sheets with parchment paper or Silpats.
In the bowl of your stand mixer, cream together the butter and sugar until light and fluffy. Mix in the vanilla and eggs. When they are incorporated, stir in the dry ingredients, beating until smooth and creamy. Refrigerate until the dough firms up slightly, about 15 minutes.
Use a small spring-loaded ice cream scoop (about 1-1/4 inch diameter) to portion the dough and place each one about 2 inches apart on each baking sheet. Bake one tray at a time for the best results. Refrigerate the dough between reloading baking sheets.
Bake 9 to 10 minutes, until the edges are golden brown. Leave on the baking sheet a couple of minutes to firm up, then transfer to a wire rack and cool completely.
Make the Filling: Mix together the ricotta, sugar and vanilla until smooth. If desired, fold in mini chocolate chips. Refrigerate 15 minutes, or until ready to use.
Assembly: Place about 1 tsp of cannoli filling onto a cooled cookie. Top with a second cookie, pressing very gently to spread the filling to the edges. Do not assemble in advance or the cookies will get soggy. Fill and serve immediately.
Notes
Yield: 3 dozen cookies; 1-1/2 dozen sandwich cookies
Adapted from a Nielsen-Massey recipe
The Heritage Cook ® https://theheritagecook.com/
Create a New Tradition Today!
Disclosure: This post is sponsored by Nielsen-Massey Vanillas and Flavors. Thank you for supporting my partnerships with brands that I love to work with and whose products I use regularly. As always, all opinions are my own.
Keep in touch with Nielsen-Massey on Social Media: Pinterest | Facebook | Instagram | Twitter | YouTube
Welcome! Unauthorized use, distribution, and/or duplication of proprietary material from The Heritage Cook without prior approval is prohibited. If you have any questions or would like permission, please contact me. The suggestions here are not intended as dietary advice or as a substitute for consulting a dietician, physician, or other medical professional. Please see the Disclaimers/Privacy Policy page for additional details. This page may contain affiliate links. Thanks for visiting The Heritage Cook!