When I hear the word 'chocolate' I tend, like many, to think of desserts. But we don't have to limit the magic elixir to just one form of enjoyment. Today I am sharing three recipes for chocolate beverages that I know you will be dreaming of and planning future parties around, LOL.
All the recipes are from a wonderful book called "Chocolate" by Jean Pierre Wybauw with stunning photography by Frank Croes. Chef Wybauw is a master chocolatier and highly regarded by his peers in the chocolate and confections world. He worked as a technical advisor and instructor for Callebaut chocolate manufacturer for 37 years and was voted "Chef of the Year" by the Culinary Institute of America in 2002.
The book opens with a guide to some of the most commonly used techniques in chocolate making. He teaches us how to achieve the perfect gloss, molding chocolates, quick and easy cake decorations and how to make a paper pastry bag. If you have dreamed of making your own filled chocolates, want to create special chocolate cut outs, using plastic film for professional looking decorations, or to make chocolate "leaves," this book can be your guide.
Once you are comfortable with the basics of working with chocolate, you can take that knowledge and create all different kinds of confections. He also provides us with a large selection of incredible chocolate desserts guaranteed to please even the pickiest chocoholics. If all of this seems overwhelming, you can stick to the cookies and milkshakes, which are perfect for beginners.
All of today's recipes can be made in just minutes, making them perfect for after-school snacks, a quick dessert, or something for those days when we just really need a hit of chocolate.
The Copacabana Milkshake recipe is like a liquid banana split and calls for Demerara sugar. If you haven't already bought some, this is good time to try it out. It is a kind of unrefined coarse sugar that is pale yellow due to the small amount of molasses that remains after the first pressing of sugar cane. In addition to using it in the milkshake, I love to sprinkle it on top of cookie dough before I put them in the oven. It doesn't melt during baking so you get that beautiful crunchy top on the soft cookies.
You can serve these drinks in normal mugs, but I recommend selecting something a little more "special." Even the most unremarkable beverage becomes unique when served in a beautiful glass.
Enjoy these wonderful chocolate concoctions. Happy Chocolate Monday!!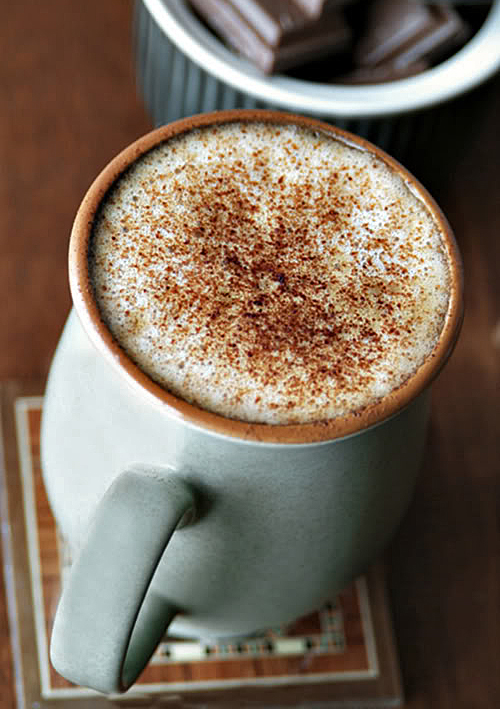 Jane's Tips and Hints:
Having a powerful electric blender is key to the smoothest possible beverages. You can use an immersion blender (also called a stick blender), often with good results, but I have found that an old-fashioned blender is still the best tool.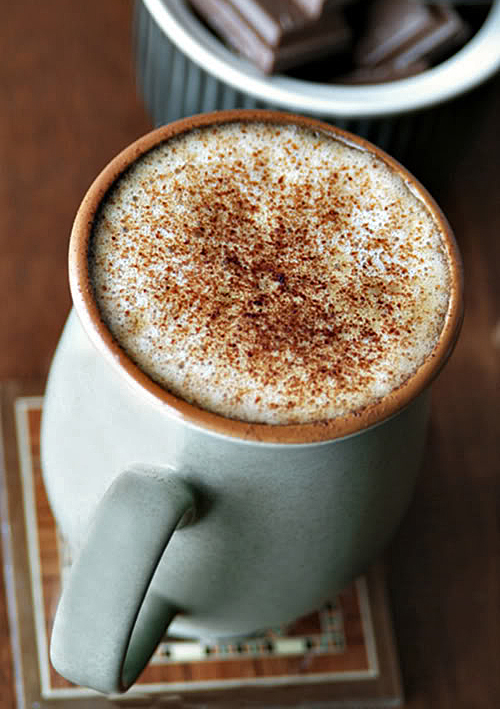 Orange-Chocolate Ice Cream Shake
2015-07-07 11:05:50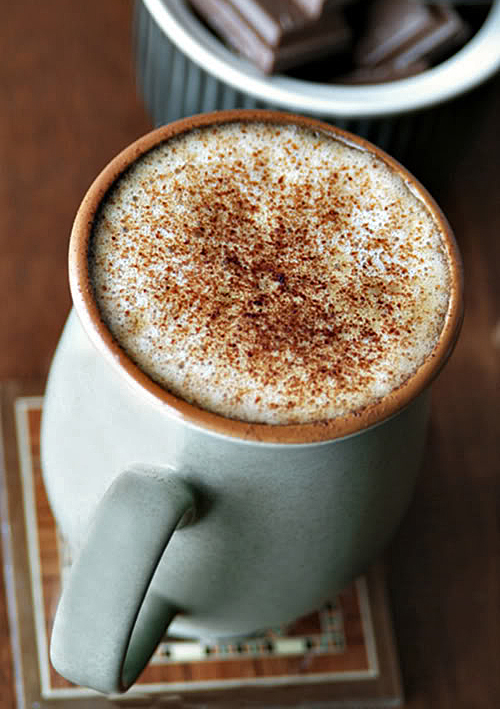 From "Chocolate" by Jean Pierre Wybauw
Ingredients
2 cups chocolate ice cream
2 cups milk
1/2 cup Grand Marnier or pulp-free orange juice
Instructions
Blend the ingredients together in a blender until the mixture is completely smooth. Pour immediately into chilled glasses and finish with a garnish such as very finely shaved chocolate.
The Heritage Cook ® https://theheritagecook.com/
Copacabana Milkshake
2015-07-07 11:06:21
From "Chocolate" by Jean Pierre Wybauw.
Ingredients
1-1/4 cups milk, divided
1/2 cup Demerara sugar
2 oz chocolate, chopped
Ground cinnamon, to taste
1-1/2 bananas
2 cups vanilla ice cream
Fresh mint leaves, for garnish
Instructions
Bring 1/2 cup of the milk to a boil with the Demerara sugar, stirring. Add the chocolate and cinnamon. Set this aside to cool completely.
Peel and slice the banana, setting aside 4 slices for garnishing. Put the rest of the banana in a blender with the now cold chocolate milk, the remaining milk and ice cream. Blend until the mixture foams.
Serve at once in chilled glasses. Sprinkle the top with a little cinnamon, and garnish the glass with a slice of banana and mint.
The Heritage Cook ® https://theheritagecook.com/
Brazilian Chocolate Drink
2015-07-07 11:07:07
From "Chocolate" by Jean Pierre Wybauw
Ingredients
4 oz chocolate
1 cup strong black coffee
3 cups milk
1-1/2 tbsp granulated sugar
4 tbsp whipped cream
Chocolate flakes or shaved chocolate, for garnishing
Instructions
Finely chop the chocolate and place it in a heatproof bowl. Make the coffee.
Bring the milk and sugar just to a boil and pour this over the chocolate; add the coffee and stir until chocolate is melted.
Pour the chocolate milk into cups or mugs. Carefully float a tbsp of whipped cream on top of each cup and decorate with chocolate flakes.
The Heritage Cook ® https://theheritagecook.com/
Unauthorized use, distribution, and/or duplication of proprietary material without prior approval is prohibited. If you have any questions or would like permission, I can be contacted via email at: heritagecook (at) comcast (dot) net. Feel free to quote me, just give credit where credit is due, link to the recipe, and please send people to my website,
www.theheritagecook.com.
Thank You!