Today's Basil Chicken Tetrazzini is an amped up version of the dishes my mother made for us when I was a child. Warm, filling, and delicious, it is the epitome of comfort food for these cold and wet days.
Casseroles became an American staple during the Depression when it was necessary to make inexpensive and filling meals. Mothers across the country became very creative at using small amounts of meats and combining them with potatoes, pasta, or rice, adding vegetables and using a creamy sauce to bind them together. After the invention of canned soups and other convenience foods, the popularity of economical casseroles soared. Macaroni and cheese, tuna noodle casserole, and chicken pot pies were seen weekly on dinner tables across the nation.
One of the favorite casseroles, Chicken Tetrazzini, has an interesting history. Chicken Tetrazzini has an interesting history … In the early 1900's one of the most popular opera singers in Europe and America was Luisa Tetrazzini. Born in Florence, Italy in 1862, Luisa's remarkable soprano voice soared in major opera houses around the globe. She made her American debut in San Francisco in 1905 and it always held a special place in her heart.
After the devastation of the 1906 earthquake and fire in San Francisco, on Christmas Eve 1910, Luisa stepped onto a platform at the corner of Market and Kearney streets and serenaded a crowd of two to three thousand enraptured San Franciscans. To mark the occasion, a local chef created a concoction of cooked pasta and mushrooms bathed in a creamy sauce and named it for the famous singer. No doubt this combination had been assembled many times before, but this time, with the title of Chicken Tetrazzini, it became a national favorite.
The ingredients of Chicken Tetrazzini are quite simple, but when combined they create a satisfying and filling meal perfect for parties, weeknight meals, or potluck suppers. The creamy sauce is one that every cook should know how to make, a simple white sauce more formally known as bechamel. This is a foundation for many recipes and one of the first things they teach at culinary school.
I know that today's recipe looks complicated and long with too many ingredients. But if you look closely, there are not that many items to buy and all the preparation leading up to baking is all done in one skillet – saving you tons of dishes to wash! You start by sautéing the vegetables, then the chicken. You make the bechamel sauce and pour it over the chicken and vegetables. Top the whole thing with cheesy good breadcrumbs and bake until bubbling and golden brown.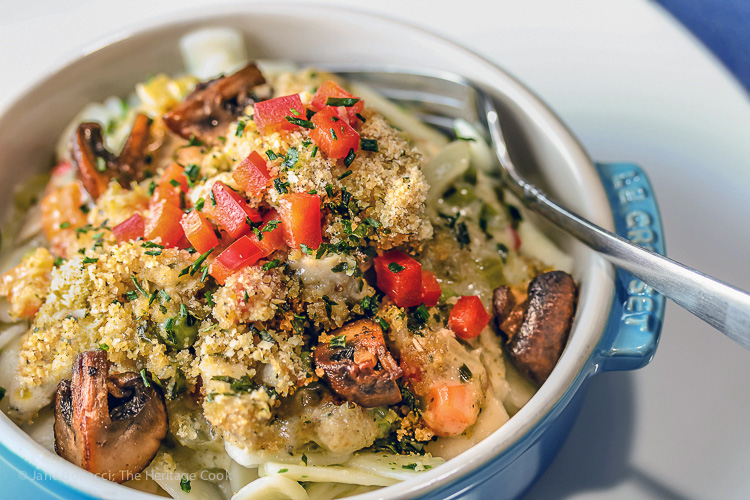 Take it one step at a time – each one is easy – and you will have the perfect meal for any evening. I had it prepped, assembled, and ready for the oven in less than 30 minutes. Another 30 minutes in the oven and you've got dinner on the table in about an hour.
If you are trying to use fewer canned goods in your cooking, bechamel sauce is a good substitute for creamed soups in recipes. It can be seasoned in many different ways and is incredibly versatile. The simple act of adding minced basil or other flavor to a regular bechamel sauce elevates it to rock star status!
While this recipe calls for chicken, you can easily substitute turkey or duck which is a terrific way to use holiday leftovers. If you want, you can make it with cubed ham for a change of pace. To make this vegetarian, just increase the amount of vegetables and use a variety of portobello, shiitake, or morels for interest and texture. If you like spicier foods, feel free to add in some chiles or hot sauce.
My mother often made this casserole for us, but because she never used any seasonings other than salt and pepper, it was boring. These days I add a lot of herbs for a much more delicious and interesting meal. This means I can whip up a remarkable meal in minutes.
Enjoy this taste of my childhood. I hope it brings your family together over the dinner table as it did for my parents, brothers, and me, giving us the opportunity to share what happened during our days, telling stories and laughing. Who knows, this may be the beginning of a new family tradition!
Have a fabulous weekend!
How to make Basil Chicken Tetrazzini Casserole:
Sauté the bell peppers, carrots, celery in a large skillet; add the garlic and mushrooms along with the basil and chives; season with salt and pepper then stir in the peas; transfer to a 9×13-inch baking pan.
In the same skillet sauté the chicken pieces until lightly browned; add to the vegetables in the baking pan.
Melt the butter in the skillet and whisk in the flour; continue whisking until it become pale golden; add the wine and stock, bring to a boil and cook until thickened; whisk in the basil and cream and adjust the seasonings; pour over the chicken and vegetables.
Stir the contents of the baking dish then sprinkle with the topping; bake until bubbly and golden brown.
Meanwhile cook the pasta and put some in each serving dish.
Top the pasta with a large scoop of the baked casserole, sprinkle with chives, basil, or parsley and serve.
PRO Tip:
If you don't like chopping vegetables, hit up the salad bar at your local grocery store and pick out the veggies you need for the dish. Some grocers also sell pre-chopped onions, celery, and carrots and the packages are in the fresh produce section.
Is there a way to reduce the calories of this dish?
Yes! You can use milk instead of the heavy cream. The dish won't be as rich but it will still be satisfying. Instead of using breadcrumbs in the topping, you can substitute finely chopped almonds or other nuts. It will give you the same crunchy texture so important to complement the luscious cream sauce, but without gluten and it will lower the carbs while increasing the protein. And try spaghetti squash in place of the pasta or rice – so good and a much healthier option!
PRO Tip:
Traditional Chicken Tetrazzini has the pasta mixed in before baking. I cook the pasta separately so it never gets overcooked – especially helpful if you are using gluten-free noodles. If you want this to be truly a one-dish meal, cook the pasta about halfway, and toss it together with everything before pouring into the baking dish.
Key Ingredients for this Recipe
Bell peppers, carrots, celery, mushrooms
Basil, garlic, and chives
Frozen peas
Boneless skinless chicken, cubed
Flour or gluten-free flour blend
Dry white wine, chicken stock, and heavy cream
Parmesan and panko breadcrumbs or gluten-free breadcrumbs
Egg noodles or gluten-free noodles
PRO Tip:
Quartering the mushrooms instead of slicing helps keep them from dissolving into the sauce and gives you beautiful texture in the final dish. If your family doesn't like mushrooms, you can substitute other vegetables that they enjoy.
Kitchen Tools I Use to Make This Recipe (affiliate links)
Other Casserole Recipes You May Enjoy:
Gluten-Free Tips:
Be sure to use gluten-free pasta or you can choose to serve this over mashed potatoes or cooked rice instead. When buying frozen vegetables, avoid any that contain a sauce because those are more likely to contain gluten. If you are cooking for someone with Celiac disease, be sure to use metal utensils when cooking. Wooden or plastic utensils can harbor minute amounts of gluten from earlier meals and possibly make your guests sick.
Yield: about 8 servings
Basil Chicken Tetrazzini Casserole
Additional Time
15 minutes
Total Time
1 hour
30 minutes
Ingredients
Vegetables
2 tbsp organic olive oil
2 tbsp butter
2 red bell peppers, stem and seeds discarded, finely chopped
3 carrots, trimmed and finely chopped
3 stalks of celery, trimmed and chopped finely
1 tbsp minced garlic
1 lb small white button or cremini mushrooms, ends trimmed, quartered
1 tbsp freshly minced basil
2 tsp minced chives
1-1/2 tsp salt
3/4 tsp freshly ground black pepper
1/2 cup frozen petite peas (do not thaw)
Chicken
1 lb skinless, boneless chicken breasts or thighs, cut in bite-sized pieces
1 tbsp olive oil
1 tbsp butter
Kosher or fine sea salt and ground pepper, to taste
Basil Bechamel Sauce
2 tbsp butter
2 tbsp organic olive oil
1/4 cup all-purpose flour or gluten-free flour blend
1/4 cup dry white wine
1-3/4 cups homemade chicken stock or low-sodium canned chicken broth (gluten-free if needed)
2 tbsp freshly minced basil
1 cup heavy cream, half and half, or whole milk
Topping
1/2 cup freshly grated Parmesan
1 cup panko breadcrumbs, dried gluten-free breadcrumbs, or almond meal
2 tbsp minced fresh parsley
Minced basil or parsley for garnishing
Pasta
12 oz wide egg noodles or fettuccine (use gluten-free if needed)
1 tbsp kosher or fine sea salt
1 tbsp olive oil
1 tsp finely chopped fresh basil or parsley
Instructions
Preheat the oven to 350°F.
Sauté the Vegetables: In a large skillet, combine the oil and butter over medium-high heat. When the butter is melted and starting to foam, add the bell peppers, carrots, and celery, cooking until soft, 3 to 5 minutes, stirring occasionally. Add the garlic and cook for 30 seconds or until aromatic. Add the mushrooms and cook, stirring occasionally, until the mushrooms are slightly softened and have released their liquid and most of the liquid has evaporated, about 4 minutes. Stir in the basil and chives. Add salt and pepper, taste, and adjust seasonings with more herbs, salt, or pepper. Stir in the frozen peas and transfer to a 9x13-inch baking pan.
Cook the Chicken: In the same skillet, heat the oil and butter over medium-high heat until the butter has melted and is beginning to foam. Add the chicken and cook until lightly browned and just barely done in the center. It is OK if there is some pink in the center because it will finish cooking while baking in the casserole. Add chicken to the vegetables in the baking pan.
Make the Sauce: In the same skillet, add the butter and oil. Heat over medium-high until the butter is melted. Remove from the heat and whisk in the flour, blending until no lumps remain. Return to the heat and cook, whisking constantly until it turns a very pale golden color. Do not let it get too dark.

Whisk in the wine and chicken stock, stirring until all the lumps have been incorporated. Return the pan to the heat, bring to a boil, and cook for about 2 minutes, whisking constantly, or until the sauce has thickened. Whisk in the basil and cream. Stir constantly until the sauce is thick and creamy, about 15 minutes. Taste and adjust seasonings with salt and pepper. Pour the sauce over the chicken and vegetables, mixing until everything is evenly coated and distributed in the pan.
Make the Topping and Bake: In a small bowl toss together the Parmesan, breadcrumbs, and parsley. Sprinkle seasoned breadcrumbs over the top of the casserole.
Bake, uncovered, until bubbly and golden brown, about 30 minutes.
Cook the Pasta: While the casserole is baking, bring a large pot of well-salted water to a boil and cook pasta until just al dente, according to package directions. Drain in a colander, place back in the cooking pot, toss with the olive oil and basil or parsley, and set aside.
To Serve: Remove the casserole from the oven and let rest for 10 to 15 minutes to cool slightly. Scoop some pasta into each dish, top with a large spoonful of the chicken mixture, and sprinkle the top with a little extra basil or parsley for color. Serve while hot.
Notes
You can serve this over mashed potatoes, rice, or cooked spaghetti sauce if desired.
Nutrition Information:
Yield:
8
Serving Size:
1
Amount Per Serving:
Calories:

885
Total Fat:

43g
Saturated Fat:

13g
Trans Fat:

1g
Unsaturated Fat:

27g
Cholesterol:

139mg
Sodium:

2588mg
Carbohydrates:

73g
Fiber:

6g
Sugar:

15g
Protein:

52g
Nutrition information isn't always accurate.
If you love this recipe, be sure to follow me on social media so you never miss a post:
| Facebook | Pinterest | Instagram | Twitter |
Create a New Tradition Today!
First Published: 4 March 2016
Last Updated: 27 Dec 2019
Welcome! The suggestions here are not intended as dietary advice or as a substitute for consulting a dietician, physician, or other medical professional. Please see the Disclaimers/Privacy Policy page for additional details. Unauthorized use, distribution, and/or duplication of proprietary material from The Heritage Cook without prior approval is prohibited. If you have any questions or would like permission, please contact me. We participate in the Amazon Services LLC Associates Program, an affiliate advertising program designed to provide a means for sites to earn advertising fees by advertising and linking to amazon.com. This page may contain affiliate links.