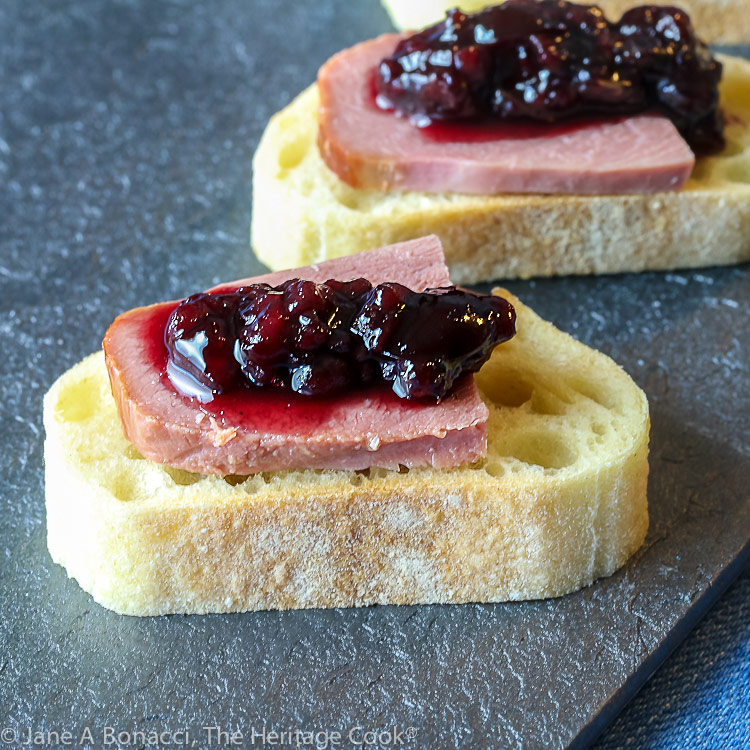 If you are looking for an exceptional appetizer for holiday parties or other special occasions, these Smoked Duck and Spiced Jam Canapes are the perfect solution. The combination of the smoky duck with a wine-spiked spiced jam is truly remarkable, the perfect blending of sweet and savory flavors.
One year we were invited to a holiday party and everyone was asked to bring a dish. I needed something I could make ahead, assemble quickly and which would hold at room temperature on the buffet.
I had a smoked duck breast in the freezer and love the flavor of duck with cherries. Starting with the concept of adding jam to the pan juices when cooking duck, I wondered if I could find a way to add a little spice to the jam to complement the smokiness of the duck, creating flavors similar to mulled wine. Some jam, wine, dried cranberries, and a few spices, and voila, I had the perfect concoction! These appetizers are elegant, indulgent, and the hit of any party.
As you would with any recipe that doesn't have a ton of ingredients, use the best quality jam you can afford. I love the preserves from Sarabeth. You can use any flavor of jam that you like, but I particularly like their blend of plum and cherry. It is slightly tart and piquant and lends itself well to the other flavors. When combined with the wines, cranberries, and spices, it creates the most amazing condiment.
Once you have the jam made you will have leftovers and you can use it in all kinds of ways. In addition to accompanying the smoked duck, the jam would be wonderful baked with puff pastry wrapped and baked Brie, on turkey sandwiches, thinned slightly and served as a glaze on ham, pork or chicken, or simply served on toast.
You can serve this combination in a myriad of ways. You can keep it simple or get as fancy as you like. I had baguettes available and sliced them. You could use frozen puff pastry and make small rectangular crisps. Or you could use phyllo pastry to make baked triangles. Cut the phyllo into 3-inch wide strips, place a dab of cherry jam at one end, top with a small piece of duck, fold into triangles and bake until browned and crispy.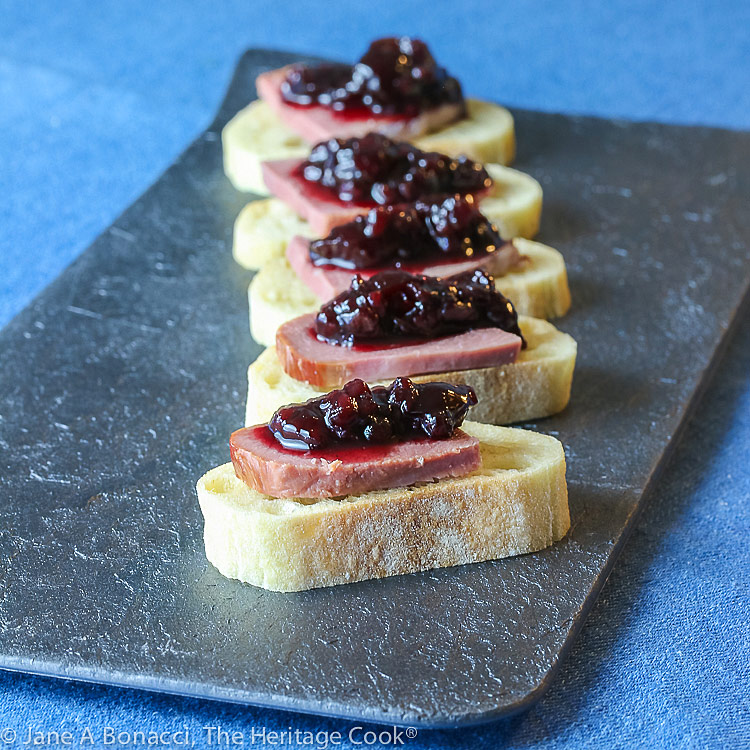 These Smoked Duck and Spiced Jam Canapes are the perfect appetizer for holiday parties and special events. They are beautiful, deliciously intriguing, and everyone will beg you for the recipe. Enjoy!
Key Ingredients for Smoked Duck and Spiced Jam Canapes:
Smoked duck breast

Baguette (gluten-free if needed)

Jam, red wine, vermouth or white wine

Cinnamon, bay leaves, thyme, black pepper

Dried sweetened cranberries, sugar, fresh lemon juice
PRO Tip:
If you can't find smoked duck or prefer not to use it, you can also make this with a pork tenderloin. Cook it (barbecued if possible for the touch of smoke) to 142°F, let it rest 5 to 10 minutes, and serve it thinly sliced and lightly warmed.
How to make Smoked Duck and Spiced Jam Canapes:
Thinly slice the duck and trim off most of the fat

Slice the baguette(s)

Simmer together the jam, wines, and spices until syrupy; let cool

Layer the jam and duck slices on the baguette slices and serve
Kitchen Tools I Use to Make This Recipe (affiliate links):
Gluten-Free Tips:
Look for gluten-free baguettes or gluten-free puff pastry (in the freezer section) for this appetizer.
Welcome to Progressive Eats, our virtual version of a progressive dinner party where each course is held at a different home. With Progressive Eats, a theme is chosen each month, members share recipes suitable for a delicious meal or party, and you can hop from blog to blog to check them out. This month's theme is Holiday Cocktail Party hosted by Liz of That Skinny Chick Can Bake. We have a great mix of recipes for cocktails and appetizers fit for the fanciest parties. Come along and see all of the delicious and inspired dishes! See the links below for more inspiration and great recipes!
Yield: about 30 pieces
Smoked Duck and Spiced Jam Canape Appetizers (Gluten Free)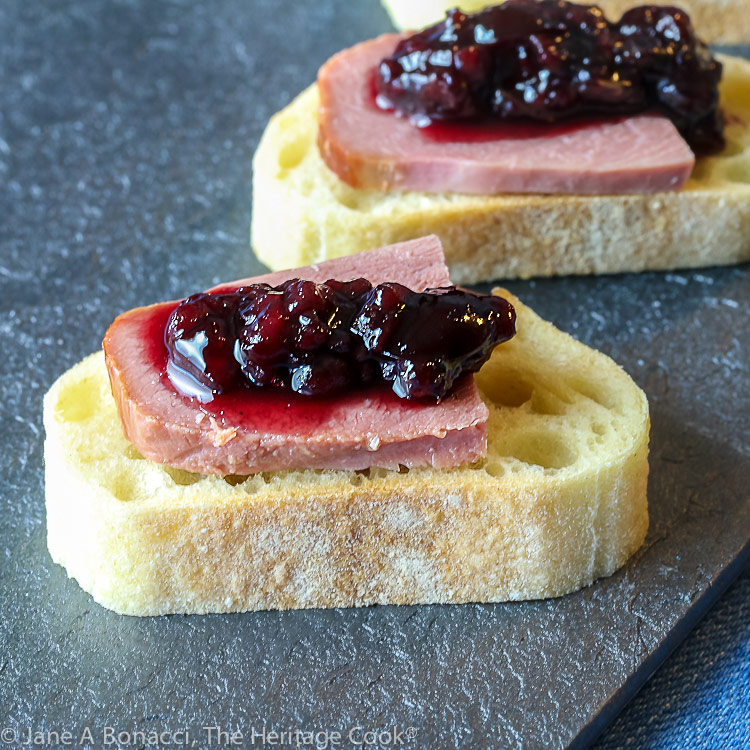 These Smoked Duck and Spiced Jam Canapes are the perfect option for holiday parties or other special occasions. The combination of the smoky duck with wine-spiked spiced jam is truly remarkable, the perfect blending of sweet and savory flavors. 
Additional Time
15 minutes
Total Time
1 hour
5 minutes
Ingredients
Spiced Jam
2-1/4 cups cherry jam, or any other flavor you like
1-3/4 cups full-bodied red wine, such as Malbec or Merlot
1/2 cup dry vermouth or dry white wine
2 bay leaves
3 thyme sprigs
1/2 tsp ground black pepper
1/2 tsp ground cinnamon
1/3 cup dried sweetened cranberries
2 to 4 tbsp sugar, if needed, depending on sweetness of jam
1 tbsp fresh lemon juice, optional
Simple syrup or agave nectar, if needed
Canapes
1-1/2 to 2 lb smoked duck breast
2 baguettes, gluten-free if needed
Instructions
Make the Jam: In a medium saucepan, combine jam and wines. Whisk until smooth. Add the bay leaves, thyme, black pepper, cinnamon, and cranberries. Stir until combined. Taste and add sugar as needed. Bring to a boil and then reduce to a simmer. Cook, stirring occasionally, at a slow simmer for about 20 to 30 minutes or until thickened and syrupy. Remove from heat and cool to room temperature. Taste and add lemon juice and/or simple syrup if needed. Remove and discard the bay leaves and thyme sprigs.
Prep the Duck and Bread: Remove most of the fat from the duck breast and thinly slice the meat. Reserve fat for later use. Cut duck into smaller pieces to fit on the bread. You will need at least 30 pieces. Set duck slices aside.
Slice the baguette(s) fairly thinly until you have 30 slices. If desired, you can lightly toast the bread slices to make them a bit crunchier and sturdier.
Assemble Appetizers: Place a slice or two of duck on each piece of bread and a small dollop of jam on top. Serve lightly warmed or at room temperature.
MAKE AHEAD: The jam can be made up to a week ahead and kept covered in the refrigerator. The duck can be sliced earlier in the day and kept in an airtight container in the refrigerator. Appetizers can be assembled and placed on serving platters up to 30 minutes ahead; wrap with plastic and leave on counter – do not refrigerate.
You can get as fancy or as casual as you like. Simple baguette slices make it easy to assemble these bites. Baked puff pastry would be delicious or you could also use filo - cut in strips, dab of spiced jam on one end, small piece of duck, and fold into triangles up the length of the strip before baking!
Nutrition Information:
Yield:
30
Serving Size:
1
Amount Per Serving:
Calories:

434
Total Fat:

7g
Saturated Fat:

2g
Trans Fat:

0g
Unsaturated Fat:

5g
Cholesterol:

82mg
Sodium:

200mg
Carbohydrates:

53g
Fiber:

1g
Sugar:

31g
Protein:

17g
If you enjoyed this recipe, be sure to follow me on social media so you never miss a post:
| Facebook | Pinterest | Instagram | Twitter |
Create a New Tradition Today!
This post was first shared in Dec 2010. The article was updated in 2020.
Welcome! The suggestions here are not intended as dietary advice or as a substitute for consulting a dietician, physician, or other medical professional. Please see the Disclaimers/Privacy Policy page for additional details. Unauthorized use, distribution, and/or duplication of proprietary material from The Heritage Cook without prior approval is prohibited. If you have any questions or would like permission, please contact me. We participate in the Amazon Services LLC Associates Program, an affiliate advertising program designed to provide a means for sites to earn advertising fees by advertising and linking to amazon.com. This page may contain affiliate links.