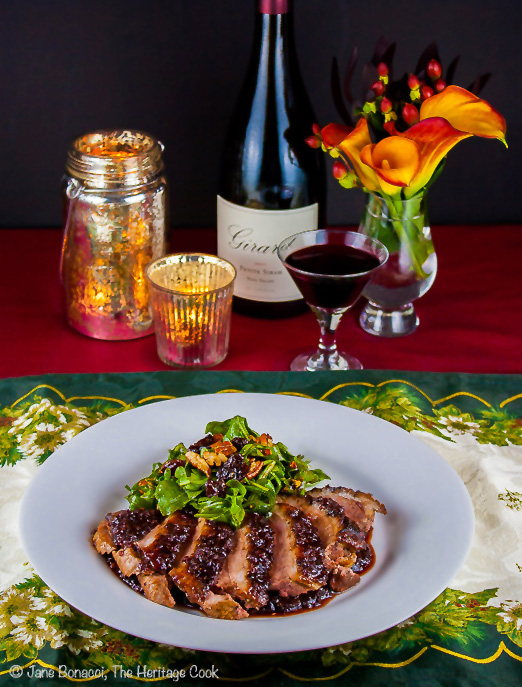 With a nip in the air and the smell of smoke from countless fireplaces lingering on the slight, cool breeze, my mind is filled with thoughts of what foods and treats I will make for the holidays. I love this time of year and am always looking for fun new recipes to try. What about you? Do you tend to stay with the traditions or branch out to try something different?
I have the perfect meal for any special occasion, Christmas, New Year's Eve, or Valentine's Day and it comes together in no time! You can make a couple of the components in advance and save yourself even more time on the day of your event. I love recipes like that, don't you!
When I want to serve a memorable meal for the holidays, there are several entrees that come to mind … prime rib, crown pork roast, beef tenderloin, and for me one of the most delectable and classic of them all, a beautiful duck breast with a luxurious sauce.
It took me years to try duck, thinking it would be gamey and distasteful. I couldn't have been more wrong. These days, unless you know someone who hunts, the ducks we get are farm-raised and quite mild flavored. But unlike chicken and turkey, duck has a deeper resonating flavor that pairs beautifully with a wide variety of red wines, from earthy Pinot Noirs to luscious Cabernet Francs and the rich wines of Burgundy, France. Even spicy Petit Syrah and Zinfandel can complement duck making it an extremely versatile choice for your main course.
Today's recipe pairs boneless duck breasts served with a cherry gastrique, a sauce that balances sweet and sour flavors with fresh herbs and savory aromatics. The result is a sauce that cuts through the richness of the duck, enhancing its natural flavors and tantalizing your taste buds. I cooked mine on the grill, but you can easily do this in a skillet on the stove. And bonus, you get to save all that delicious duck fat to use for frying potatoes or other special treats!
On a trip to Napa Valley I discovered an incredible cherry balsamic vinegar that, with the first sip, immediately had me thinking of how I could cook with it. I love it when ingredients sing to me, practically begging me to use them in my dishes. When something triggers that strong a response I know it will show up in a wide variety of different recipes.
This sauce would also be delicious on smoked ham, pork loin and turkey as a nice change of pace from the more traditional cranberry sauce for your holiday table. When you see a recipe you like, think about other ways you could utilize it to perk up your regular weeknight meals.
While I served my duck with just a simple arugula salad, you could certainly add other side dishes to fill out the meal. Adding some potatoes or rice would let you serve a smaller portion of duck per person, helping your budget and stretching your dollars a bit further. I liked the clean flavors of the salad and the slight sweetness of the vinaigrette against the very rich and decadent duck. It was a perfectly balanced meal and very healthy.
When you are planning meals for the special people in your life, I hope you will consider making this beautiful duck. Everyone will know how much you treasure them when you treat them like royalty!
I hope everyone has the most wonderful Christmas, full of love, joy and laughter. Happy Holidays to you all!
Jane's Tips and Hints:
By scoring the fat cap on the duck breasts, you help render the fat and wind up with perfectly crispy skin that has a gorgeous diamond design on it – such a beautiful presentation if you choose to serve the breasts whole.
Gluten-Free Tips:
This meal is naturally gluten-free!
Cherry Glazed Duck Breasts and Arugula Salad with Cherry Vinaigrette
2015-12-23 01:28:00
Gluten-Free and Dairy-Free
Ingredients
Cherry Glaze
1/2 cup dried tart cherries
1/4 cup pomegranate liqueur
1 tbsp organic olive oil
1 onion, peeled and finely chopped
1 clove garlic, peeled and minced
1/2 tsp dry mustard
1 tsp kosher salt
1/2 tsp freshly ground black pepper
1/4 cup dry red wine, such as Pinot Noir, Petite Sirah or Malbec
6 tbsp cup cherry preserves
2 tbsp cherry balsamic vinegar or regular balsamic vinegar
2 sprigs fresh thyme or 1 tsp dried thyme leaves
Grilled Duck
2 boneless skin-on duck breasts
Onion powder
Kosher salt and freshly ground black pepper
Arugula Salad
3 tbsp organic olive oil
2 tbsp cherry balsamic vinegar or regular balsamic vinegar
Pinch xanthan gum, optional
Kosher salt and freshly ground black pepper
1/2 cup baby arugula or watercress
2 tsp minced chives
2 tbsp toasted pecan halves, coarsely chopped
Instructions
Prep the Cherries: In a small saucepan, combine the cherries and pomegranate liqueur. Bring to a boil over medium-high heat, remove from the heat and set aside to macerate.
Using a slotted spoon, transfer half to a bowl. These will be used in the salad. The rest of the cherries and the remaining pomegranate liqueur will be used in the glaze.
Make the Glaze: In a 10-inch nonstick skillet, heat the oil over medium-high heat until shimmering. Add the onion and cook for about 5 minutes, stirring often, until onions are softened and beginning to lightly brown. Add the garlic and cook about 1 minute, stirring, or until fragrant. Stir in the mustard, salt, pepper, wine, preserves, vinegar, and thyme. Stir in half the macerated cherries and all the liqueur, reserve the remaining cherries.
Bring glaze to a boil, reduce heat to medium-low, and simmer until thick enough to coat the back of a spoon, about 5 minutes, stirring occasionally. Discard the thyme sprigs. Taste and adjust seasonings to your personal taste. If you like a sweeter sauce, add a little more jam. More savory? Add another pinch of salt and pepper.
Use an immersion blender to partially puree the solids. Tip the saucepan on its side to make sure the blender head is completely immersed. Pulse the blender or you will wind up with splashed glaze all over you. Keep warm over low heat.
Transfer a few tablespoons of the glaze to a small bowl for brushing on the duck; keep the rest for plating.
The glaze can be made up to a day or two in advance and kept covered in the refrigerator. Rewarm gently before continuing with the recipe.
Prep the Duck: Pat the duck dry and set skin-side up on a cutting board. Using a sharp knife, cut parallel bias slits through the skin and fat - but NOT into the meat - along the length of each breast. Cut an equal number of slits in the opposite direction, creating a diamond pattern. Sprinkle both sides with a little onion powder, salt and pepper. Set aside.
To Grill the Duck: Preheat one side of your gas grill over medium heat for 10 minutes. If using a charcoal grill, build a medium-hot fire and bank most of the coals on one side of the grill. Scrape the grates clean and place the duck skin-side down, over the heated side of the grill. Reduce the heat to low and cook for about 15 minutes or until the fat has rendered and the skin is crispy. Move them to the cooler side of the grill if they are browning too quickly. When the skin is crisp and nicely browned, flip to the other side, brush the skin with a little of the glaze, and quickly sear over the heat for about 3 minutes or until the internal temperature registers 135°F on an instant read thermometer.
To Pan Sear the Duck: Preheat a skillet over medium-high heat. When hot, place the duck skin-side down in the pan. Cook for a couple of minutes then turn the heat down to medium and continue to cook, rendering as much of the fat as possible. When the skin is browned and crispy, transfer the duck to a plate and pour off all but 1 tbsp of the fat. Return the duck to the pan, skin-side up and cook about 2 minutes. Brush the top with a little of the glaze and flip breasts over to finish the skin side, about 1 minute. Brush the underside with the glaze, flip them back over again and cook until the internal temperature reaches 135°F.
Transfer the breasts to a cutting board, tent loosely with aluminum foil and let rest for 5 minutes before cutting. This allows the juices to redistribute through the meat and for it to finish cooking to a nice medium-rare.
Make the Salad Dressing: Place the oil, vinegar, xanthan gum and a pinch each of salt and pepper into a small jar with a tight fitting lid and shake briskly until well blended and emulsified. This dressing can be made a few days in advance and refrigerated in the jar. Return to room temperature before tossing with the salad.
Assemble the Arugula Salad: Wash the arugula and spin dry. Place in a mixing bowl and add about 1 tbsp of the dressing. Toss until all the leaves are lightly coated. Add the chives and pecans, tossing again to distribute and coat with the dressing. Taste and add more dressing, salt or pepper if needed.
To Serve: Spoon some of the glaze onto the plates. If you want it to look like the pro chefs, drag the back of the spoon through the glaze and across the plate, forming a comet tail commonly referred to as a "swoosh". Take a look at my photo above and don't worry about completely filling it in because it will be covered with the duck slices.
Spread a light coating of the sauce on the duck and slice diagonally into 5 to 6 pieces. Fan the pieces slightly and place them on top of the sauce on the plates. Place some of the arugula salad in the arc of the duck and sprinkle each salad with a few of the reserved cherries for color. Serve immediately. Pass additional sauce at the table if desired.
Notes
Yield: 2 to 3 servings
The Heritage Cook ® https://theheritagecook.com/
Create a New Tradition Today!
Welcome to The Heritage Cook Family! If you ever need any entertaining or cooking advice, need to alter a recipe for gluten-free, or want recipe suggestions, don't hesitate to email me. This post may contain Amazon affiliate links. If you purchase a product via my link, it doesn't cost you anything and I earn a tiny commission, which helps defray the costs of producing The Heritage Cook blog. Thank you for supporting me.
Unauthorized use, distribution, and/or duplication of proprietary material from The Heritage Cook without prior approval is prohibited. This includes copying and reprinting content and photographs. If you have any questions or would like permission, I can be contacted here. Feel free to quote me, just give credit where credit is due, link to the recipe, and send people to my website. The suggestions here are not intended as dietary advice or as a substitute for consulting a dietician, physician, or other medical professional. It is the reader's sole responsibility to determine which foods are appropriate and safe for their family to consume. The author makes no claims regarding the presence of food allergens and disclaims all liability in connection with the use of this site. Please see the Disclaimers page for additional details.
Thank You!